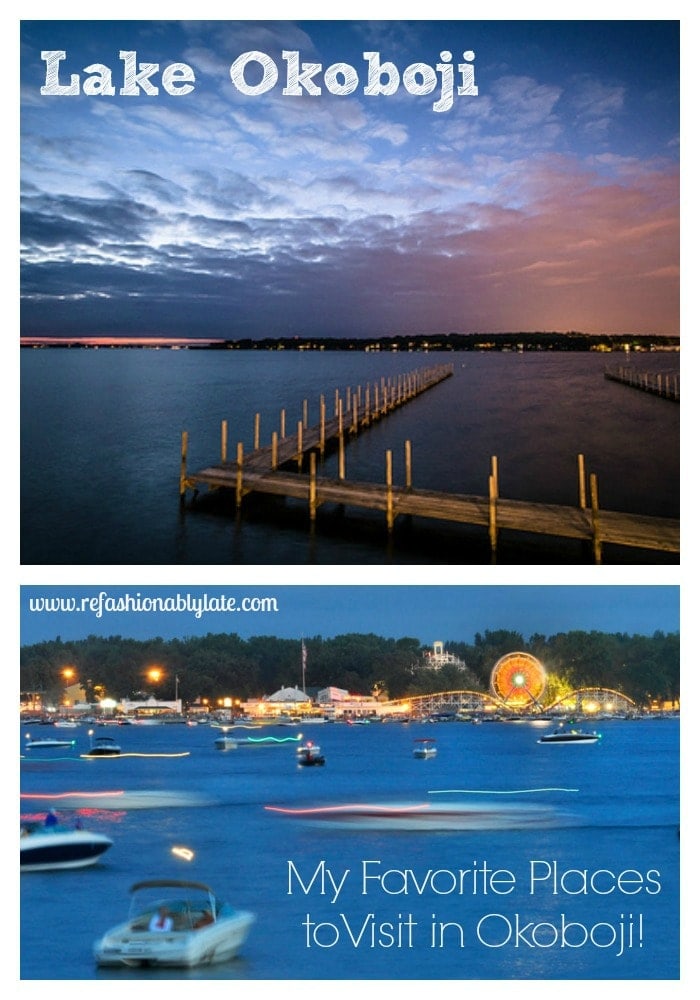 I wanted to share with everyone my love for Lake Okoboji in Okoboji, IA.  I grew up in a small town close to Okoboji but spent (and still spend) every summer there boating, skiing, and just enjoying lake life!  It is the most amazing place in the world!  I know…that seems crazy and you probably can only imagine it's probably a small pond in the middle of corn fields.  It's not I promise!  It is one of three blue water lakes in the world!!  That's pretty impressive huh?!  Look how stunning this place is!
If you ever get a chance to make your way to Okoboji, I wanted to share with you some of my favorite places!  These are must go spots to visit in Boji!
Their moto is "No shirts, no shoes, no problem!"  That right there tells you how much fun this place is!  They brought the tropics to the Midwest…kind of. 🙂
Arnold's Park is so much fun and such a monumental part of Okoboji.  The roller coaster was built in 1927 and still stands tall today! (It has had some structure rebuilding so that it is safe.)  Across the street from the park is the yummy Nutty Bar Stand.  It's a local favorite and you can get delicious ice cream bars with nuts or chocolate covered bananas.
Now I can't rave about this place enough!  It's definitely everyone's favorite in the area.  It's been around forever and I have to go there every time I go home…multiple times! 🙂  Their recipes are a secret and their salsa is to die for!

This is another restaurant I love to frequent when I'm in town.  It has been open since 1942 and looks exactly the same…well I'm guessing. 🙂  It has a cool old diner feel and has yummy food.  They are known for their pies too!  My favorite item on the menu is called The Hangover Helper.  It is biscuits and gravy, on top of hashbrowns and 2 eggs and topped with tomatoes.  Super yummy but don't get it if you are counting calories! 🙂
Now I'm going to be honest I'm not the hugest beer fan but this place has become quite the popular hangout in Boji.  My family loves their beer and always buys growler of it and brings it home to enjoy.  I love to support local businesses and people love having a local brewery in town!
7. My Family Cabin
My absolute favorite place in Okoboji and probably on earth is my parents cabin on West Lake Okoboji.  There have been so many memories made here and so many more are to be made.  Our little cabin has seen a lot of changes since we bought it.  It has gone through a complete remodel.
Keep an eye out because I'm going to share the amazing transformations this little cabin has gone through in the next few weeks.  You will be amazed!  Lets just say I get my talent from my mom!  She's always been my teacher and inspiration when it comes to DIY projects.  Happy Friday everyone!  Enjoy your weekend!  I'm actually headed to my favorite place on earth…the cabin!