Week 30-33:  Thankfully I don't have a lot to report for these weeks.  An uneventful pregnancy is good news!
Week 34:  This week I started Biophysical Profile (BPP) testings and Non-Stress Tests (NST) to monitor the baby until she is born.  These tests measure the baby's movements with how frequently she moves within a period of time.  It also measures if she is practicing breathing properly, checks her heart rate and checks to see if you have the proper amount of amniotic fluid.  I also got the measurements of her at week 34.  They won't do this again for a couple weeks.  She is measuring a week and 2 days ahead and weighing in around 6lbs 1oz.  We might be looking at a big baby here!
Week 35: I just had my BPP and NST yesterday and I scored a 6 out of 8 for the BPP because she decided to take a nap during the test.  Thankfully she was moving around like crazy during the NST so it made it no concern that she didn't have a perfect score.  I've been having more frequent contractions so I wanted to have the doctor check to see if I was still closed.  My husband is heading out of town for the weekend so I wanted to make sure he was safe to do so and I wouldn't have this baby this weekend! 🙂 Thankfully I was closed but was informed she had started to drop.  I definitely feel the change in that! I'm more uncomfortable than I already was and feeling lots of pain in my hips and lower area.  Fun times! 😉
Last week we decided to go to a Pumpkin Patch and so we got a little dressed up and took some pregnancy pictures in our front yard.  We hadn't raked the leaves so we had a ton in the yard and all of the colors were the perfect backdrop for a small photo shoot.  Here are the photos: (sorry photo overload)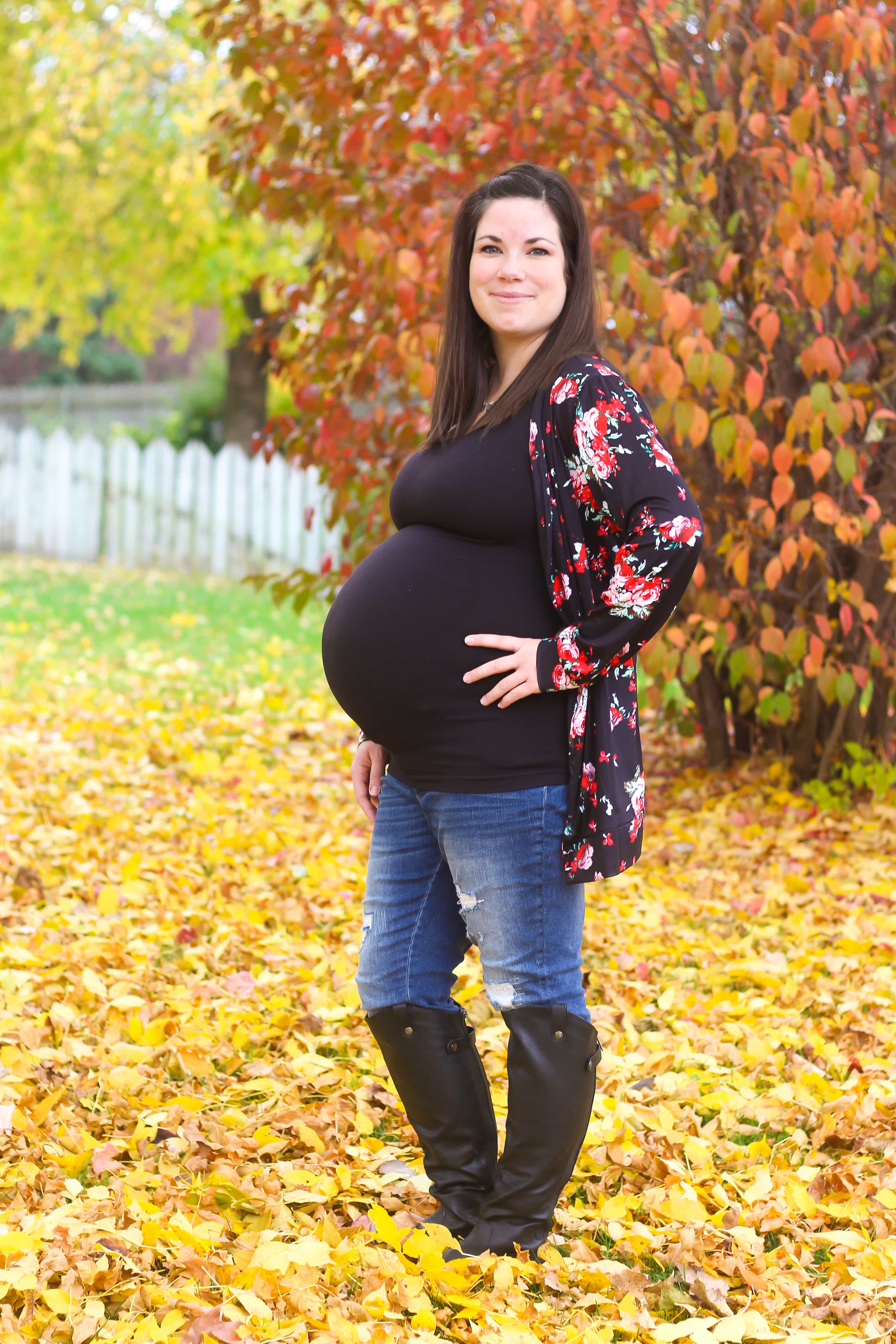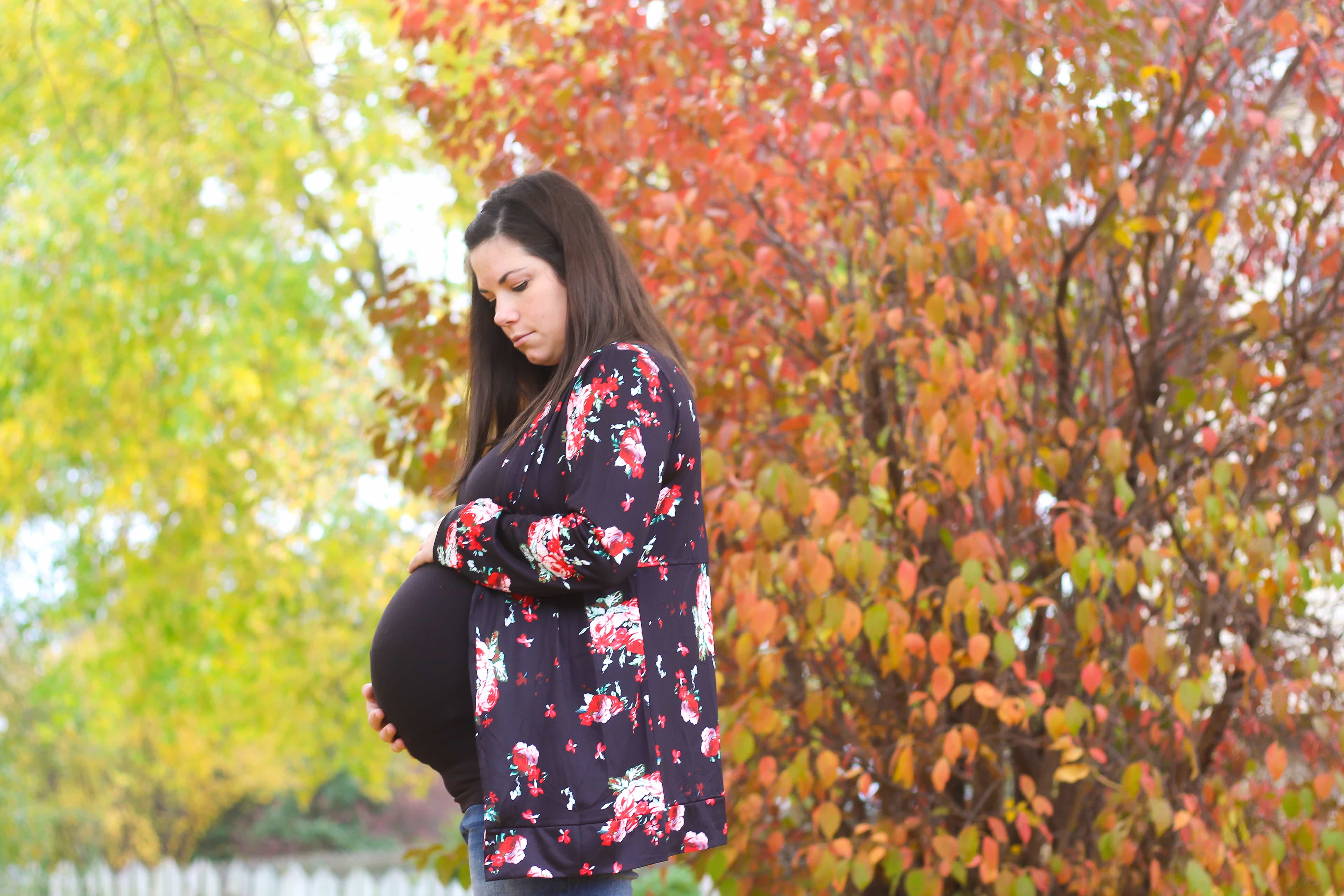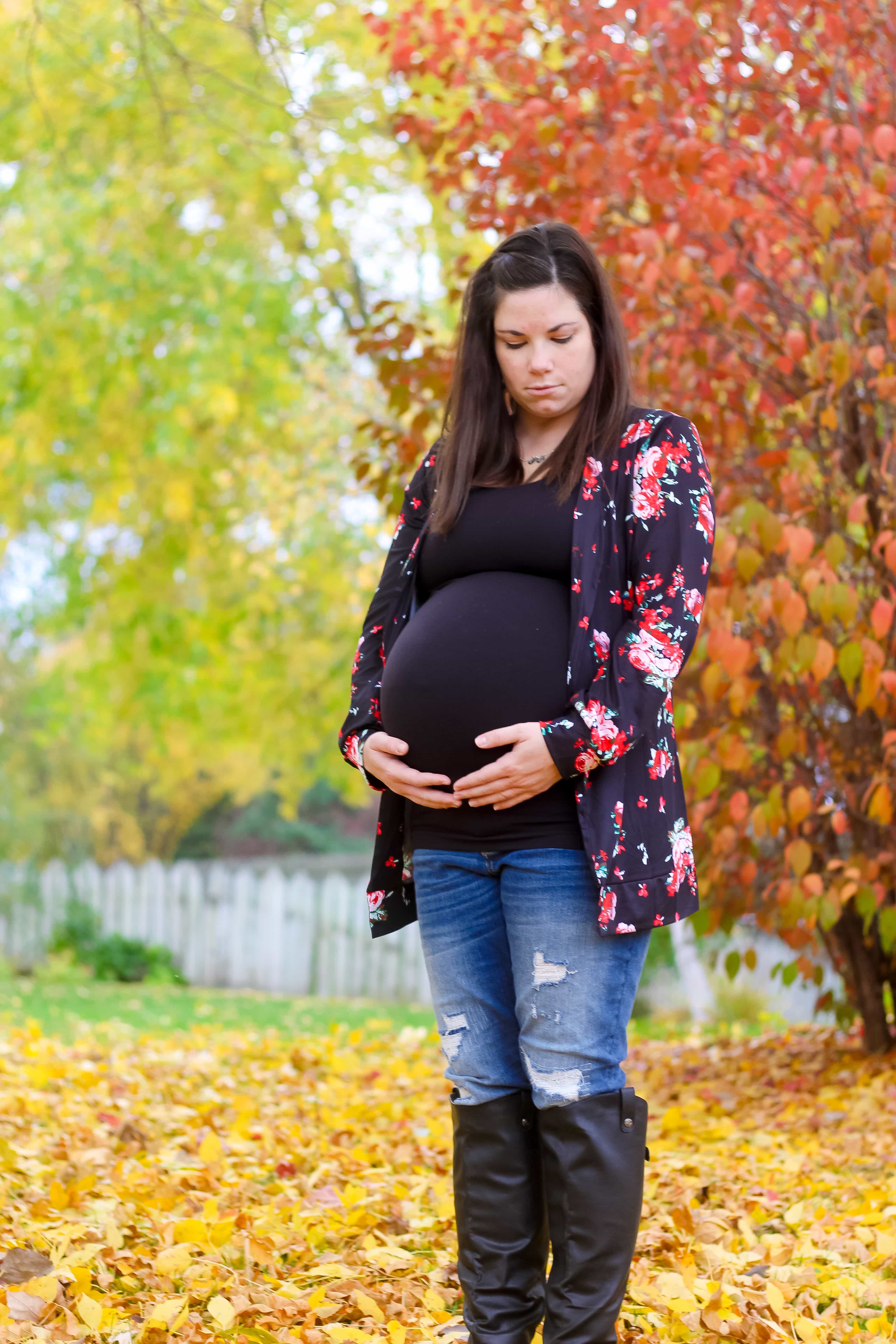 How far along:
35 Weeks 2 Days
Baby Size: 
Honeydew Melon
, 5.5lbs (mine said 6lbs) and 18 inches long
Weight gain:
Down 9lbs!
Between gestational diabetes and nausea first trimester I lost 30lbs!
Maternity clothes:
I've been wearing them for a long time.
I'm a lot bigger this time around.
Sleep:
So far so good!
There are some nights when I get up to go to the bathroom and have a hard time falling back asleep.
Gender:
Girl!
Movement:

 Still feeling lots of movement at random times in the day especially in the evening when I'm relaxing.  It depends on how active I am that day with how much I feel. She is running out of room so the movements are quite large.
Best moment this week:  
Just realizing I'm getting closer and closer.  I'm so uncomfortable so the thought that it's a few weeks away keeps me going.
Looking forward to:

  Holding my precious baby girl and feeling the relief from all the hard work it took to bring this baby to the world!
Food cravings:

 Nothing unusual. I always crave candy and carbs which are great options for Gestational Diabetes…not!
Anything making you queasy or sick:
I've had a small amount of third trimester morning sickness but nothing bad.  Just feel nauseous a little bit in the morning and then it goes away.
Labor Signs:

 According to this article by Dr. Sears, 8 Signs That Labor is Near, I have experienced 6 out of the 8.  I would be ecstatic if this baby decided to make an early appearance but trying not to get my hopes up! 
What I miss:

 Sadly enough I'm missing cocktails.  I'm so ready to have a cocktail once this baby is born!  The main thing is I miss having my body.  I'm so ready for all the swelling, contractions, pain, etc to be gone!
Symptoms:
I'm just continually uncomfortable?
Nursery:
The nursery is pretty much ready!  I am going to finish unpacking all of my daughter's old clothes and hang them up!  Just organizing at this point!
Belly Button in or out? 
I definitely have an outty!
Wedding rings on or off?
I haven't worn them for a couple months now.  I'm swelling but not terribly and I could still wear my rings.  My fingers have just felt quite tight and super dry with the weather change so I've just kept them off.



Mood:

 Trying to stay as positive as possible!  All this hard work is worth it in the end!
Well, I hope everyone has a great weekend!  Since my husband is out of town my Mom came into town so I wasn't alone with Lucy.  Can't be safe enough when you are this close to the end!  I'll see you on Monday with an update on our bathroom makeover!