Happy Monday friends and most importantly Happy Martin Luther King Jr. Day! While you are reading this I'm probably on a plane to go visit some family in Florida. Thank God for that as our weather has been awful in Minnesota. It has been brutally cold. Unfortunately, my husband had to stay back and work this time so hopefully, I can bring some warm weather back with me.
Today I want to share with you a couple little projects I did over the weekend. I have always been wanting to make some flour sack towels with funny quotes in my kitchen. I thought what better time than now? We've been cooped up in our house for the past week because of the cold and because of influenza. It was not the most fun week.
I bought a large pack of flour sack towels from Walmart. You can also find them on Amazon. I then used Iron-On Lite in Black from Cricut. I'm still learning how to make my own designs so for now I go to Etsy for design files for projects. I bought a large bundle of kitchen puns from goodsbygirl. It was so hard to choose which ones I wanted to go with. I installed the files into my Design Space and made them the perfect size for the particular flour sacks that I had purchased.
After the designs were cut then I ironed out the front of the flour sack towel to heat it up. It's best to heat up your material for the iron-on lite to adhere the best.
Place the design on top of the flour sack and iron it on for 30 seconds at 305 degrees. (if using the Cricut Easy Press) Next turn the flour sack around and do it again for another 30 seconds. You can then peel off the plastic and your towel is finished.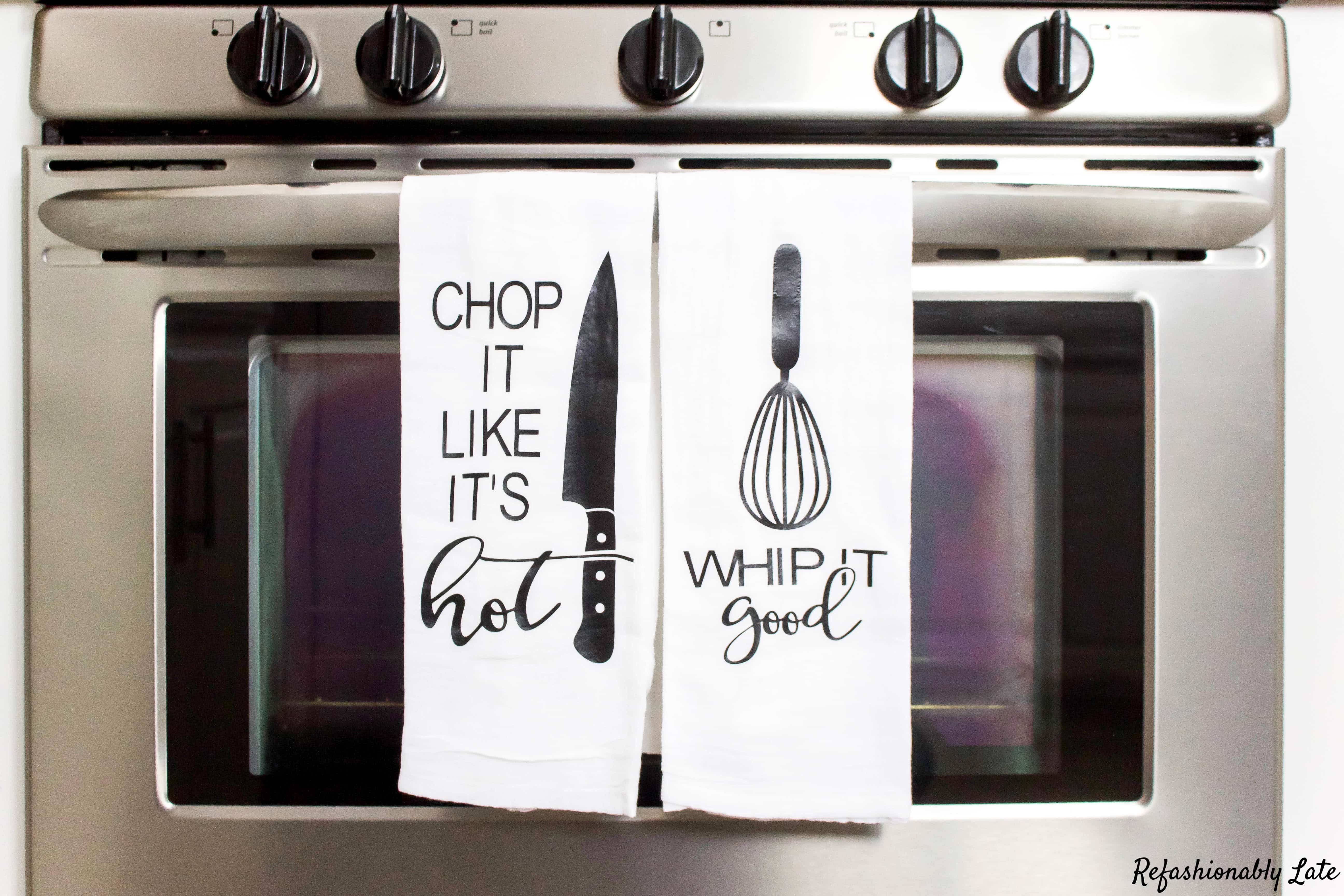 I was also motivated to make these towels because I decided to clean my oven door this weekend with the SteamMachine from HomeRight. It took me only 20-30 minutes to get all the grease and gunk off the door glass. It was super gross but the SteamMachine was a life saver! With a little steam and elbow grease, it was good as new!
For the full tutorial head on over to HomeRight to see how I got my stove sparkling clean! I hope everyone is enjoying some time with family and friends today! I'll see you on Wednesday for a fun new monthly series that I'm doing! Can't wait to share it with you!
This post is sponsored by my friends at HomeRight and contains affiliate links. Thank you for supporting the brands that support Refashionably Late! See my full disclosure here.