This year Christmas has a whole new meaning to me when it comes to giving. As I have fallen head over heels with my Cricut Explore Air 2 I have thought of all the possibilities when it came to gifting. This year I wanted to make as many gifts possible. I wanted my gifts to mean something more than the typical buy off the shelf kind of gift. I started browsing through the Cricut Design Space looking for projects I wanted to make with my Cricut.
I came across this adorable Iron-on Guitar Strap and knew it was something that I needed to make for my sister! My sister is an amazing woman and I have always looked up to her. She is also a talented musician. She taught herself how to play the guitar while in grad school and has been playing ever since! She even had her first gig with a friend about a month ago! This was a perfect gift for her!
I bought a brown leather guitar strap on Amazon and went with Everyday Iron-On in Ocean. I started by opening up the project in my design space and cutting it out and then weeding it to remove the excess material. I measured my guitar strap and measured the length of the cutout and it worked perfectly for the strap I bought. You may need to adjust it depending on the size of your guitar strap.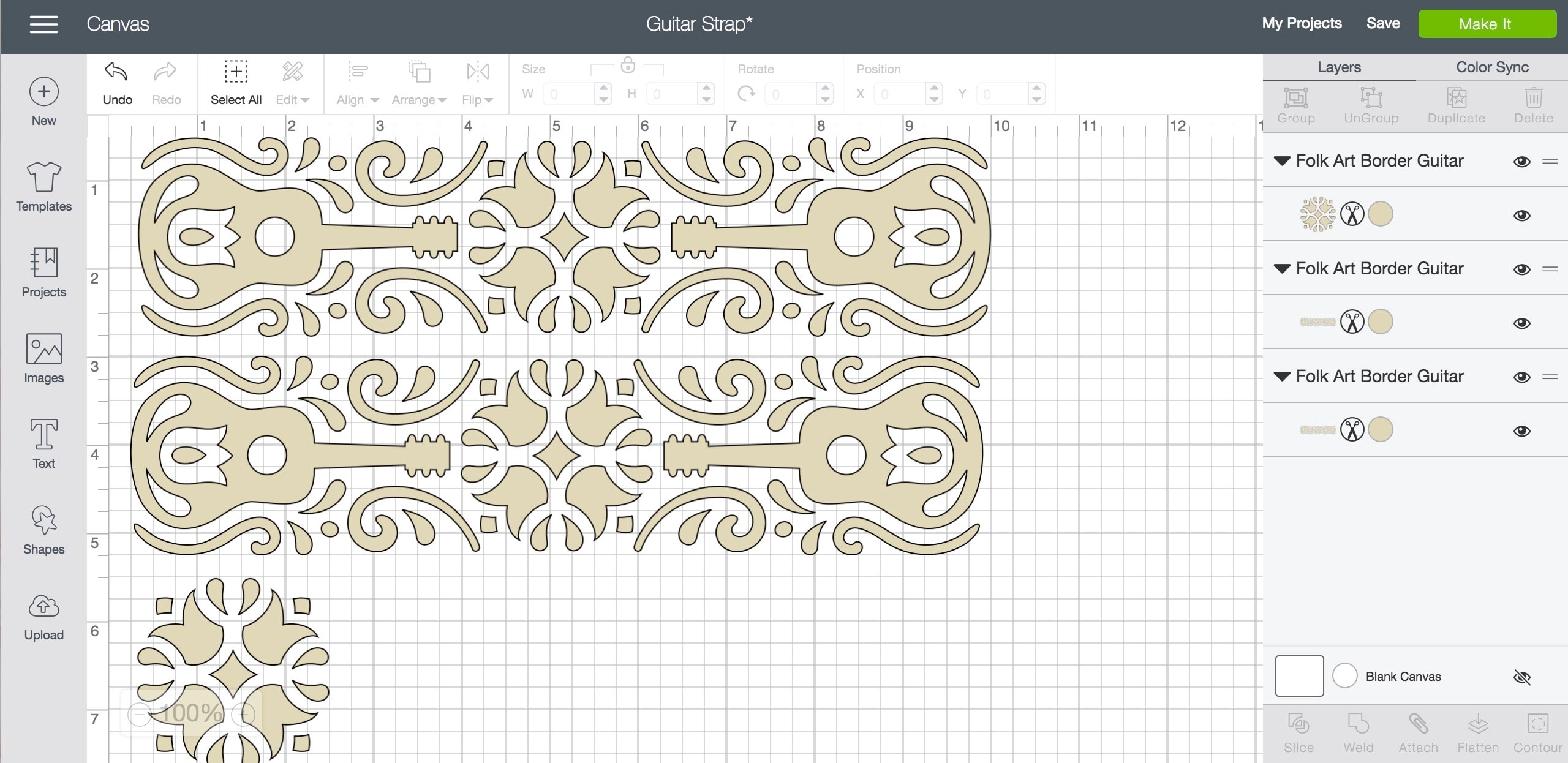 When making this guitar strap I had just gotten my new Cricut Easy Press in the mail so I couldn't wait much longer to try it out! In the video, I used a pillowcase to protect the leather but I have learned now it's best to use Teflon sheets. I have since purchased them and it's amazing how much nicer it works! 🙂 A pillowcase or thin kitchen towel work but the Teflon sheets are so much easier to work with!
You can see the tutorial on how I applied it here with my Facebook Live Video:
This was one of my first iron projects and I've become quite obsessed! I love making various shirts, especially for the Holidays. The combination of the Cricut and Cricut Easy Press make it so easy to do this quickly and efficiently! The Design Space makes it so much easier as well to help get your creative juices rolling and to find ready to go projects! You can also become a member of Cricut Access which gives you access to thousands of projects for free! So many options at your fingertips!
I love how this strap turned out and I can't wait to give it to my sister! I need to send her a message to not read my blog today! 😉 I'll make sure to post a picture after Christmas of her rocking her new guitar strap while we have our family jam session! Most of my family knows how to play the guitar and can all sing so our holidays are so much fun!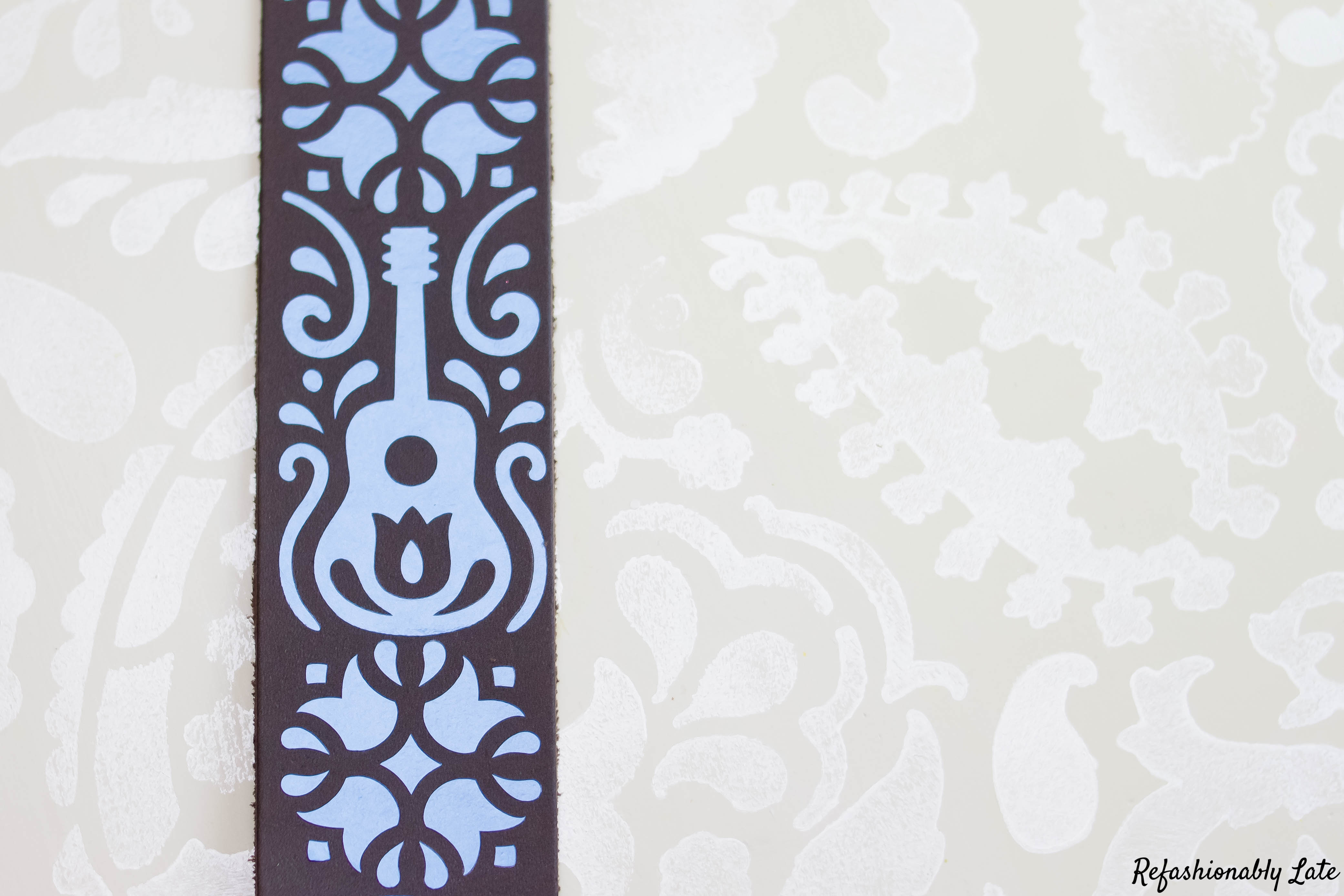 If you want to make projects like this don't forget to enter below for a chance to win a Cricut Maker! You can cut more materials with the Cricut Maker so your possibilities are even greater with this machine! I can't wait to get my hands on one eventually! Stay tuned because next week I'll be back with Cricut to share a tablescape made with Cricut!
Many outgoing links on Refashionably Late are affiliate links. I may earn a small commission to fund my Diet Mountain Dew drinking habit if you use these links to make a purchase. You will not be charged extra, and you'll keep me supplied in caffeine. It's a win for everyone, really. I only link to products I have tried and love! See my full disclosure here.