Hey guys! It has been a busy week over here at Refashionably Late and I have one more post for you tomorrow! Today we are giving away a Finish Max Sprayer and Large Spray Shelter at our link up, The Creative Circle! (Giveaway over.) Make sure to head on over and enter! Today I'm teaming up with some talented ladies for the My Dollar Store DIY! This month's theme is Halloween! Can you believe that next month is October?!
About a week ago I was at my weekly visit to Lowes and I came across this frosted spray paint. I had never seen it and thought it was the coolest thing! It was the perfect tool for this month's challenge! We bought a bottle of it and headed to our local Dollar Tree. I grabbed a few different glass vases and got ready to make some Halloween lights.
I used my Cricut Explore Air 2 to make some decals for the vases. You can use any sticker or stencil that you find at a local craft store for this project. I put the decal onto the vase and got to spraying! I was able to do it right in my living room because we ripped up our carpet and all that was down was a subfloor! It was nice not to have to go outside for this project! (Make sure you are in a well-ventilated area though…I opened windows!)
It said that it was dry to the touch after 20 minutes so I gave it a little extra time and then I peeled off the decal. I was left with an adorable custom frosted vase/candle holder!
I got a few of my Halloween decorations out and I can't wait to get everything else out now! Our house is a little bit in shambles as we are putting in new flooring upstairs. Once that's finished I'm on my way to decorating! What was your favorite craft you made for Halloween?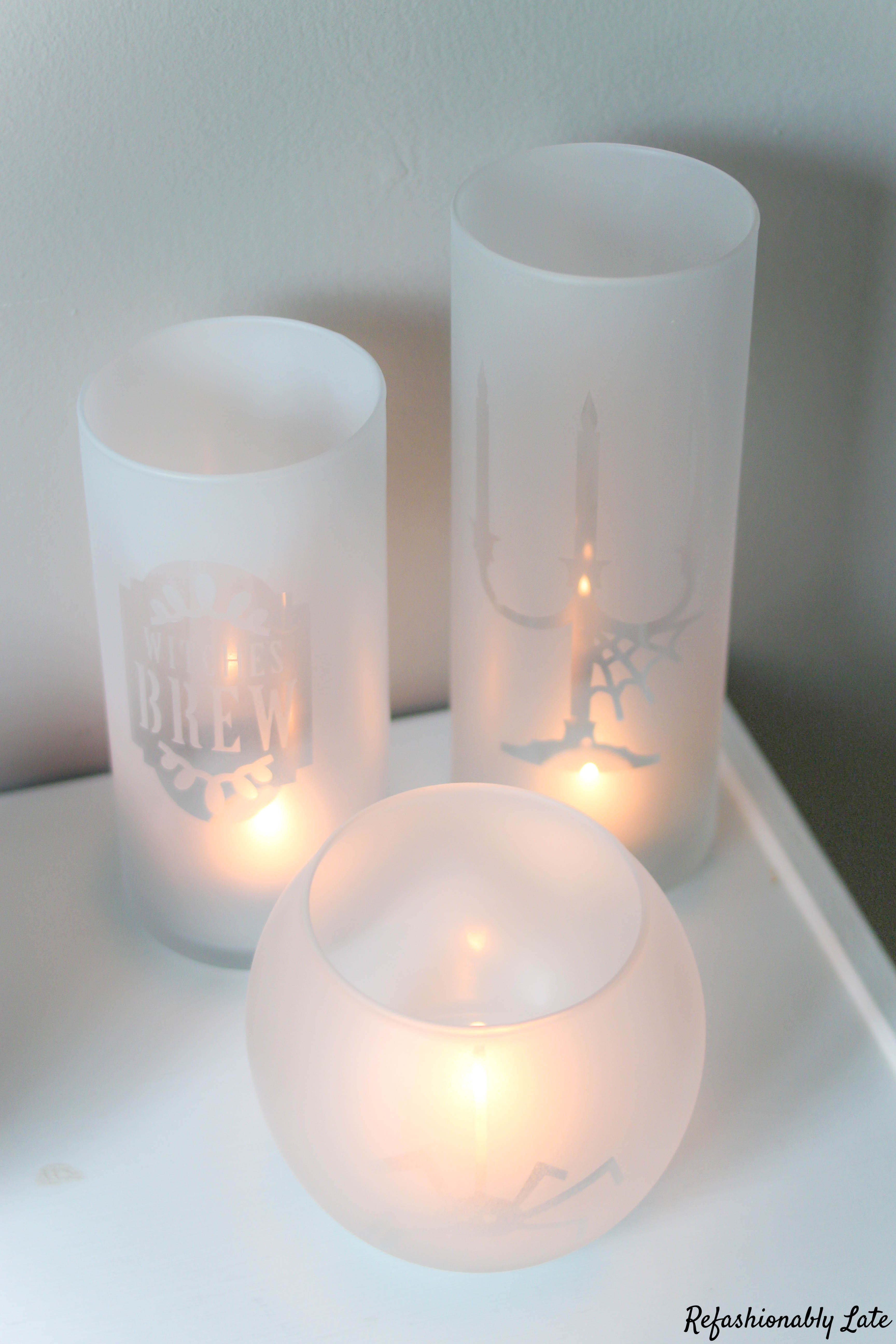 Make sure to see what these talented ladies made below! I love me a good dollar store decoration! I love it, even more, when no one suspects it's from the dollar store! 🙂 I hope everyone has a great day and I'll see you tomorrow for one more Halloween post!
This is our Bliss | Creative Ramblings | Hunt & Host | Southern State of Mind | Refashionably Late
This post contains affiliate links for your convenience. See my full disclosure here.