This table is based all around my favorite holiday, Christmas! It's my favorite time of the year filled with family, excitement, love, and joy! I also love a bit of glam so I thought I'd share how to make your own elegant Christmas table setting!
I love decorating for Christmas and getting into the holiday spirit by listening to my favorite Christmas albums.
I love gold as you can tell from my previous tablescapes and I wanted to continue that tradition. It's such a glamorous color and really sparkles and gives a table an elegant and sophisticated feeling.
How to Create Your Own Glamorous Holiday Tablescape
I started by draping a stunning gold sequin table cloth onto the table. The table cloth by itself is fairly busy so my plan was not to go over board with the decor. You will want to start with the center of the table and work your way out. I set some greenery in the center to give it a little pop of color and from there I arranged 5 gorgeous Christmas trees intermittently between the greenery. From there I accented the centerpiece with some crystal candle sticks and gold candles. From there, you can just add table ware.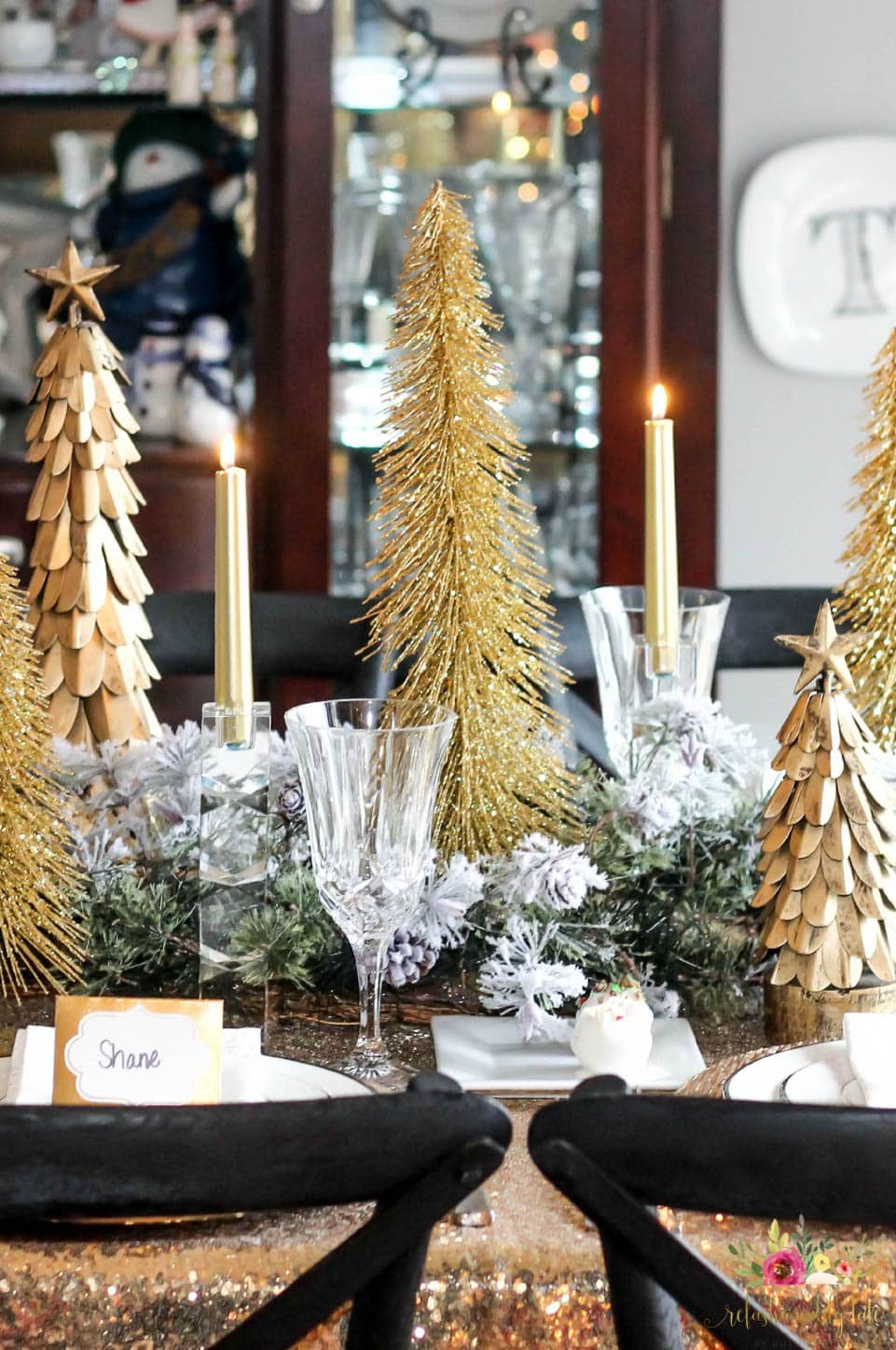 Another small way to add a lot to your table is to use chargers. I had a few chargers laying around the house and I spray painted them all gold so that they would match. I love how the patterns are different but all have a unified color. Add your plates, stemware, napkins, and silverware and your tablescape is ready to celebrate with friends and family during the Holidays.
A little-added touch I have added to my table was to add a dessert plate. I made some delicious Christmas Cake Truffles and I wanted to make sure my guests had them right in front of them when it was time for dessert!
I feel very fortunate to share this special holiday with friends and family and I feel it is important to help those that are needed. What better way to share the joy than to give back to your community. Unfortunately, there are hungry children and families in your community that is missing the daily nutrients that milk provides. Milk is rarely donated to food banks but you can still donate it through pourmilklove.com and the Great American Milk Drive will deliver a gallon of milk to a family in need from your community.
Another great way you can help donate milk is by making this delicious recipe below. When you purchase 2 bags of M&M's® at Walmart (9.4 oz bags or larger) up to a gallon of milk will be donated to this special cause. Thank you to MARS for participating in such a great cause!
Here is a brief tutorial on how to make these yummy truffles and you can find a detailed recipe card at the end of this page!
Combine butter, sugar, and vanilla in a bowl until they are combined well. Add in your Pillsbury™ Funfetti® Holiday Cake Mix, flour, salt, and vanilla and mix thoroughly. Next, add in your Great Value Milk to mix and create a dough consistency.
Roll dough into one inch balls and place on parchment paper on top of a cookie sheet. Chill balls in the refrigerator for 30 minutes or until firm.
You can then melt your chocolate to the correct consistency for dipping. I used white chocolate. Once you coat 2-3 balls with the white chocolate then you can add your topping of choice. I wanted to give my guests a variety of tastes so I topped mine with 3 different types of M&M's®. (M&M's® White Peppermint, M&M's® Holiday Milk Chocolate and M&M's® Holiday Peanut Butter.) I put the 3 different kinds of M&M's® into ziplock bags and crushed them up.
Place them in the refrigerator until it's time to serve!
Don't these look delicious? Have a wonderful week everyone and I hope you are inspired to go out and bake some delicious desserts and donate to families in need! Which recipe are you going to make?