So you are probably thinking I'm crazy if you have been following along because I'm also doing two room makeovers with the One Room Challenge. I have been making over our bathroom and our new little girl-to-be's nursery the past 6 weeks. It has been a lot of work but so worth it! If you can't tell I'm nesting quite badly! 🙂 So since I was already making over one room why not throw another mini makeover in the mix, right?!
With our second little one on the way and being a nursing mama I know that I will be spending a lot of time in our master bedroom. Our room has basically been neglected since we have moved in besides paint here and there. I didn't feel it was as important as some of the other rooms that our guests would frequent more often. This room was just for my husband and I so it didn't need to be perfect, right? Well it doesn't need to be perfect but I did want to spice it up a bit so that I enjoy the space I'm in!
Here is what the room looked like before we moved in:
One of the first things we did do to this room was paint the shelf and repaint the walls. That was about all we did in this room for quite some time. I did then buy some IKEA Malm dressers for $5 each on Craigslist and redid them and thought they were really fun for our room….for about 6 months.
There was nothing wrong with them other than I accidentally used flat paint on them but I was just ready for a change. When I make up my mind I want to change things right away! I wanted to make our room look more like a furniture set so I wanted everything to be the same color. Besides these two IKEA dressers we also had this dresser that I redid almost 7 or 8 years ago.
Here are a photo of what the room looked like for the majority of our couple years in this home: (again it was not bad – just wasn't speaking to me!)
To start out the transformation I decided to repaint all of the dressers in the same color…White Dove OC-17 by Benjamin Moore. I decided to go with their Natura Paint line as it has Zero VOC Emissions and is certified asthma and allergy friendly. I'm always paranoid when painting while pregnant so using a product that has zero VOC was very comforting to me. I will share more detailed tutorials on these dressers int he coming months but I can't wait to show you their new look. On the IKEA Malms I did use O'verlays and used one of their kits for IKEA furniture.
They aren't identical and the dressers have their own personalities but they are similar enough to make it feel like a unit. We also upgraded our bed to a King from a Queen so we also needed to get a new headboard. I fell in love with this headboard from Amazon and so I asked for it for my birthday. Thanks Mom and Dad! (I don't know if our bed is taller than normal but I didn't like how low the headboard set so I used these risers to raise up the headboard a little. I put them on the two side legs of the headbaord.)
I used to have these pictures frames over each of our nightstands but I was wanting something more mirrory. Haha I know that is not a word but I wanted an actual mirror instead of a partial mirror. I decided to move the picture frames in the corner of our room. Right now I have a photo of one of our daughters in one and a photo of my husband and I in the other. I plan to replace the one of my husband and I with a newborn photo of our new addition that is to arrive in a couple weeks.
I came across these Floating Pane Mirrors on Jerome's Furniture website and I love how they complement my refreshed nightstands. They are defintely the mirrory look I was going for! 🙂
We changed things up lighting wise in our room as well. In our room was one of those regular "boob" lights and I absolutely hated it. We also live in a house with no fans. I've always had a fan so this was very strange for me. I'm quite warm bodied so I like to have a fan on at night. I found a fan that I loved on Lamps Plus so I had my husband install it, which was a learning experience for him. I'm glad he was doing it and not me! 😉 We went with the 48″ Kichler Celino Midnight Chrome Ceiling Fan. I'll make sure to update this if I see it has come back! I love the sleekness of the fan and how modern in looks in our room! It's not a fan you typically see at your Hardware store!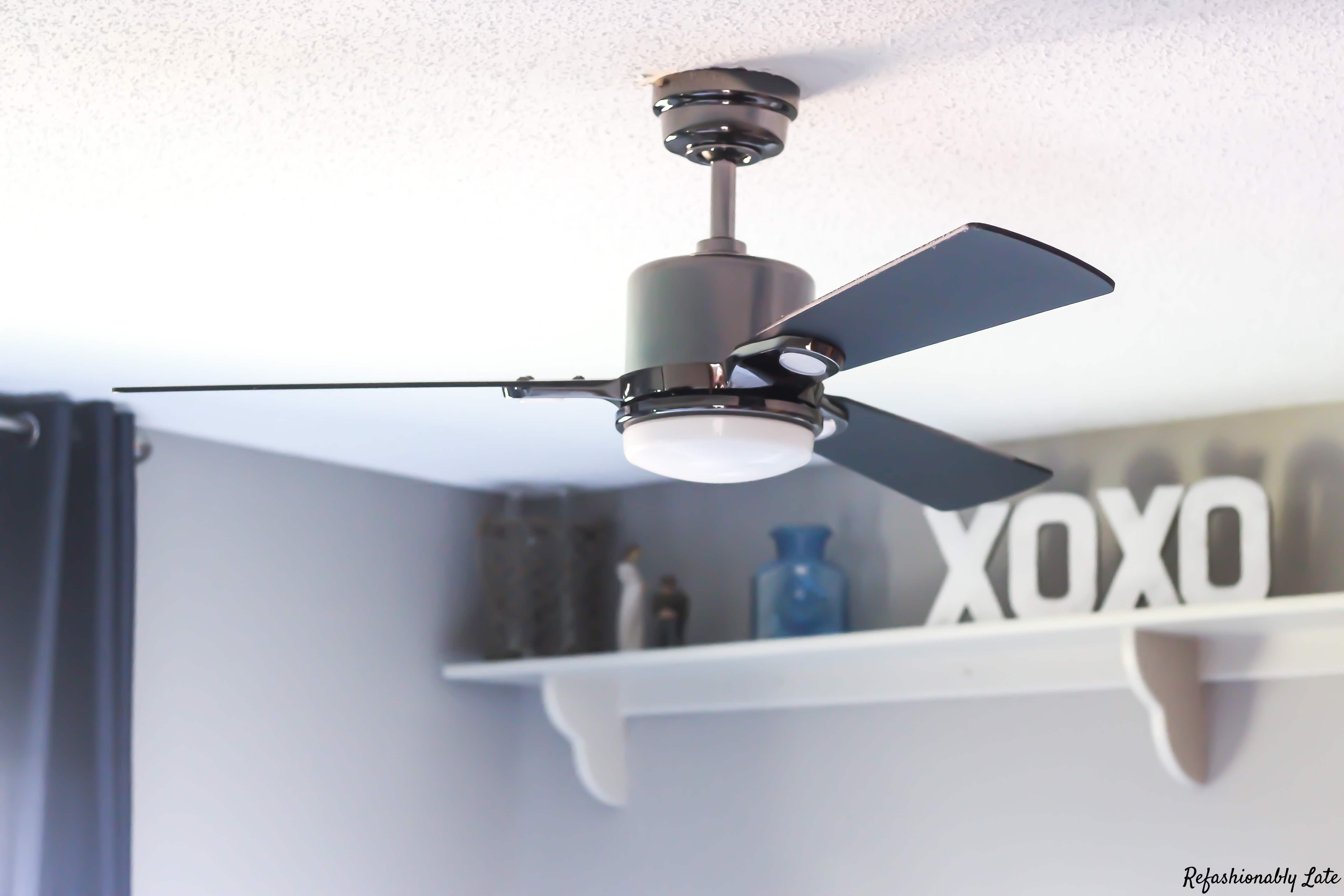 I also fell in love Lamps Plus's Zeus Crystal Facets Table Lamps. I'm a sucker for crystal and these are the most beautiful crystal lamps I have ever seen. I love how they look on our nightstands and they are so bright! If crystal is not your thing then you can choose from a wide variety of lamps on their website.
A small detail I've added to our room was added some extra pillows and a throw to our decor. I have put a few pillows on our bed and then added some in a basket near our full length mirror. The small details are something that shouldn't be overlooked. I fell in love with some pillows from Designer Living's website and thought they would look great in our mini makeover. I went with the Duke Faux Fur Square Pillow and the Alban Stud Trim Microsuede Oblong Pillow. I also came across a beautiful throw that I couldn't pass up, the Lexi Color Block Throw in blue.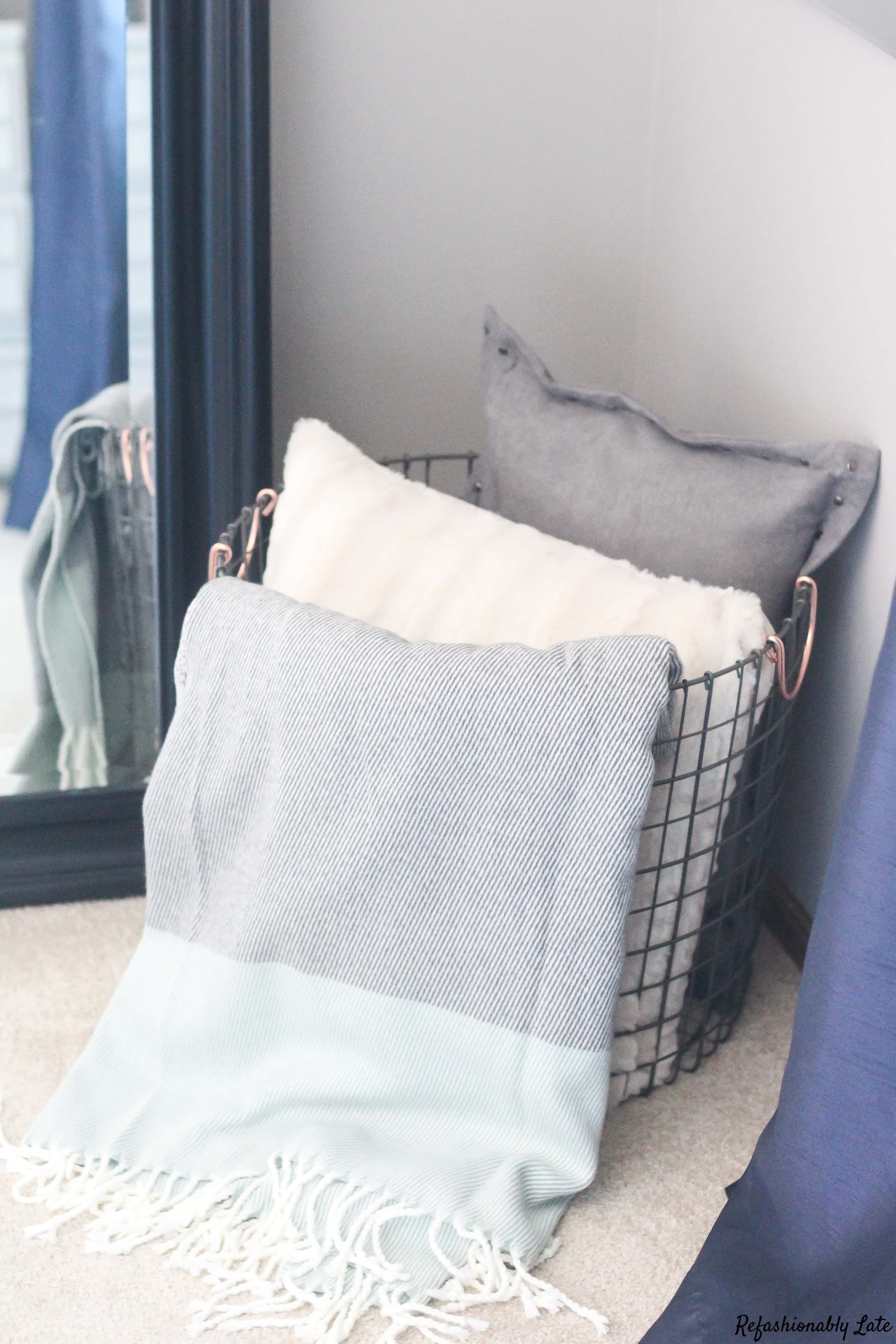 Since I'm a warm bodied person I saw some cool smart sheets on their website I knew it was something that would help me feel comfortable. Especially since I'll be nursing a little one in our room quite often. Their Smart Cool Sheet Sets are super silky and really do help keep you cool throughout the night! If our second daughter is anything like our first daughter then she will be a warm body too! Designer Living is running a great deal for my readers and giving a 15% coupon code if you purchase any of the items I used on their website until December 31st! Just use the code DLFASHION15 when checking out! You can find all of those items here. They also have a Black Friday/Cyber Monday sale coming up where you can save up to 80% off multi-piece bedding sets and more!
Last but defintely not least we got a new duvet cover and shams for our new King bed. I found this beauty below at BeddingStyle.com. It's part of the Vera Wang duvet collection, Vera Wang Fretwork Duvet Cover and King Shams. I that when you are looking at a duvet or comforter on their website, they also give you sheet sets and such that go with the bedding. It's a great way to get the look the designers created!
The room has come a long way since we moved in but there are still things I would love to do in the future to get it where I want it. I plan to paint all of the woodwork, as I've started in the rest of our house. I want to repaint or replace all of our hollow core doors and replace the closet and bathroom doors with barnyard doors. This will more than likely be in the far, far future but I'd love to get the popcorn ceiling removed. We did decide to paint all of our ceilings as they were started to yellow but that was in hopes to be a temporary fix. We've done lots of work to our house but have lots more we want to do! Home ownership is a constant project! 🙂
Tomorrow I'll be back with the final reveal of our bathroom for the One Room Challenge!! I can't wait to share with you how the rooms have come along! I hope everyone is having a great Sunday!
This post contains affiliate links for your connivence. See my full disclosure here.