Part 2 of how to build a DIY murphy bed. Free plans to make your own queen size murphy bed.
Here we are for Part 2 of how to build a queen size white murphy bed! If you missed Part 1:
As I said before, this project was a labor of love. It has been one of my most accomplished moments as a DIYer.
My husband and I built this together in one day. I wouldn't say we are beginners but we aren't seasoned craftsman who work with power tools every day.
DIY Murphy Bed for Under $250
A murphy bed can cost a lot of money so why not make your own for a fraction of the price?! We made this for under $250.
We left off with the frame being built. What was left on the agenda was to add molding, paint, attach bookshelves and accessorize the shelves.
We redid our second guest room which also doubled as a home gym. Building a DIY murphy bed was huge in creating the perfect multi-functional room.
Here was our week by week progress on this room transformation:
Week 1 | Week 2 | Week 3 | Week 4 | Week 5 | Final Reveal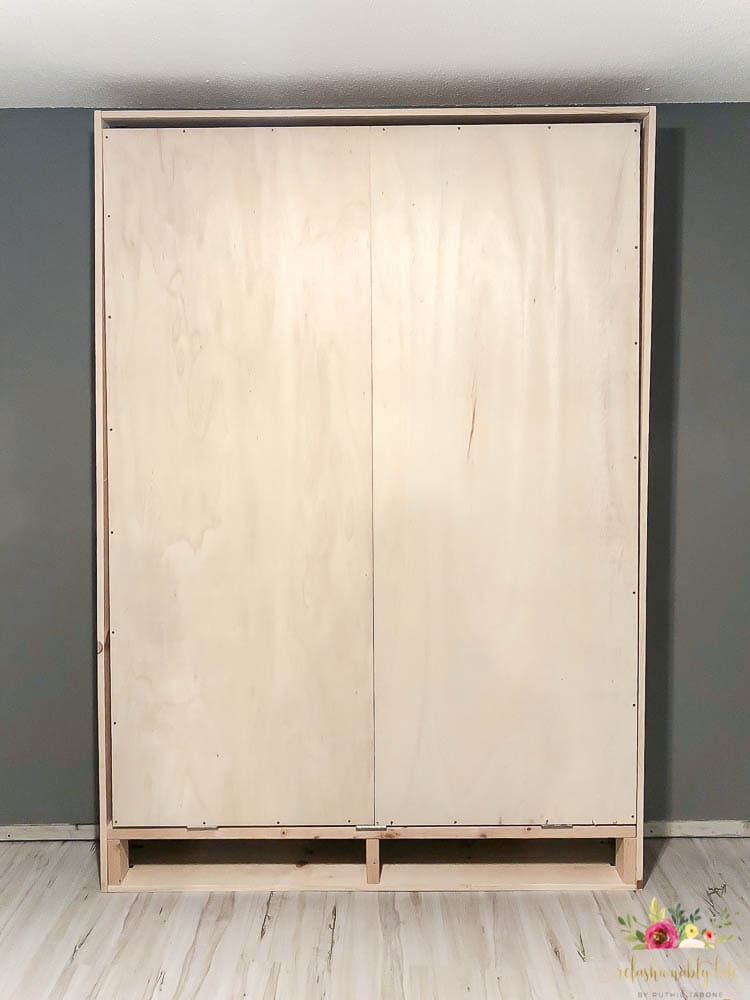 Attach Crown Molding
There was a small gap at the top (which you want, so the bed folds up easily) and I wanted to cover it as best as we could. We bought one piece of crown molding and nailed it into the top of the frame.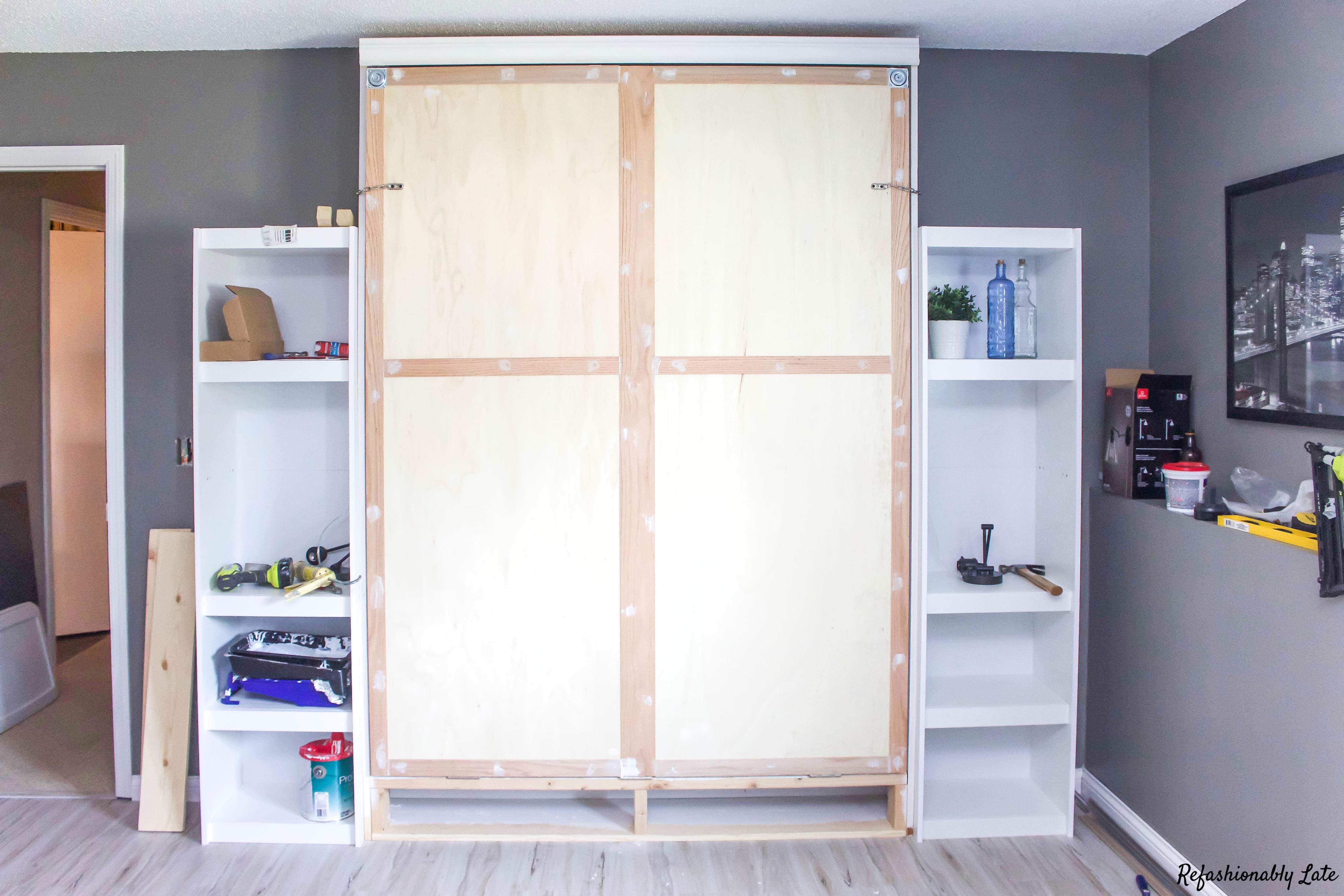 Paint & Caulk
The rest of the work was up to me as I'm the painter in the relationship. My husband helps me paint walls but doesn't like to do much more painting than that.
I'm the crazy person who actually finds painting quite therapeutic!
I started by painting the inside of the frame that is attached to the wall. Since the wall was already painted I taped around the frame edges.
I started priming everything with my favorite primer, Rust-Oleum Zinnser Bulls-Eye 1-2-3 Primer. It has great coverage, it's water-based and most of the time you don't have to sand beforehand.
I always recommend sanding though if possible. My husband and I sanded each piece of wood before we put the bed together. Helps make the painting process a little quicker.
To give your murphy bed a more clean look you will want to caulk around the edges and anywhere where the wood meets. This will give it a flawless look.
Attach Bookshelves
I purchased two Althea Standard Bookcases from Wayfair. I wanted something simple but not your basic bookcase from Target or Walmart.
It had to have a little bit more detail and design to it. There are so many bookcases to choose from on Wayfair so it was hard to decide.
I liked the height and size of the Althea Standard Bookcases so that was what made up my mind. I only had so much room to work with against that wall.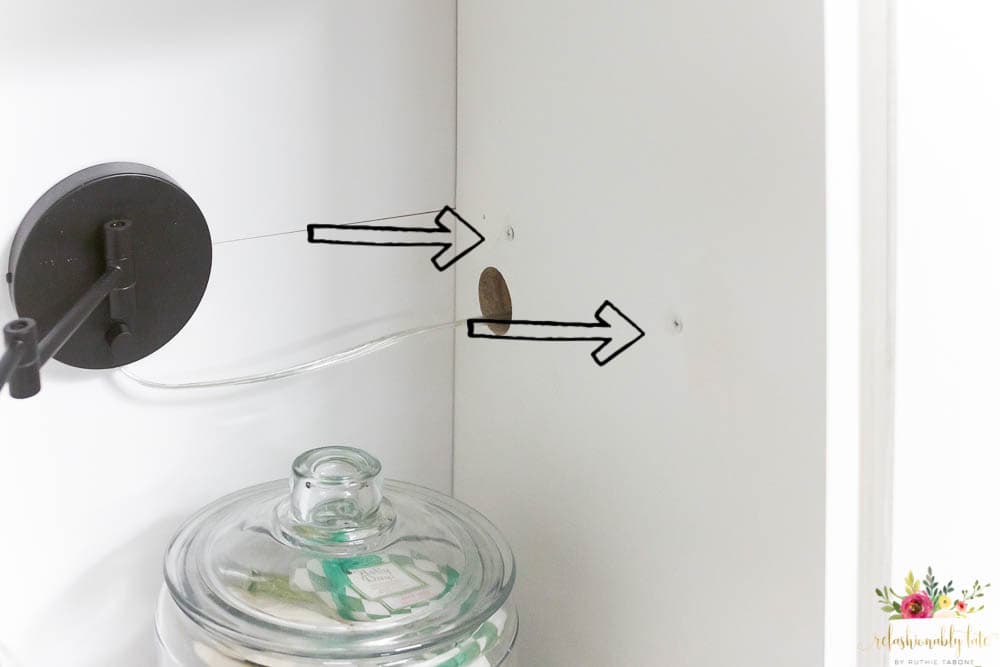 We attached the bookcases by drilling two holes from the inside of the bookcase into the frame of the bed. We also drilled a large hole in the bookcase and frame so that the cord for the Aidan 1-Light Swing Arm Lamps could fit through.
They aren't hard-wired into the wall so they can be turned off and on when laying in bed and reaching for the cord. I would have liked to drill the hole a little smaller but we had to do it big enough for the plug-in to fit through it.
Attach Molding to the Front of the Bed Frame
We used a nail gun to attach the molding to the front of the bed frame. 2-inch pieces were cut to the correct length and attached around the outer edge of the frame.
We put a 4-inch inch piece of thin wood down the center to ensure that the divided plywood would not be shown. It was finished off with a 2-inch piece across the center in the form of a lower case t.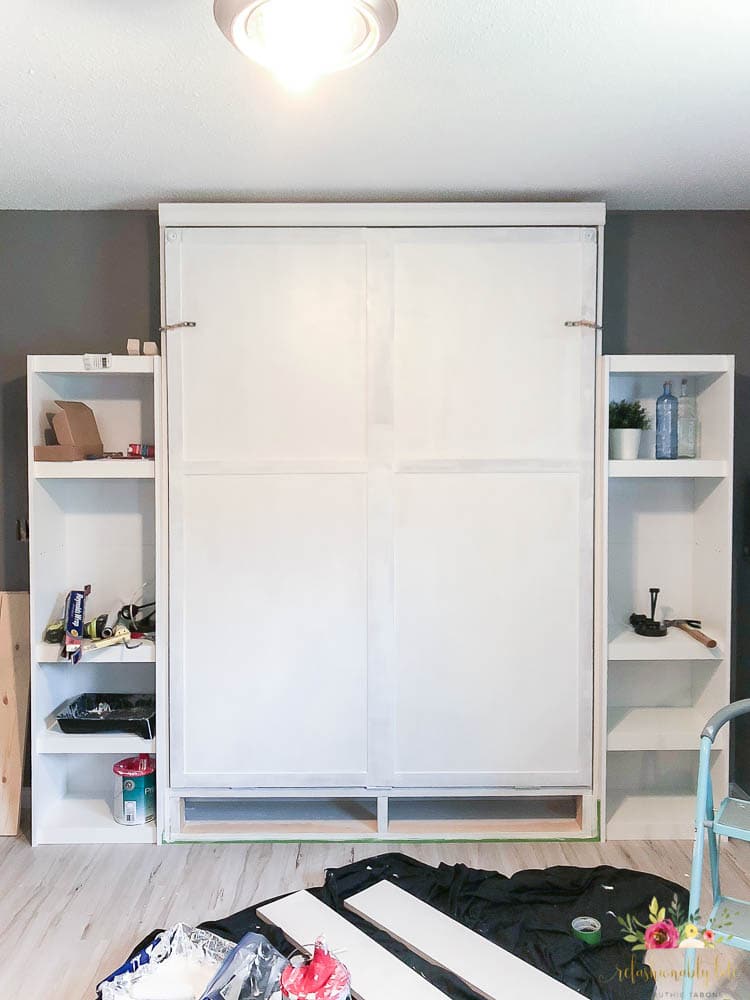 I caulked and primed and painted it all until it was finished. I left the bookshelves the color they were as it wasn't too much of a difference in white.
You will want to make sure you fill the nail holes where you nailed the molding. Sand them down and then paint over them. You want it to look as clean as possible.
Attach "Drawers"
I contemplated putting in working drawers but the time constraint just didn't allow for that to happen. Instead, I made some faux drawers in the front.
I cut to size two 1×8 pieces of wood and painted them the same color as the frame. Before nailing them into the frame I attached two cabinet pulls to the front. This helped give it the look of real drawers.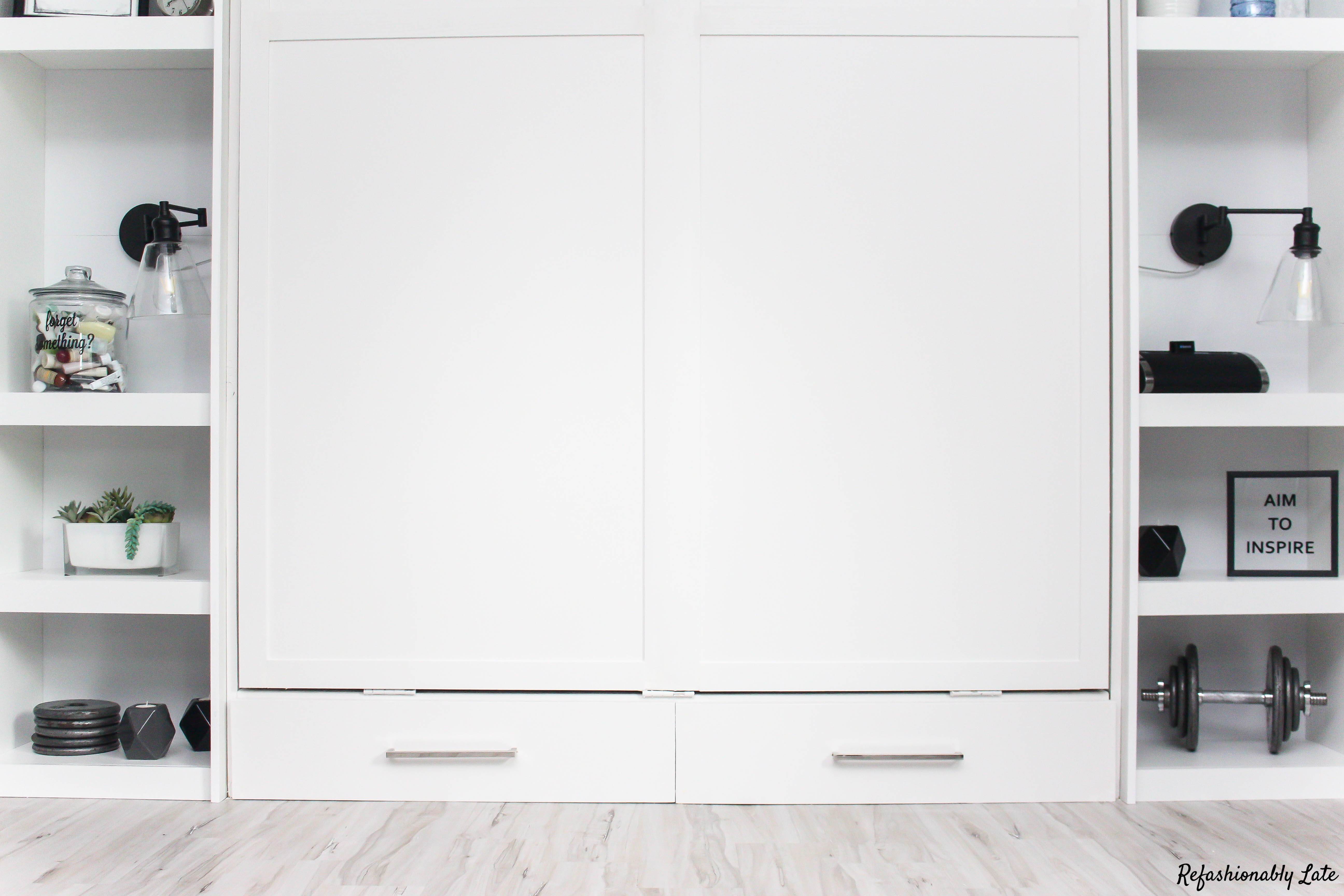 Attach Legs
To add legs to the DIY murphy bed we screwed in two steel leg plates at each top corner of the bed. I painted them the same color as the bed so that they would blend in.
We also screwed in two 18 inch cabinet pulls to the front to mimic doors. (Aren't we super sneaky with our fake drawers and doors? Ha!)
We cut the legs to the correct height of the bed when it's folded down to the floor. You will want to make your own measurements for this as it may vary from bed to bed.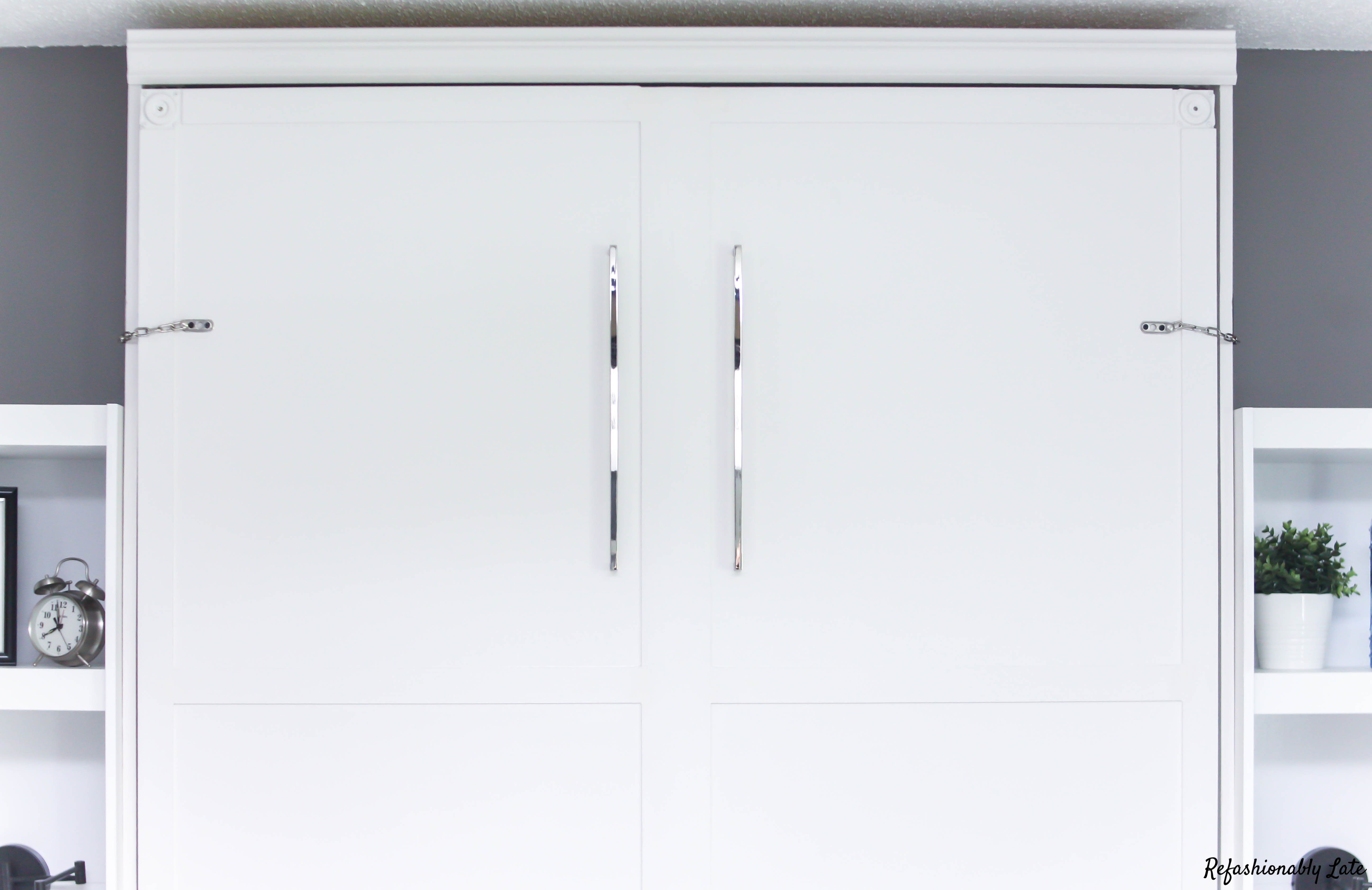 Attach Bed Locks
Last but not least, we added the bed locks. This is one of the most important steps in building your murphy bed.
Without these locks, the bed will fall down and could really hurt someone or yourself. For the locks, we used chain guards… as you see in hotels quite often.
We screwed one end of the chain onto the side of the bed frame and the other end to the front of the bed frame. When locked in place it holds the bed up perfectly!
I purchased my locks at Lowe's but I'm really liking these white chain guards better as they would blend in nicely.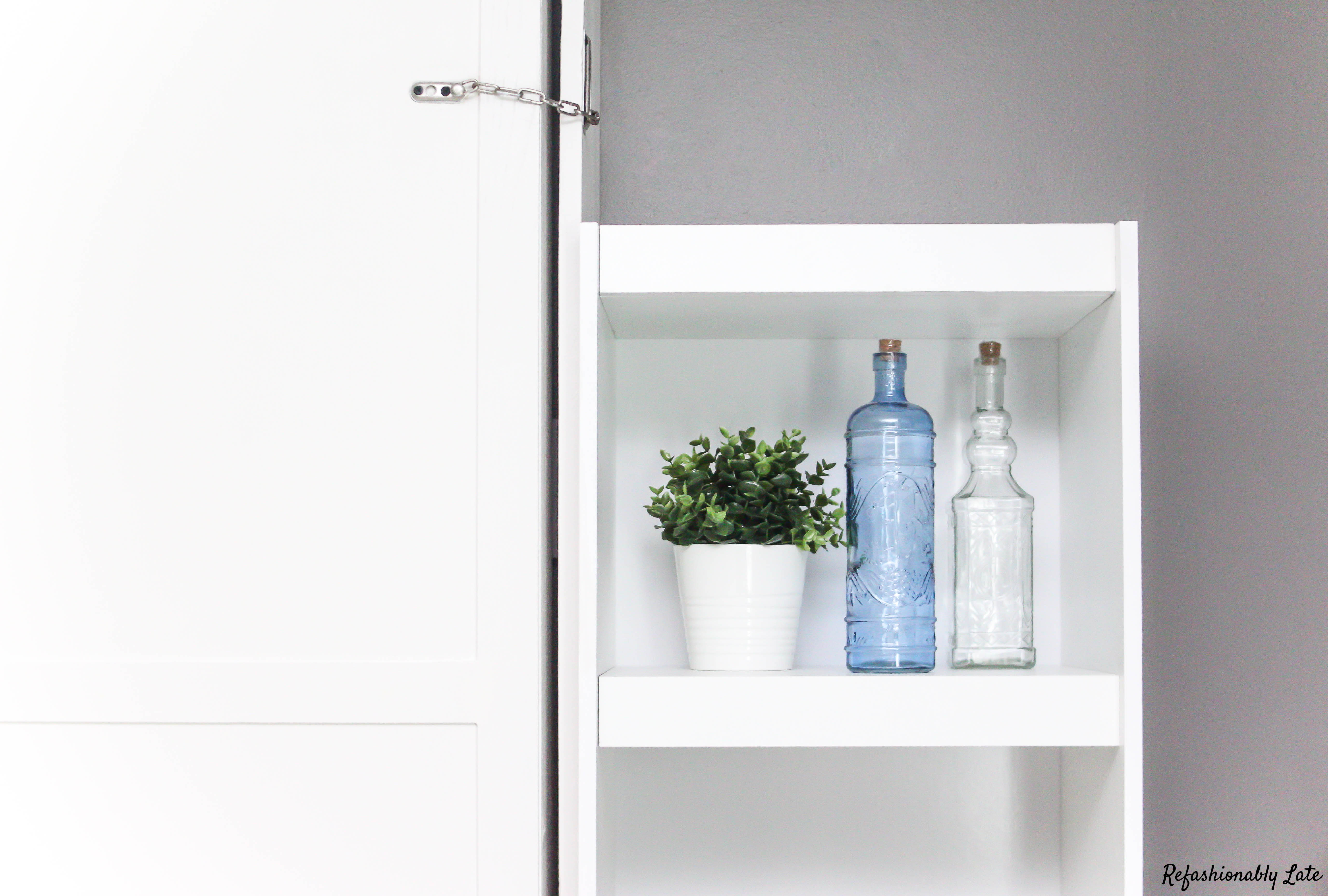 We couldn't be happier with the end result! It has been such a great space saver! We have the bed folded up the majority of the time and it gives us a lot of great space to work out.
When we have guests we move around the work out equipment a little and lay the bed down. It's perfect! For more photos and details of the room, check out the link below.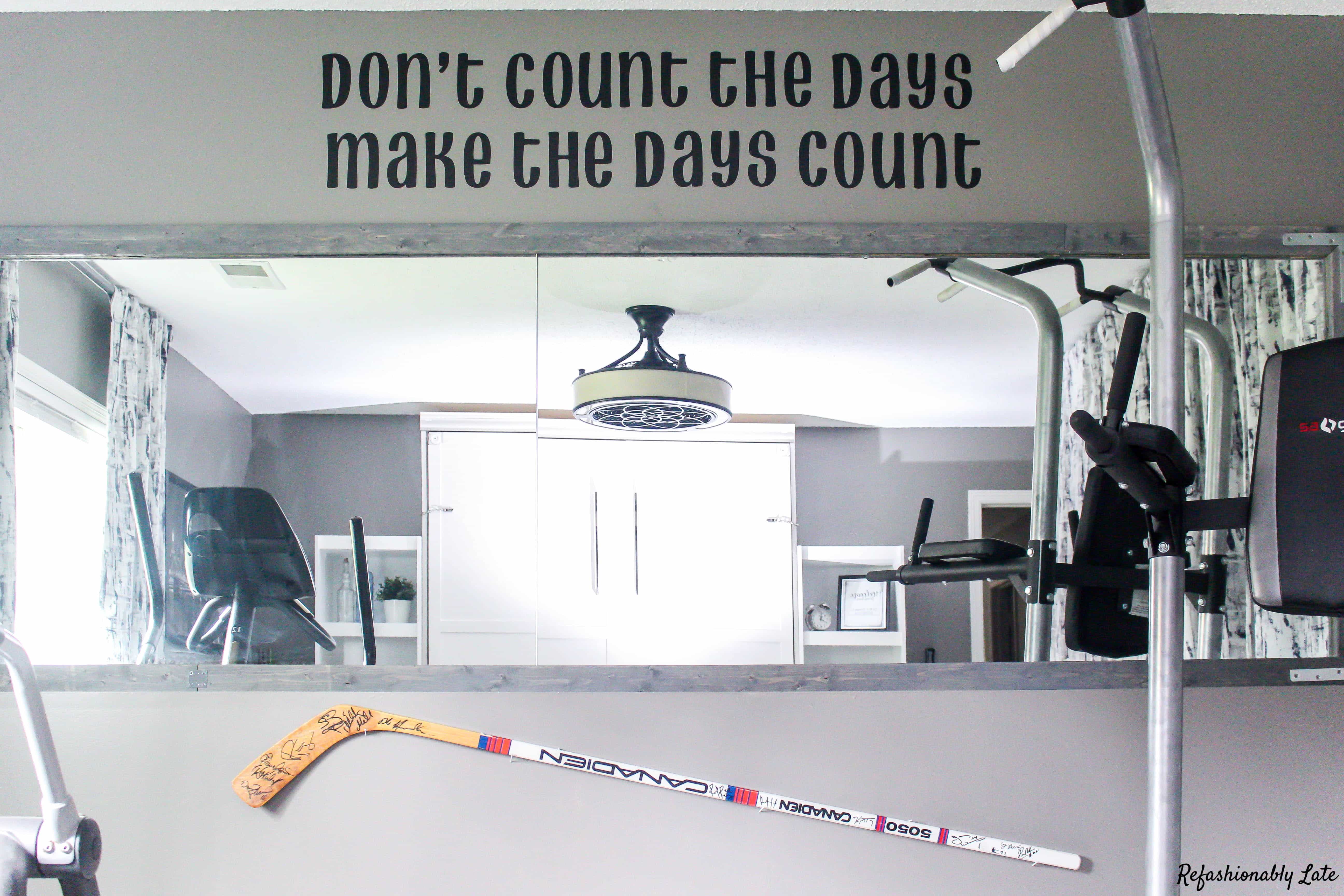 Now for the final reveal and a slight photo overload! Let me know if you have any questions as I'd be happy to help! I feel like everyone needs a murphy bed in their house!
The plan is to build one more in my office/craftroom/guest room. I need more space to work and craft so the bed has got to go….on the wall. This next bed we are planning on putting it on the wall sideways. Stay tuned for that tutorial!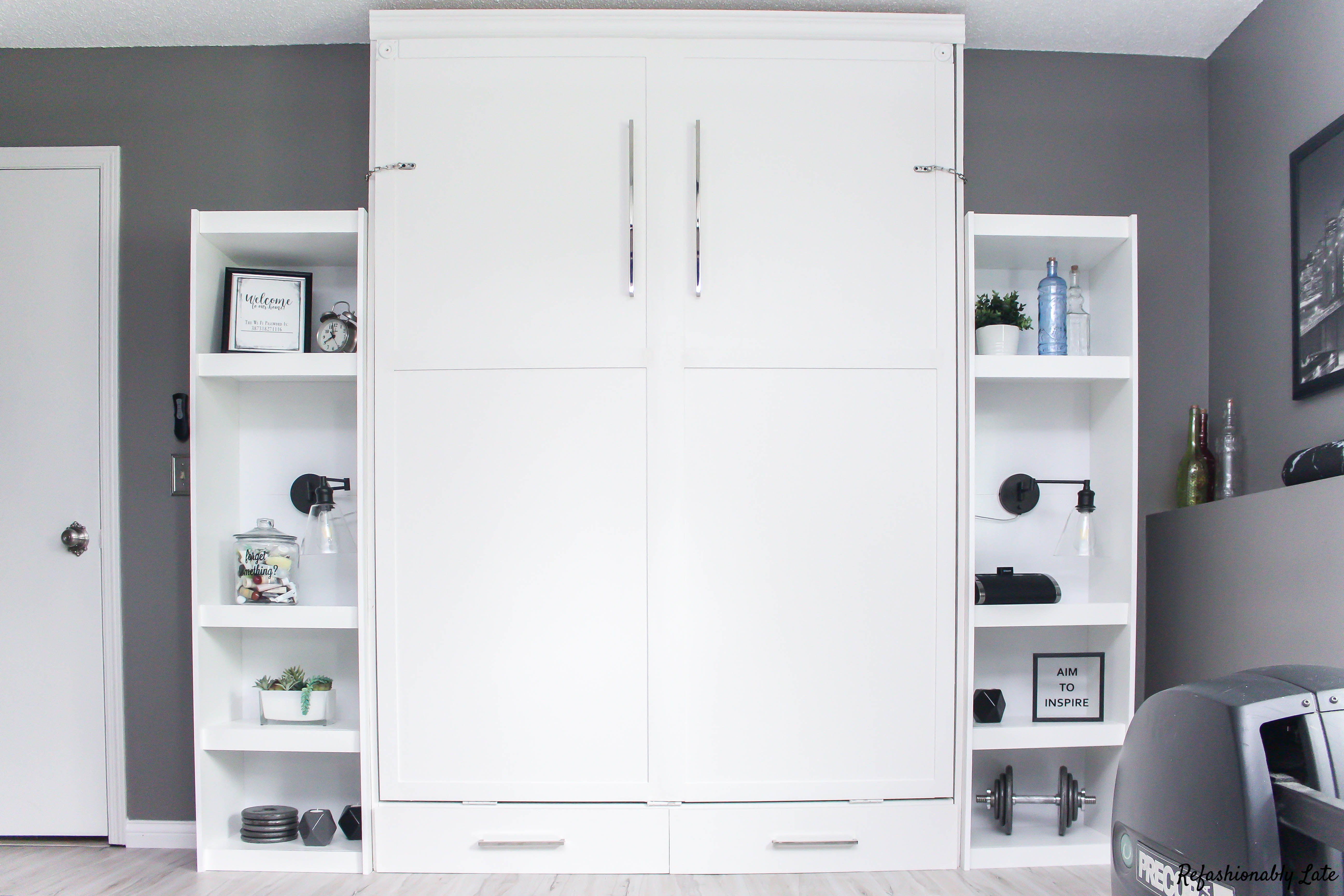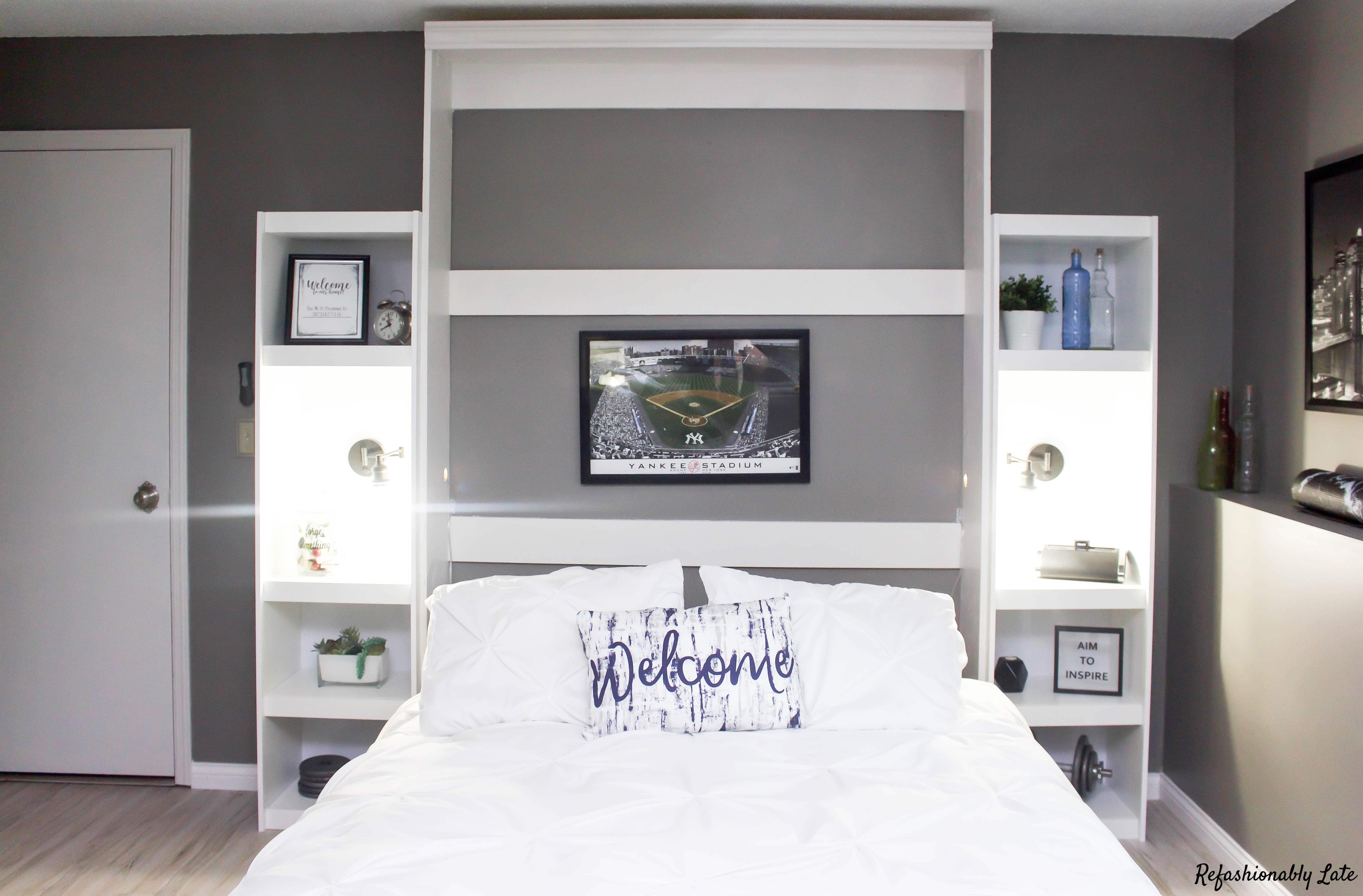 Have a great rest of your Wednesday and I'll be back tomorrow for My Dollar Store DIY!

Many outgoing links on Refashionably Late are affiliate links. I may earn a small commission to fund my Diet Mountain Dew drinking habit if you use these links to make a purchase. You will not be charged extra, and you'll keep me supplied in caffeine. It's a win for everyone, really. I only link to products I have tried and love! See my full disclosure here.