Planning a baby shower can seem overwhelming but I have you covered. I compiled a list of items you need to create a beautiful shower for your friends or loved ones. Also, a list of beautiful baby showers for your viewing pleasure!
Welcome to Refashionably Late. If you are new here, please join 24k+ subscribers and followers for weekly DIY projects & ideas! I'd love to get to know you and answer any questions you may have. You can also follow along on Pinterest, Instagram, & Facebook.
One of my best friends had a baby last Wednesday. It was so fun to wait (im)patiently for what the gender was and for pictures and a name. It made me think back to the days when my two little girls were born.
The whole birthing process is a really magical thing. It makes me sad sometimes to know I won't have that experience again but at the same time, I'm content with our little family of 4! We feel complete.
Planning a Baby Shower
Even though I don't plan to have any more babies of my own, I still love to plan a beautiful baby shower.
With my good friend having a boy, I have boys on my mind. When planning a baby shower you want to start with the invitations!

Recently, I came across the most adorable website for invitations, stationery, printables, and business cards. Basic Invite has so many beautiful designs to choose from.
After you select a design then you are able to change any color within the design. If you want a different color font, or a different colored item, and of course a different color background. You can do it!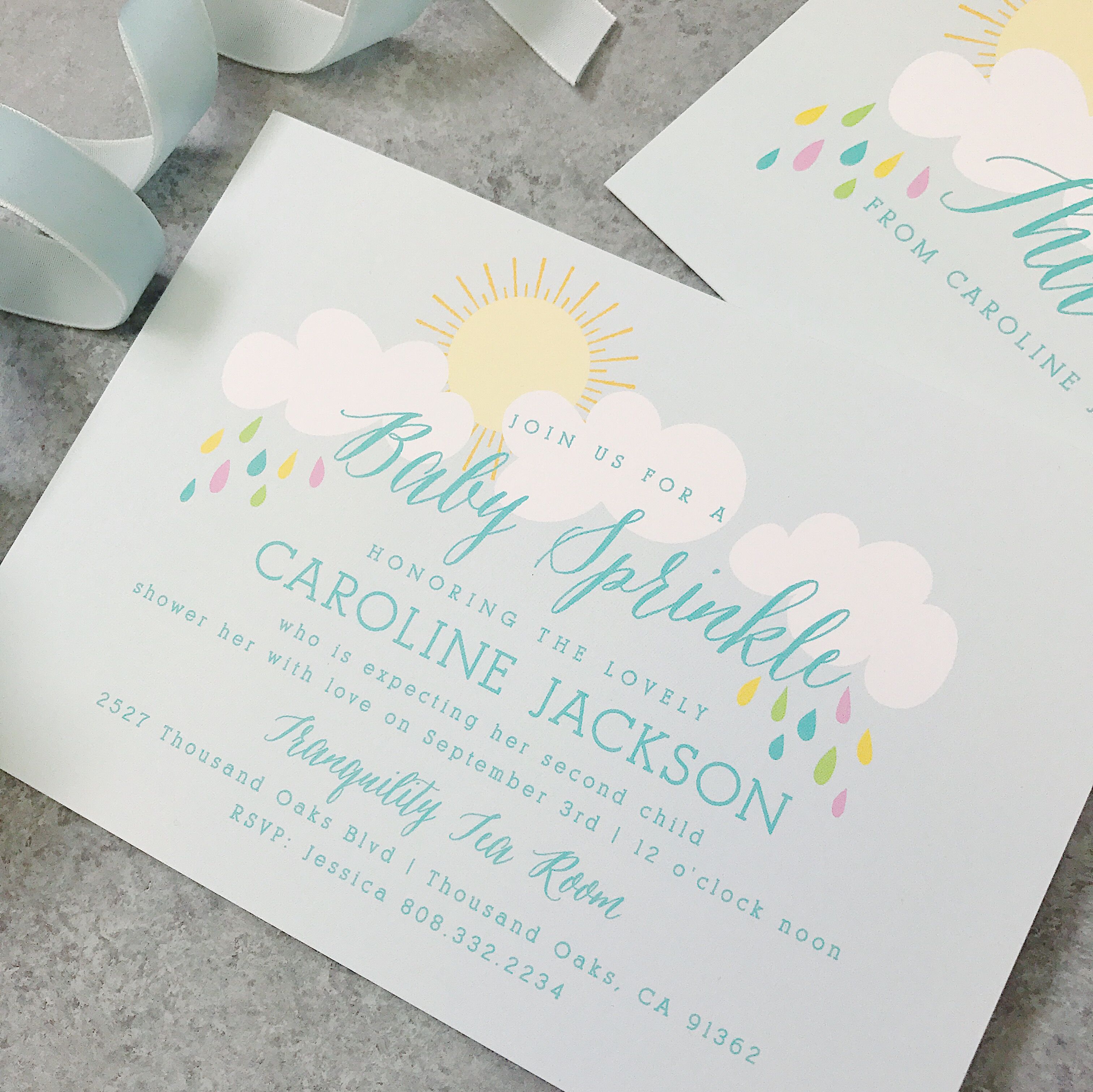 The best feature that Basic Invite offers, in my opinion, is you can purchase a preview invitation of your design. You can see your creation in person before you buy multiples of the invitation!
Also, they are having a 15% off sale until the end of the month. Just use the code 15FF51 at checkout! Hurry and order before the sale ends!
A fun thing to do at a baby shower is to play a few games. You can decorate onesies for the baby or write messages on the diapers for a little humor for the parents in the middle of the night.
A couple of other fun ideas are blindfold tasting baby food and guessing the flavor or melting candy bars inside of a diaper and guessing what kind!
If physical games aren't your thing then Basic Invite has you covered again! You can get various games printed in tons of designs and game ideas! Oh, and guess what?! You can customize all of the colors again!
Baby Shower Decorations
Now the most important part of planning a shower is the decorations. The decor is much fun to put together. You will probably want to pick a theme as that will help you with the planning.
Baby Shower Food
Last, but not least, you will need to plan out your food. You will need to decide if you are serving a meal, appetizers, or just desserts. Here a few great food ideas to choose from!
You are now ready to throw your own baby shower! You've got the invitations, party games, decor, and food covered! Below are a few of my favorite gifts to give at baby showers!
One of my favorite parts of party planning is making a beautiful Tablescape. I love to decorate a beautiful table for all occasions!
Have a wonderful Monday and I'll see you later this week with a roundup of my favorite projects from At Home DIY!
This post is sponsored by my friends at Basic Invite and may contain affiliate links. Thank you for supporting the brands that support Refashionably Late! See my full disclosure here.