It's no secret that I love working with MARS so when I had the opportunity to do a post all about football season I was so excited!  I have to be honest…I'm not a huge football fan myself…but I do enjoy the social aspect of the game!  My husband is a huge fan and buys the extra cable package so he can watch all the games he wants!  My daughter has a little football cheerleading outfit and our soon-to-be-here daughter has a little onesie that looks like a football. Needless to say, we enjoy football in this household.
Since our daughter is so young and I'm not the biggest fan in the world I wanted to make something so that it was more enjoyable for all of us!  What better way to watch the game than to play a game…while you watch the game!  Bingo is such a fun, classic game that people of all ages can enjoy and play together!
There is this really great website you can go to create your own Bingo game cards called My Free Bingo Cards.  You can use templates to create Bingo cards for all different party themes and special occasions. It is such a great way to add some fun to your party!
It's very simple to use the website and you can edit it in many ways to make it exactly how you want it to look!  Here is a detailed description of how to create your own Bingo card.
Scroll down and click on the Free Custom Printable Bingo Card Generator.
Add your Bingo Title
Add your Bingo Words
Change to the preferred theme
Change Grid Size (You can have it be automatic or add the number of spaces you would like)
Choose between 1 or 2 cards per page
Add a FREE SPACE if you'd like
Change words so that they are all the same size (I like this as it looks cleaner)
Decide, depending on your Bingo words, if you want all words on the same line
Click the Human Bingo button if you want the words to be at the top of each box
You can also click to choose to not randomize (you'll want your cards to look different so I don't recommend clicking this button)
Click Next Step >>>
You now have the choice to print your Bingo cards or play online if you don't have a printer
You now have a PDF file of your Bingo creation!  Save and print!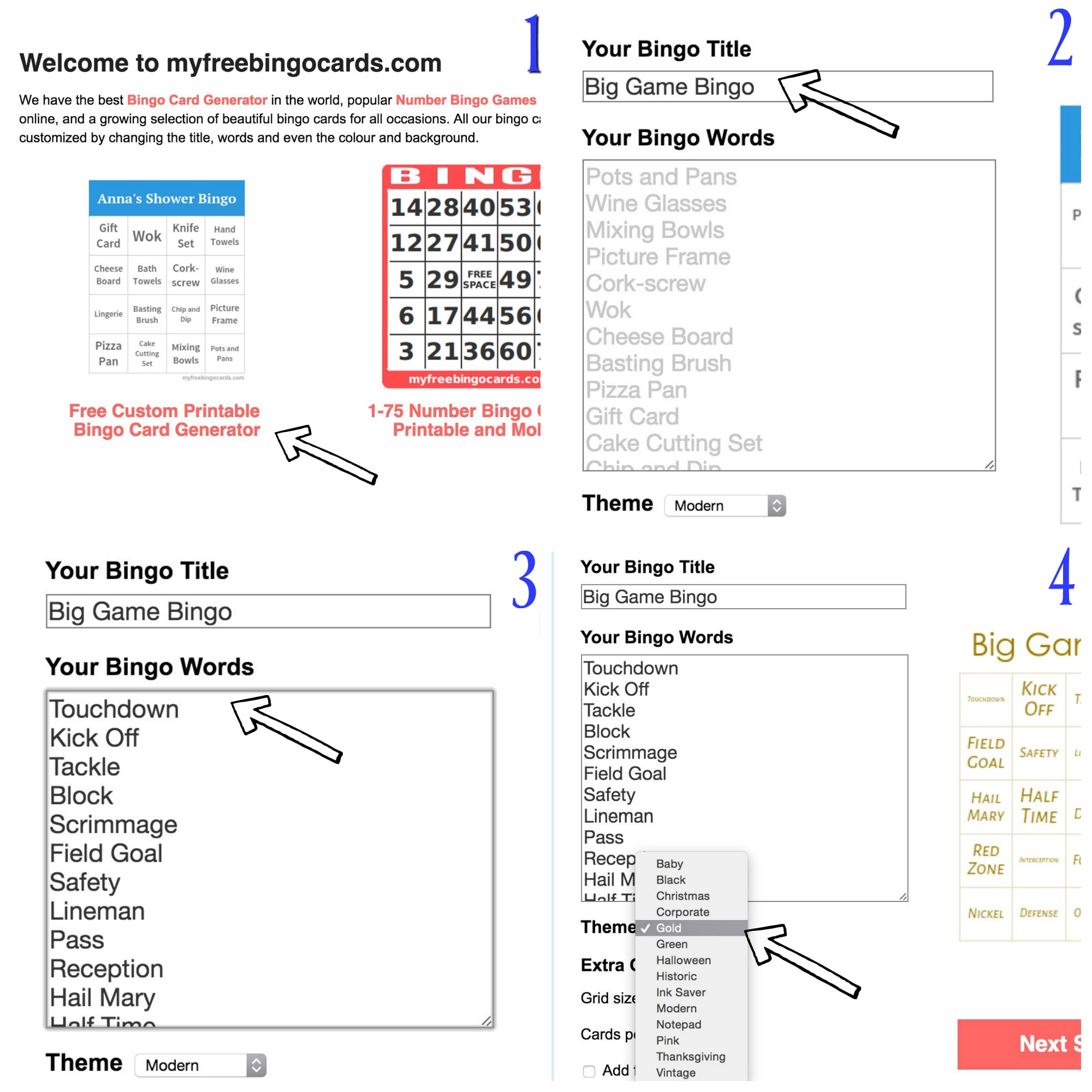 It's so easy and it's fun to create your Bingo card to your exact standards!  So now we have the cards made but what should we use for the "Bingo chips?"  What better than….Skittles®!  They are disposable game pieces which makes them yummy to eat after the game is over!
So now that you've got your game pieces and your game boards it's time to have fun with the family! Anytime you see something on your card that is in the stadium or happens during the game you get to put one Skittle on that space.  The first person to get a Bingo (5 spaces in a row or diagonally) is the winner!  You are free to play as many times as you'd like, play on teams or make it into a tournament! Be creative and have fun!
If you aren't in the mood to make your own Bingo cards then you are in luck!  I have my Bingo cards available for download!  Click on the photo below for each card to download them yourself!
I hope you are enjoying the beginning of Fall and the crisp weather, well at least in my neck of the woods!  I can't wait until Sunday to watch some football with the fam and play Bingo!  My husband will be so happy that I want to sit and participate in the game!  What is your favorite way to enjoy watching the game while spending time with family?  Do you have a snack of choice like mine is Skittles? 
Many outgoing links on Refashionably Late are affiliate links.  I may earn a small commission to fund my Diet Mountain Dew drinking habit if you use these links to make a purchase. You will not be charged extra, and you'll keep me supplied in caffeine. It's a win for everyone, really.  I only link to products I have tried and love! See my full disclosure here.