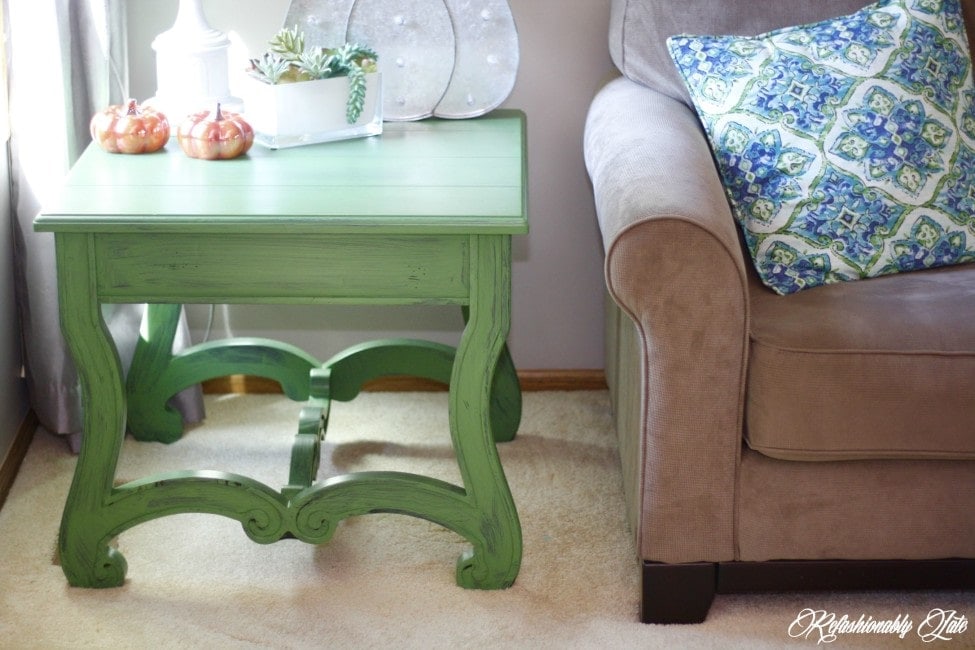 Hey everyone I wanted to share a quick little project I worked on a couple months ago. Back in September I shared this tutorial on Old House to New Home and now I want to share it with you!
This project I kind of made by mistake and I LOVE IT! I've had this old end table since college. One of my college roommates was moving out and no longer wanted it. I said I would keep it since I was moving into my own place and needed furniture.
This project 7 years ago was probably my first DIY project or my first painted furniture project. I took the table outside of my apartment and spray painted it black. It was a basic wood end table but it had the coolest lines. I've had it in my home since and never had to repaint it. It stayed in fairly good condition throughout the years.
I have been in love with the color Cliveden Pasture by Valspar for quite some time. I wanted to give my living room an extra added pop of color so why not go big or go home?! Since it is such a bold color I wanted to make it look distressed. I originally wanted to completely paint it and then use a stain to distress it. I had an even better and easier AND faster idea by just giving it a distressed look by not painting it perfectly. The table was already black so all it needed was a little slopped on paint, but in a nice, clean slopped on kind of way. 🙂
I made sure to paint with straight lines. I also had more coverage in some areas than others. In the pictures below you can see the technique I used when painting the table. I used a brush to show strokes, which I love! There really was no rhyme or reason to my strokes except to make them look nice and even semi-even.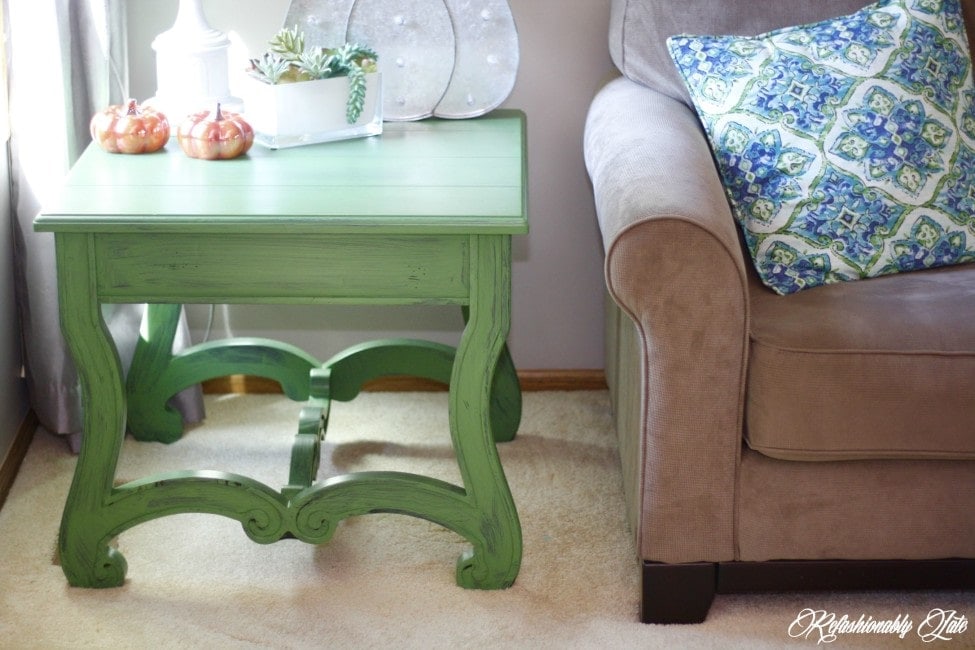 Aren't simple projects the best?! I love how simple this project was and if you want to achieve the same look all you have to do is start by painting your piece of furniture black then go over it with your choice of bold color! Simple! I hope everyone is having a great week so far! My life is overwhelmed by projects at the moment and anxious for life to slow down a little! I'm super happy with how everything is turning out so far! Friday I'm going to fill you in on all I'm working on!






Have a great week and I'll see you Friday!