This shop has been compensated by Collective Bias, Inc. and its advertiser. All opinions are mine alone. #MySoundStyle #CollectiveBias
On Monday I shared with you some background info about me and my life. Today I'm going to share a little bit more about myself and a day in the life of me and my musical schedule. You may have read in one of my previous posts that I sing in a competitive acapella group called, Delilah. I sing with an organization called Sweet Adelines International. It's a really wonderful organization all about sisterhood and the education of music. I love being able to sing with my best friends and sing music that makes me get goose bumps and excitement within.
When I'm not singing with Delilah or seeing life through my beautiful daughter's eyes I also teach private music lessons. I teach piano, voice and guitar to a range of ages two afternoons a week. You may have seen my Lessons by Ruthie tab on the top of my page. I got my degree in vocal music education and to say I'm passionate about music is a understatement. My family and music are my life. Period.
I thought today I would give you a behind the scenes look of my musical life and schedule. Even though I sing with an acapella group it doesn't mean that electronics are not involved in the learning process. Also have you met any music teacher that doesn't have a piano, stereo or some type of electronic device? Music and electronics kind of go hand in hand.
Typically my daughter wakes up between 7:30-8 in the morning and we go have some breakfast. We take our vitamins and we then start the morning off with a show, lately it's been either Little Einsteins (proud mama) or Sofia the First. After the show is over we either go outside and play, go to the park or sometimes we have dance parties! I love good solid music but sometimes you just need to jam to Meghan Trainor! Lucy is obsessed with her and can sing almost all of the words! We typically have jam sessions in our living room and we use our Infinity One Portable Speaker by Harman.
As soon as we have danced our hearts out we relax, read a book or two and then it's time for lunch. Then around noon it's time for Lucy to take a nap. This means it's Mommy time! 🙂 I take this two hours of me time to get things done around the house, rehearse music, or prepare for that days lessons. One of the other things that I do is work on the blog. Since I'm a lover of music I typically listen to music while I work.
Once I've gotten some work done on a post or two then it's back to one of the other to dos on my list. Since my quartet, Delilah, is a long distance group (1 in Northern California, 1 in Southern California, 1 in Denver & 1 in Minnesota) we have to do a lot of work on the music on our own. I sing the melody so I'm constantly sending the other girls tracks to listen to and sing along with. I also need to rehearse with a part sometimes so my tenor sends me tracks every so often to sing along with. The Infinity One Portable Speaker is a great tool when practicing my music. It's portable and the sound quality is phenomenal. This allows me to sing along with my quartet member(s) and make sure all my notes and timing are correct. The one on one "virtual" practice allows us to come together and sing like this:
Once Lucy is awake we have some play time and shortly after it's time for my lessons for the day. I have an amazing student who also is Lucy's babysitter. She comes over and we do her guitar lesson and then she watches Lucy while I teach the rest of my lessons. The speaker is a huge part of my lessons because I have voice students who need to sing along with tracks. I even use it for my guitar students when I have them practice playing along with the original track of a song to practice chord changes and strumming patterns.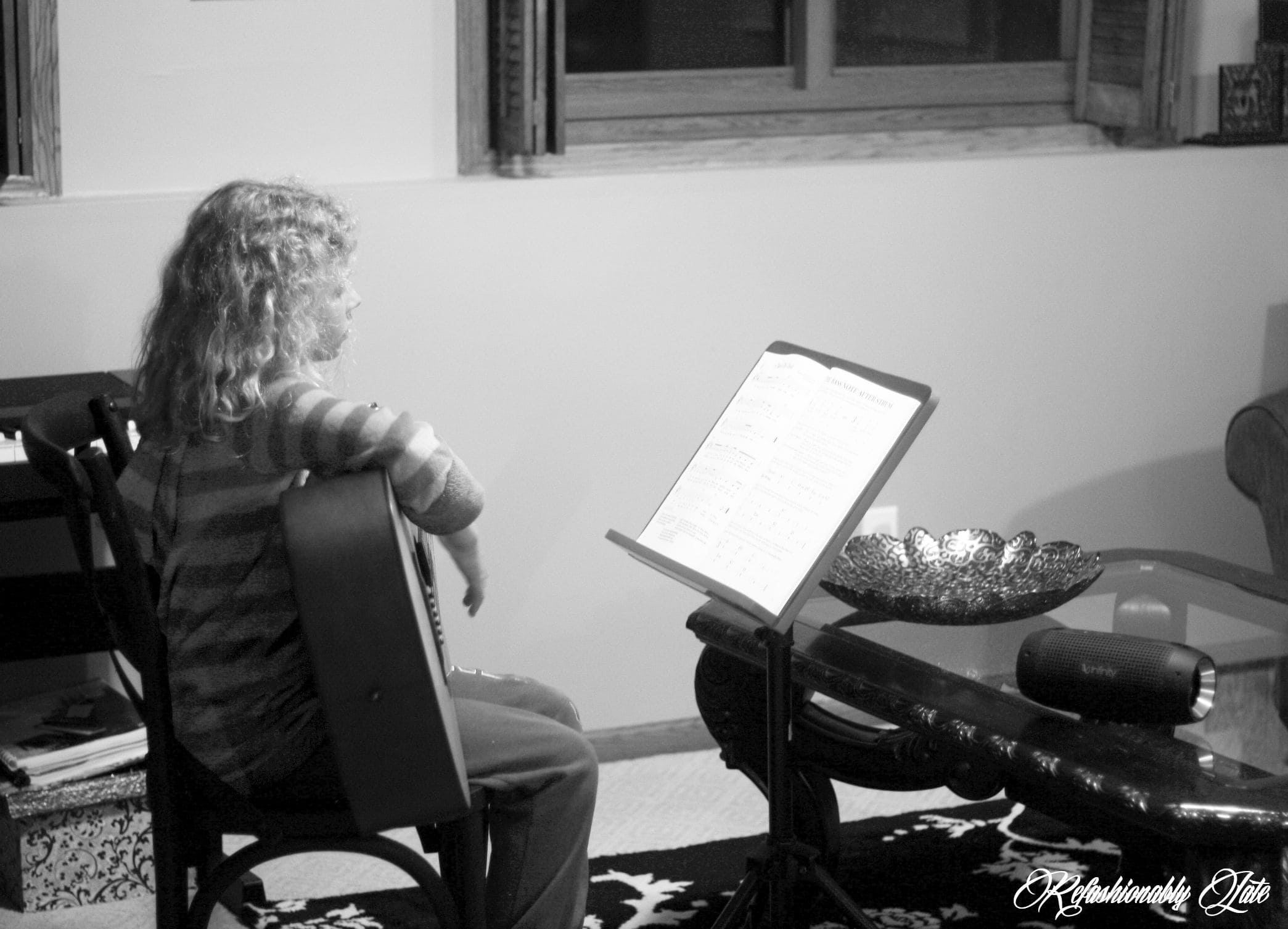 My lessons typically last from from 3:30-7:30 in the evening. When my husband gets home from work around 5:3o then he relieves the babysitter and he and Lucy prepare dinner. Yes, my husband is the main cook in the family…amazing right?! Lucy goes to bed around 7:30 and then it's our time to catch up on a TV show and just relax and enjoy each other's company. I typically spend an hour or so on the blog in the evening as well! I sure love blogging but it's a lot of work! Depending on the day we typically head to bed around 10:30 and get our rest for the start of another day.
I love this speaker and I would LOVE for one of my followers to win one of their own! Sign up for the giveaway below for your chance to win 1 of 5 Harman Infinity One Portable Speakers. The giveaway is live until 10/23/15. Crossing my fingers one of my followers is lucky enough to win!
Harman Infinity One Portable Speaker – 5 winners!
Family and music go hand in hand in our household. "Family is like music, some high notes, some low notes but always a beautiful song." What is your theme song and how does music affect your daily life? For fun head on over here and take this quiz to determine your sound style. I'm a Vinyl Virtuoso. 🙂