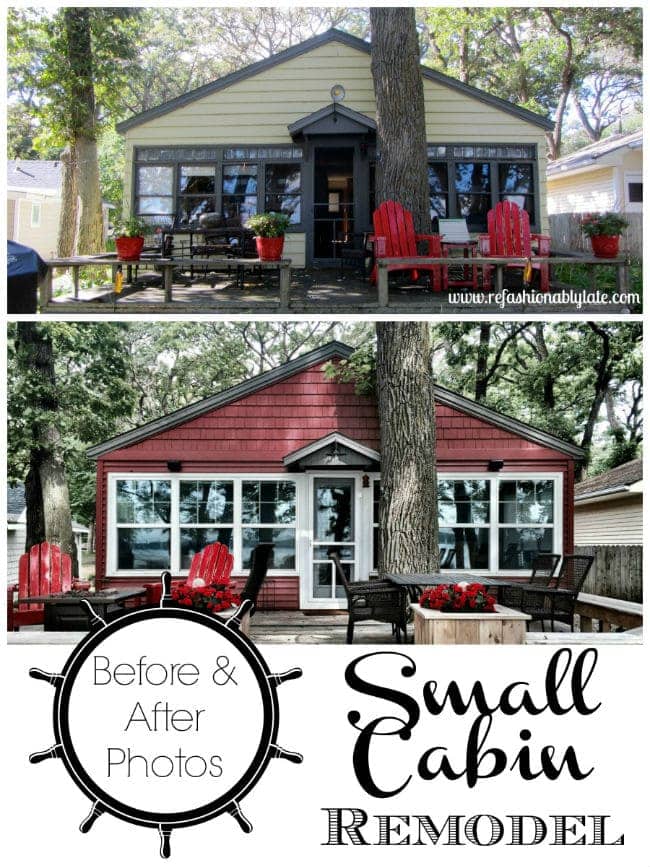 I'm madly in love with a little lake in Iowa called Okoboji.  I believe it is the most magical and beautiful place in the world!  It is one of three…yes I said 3…blue water glacier made lakes in the world!  How amazing is that?!  For a little bit more about Okoboji check out my previous post here.
I am lucky enough to visit often as my parents have a cabin on West Lake Okoboji.  We have quite a history here and a long time ago we had a cabin on East Lake Okoboji which we shared with 3 other families.  It was so fun and we took turns staying there on the weekends.  I have some great memories there.
When I was a junior in college we started renting a cabin from a family friend on West Lake Okoboji.  The first year the deal was to live rent free but for my mom to spruce it up.  The first time my mom and I walked inside the cabin we were pretty grossed out.  The house was built in the 1940s and pretty much nothing had changed since then.  My parents made some minor adjustments and put new carpet in, painted the walls and redid some of the furniture.  We lived in the cabin each summer from then on for many years.  This was truly a summer "cabin".
3 years ago my parents officially purchased the cabin and did an entire cabin renovation.  The cabin was restored to a true lake cottage.  They pretty much gutted everything!  Here are some before pictures of the cabin.  (Ignore the messiness…as the cabin is only about 1000 square feet and I believe this was after a weekend of everyone being home.  All 10 of us.)  The one thing that was not removed was the beautiful old oak tree standing in the middle of the deck that provides us with some wonderful summer shade.
My mom has given a lott of beautiful attention to detail in the cabin.  She really put everything she had into this place.  She is one talented Mama and I owe all my talent and DIY vision to her!  She kind of rocks!
So here we go with some major photo overload of my parent's small cabin remodel. 🙂

The view from the family room into the porch.

The house came with antique wicker chairs and couches which my mom recovered when we moved in.  She does plan to recover them again soon and I hope to share it with you all on the blog!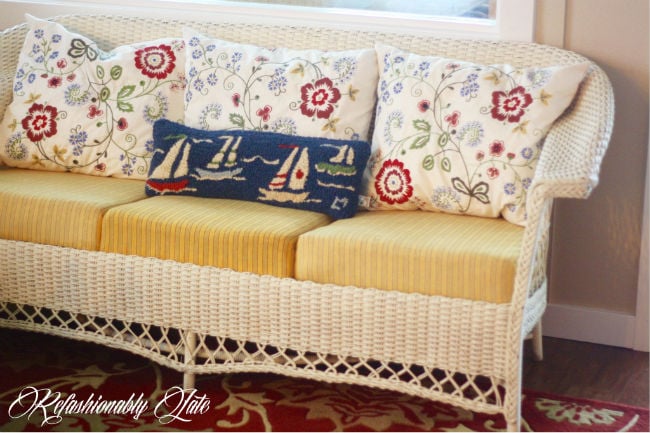 The kitchen afterwards.  They had custom cabinet doors made and kept some of the orginal cabinetry as well as all new appliances.  They also installed granite tile as their countertop.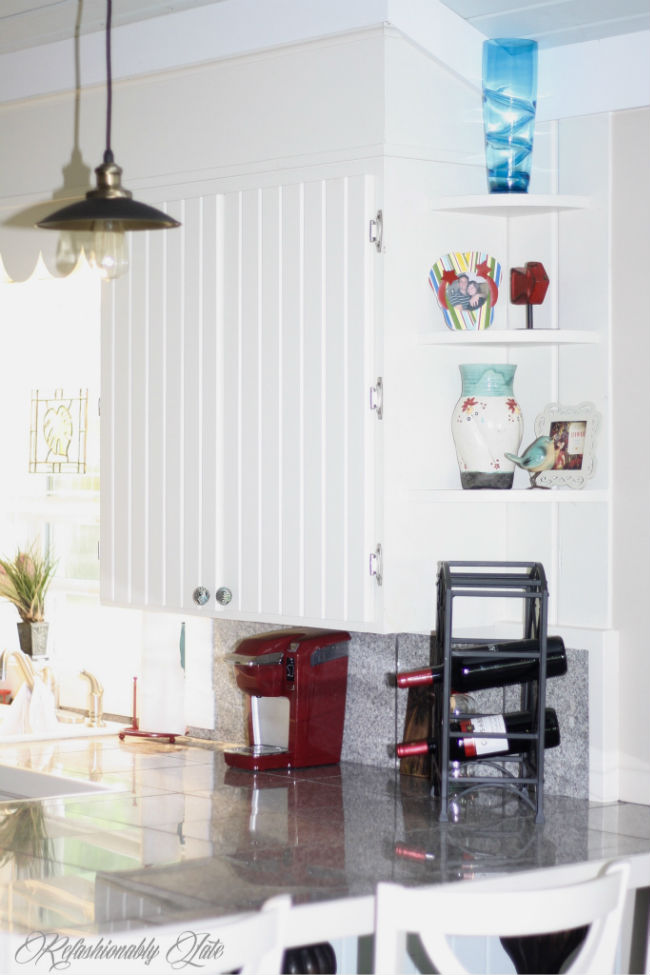 My mom needed some corbels for her bar and she found these awesome shelves at TJ Maxx and I love the contrast in color they give to that area of the room.
This wicker ferris wheel is in homage to the original theme park (Arnolds Park) located on the lake.
Outdoor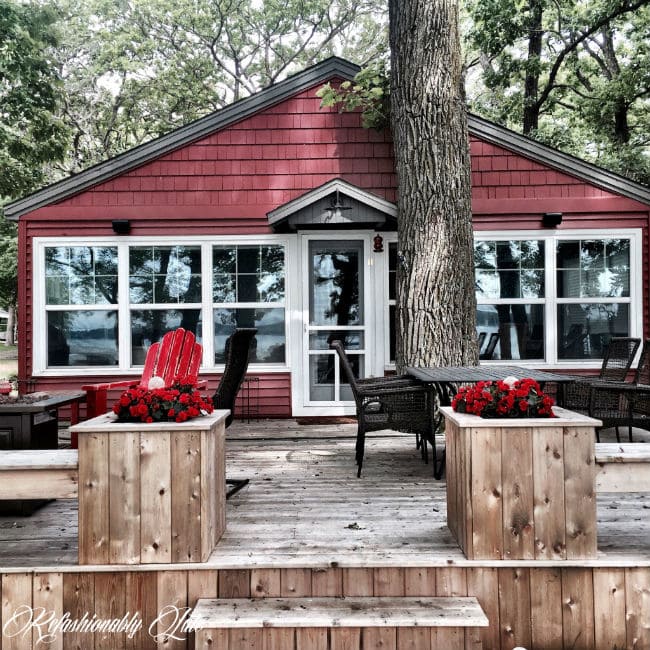 I wish I had more before pictures to share with you so you could see the dramatic difference.  My mom has done an absolutely stunning job with the remodel and it's such a great place to come and visit.  It feels so much more cozy and inviting.  🙂  Well I'm off to go out on the boat, hang with my family and enjoy the amazing weather!  See you Friday!