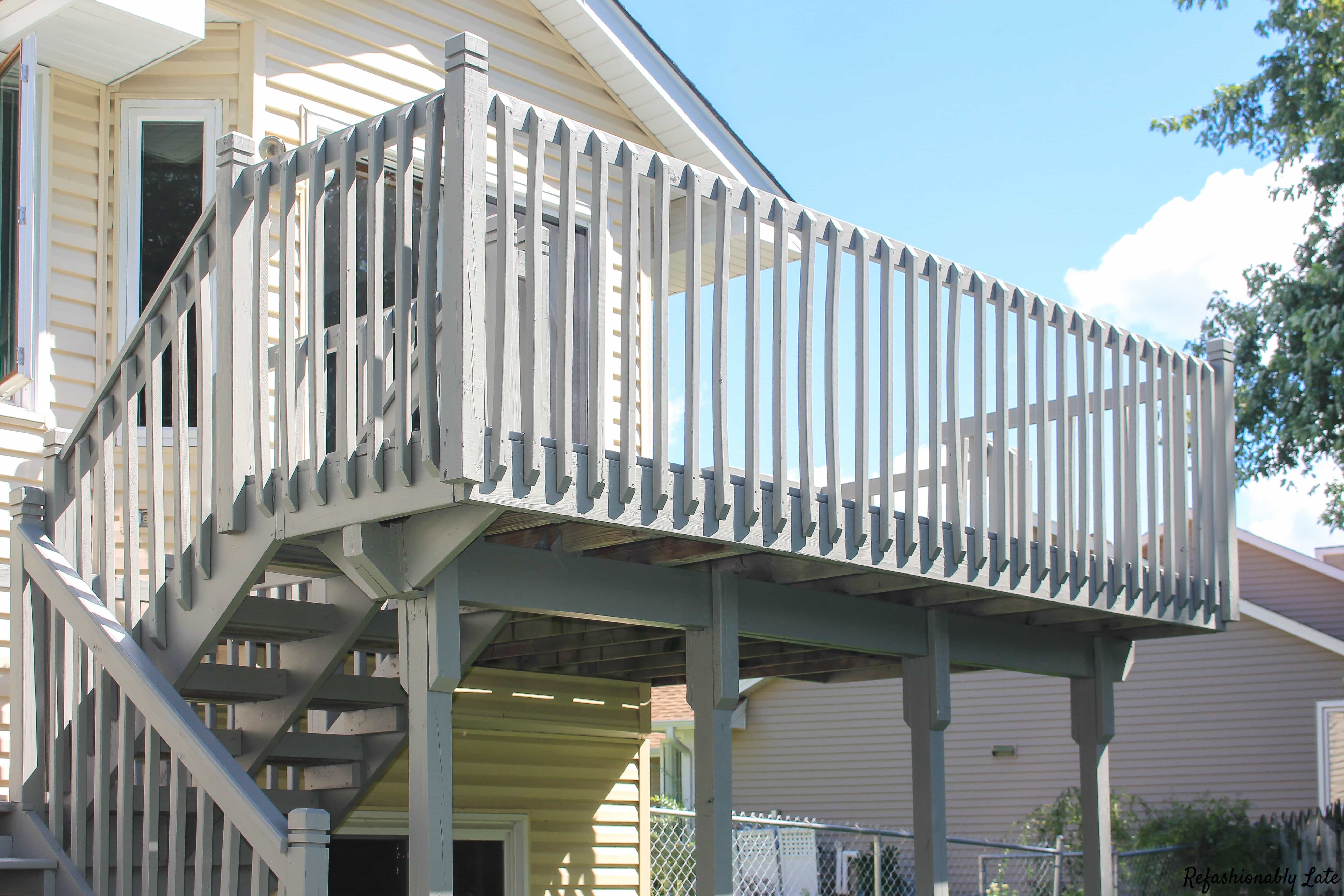 Well it's the middle of the week and we are only two days away from a long weekend! I'm so excited to share with you a project that has been a long time coming. I feel like I've said that a lot these days but this pregnancy has put a few road blocks in our way and hasn't allowed us to get things done in a timely manner. Another thing that has gotten in our way with this project is all the rain this summer. Now I'm not complaining because our lawn is green and lush but it really hasn't helped with painting our deck. We had multiple times set aside to paint our deck and then it either rained, was too hot or I was on a modified bed rest. Well despite the bumps in the road we have it done! Here is what the deck and the back of our house looked like originally:
The previous owners painted the deck right before we moved in but it did not wear well and so two years later we wanted to give it a little makeover. Besides painting the deck my husband and father in law built an extension onto the deck to fit our grill. This allows more space on the deck for entertaining and hanging out without the grill taking up space. (Tutorial to come in the next week!)
My husband primed the area with primer since it was bare wood. We didn't prime the rest of the deck because it had already been painted. Our previous owners used an oil-based paint and we did not want to use oil-based since the fumes are stronger and have higher VOC levels. Low VOC level paint is always best when painting while pregnant. We went with a latex paint since those tend to be a lot lower in VOC levels. Also latex based paints can be painted over oil-based paints but not the vise versa. We decided on using Benjamin Moore Floor and Patio Latex Enamel in Low Sheen in Light Gray. In the past, most enamels were typically oil-based but latex paints have come a long way! Latex paints now can be just as strong as oil-based paints!
Our plan of attack was to use a paint sprayer for the railings and roll the floor of the deck. We got ready to paint one day and I unfortunately was put on modified bed rest so my husband decided to take the reins and started by hand painting the railings and then did one coat of paint on the deck floor. It took quite a while for him to use a brush to paint the railings, which only proved that spraying them would be fastest. He then used a roller skin with a 3/4 inch nap. A thick nap helps with getting in between the boards and also gives a good coat of paint on the wood. Our wood soaked it up! This was how far my husband got in about 4 hours. He got the top area of the deck done but wasn't able to make it to the stairs.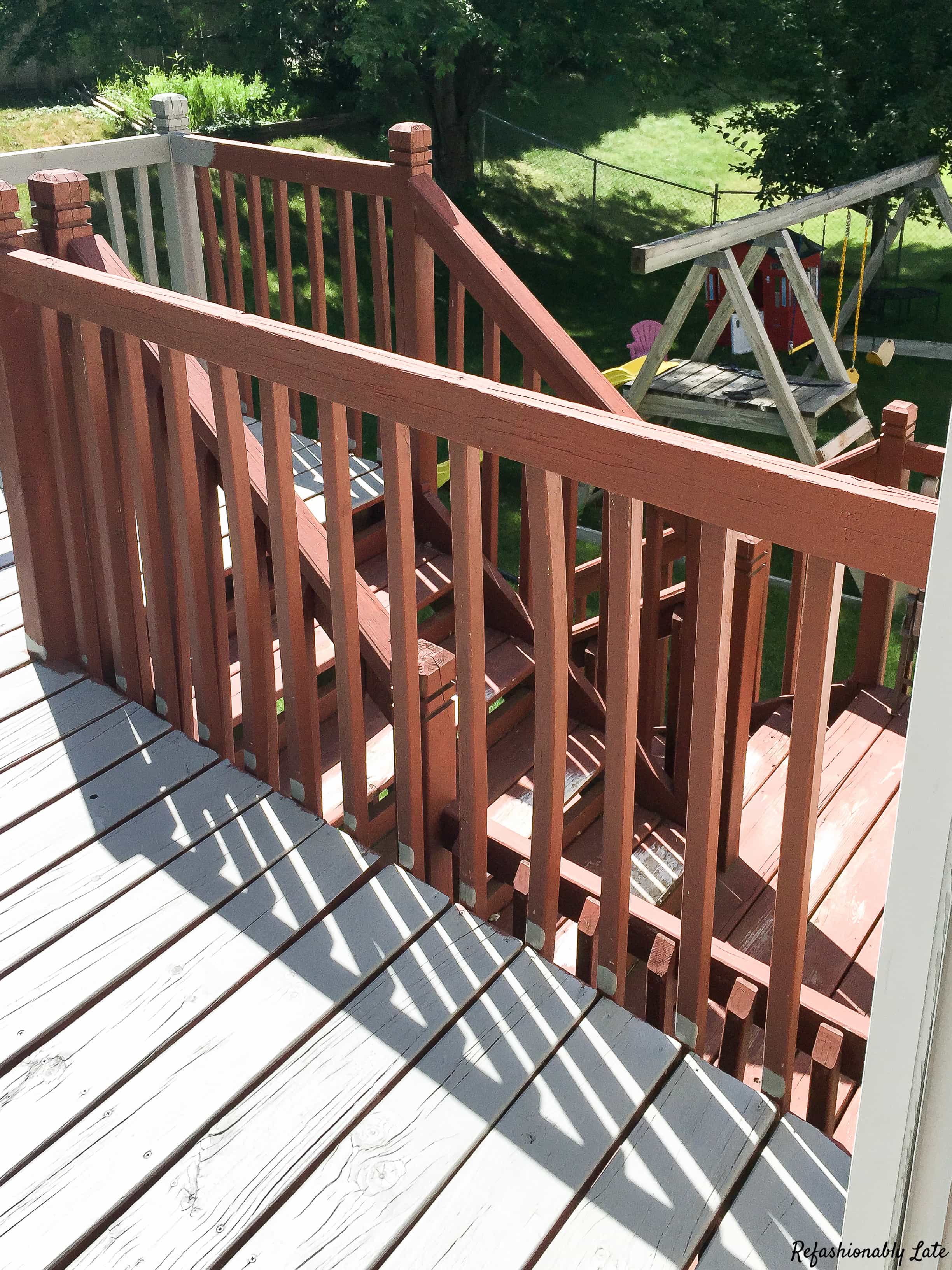 A couple weeks later we were able to finish the deck and I was able to help. We started by taping off the house with some plastic and tape to protect our house from overspray.
I was on spraying duty for part of the time and my husband did second coats onto the floor of the deck. I did need to take some breaks as I get tired easily. 🙂 Thankfully my husband was determined to get it finished so he continued spraying when I got tired. Overall spraying the railings was a lot faster than hand painting, especially with all of the nooks and crannies.
We gave the deck two coats of paint with the sprayer and roller to ensure that our deck got a solid coat of paint. Our deck is on the older side so the wood just soaked up the paint. After two coats of paint though we had a beautiful looking deck!
The best thing thing about this paint and its coverage is that when it rains the water beads up on top! Before this paint it would just soak into the wood. I really like knowing that this paint from Benjamin Moore is protecting our deck! We need to get as many years as possible out of this deck and I love knowing that this is only helping that be possible!
Thank you to Benjamin Moore for supplying the paint for this project. I would highly recommend this paint to anyone painting their deck. It provides amazing coverage and goes on smoothly! If you have any questions when repainting your deck feel free to ask! It was a learning experience and wasn't the quickest process but so worth it in the end! We still have some work to do with our deck but it has come a long way! I love how the grey matches our house better than the red. Next summer we are planning to create a little hang out area underneath the deck.
Have a great rest of your week and I'll be back on Friday with my Friday Favorites! Happy Wednesday!