This was one of the very first DIY projects I ever tackled. While in college in Colorado my parents and I went to Salvation Army and picked out a bunch of furniture for my new bedroom. One of the items we picked up was a dresser with a mirror.
I used that dresser for years and then when my husband and I moved in together we got a TV and replaced the mirror with the TV. My husband purchased some nightstands on craigslist that were a dark wood/black color. I wanted to have my dresser match it so I decided to begin one of my very first DIY projects!
I hate to sand so I went to Home Depot and asked the guy what I could use as a good solid primer so I don't have to sand. He recommended to me Zinsser Cover Stain Primer. I removed all the hardware and filled in the holes of the 4 larger drawers with wood filler because I planned to put in new knobs. Once the wood filler had dried I started priming the dresser.
I am not in love with this primer because as you can see above it goes on a little unevenly. Plus I just do not like to work with oil based paint! If I were to do this over again I would definitely use a latex primer and paint. (and probably sand it haha)
After I was finished priming the dresser I gave it about 12 hours to dry and then I used a spray adhesive to attach the paintable wallpaper to the 4 larger drawers. I used a paintable wallpaper border from Home Depot. (I can't seem to find the exact one I used on Home Depot but they have a lot of options online.) I choose to use the border instead of the wallpaper because A. it was cheaper and B. it was super close in size to the actual drawer fronts. I did use a razor blade to cut off a small amount on the top and bottom of the border so it would fit perfectly on the flat surface of my drawers. I also made sure each piece was identical to the next so that it looked uniform when placed on the drawers. It stuck pretty well and then I gave it a few hours to dry. I even liked the look of the white on the paintable wallpaper dresser before I painted it black! I love the paintable wallpaper!
I wasn't sure if I wanted to use the border on the upper 3 drawers so I had my husband hold up some wallpaper to see if I liked it….I did but I felt it was a little too much. So I decided against it.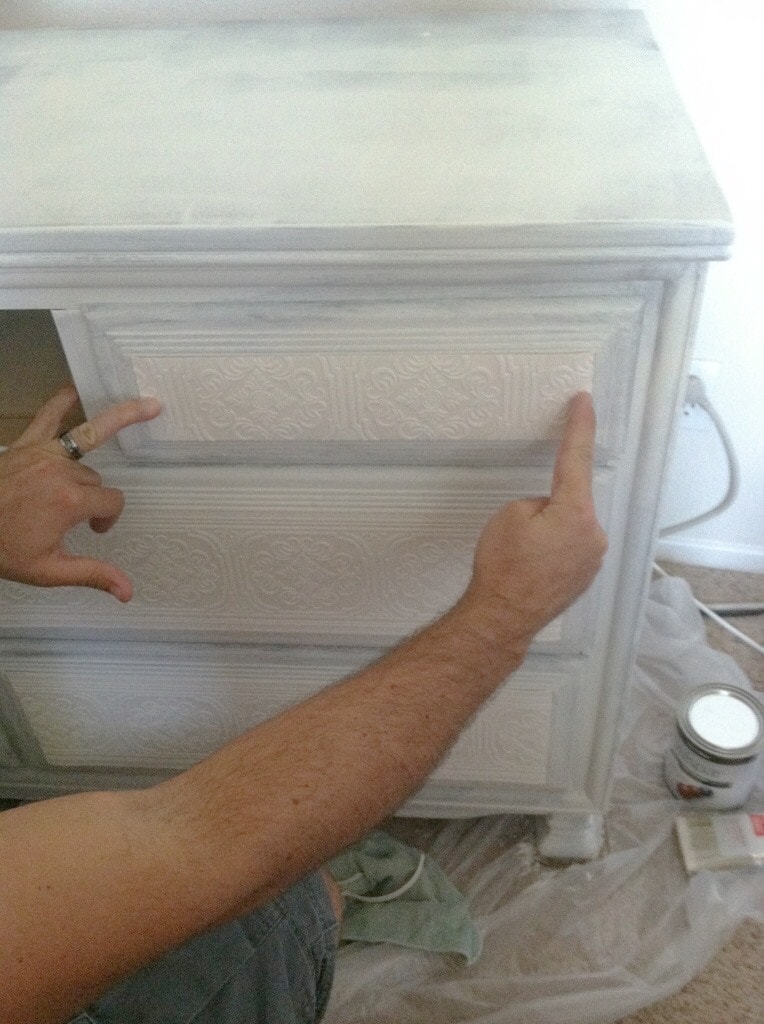 The next day I started to paint the top coat. I chose Valspar Gloss Black paint. I believe I only had to do one coat as it had pretty good coverage and was a thicker paint. On the top of the dresser, I used a foam roller and a paintbrush for the drawers. I did notice that the paint made the wallpaper bubble a little bit so you may want to do a thinner coat and then a second thinner coat to prevent this from happening. Although this happened to me when the paint dried the bubbles went away. 🙂 After it was dry my husband helped me drill holes into the drawers for the new knobs.
I chose to use crystal/diamond looking knobs to give it a traditional and classic look.
I love the drama in this piece and it has held up pretty well. I probably did this 3 years ago. There are a few minor scratches but nothing a little touch up paint can't fix! (or a black sharpie)
Have you ever used paintable wallpaper on a piece of furniture or even on your walls? How well did it work for you!?
I'm headed off to California this afternoon to celebrate Christmas with my husband's family so I apologize if I'm MIA for a week or so! I hope you all have amazing Holidays!