This is by far my favorite project I have done to date! I was really getting tired of all my dark furniture. Everything was black! When we bought our house I really wanted to brighten things up. I started working on the table makeover before we moved. Here are some pictures of the table before I started to work on it: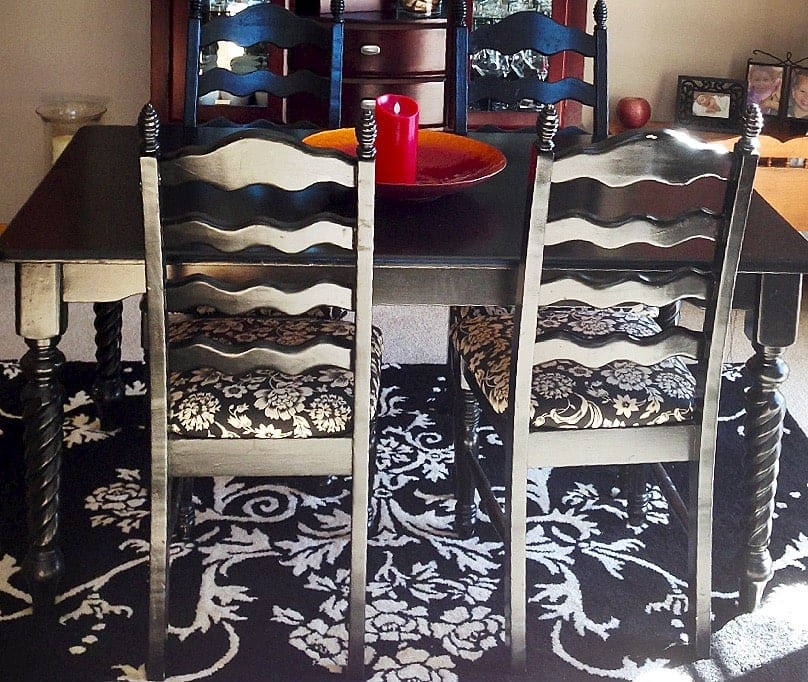 The table had been painted previously to touch up some paint chips but the paint bubbled while it was drying so it was not a great finish. I just never cared enough to fix it at the time.
My husband helped me carry the table out to the garage where I spent about an hour or so sanding the top of the table to make sure all the bubbles were gone. As you can see some areas needed more sanding than others.
After I finished sanding the top of the table I primed the chairs and legs of the table. I used Valspar Spray Paint Primer because the legs and chairs were so intricate. I had to let the top of the table dry before I painted it because I washed the table top after I sanded to make sure there was no excess dust. Once the table dried I spray painted the top. I let the paint dry for 24 hours and then my husband and I brought the table back inside so I could start painting it the next night.
Remember how I told you I am obsessed with the color Accessible Beige by Sherwin Williams? Well this table is where my obsession began! The color when painted looks a lot lighter than the paint swatch made it look, and I'm super happy about it. I used SW ProClassic Interior Acrylic Latex paint in Satin on the table. I used a foam roller brush to paint the top of the table and I used a hand brush to paint the rest of the table. Thankfully my husband helped me paint the chairs because it took so much longer than I had anticipated. There is so much detail that it took a while to get into every nook and cranny.
We let the table and chairs dry for 24 hours before we did the second coat. I have found that with Sherwin Williams paint (the only brand of paint I use now) you may not always need a second coat because the paint lays on very nicely and really covers well. There were just a few areas that needed touch ups but I decided to do a second coat on all of it just because it was a piece of furniture that was going to be used everyday. It needed to be durable.
I decided to do a third coat on the top of the table because it had some paint lines and streaks from the roller and a few marks from lack of sanding an area well enough. When rolling furniture, make sure you fill your roller with a lot of paint and lay it on in long strokes with light pressure while painting larger areas. You will want to fill up with paint again when your paint is getting low and you don't want to press heavily with the foam roller on the table because it will leave roller marks. Here you can see the reason why I painted a third coat:
A few weeks went by before I got around to stenciling the top of the table because we had to do a small large thing…move. Once we got settled and most of the boxes were unpacked I decided to finish the table. My mom was in town visiting and she helped me stencil the top because she had experience using the stencil before. We used the Paisley All Over Stencil by Cutting Edge Stencils. I loved this photo on their website and it was really my inspiration for my color choices.
There are tutorials and videos on their website to show in more detail how to use the stencil. When using a stencil, use a lighter painting approach: fill your foam roller with paint and then roll it over a piece of paper towel until most of the excess paint is gone. If you have too much paint on your roller it can bleed through the stencil. You want to roll evenly and use medium pressure while rolling over the stencil.
Before we started stenciling we did some measurements and made sure that the first section was done in the direct center of the table. We then taped the stencil to the left and right of the center stencil to continue the pattern. (Make sure to use painters tape to tape the stencil down so it doesn't move while rolling, I'm a big fan of Frog Tape.) Due to the size of my table we ended up using the stencil 9 times to put it all on evenly. It's actually a pretty quick process once you get the hang of it. I would wipe off the stencil in between because you may have some extra paint left on the stencil and it could leave marks on the new section you are going to paint. The paint we used was actually Disney Metallic Paint from Walmart. My mom had used this before and I wanted a little bit of shimmer and shine to the pattern.
My mom did most of the stenciling since she had done it before and I can't wait to try another stencil project. I'm thinking about stenciling a wall in the playroom!
After it was all dry we did 3 coats of polyurethane. Polyurethane is amazing because it has really stood the test of children and messiness. We don't use coasters and even place warm plates on the table. No marks or nicks yet! 🙂
I was anxious to get the table finished so while we sat and watched The Biggest Loser one evening I recovered all of the chairs. I have found, especially with kids, that using outdoor fabric is great to use on a piece of furniture that is used daily because of its durability. I also used it on an ottoman I made and already have had spills and it still looks as good as new! 🙂 I used a blue "jean" colored fabric so that it would go well with many different decor options. I got all of my fabric at Jo Ann Fabrics. It can be kind of spendy there at times but if you catch it on sale it's not too bad! Also download their app because they have special offers on there as well.
I'm over the moon with how it turned out and I get many compliments when people are at my house!! I hope you like it and please feel free to ask me any questions!
Have any of you stenciled a table or piece of furniture and loved how it turned out?! Have you ever given a table a stenciled table makeover? Please do share!
Stenciling this table made me catch the stenciling bug and I've stenciled a few more things! Check it out! Haha do you think I'm a little obsessed?!
Lace Feature Wall | Christmas Pillow | Burlap Table Runner | Halloween Pillow |
Little Tikes Picnic Table | Antique Side Table | Knife Block