Hey everyone I'm here today to share a little bit more in detail about my kitchen transformation. I shared the final reveal here but I didn't really tell you how it all went down. I collaborated with HomeRight and Sherwin-Williams to create this beautiful transformation and I want to thank them for working with me on this project. I shared this post over on HomeRight's site in June. Be prepared for another novel because apparently it's my thing lately! 🙂 I don't want you to miss out any details on what I think is the best way to paint your kitchen cabinets!
One thing I have wanted to do since we moved into our home was paint our kitchen white. My husband and other family members tried talking me out of it. Saying "It's not a terrible wood color," or "It looks fine the way it is!" I did agree it wasn't terrible, however I just wasn't in love with my kitchen. There are other shades of wood that are worse than oak but I still didn't love it. I decided to give it some time and live with it and see how I felt in about a year. Sure enough after 1.5 years of living in our house and I still wanted to paint them!
Before you start the process of painting you will want to give your doors and cabinet base a good sanding. Since I took the doors off I used a hand sander on the doors and used sanding blocks on the frames. Once everything was sanded I used Lysol wipes and cleaned the cabinets thoroughly. My husband and I had been trying to have a baby for quite some time and I didn't want to use any harsh chemicals for cleaning as to hurt the baby if I was pregnant. If you want you can read more about my current pregnancy here.
I'm a huge fan of Sherwin-Williams paint so I knew I wanted to go with them and I loved the color Zurich White. I started by using their Wall & Wood Primer and put one coat on the doors. I suggest doing 2 coats of primer because I had some stain bleed through. I used their top of the line product called ProClassic Interior Waterbased Acrylic-Alkyd Enamel and I'm so glad I did. The paint is flawless and goes on smoothly. I tested out a few doors by just painting them, as the frigid weather wasn't allowing me to get out and paint as soon as I had wanted to. You would have no idea the difference between the hand painted and sprayed doors. They all looked gorgeous and identical. Their paint has a self-leveling agent in it, which helps create a flawless look.
Although painting them by hand creates a beautiful outcome, I highly recommend using a paint sprayer. It's a lot simpler and quicker way to paint the cabinets. I thought the Finish Max Sprayer would be a great fit!
I have to admit I was slightly intimidated by the whole idea of using a sprayer. I had never used one and things outside of my comfort zone simply make me nervous. I didn't want to mess up my kitchen cabinets! I will say now that I will probably not hand paint furniture ever again because of how simple and quick the Finish Max Sprayer was! Although, there may be exceptions when it's below zero during winter in Minnesota! 😉
I highly recommend reading through the instructions that come with your Finish Max Sprayer. It will give you detailed instructions on how to properly assemble and use the sprayer. Before you load up the sprayer with paint you will need to thin it out. It comes with a little viscosity cup and the time increments are inside of your instruction manual. With primer you want the paint to drain through the cup within 30-45 seconds and with latex paint 25-40 seconds. (See the table below.)
Before you begin spraying you will need to have everything set up and ready to go. I used HomeRight's Spray Shelter, which was also a lifesaver for this project. Now, I'm a little crazy and decided to tackle this project towards the end of winter here in MN so it was still pretty chilly. But, I caught a "warm" weekend of about 45-50 degrees, and I sprayed in my garage with space heaters. The Spray Shelter did a great job of not getting over spray into the rest of my garage!
I did things a little bit differently than I would have done if I took on this project during the warmer months. What can I say? When I make up my mind to do something…I do it! I borrowed a few heaters from my neighbors because I needed to bring up the temperature a little bit in the garage. I also set up two sawhorses towards the back of the Spray Shelter and covered them with a sheet as I didn't want them to get covered in paint. You want to spray at an upright angle so paint doesn't drip and it will give you the best coverage when spraying. Be sure to move with even strokes while covering the area. What I love about the Finish Max Sprayer is you can turn the direction of the sprayer. It worked great for getting into all of the nooks and crannies of the cabinets! It really gave the cabinets a beautiful and complete coverage.
My husband and I had an assembly line-like system when spraying the cabinet doors. Since it was a little colder than I would have liked, I sprayed two doors at a time and then my husband would take them downstairs to dry. I laid down some drops onto the ground and laid the cabinet doors on top of dixie cups so that they were raised off from the ground. (A little secret I have is to buy shower curtains from your local dollar store and use them as paint drop cloths. Affordable and then you can throw them away when you are done!) I then used a sharpie and frog tape and labeled each door with a number that matched the numbers on the base of the cabinets. It's very important to organize the cabinets with a numbering system otherwise you will put a wrong door in the wrong spot.
I sprayed two coats of primer on each side….starting with the backside, and then sprayed two coats of paint. Another reason you want to start with the backside is if you:
A: Make a mistake…it's easily hidden.
B: If the cups or something else sticks to them when the top is drying then you can fix it and it's on the backside.
I realized it needed two coats of primer because after one coat it had some staining and spots showing through the primer coat. I sanded the doors very thoroughly but you never know what might be on cabinet doors if you have an older house. Our house was built in 1991 and I'm sure the cabinets weren't cleaned very often. We cleaned them really well when we first moved in and I don't think I cleaned them again unless something spilled on them until we started prepping for paint. (I did notice how dirty cabinets actually get once changing it to white because everything shows up! J)
I hand painted the base of the cabinets and sprayed all of the doors and I couldn't be happier with the beautiful outcome! I chose to hand paint the base as I didn't want to enclose our kitchen and put tarps up everywhere so paint didn't get through to the other rooms. I was fine to spend the extra time painting rather than spending all the time to hang drops and tape. Plus with the Sherwin-Williams paint you still get sprayed look with a roller or brush. The paint is THAT good! The kitchen looks like a professional came in and painted it for me. The mixture of the Finish Max Sprayer and the Sherwin-Williams paint is the perfect combo for an amazing outcome!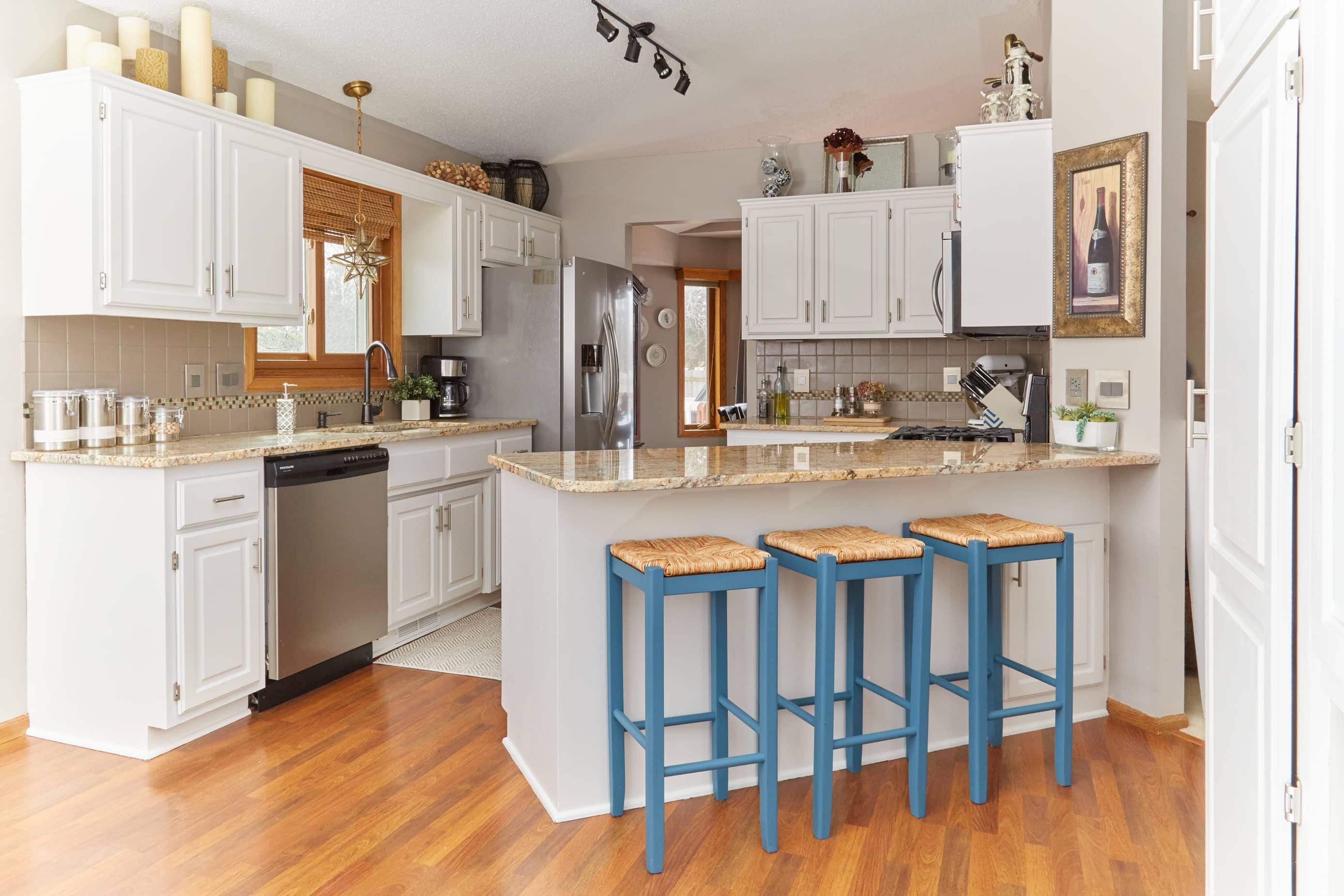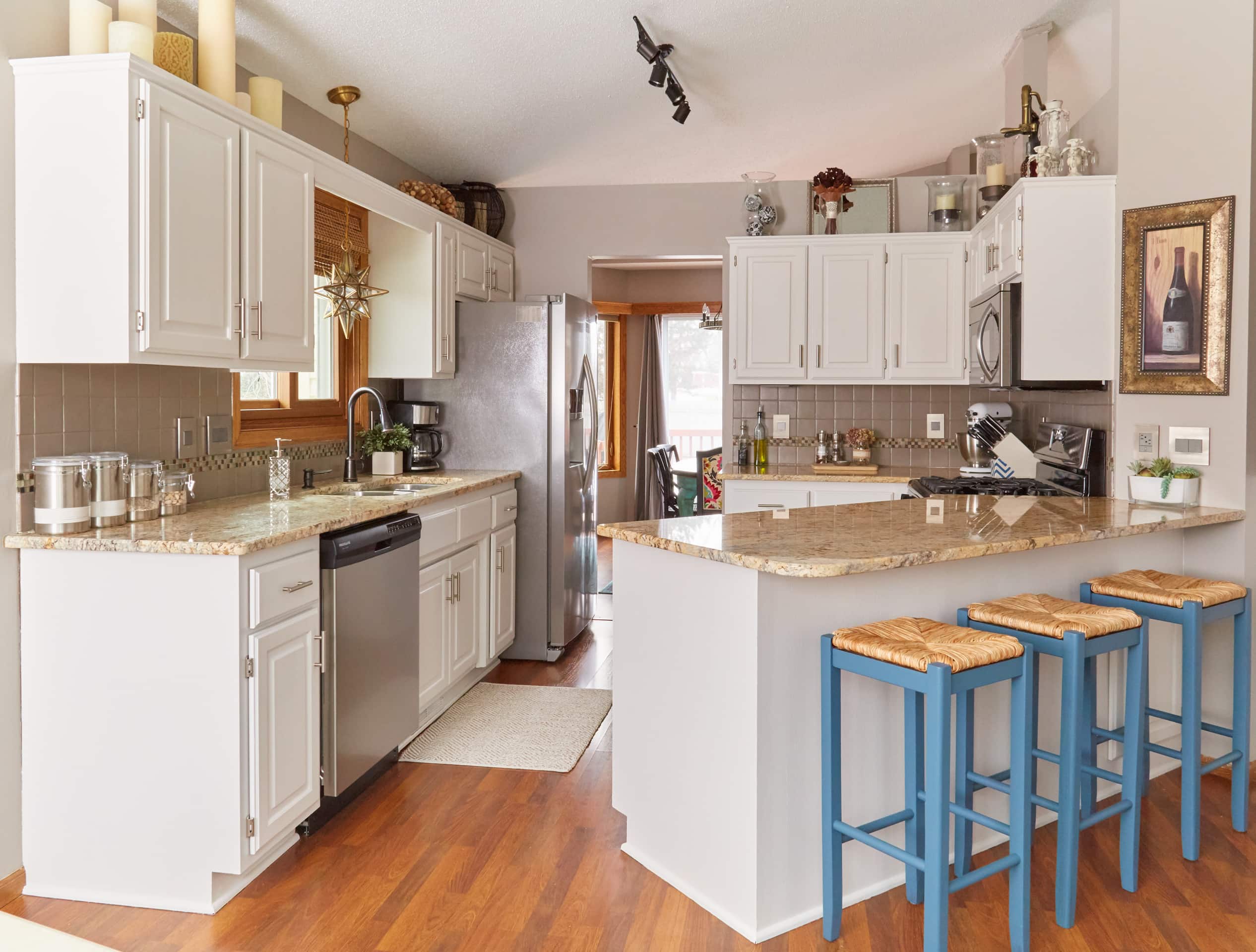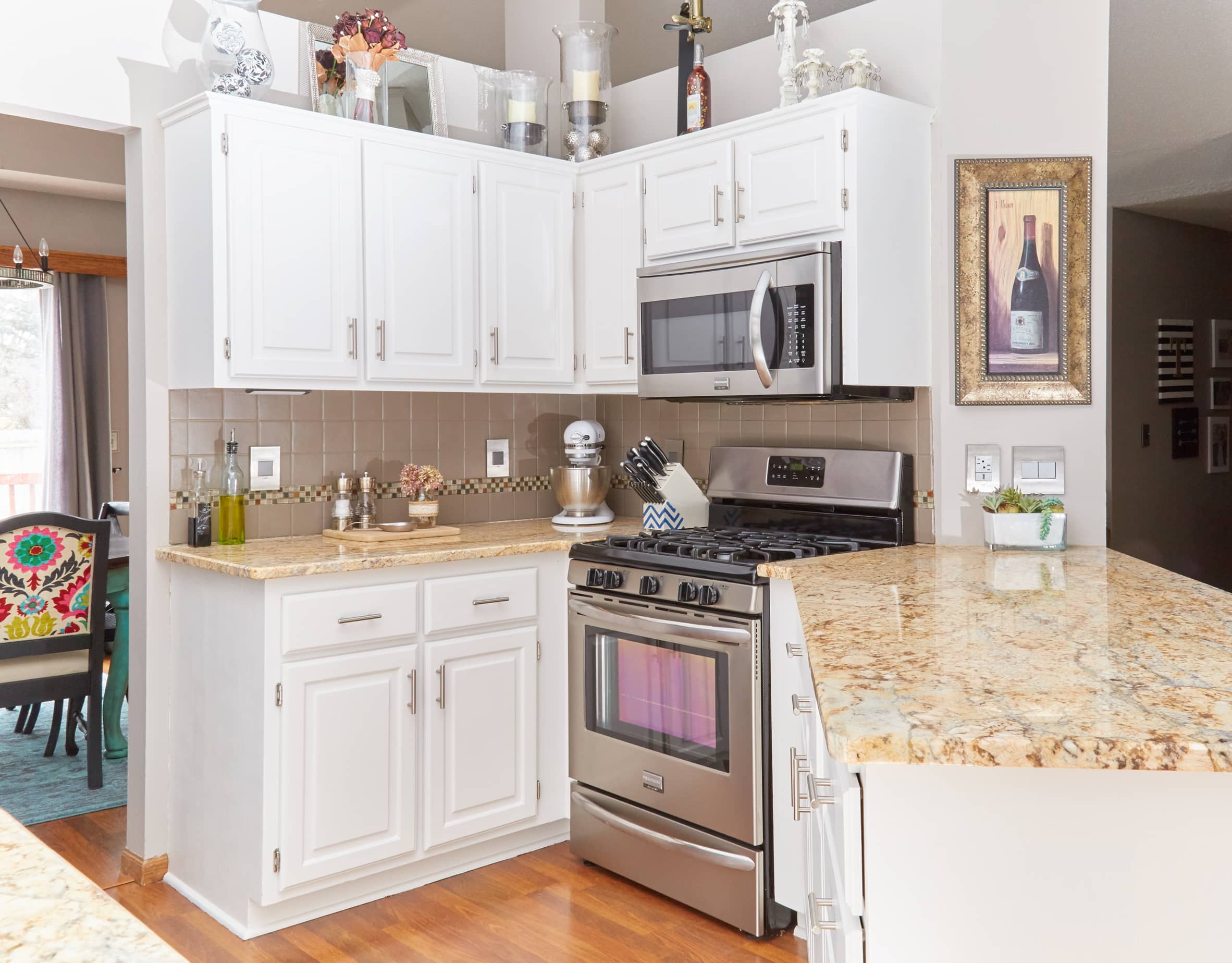 I'm not going to lie, painting your kitchen isn't for the faint at heart. Although painting the cabinets with the sprayer cut my time in half it's still a lot of work. It's totally worth it though! J I love my kitchen so much more now and I love how it modernizes our home. I feel if we went to sell it would definitely bring up the value in our home with how great it looks!
Thank you again to Sherwin-Williams and HomeRight for collaborating with me on this project! Also thank you to HomeRight for coming to my home and taking these beautiful final reveal photos! HomeRight is giving away one Finish Max Sprayer and a Spray Shelter to one of my amazing readers! Fill out the form below for your chance to win so you can get to work and paint your kitchen before the winter months creep up on us!