This shop has been compensated by Collective Bias, Inc. and its advertiser. All opinions are mine alone. #MakeItMerrier #CollectiveBias
I love making a cup of hot cocoa and snuggling up near the fire during the Holiday season while playing music. There is nothing more traditional or special about the Holidays than listening to Christmas music and getting cozy with a loved one. I am so excited today to be working with Starbucks because I don't drink coffee every day and I consider it a treat when I go get my favorite drink. To make it even more special the person in front of me today at Starbucks bought my coffee for me! Paying it forward is so important, especially during the Holiday season.
My family always celebrates Christmas on Christmas Eve. We make Oyster Stew for dinner and then open presents by the fireside. After presents are done then we head to midnight mass. After midnight mass is over we come home and have a late night breakfast. My mom always makes a yummy breakfast casserole and we enjoy our gifts, drink coffee or hot cocoa and hang with family by the fire.
One other thing that I love during the Holidays is giving gifts. There is nothing better in the world than the feeling of joy you feel when a loved one loves their gift! I thought I'd combine two of my favorite things during the holidays into one. Why not give the gift of warm drinks by the fireside?!
To start I wanted to make some hand made coasters as part of my gift. I had some coasters that I wanted to give an update and thought they would look great with a Christmas twist.
It's such a simple and quick project! I had some coasters I received as a gift once that I didn't love the design so I gave it a little makeover above. You can update some coasters you already own or use blank tiles. First step is to spray paint them the color of your choice. Then all that's left is to draw your own designs on the front of the coasters. You will need an oil based paint pen to draw your design on the top of your coasters.
Once that is dry (usually only takes a few minutes) you will want to spray a protective polyurethane onto the top to keep the coasters from wear and tear. Then they are ready to be used and enjoyed by the lucky person to receive them from you!
I also decided to give this adorable mug I bought at Target a little makeover with those amazing oil based paint pens. You will want to hand wash your mug as I'm not sure how the drawing will withhold in the dishwasher.
Now for the yummy part….the drinks! I wanted to incorporate a variety of hot beverages for anyone to enjoy. Some people aren't coffee drinkers or just need a little flavor added to their coffee so I wanted there to be a drink for everyone! I included Starbucks Holiday Blend, Starbucks VIA Instant Latte White Chocolate Mocha and Starbucks Hot Cocoa Salted Caramel in my gift basket. You can find all of these products in the coffee aisle at Target. Get a $5 Starbucks Card e-gift when you purchase 3 or more qualifying Starbucks products.
You have some coasters, a mug and some hot beverages…now to add just some yummy marshmallows, filler and a Christmas decoration. It's now ready to be given to a special friend or loved one. I personally would be ecstatic to receive this as a gift during the Holiday season!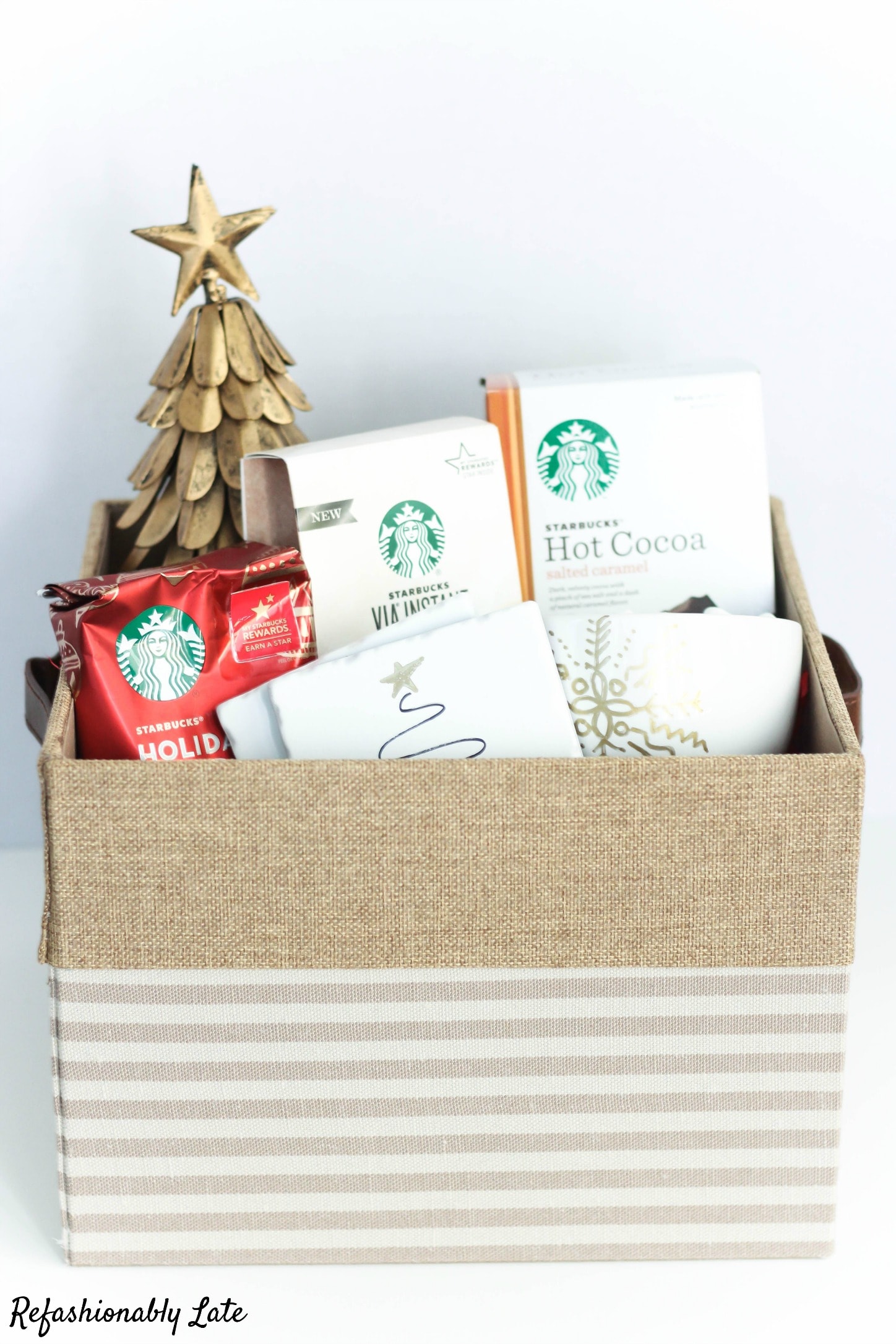 I can't wait for Christmas Eve and to celebrate with family and sit by the fire! I hope everyone has an amazing Holiday Season and is able to spend it with their loved ones! What are your favorite Starbucks drinks to enjoy while sitting by the fireside with the ones you love?