Hey, everyone, I'm so excited because I'm joining some lovely ladies with a monthly Dollar Store Challenge. I hope to participate every month possible because who doesn't love a good Dollar Store craft?! It's something anyone can create themselves and for a great price too!
This month's theme is all about summer. As I was at my local Dollar Tree I was walking around and thinking about something fun I could make for my daughter. I came across this little sun hat and thought it would be fun to make it look like my daughter's favorite thing in the world…Minnie Mouse.
I was shopping one day at Walmart and came across these Fabric spray paints by Tulip. I had no idea they had spray paint for fabric. Granted, I don't use fabric paint that often but I thought this was so cool. I thought it would be a great way to get this project done even quicker. I was having a hard time deciding on whether I wanted to make the hat all red or do the top black and the brim red. I'm glad I went in that direction. My only recommendation is to not take the easy way out but tape around the brim when painting with the black. I got some black paint on the brim and the red spray paint was not wanting to cover it very well. I was lucky because I actually ended up having another red fabric paint in my craft closet and I used that over the trouble areas and it worked great. (At the end of this post there are affiliate links available for the products I used within the post.)
After the top of the hat was dry (takes about 30 minutes or so) I turned the hat upside down and painted the bottom brim. This way when my daughter is wearing it it matches the top of the hat. Painting the inside of the hat black isn't necessary as it's not seen.
It was now time to add the popular white dots onto Minnie's hat. I used one of the circular craft brushes from Martha Stewarts collection to dab some white fabric paint onto the hat. I ended up doing two coats as the first one wasn't bright enough for my liking.
Once it was dry it was time to have my little Minnie loving model do a fashion show for me….and she did not disappoint! My sweet girl is destined to be a performer someday!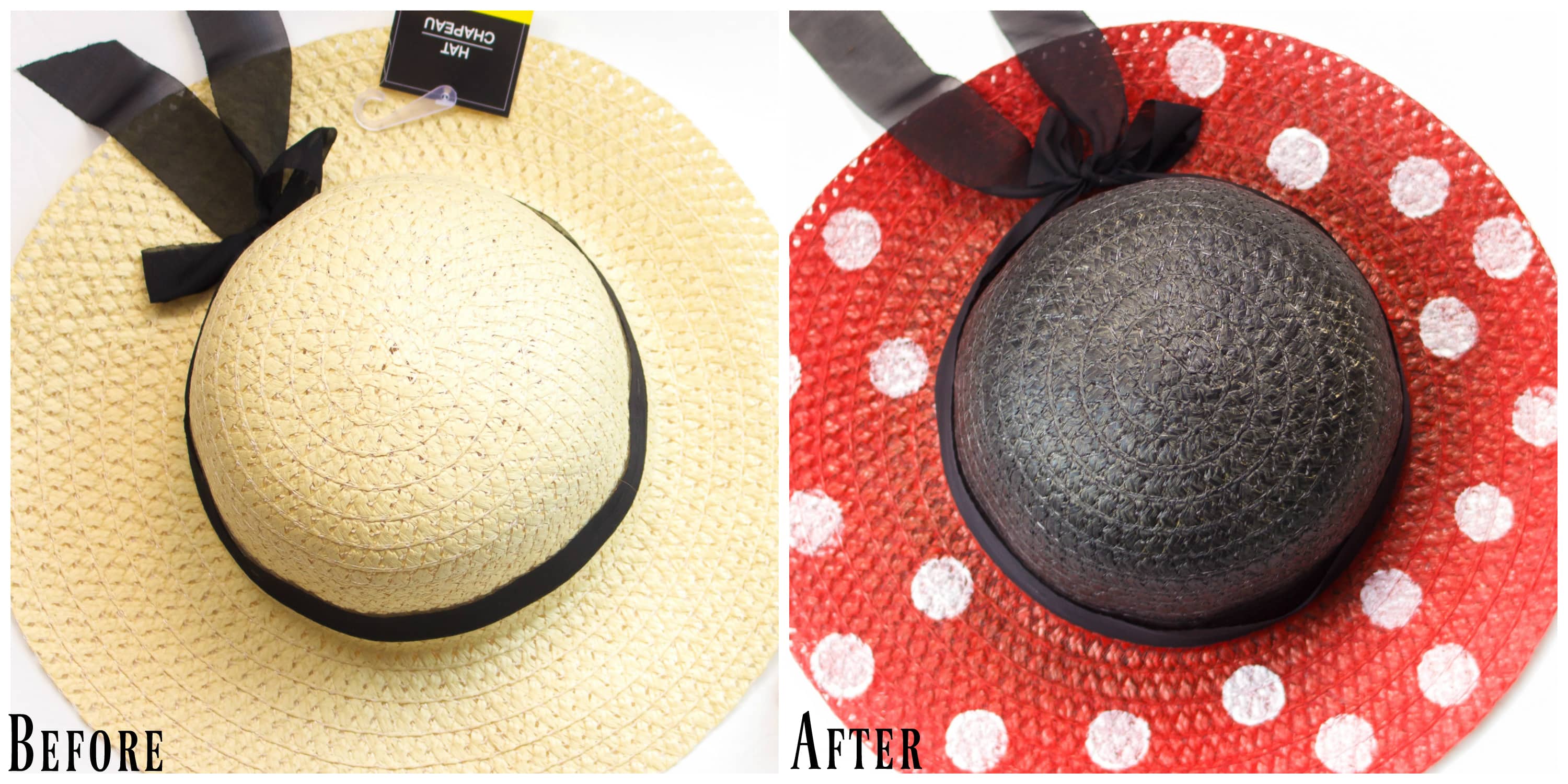 Lucy loves her new hat and I have a feeling she is going to wear it often when we are visiting family in Okoboji. Don't forget to check out all of the fun summer dollar store DIYs below!!
The Organized Mama | Refashionably Late | Hunt & Host | This is our Bliss | Southern State of Mind | Redhead Can Decorate | Creative Ramblings
I hope everyone has an amazing long weekend and gets a little R&R with your friends and family! I'm excited to BBQ and hang with my husband and girls.
This post contains affiliate links for your convenience. See my full disclosure here.