Hey everyone, I'm back today to share a few of my very favorite antique bed makeovers. My youngest daughter will be 2 next month! I'm not sure how that's possible but it's happening! 🙂
In preparation for her getting older and that it's going to start snowing here in the next few weeks to month….I wanted to redo a "big girl" bed for her. I'm always a sucker for a good makeover, especially when the item was free!
I am always scouring Facebook Marketplace for items that I could redo. I came across this beautiful antique bed that needed a little TLC. The previous owner was wanting to get rid of it so I said I was more than happy to take it off her hands.
My husband and I drove to their house about a half hour away and snatched it up one morning. We brought it home and I couldn't decide if I wanted to paint it yet or wait until she officially was ready for her big girl bed.
Like I mentioned before, it's about to snow so I decided I'd have the bed ready if she decided to upgrade during the winter months.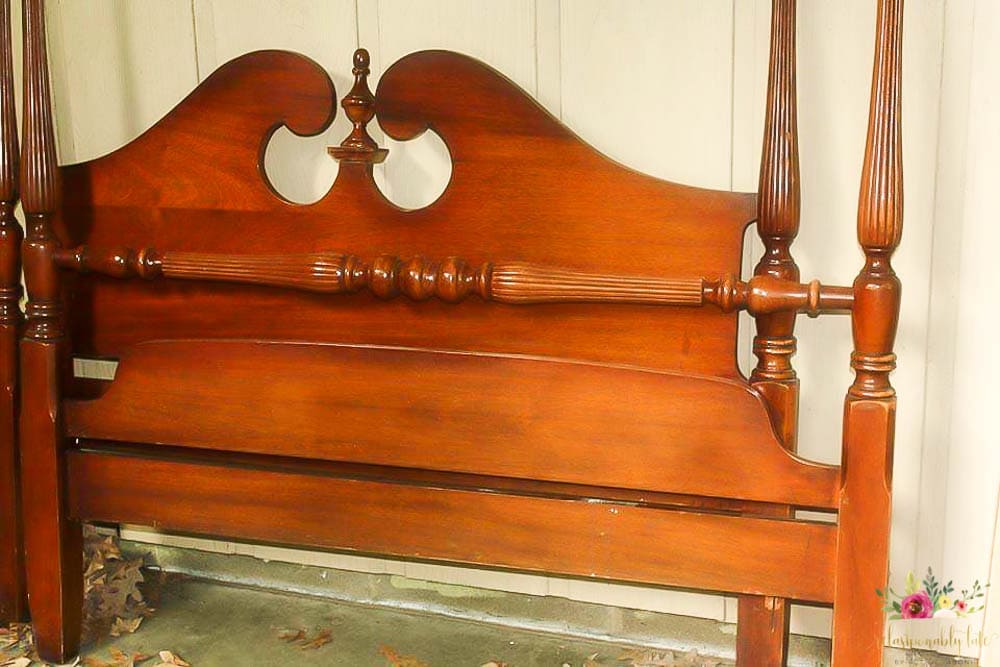 Here is a quick visual tutorial of the process. Head on over to HomeRight for the full tutorial. I used the HomeRight Finish Max Paint Sprayer for this project. I also used my go-to brand of paint, Sherwin-Williams. For this bed makeover, I used the Emerald Urethane Trim Enamel in Pearly White SW 7009.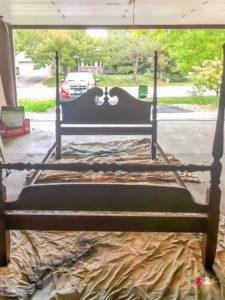 Final Reveal
Now I realize this isn't a real bedroom but you have to work with what you got! Ha! It simply would not fit in her room right now with her other furniture and crib. Although, if it was a little warmer outside it would be fun to sleep under the stars for an evening. And you can't beat the beautiful fall background!
I'd love to share 4 more antique bed transformations that are absolutely stunning! I wish the architecture and design had the detail that it use to have. It is so beautiful and gives a room so much more character.
Marian used her own line of Miss Mustard Seed's Milk Paint for this makeover. I love the chipping effect of the paint which is produced by another one of her products. Head on over to her blog for more transformations and products!
I love the contrast in colors with this intricately designed bed frame. It's so beautiful! For more pictures head on over to Hometalk.
I absolutely love Jenny Lind beds. They are so simple yet elegant at the same time! I love the black (my favorite Sherwin-Williams color…Tricorn Black) and I may have to try out the bed rail tutorial. Our bed above has side rails but it might be nice to add some additional support.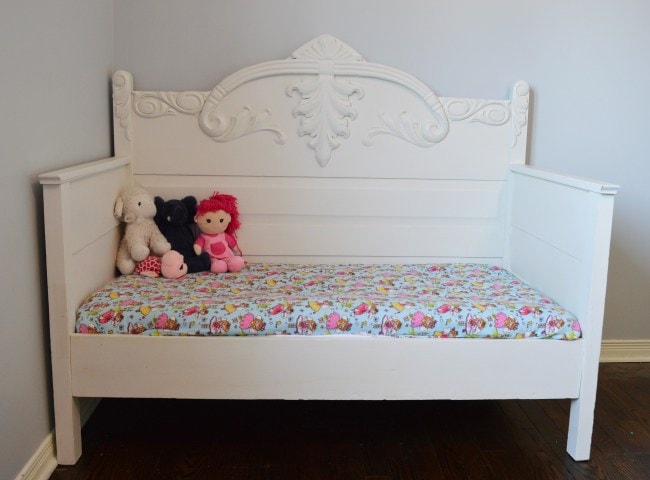 I think transforming this antique bed and turning it into a toddler bed is brilliant! I love the white chalk paint finish. The detail in the back frame is so beautiful! This would look amazing in Gabi's room! 😉
Thank you so much for stopping by and don't forget to head on over to HomeRight for more projects and tutorials! Stay tuned for the final, final reveal of Gabi's new big girl bed! I can't wait to put it in her room. It's going to add so much beauty and detail to her room!
Happy Tuesday!
This post is sponsored by my friends at HomeRight and contains affiliate links. Thank you for supporting the brands that support Refashionably Late! See my full disclosure here.