A detailed tutorial on how to install hallway board and batten. Weekly progress of how to get your space ready for install and how to complete the project efficiently.
Welcome to Refashionably Late. If you are new here, please join 23,954 subscribers and followers for weekly DIY projects & ideas! I'd love to get to know you and answer any questions you may have. You can also follow along on Pinterest, Instagram, & Facebook.
The Midwestern Polar Vortex
Well, I'm about a week behind on the reveal but sometimes life just happens. Last week we had record-breaking low temperatures in Minnesota. It got to as low as -30 degrees outside, but felt like -50. It was brutal.
In theory, it wasn't all that bad because we stayed cozy and warm inside. The part that made it hard was my inability to finish the hallway because of the school cancellations.
My daughter didn't have school for 4 days straight. Which led to me not getting my typical 2 days a week of daycare. And, the bitter cold made it hard to finish cutting the boards as well.
Previous Updates on the $100 Room Challenge
I'll stop complaining now, but I'm happy that the week is behind us and my hallway is finished! If you missed the last four weeks of progress you can catch up below.
Inspiration | DIY Octopus Wall Art |
Board and Batten Prep Work | Board and Batten Install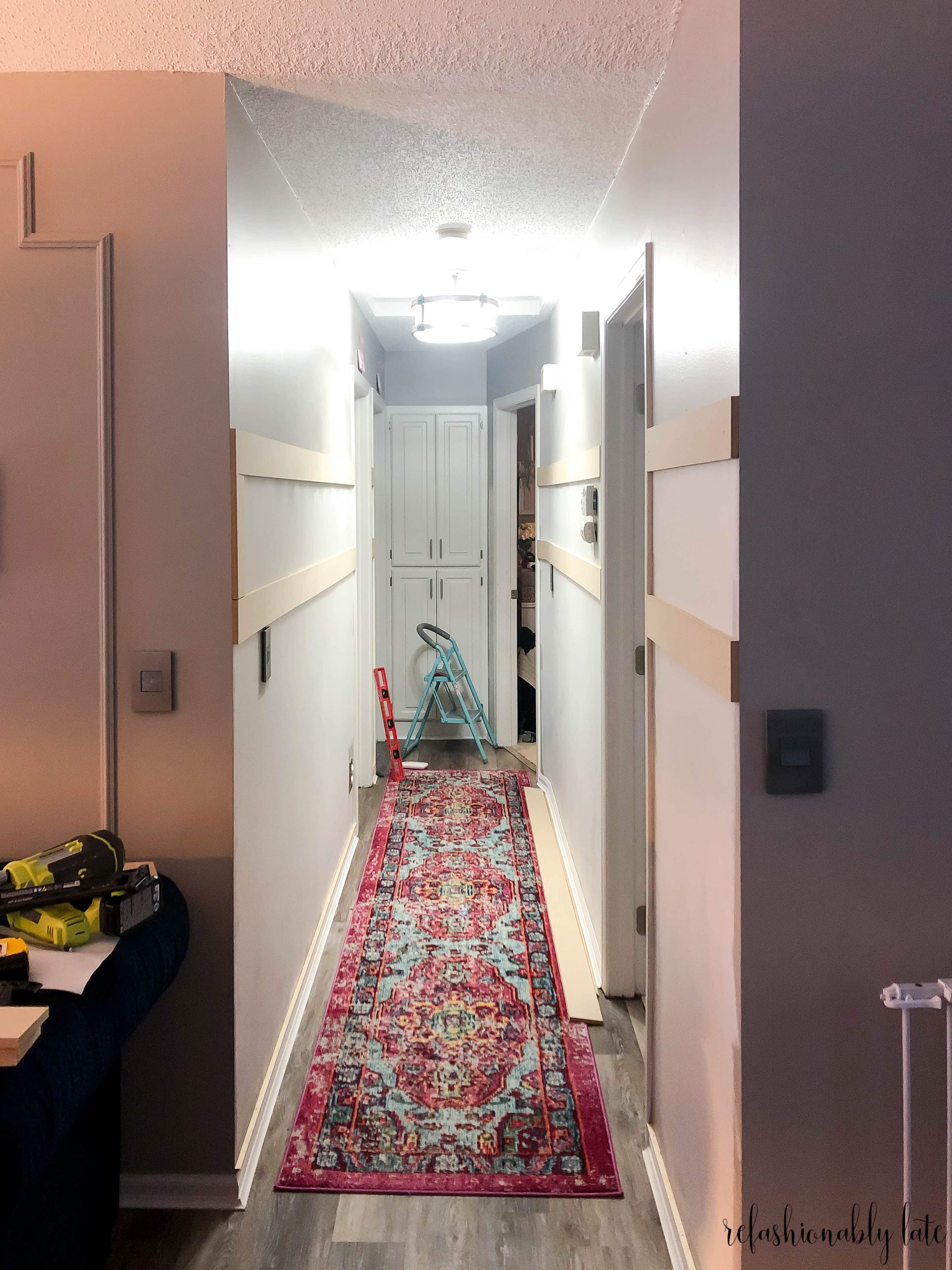 Order of Hallway Board and Batten Install
As I mentioned last week, I started by installing the two horizontal boards. I measured up 65 inches from the floor to use as my guideline.
My husband helped me put the taller boards in place. I ended up raising the top board about 3-4 inches because I wanted the board to above our thermostat.
Since I want to get a new one eventually I did not want to build around the thermostat. I wanted there to be room for a new one. I have my eyes on the Copper Nest.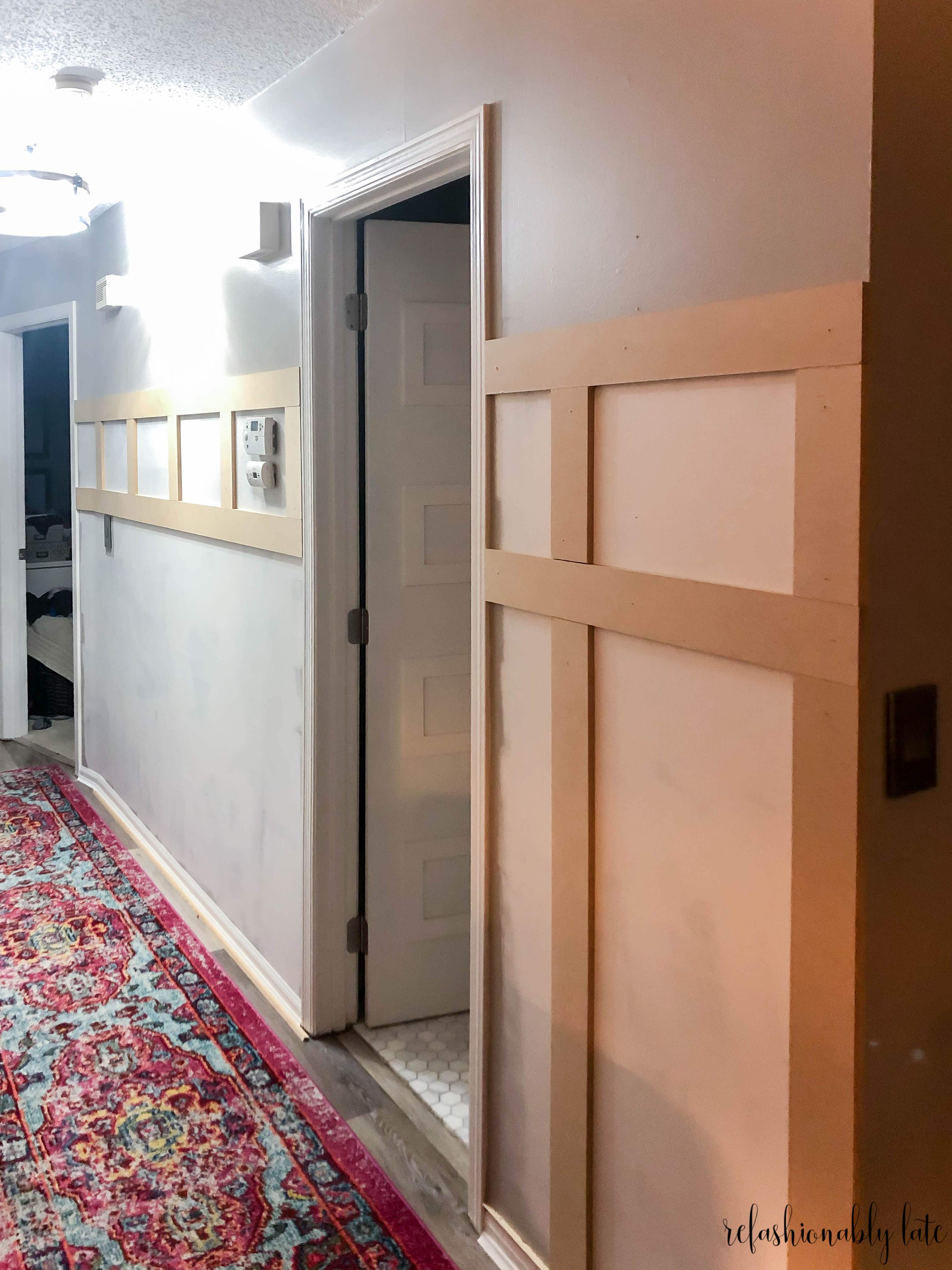 After the horizontal boards were in place. I measured my distance between the vertical boards and began cutting.
Our house was built in the early 90s and with any house, not everything is 100% accurate. Ideally, every board would be the same length but I always did a quick measurement of each area before I made my cuts.

Tools
I used my Ryobi Miter Saw to cut the MDF boards and my Ryobi Airstrike Angled Nailer to nail the boards into the wall.
The next step was to install the Pine Glass Bead molding above my original baseboards. This allowed for the 1/2 inch MDF to lay flat on the molding. My baseboards weren't wide enough for the MDF to sit on top of.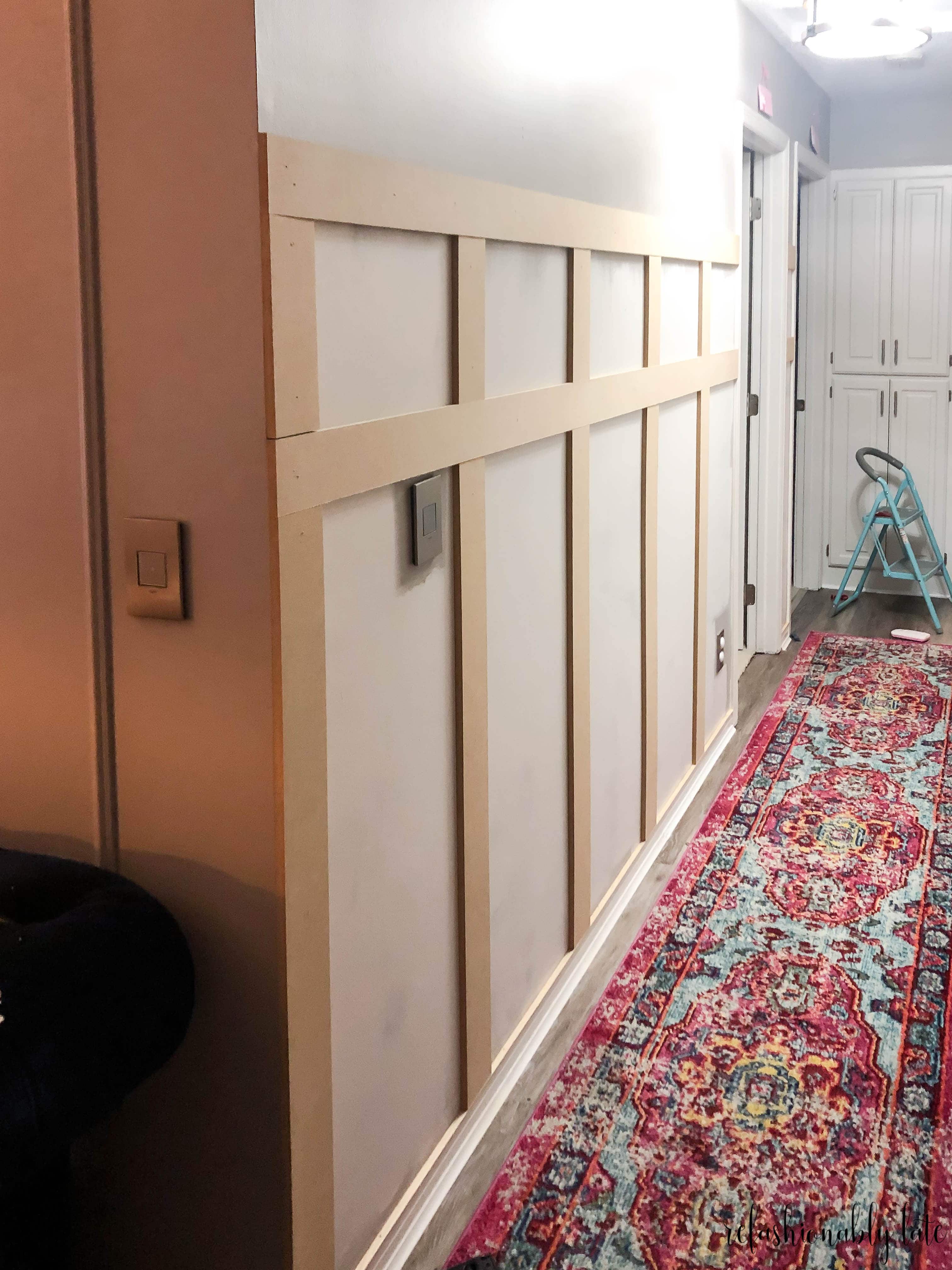 Once the boards were in place, I filled all the nail holes and gaps with Dap DryDex. I had to do a few coats in a few areas that had deeper gaps.
Once it was dry it was time to sand the spackle and any rough areas of the MDF boards. You want as smooth of a surface as possible so that the boards appear to be joined together.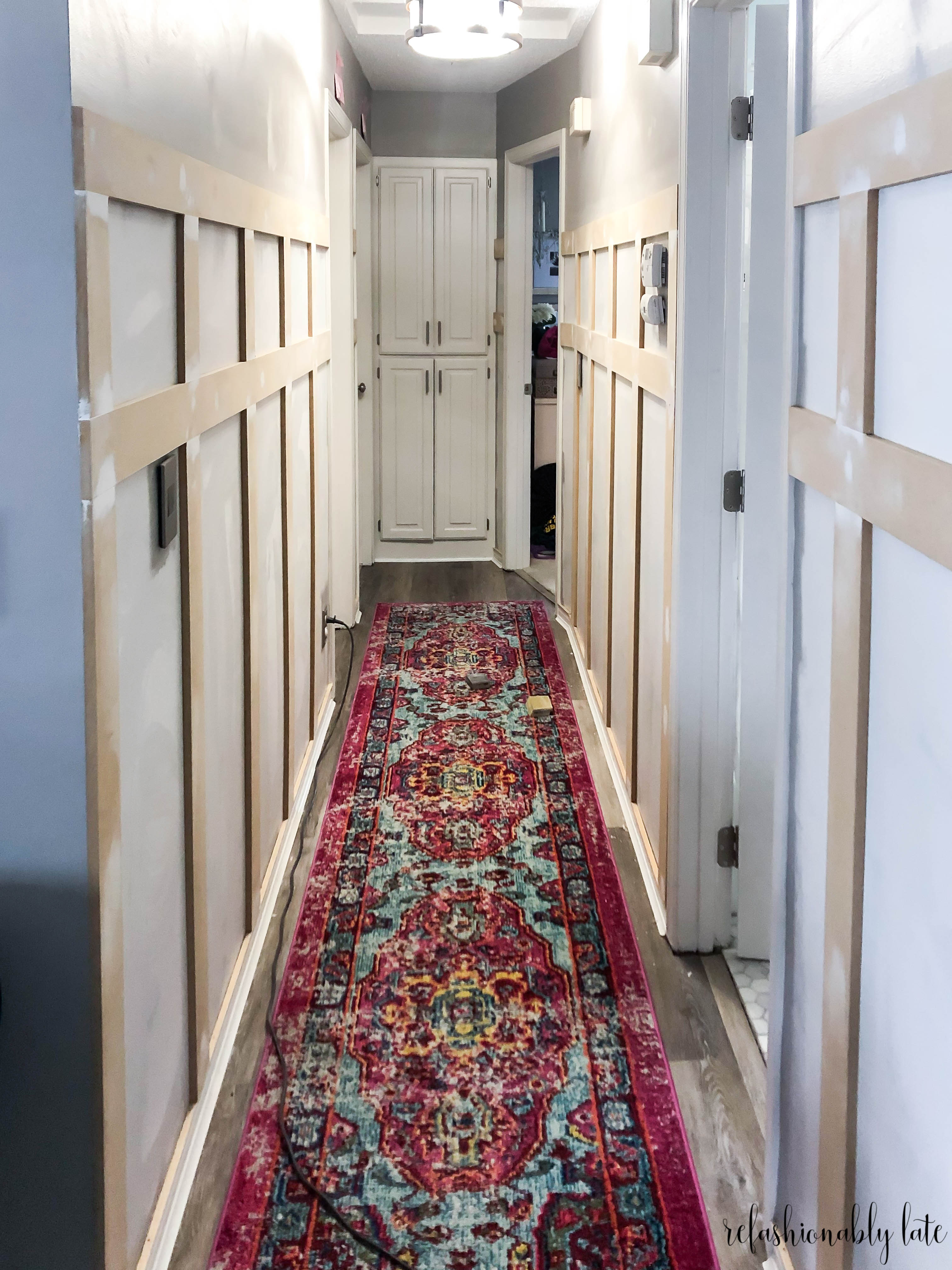 Since I already prepped my walls for the board and batten by painting the wall itself, I needed to prime the MDF boards. I gave the boards a nice coat of primer and made sure that everything was thoroughly covered.
Caulk & Paint
My husband then helped me caulk around the boards to give it a nice, smooth look. The boards don't always lay flush on the wall so the caulk hides those gaps.
The last step was to paint! I used Sherwin-Williams ProClassic Interior Waterbased Acrylic-Alkyd paint in Zurich White.
I used two coats of paint and the board and batten were complete!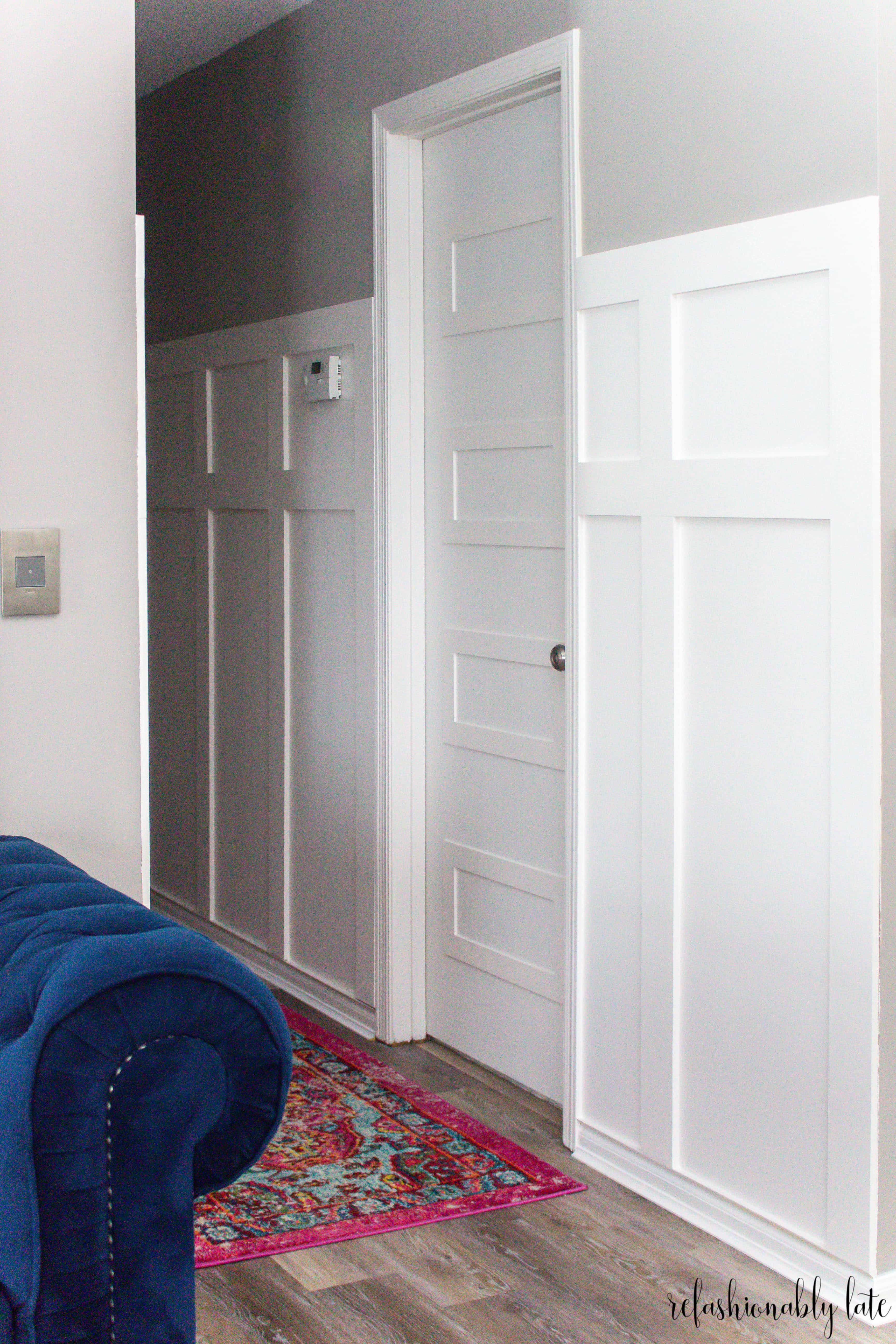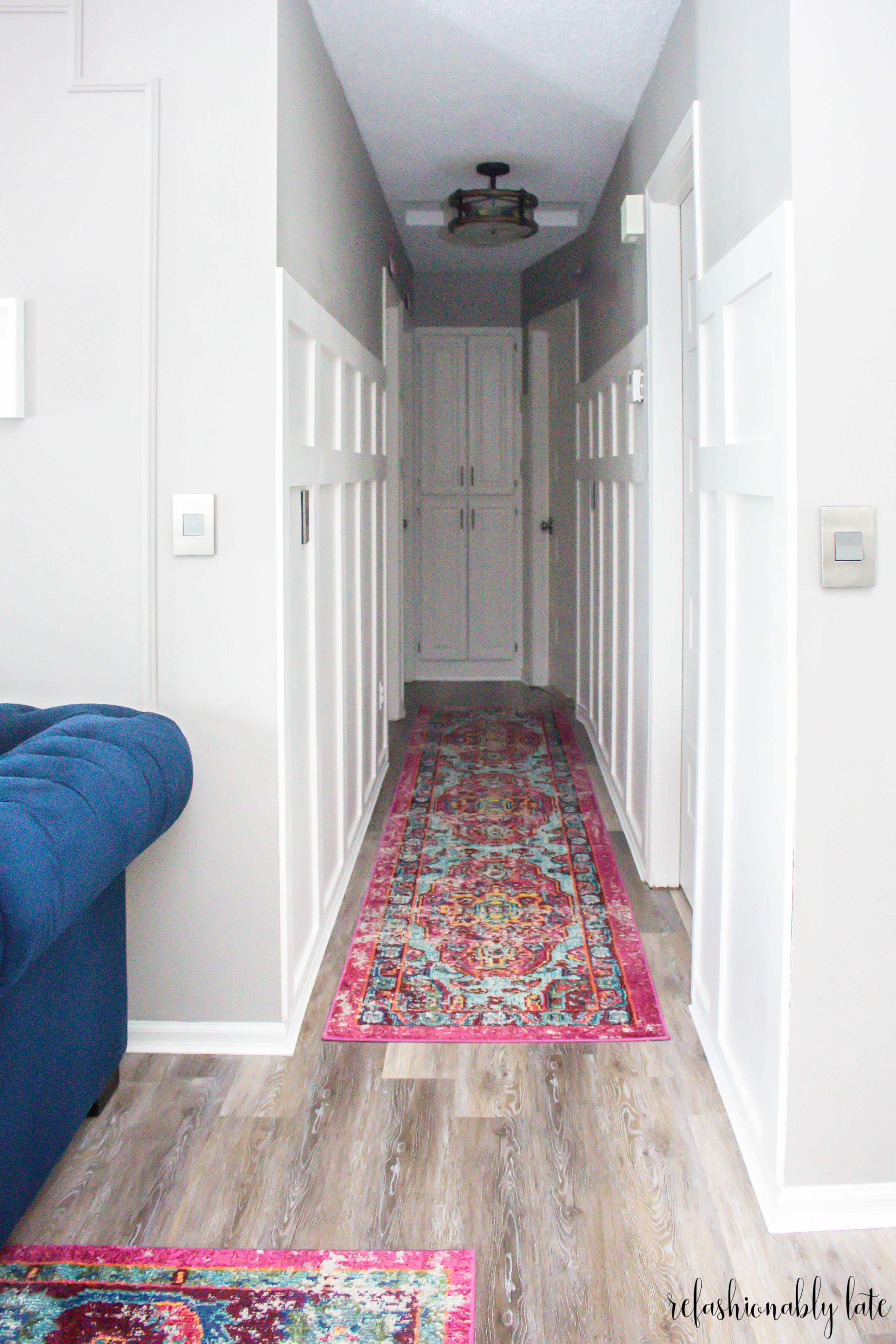 Here is where we ended up with our budget!
$100 Room Challenge Budget:
Total so far: $109.76
I'm going to edit this final amount though. I didn't end up using the frameset or the DIY Octopus Canvas. (I think I'm going to put this in my bathroom instead.)
The walls would have felt crowded, in my opinion, if I added the frames and canvas. The board and batten were more than enough for the hallway. The board and batten was enough "art" for that space.
I also didn't end up using the laser level. Since my husband helped me place the horizontal boards all that was needed was a regular level.
Revised Total: $72.15
All in all, I'm very happy with how this turned out and that I stayed under my $100 budget!!


Many outgoing links on Refashionably Late are affiliate links. I may earn a small commission to fund my Diet Mountain Dew drinking habit if you use these links to make a purchase. You will not be charged extra, and you'll keep me supplied in caffeine. It's a win for everyone, really. I only link to products I have tried and love! See my full disclosure here.
Please Note: This link-up is for those participating in the $100 Room Challenge only.
Unrelated links will be deleted.
The collection has closed. Let other people know about it through
twitter
.