Happy Monday everyone! I'm here today sharing a few of some amazing projects you can do using a Heat Gun. If you follow along you know I love all HomeRight products! I especially love their paint sprayers but I have recently become a fan of their Heat Gun. My go-to projects have to do with decorating a room or painting furniture. I wanted to try something new besides showing how I painted an item for my home. Who would have known that a heat gun could do so many things?! It was so fun scouring Pinterest for heat gun tutorials. I want to try them all! Since I don't have time to try them all myself I thought I'd share a few of my favorites with you!
First I wanted to share with you my first heat gun project. My blog got a bit of a facelift recently. I got a new logo and changed out the aesthetic of my blog. Over the past few years, I have grown so much as a blogger. My blog look needed to grow as well so I gave it a cleaner and sophisticated look. Obviously, I stuck with my black, white and gold theme though! Those colors are timeless and never get old to me! With that new look, I wanted to make a little decor for my office using my new logo. I made a personalized candle using tissue paper, a printer and the HomeRight Dual Temperature Heat Gun.
Now for a few more projects that I wish I could claim but I definitely will be giving them a try at some point!
Agate Candle Holder – Not Just a Housewife
I love agate artwork and this project is so unique. The various colors of agates used on the vase are beautiful. Melting agates to a vase would have never been a thought in my mind and I love it! What a cool idea! What should I add agates to?!
I love the simplicity of these DIY picture frames. They are adorable and would be a great addition to any room. It would look adorable in a rustic nursery!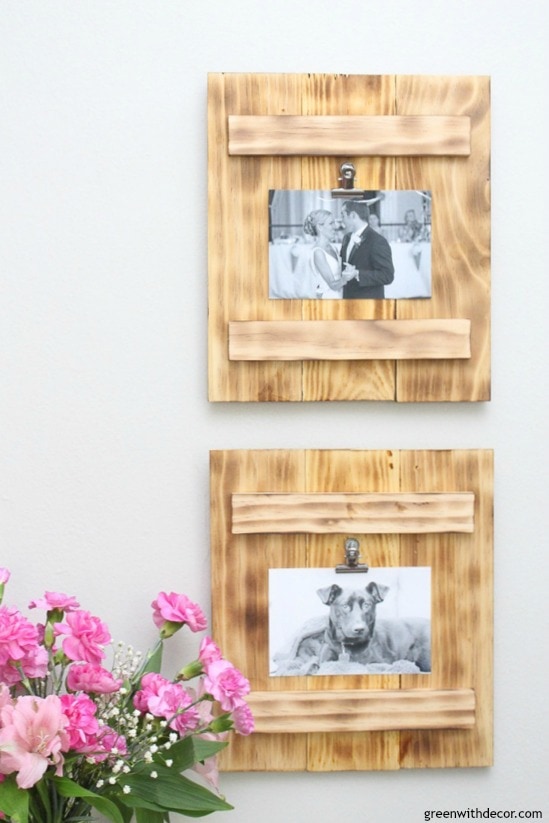 DIY Golden Snake Bowl – Rain on a Tin Roof
I have a friend who loves snakes so I'm probably going to have to recreate this for her! It's such a unique piece and a fun way to store your jewelry!
I love this DIY! Who would have thought you could "write" with a heat gun onto a piece of wood. I'm definitely going to give this one a try!
Who would have thought that so many things could be done with a heat gun? I've always thought heat guns were used to remove paint from a piece of furniture! The possibilities are endless! I hope everyone is having a great Monday! I'll see you next week! For more projects I've done that involve HomeRight products click here!
This post contains affiliate links for your convenience. See my full disclosure here.