Hey, everyone, we have been working like crazy over here the past few weeks. I guess the New Year brings out the organization and motivation in me! I have so many projects I want to be done in the house and a couple of weekends ago we had a free weekend so on a whim we started on our closet turned mudroom. We live in a split level home so when we walk in the door we have a small coat closet and stairs leading to upstairs or downstairs. For some reason, my family, including myself, just can not hang up our coats. It's something about opening the door, grabbing a hanger, hanging it up and put it back that we can't handle. I've always loved the look of a mudroom so we thought we'd make a mini mudroom in our coat closet. Here is what the closet looked like before:
To start we removed the doors and prepped the walls for paint. Since it was a coat closet there were some holes from the door screws and knicks around the edges. The door had done some damage to the space. We used Dry Dex to fill in the holes and scratches.
We gave it overnight to dry as some areas of the Dry Dex were quite heavy and thick. The next morning my husband sanded down the areas and then it was time to rehang the shelf. The previous shelf was fiberboard and not nice looking at all. We pitched that and I wanted the shelf to be a little higher so we bought a 2×4 and cut it to size. We put two on each side of the closet to hold our new shelf. We used a 10×8 board cut to fit the length of the closet as the shelf. I used one of my favorite stains, Weathered Gray.
We were afraid to remove the previous shelf boards, as we didn't want to tear out the sheetrock. We decided to leave them there and remove the bar hooks and add another board across the back of the closet to make a more unified look. This is where I wanted the coats to hang so I made it look like it was supposed to be there on purpose!
My husband then caulked some areas between the wood to make it look clean and not have any lines or open edges on the pieces of wood.
Once the caulk was dry (it said 2 hour dry time on the instructions) then it was time to paint! This was what I was really excited to do. I wanted to paint the coat hanging boards white to stand out and give a pop of white against the bold blue I chose for the wall. I really wanted a strong color that made a statement when you walked into the house. I went with Naval by Sherwin Williams. I am in LOVE with this color and love how it looks. It is a very dark color so it took two coats of paint to get a nice full coat of paint. Below is one coat of Naval Blue.
I painted the blue first and taped around the board with my favorite, Frog Tape before I painted the board. Once all the paint was dry, white and blue, then it was time to hang the coat hangers. We measured so that they would be hung evenly. We did 4 on the back wall and 2 on each side. This gives us the possibility of hanging multiple coats when we have guests.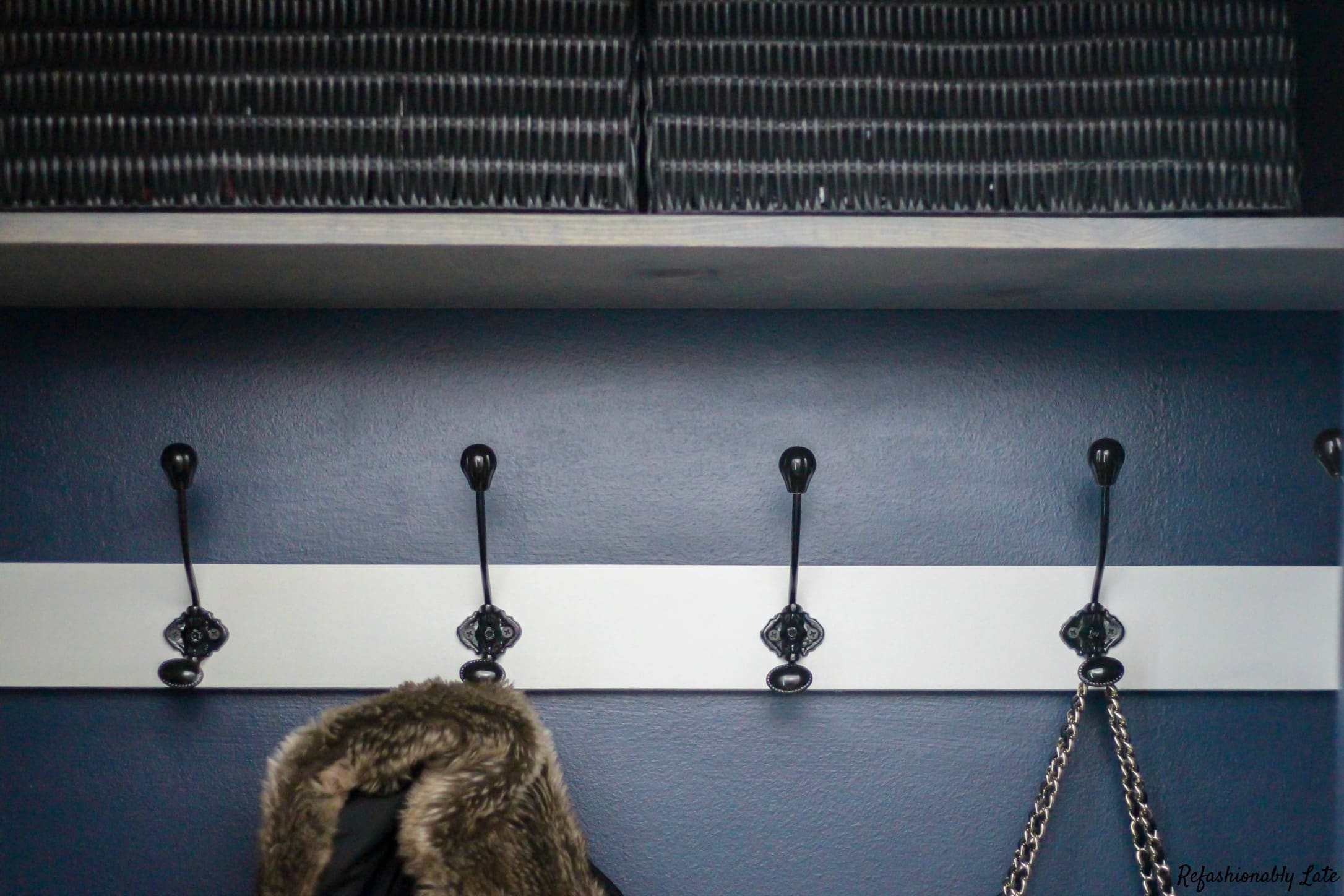 The closet has come a long way but these shoes laying on the rug at the bottom of the closet just doesn't cut it! 🙂 Our plan is to build a shoe cubby at the bottom of the mudroom with a bench on the top. We want our daughter and future children to sit there and put their snow gear on before they go out and play!
I'm so happy with how it has turned out so far and I look forward to building the cubby. Stay tuned for the how-to and final reveal! I hope everyone has a fabulous weekend! I'm going to start painting my kitchen cabinets! I can't wait to transform another space in our home! Does anyone else get a high from DIY?!
Many outgoing links on Refashionably Late are affiliate links. I may earn a small commission to fund my Diet Mountain Dew drinking habit if you use these links to make a purchase. You will not be charged extra, and you'll keep me supplied in caffeine. It's a win for everyone, really. I only link to products I have tried and love! See my full disclosure here.