Tonight's Extreme Makeover Ottoman style! This has been probably one of my biggest transformations yet. I was feeling pretty confident after recovering my valence and kitchen table chairs that I felt I could tackle this project head on! I had an old coffee table that my parents gave back to me when we bought the house – I had made this really great coffee table in middle school shop class….well there is a good possibility my shop teacher made most of it! Haha! My parents actually had it in their house for years in their family room. I said that I would take it and I was planning on repainting it and using in our new home. I didn't really have a great spot for it in my family room or living room. I saw a lot of coffee tables turned into ottomans online. I loved the idea and was so excited to transform my coffee table! I had seen other projects such as this on Pinterest and decided to use Not So Newleywed McGees blog as a reference when working on my ottoman.
I really wanted to use a quatrefoil fabric and I felt it was important to use an outdoor fabric. I went shopping at JoAnn's Fabric one day and came across this fabric and I really liked the uniquness of it and that it was an outdoor fabric! I brought it home and laid it on top of the coffee table and lived with it for a couple days to make sure I liked it. Btw…I am SOOO glad I used outdoor fabric because with my little one it has already been spilled on multiple times and it just wipes right off! I used outdoor fabric for my kitchen table chairs as well which you can see in my Stenciled Table post.
Note that the above picture the room and ceiling have not been painted and we have also replaced our furniture! Also the table is taller than above. My parents used it more as an end table and since I wanted to make it an ottoman I needed to shorten the legs. My husband sawed the legs off up until the rounded part of the leg. We cut off about 1 foot of wood on each leg.
I ended up loving the fabric so I decided to move forward with the project. I turned it upside down and painted the legs one evening, while my husband was watching the World Series (Yeah Giants!) I painted the legs Accessible Beige from Sherwin Williams. Are you surprised? Haha didn't think so!
We had to even out the edges of the table so I went to Home Depot and got a 2×4 cut to fit each side of the table so that it wouldn't have an over hang. (Unfortunately, I don't have any pictures of this.) This project is what actually inspired me to start blogging so I wasn't taking as many pictures of projects that I'm taking now.
I also measured where the tufting was to go and labeled it on the top of the table with marker and had my husband drill holes in those places. I used the below picture as a template for my tufting.
Once the legs were painted and the table was extended on the sides I was ready to starting building the ottoman. I bought 1.5 inch foam from JoAnn's Fabric. (You will definitely want to catch this on sale because it's pretty expensive.) I cut the foam to size and sprayed an adhesive on the top of the table and my husband helped me place them onto the table in alignment with the table.
After the foam was in place I covered the table with batting to ensure that everything was secure. I used a stable gun and stapled it onto the table from the bottom of the table. I also added a little batting to the sides as the wood was a little uneven in areas.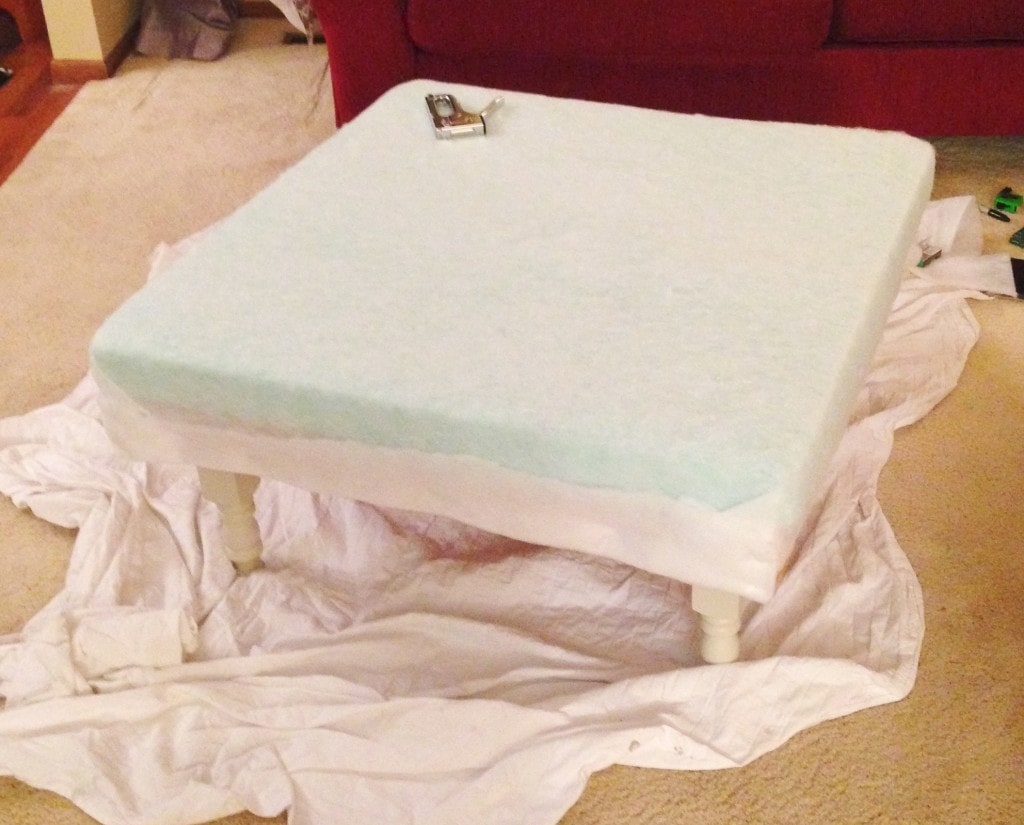 It was now time to put on the fabric!! I couldn't wait to see the end result! I used a staple gun again and secured it underneath the table. My husband helped me stretch the fabric and hold in place while I stapled. With this large of piece of furniture I recommend having a second set of hands. I didn't pull too tightly when stapling because I didn't want it to change the form of the foam. I also folded in the sides of fabric so that I had a clean look on the corners of the ottoman. You can see in the blow picture.
I was really pleased with how it turned out and I even debated not tufting it because it looked nice…but of course I ended up doing so because tufting makes everything look better! 🙂
I'm not going to lie but I seriously struggled with tufting! I tried to follow how others did it on Pinterest and I really struggled. My husband started doing some research and came across a video on youtube and so we tried to replicate it. It worked and you can watch the YouTube video here. We actually used left over fabric when tying the thread around to fill the hole. The tufting, in my opinion, is a two man job as well, especially on a large piece of furniture.
I hope you love this ottoman as much as I do! To buy this at a store would have cost hundreds of dollars and I calculated up my costs and it only cost $75! We want to eventually get a King bed and I can't wait to test out my tufting skills again and make a headboard. Have you ever transformed a piece of furniture into something completely different?