Happy Tuesday friends! It has been quite the eventful week around here. This past Friday my 4-year-old daughter got her adenoids and tonsils removed. Having your child go under anesthesia is not the easiest thing to endure. She woke up in a lot of pain and needed her Mama. I have gotten a lot of snuggles out of the unfortunate event. She is doing a lot better as long as we keep her pain under control. I have also been planning and crafting a ton for her birthday party which is on Saturday. We are doing a joint get together with our neighbor who has the same birthday! Then mixed in with all of that my husband and I managed to get out last night and celebrate our 7 year anniversary. We almost forgot but thankfully my Mom is in town to help with Lucy so she took care of the girls for the evening!
With lots going on in our house I did manage to get a furniture makeover done though! When we lived in California we purchased a dresser for my daughter right after she was born. My intention was to redo it but it kind of ended up in a closet so I never got around to it. It's now been sitting in my younger daughter's room for almost a year and I still haven't painted it! Thankfully with the right tools, I was able to get it done quickly! I have a few go-to items that I use for every furniture makeover and they work beautifully every time!
I have used a sander that my Mom gave me for many years. It worked well but it was old and it was not cordless and frankly kind of a pain in the b-u-t-t. I got this amazing sander from RYOBI and it's cordless! It has been an absolute lifesaver! The sandpaper is replaced by velcro discs and it stays on perfectly. It's lightweight and easy to use! Plus it's in the 18V ONE+ SYSTEM family. The rechargeable battery can be used with a slew of power tools! It also works with our Table Saw, Drill and Miter Saw.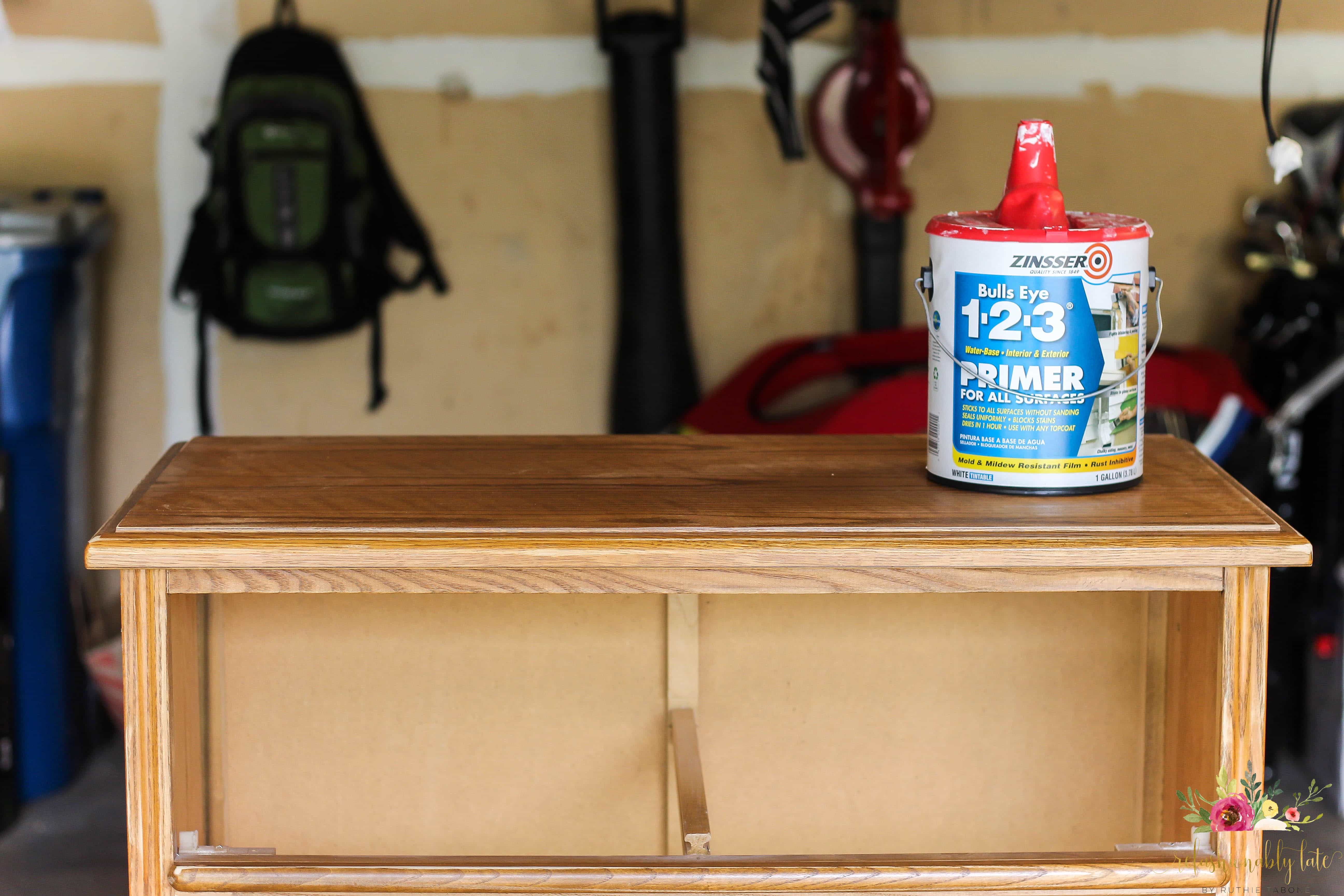 This primer is the best primer EVER! I have used it on everything in my house from furniture to all of our woodwork and baseboards. (Even IKEA laminate furniture!) It says you can paint without sanding and I have done it and it definitely works! Although, I still advise you to give a piece of furniture a quick sand. Furniture gets so much use and sanding it only helps the paint adhere and stay put. This primer works on so many different surfaces and it dries in one hour and it's ready to paint! I always have a gallon of this on hand at my house!
I can't talk more highly about Sherwin-Williams Paint! We have used it in every room in our house and it has been so easy to work with. We've used it on walls, furniture, woodwork, and even items for outdoors! I used the ProClassic Interior Waterbased Acrylic-Alkyd on all of our woodwork and cupboards in our house. It goes on smoothly and dries beautifully. It really looks like a professional came in and painted it all for us! (Ha! I wish!) For this dresser makeover, I used the Emerald Urethane Trim Enamel in Pearly White SW 7009. This may be one of my new favorites! I used my paint sprayer and sprayed it on and was a little worried as it looked kind of spotty but it had amazing coverage. Only one coat was needed! I was so happy to see when it dried it was so smooth and looked great! These two Sherwin-William paints can be painted on imperfectly but then dry beautifully!
I have mentioned this paint sprayer multiple times within various posts! It is my go-to painting tool! It's so easy to use and makes the project go so much faster. I painted this dresser in about 15 minutes. It produces a really nice even coverage and it helps the paint dry smoothly. If you want a professional look for a fraction of the price you can't go wrong with this paint sprayer! Plus you don't have to thin the paint, just fill it and it's ready to go!
I just received the Medium Spray Shelter from HomeRight and I'm in love!! I also have the Small Spray Shelter and Large Spray Shelter. The Large Spray Shelter is great for larger projects and takes a few minutes to set up because you set it up similarly to a tent. It worked great when I painted our kitchen cabinets. The Small Spray Shelter is perfect for a quick little project, especially when using spray paint! I have used this indoors and outdoors. I used it to makeover a doll bed and ottoman tray. The Medium Spray Shelter is my favorite! It's fairly large and can fit a piece of furniture in it and it just pops open when you take it out of the bag! I have a feeling I will be using this size frequently!
Here are a couple of extra tools that aren't necessary but I love:
If you have any questions about furniture restoration or makeovers please don't hesitate to ask! It's one of my absolute favorite things to do. It's the whole reason I started this blog! I like to refashion furniture…hence the name of my blog! Ha! I hope everyone has a great rest of their week! I'll be back tomorrow because I just got the Cricut Maker! It's on sale too! I can't wait to share more about it with you!
This post is sponsored by my friends at HomeRight and contains affiliate links. Thank you for supporting the brands that support Refashionably Late! See my full disclosure here.