The holidays are around the corner and I bet you have a loved one that would love a Cricut from Santa.  Well, you came to the right place because I wanted to share with you a Cricut comparison!  I personally own the Cricut Explore Air 2 and the Cricut Maker.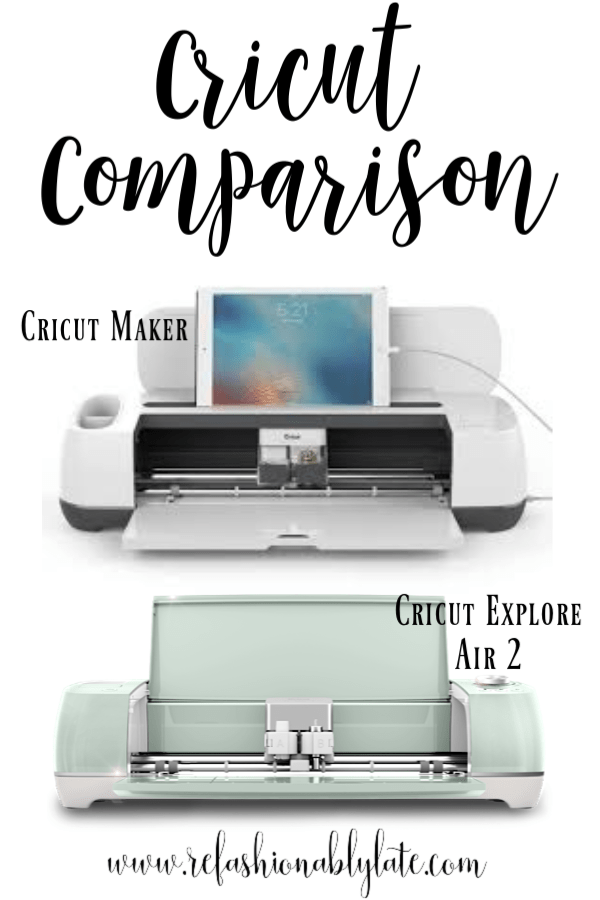 I started my journey with Cricut with the Cricut Explore Air 2.  I fell deeply and madly in love with this amazing machine.  The possibilities were endless.  I became a crafting fool.  I loved to craft before owning a Cricut but my outlook on it changed and I'm obsessed!  In a good way! 🙂
I recently got the Cricut Maker and fell in love all over again.  This love grew though.  I thought the possibilities were endless with the Explore Air 2 but the possibilities for the Maker was AMAZING!
Cricut Comparison
What materials can I cut?
Both machines are able to cut so many different types of items!  They both can cut paper, vinyl, Iron-on, felt, chipboard, or even grocery sacks!  For a complete list go here.
A couple of major differences between the two machines are the blades.  You can see below in the picture which blades work with which machines.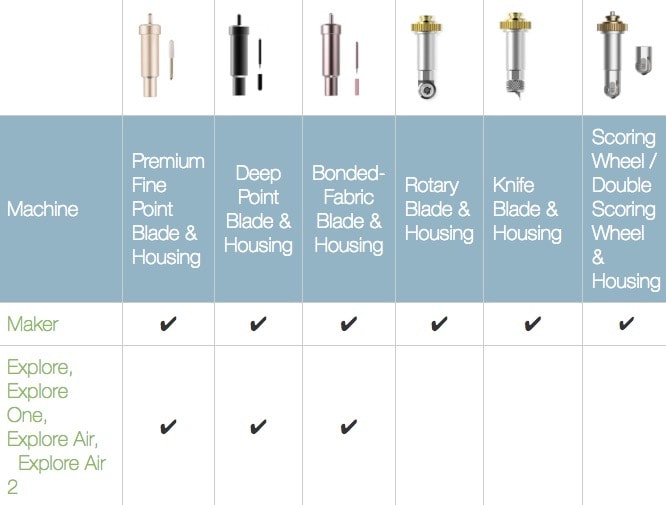 The Rotary Blade comes with the Cricut Maker and is used to cut things like fabric, tissue paper or cork.  I recently used it to cut felt.
I was so excited to try cutting felt with the Cricut Maker.  I cut felt with my Explore Air 2 but it was a little bit more of a process.  You have to adhere Heat n Bond to the backside of the felt for it to cut properly.  You can see my tutorial for Valentine's Day Headbands here.
With the Cricut Maker, you don't have to attach anything to the felt!  It comes out perfectly cut in its natural form.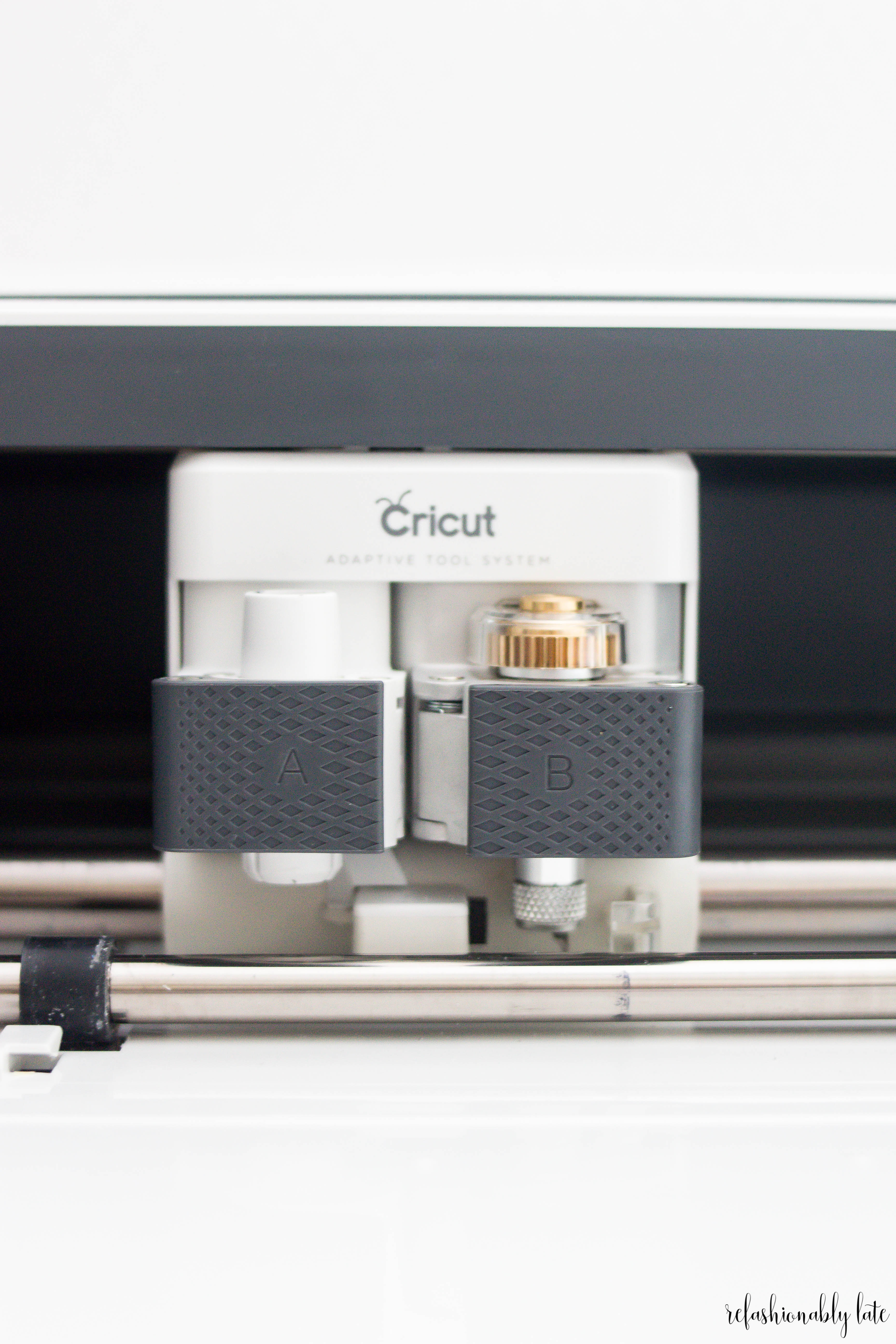 The other blade that I have fallen in love with is the Knife Blade.  The knife blade was created to cut through thicker items like balsa wood, matboard, and chipboard.
Last December, I created a Christmas tablescape with various items I made with my Cricut Explore Air 2.  I'm planning to make another Christmas tablescape next month.  Although, I'm challenging myself to make as much of it with my Cricut as I can.
Today I did a little test run and cut out the same candy cane snowflake that I used as a decorative charger, but I cut it with chipboard.  It's going to work so much better and be sturdier.  I'm anxious to show you how it turned out, so stay tuned!

What kind of DIY projects can I make?
There are so many things that can be made with both machines.  My two favorite things that I've been playing around with are leather and chipboard.  Leather can be cut on both machines but chipboard can only be cut with the knife blade on the Cricut Maker.
I've been having fun making a lot of jewelry with the leather and decorative art with the chipboard!  I'll make sure to share links when everything is finished!  I'm making some great Christmas gifts!
What makes the Maker different from other Cricut machines?
The Maker is by far my favorite machine.  I love that there are 3 extra blades that can be used to make different projects and crafts.  I LOVE that there is no dial.
The dial is not a bad thing by any means but I like being able to choose the item that I'm cutting on my home screen.
Will it be easy for me to use the software to create projects?
I want to say yes and no to this question.  The software does take some time to get used to.  But, there are a lot of great tutorials and YouTube videos out there to explain anything you need.
I did a lot of learning that way and I feel very confident with my knowledge of Design Space.  I'm still always learning though!
Will I use the machine enough to justify the price?
Yes, yes and yes!  I use mine weekly!  I've saved so much money by making my own things.
I use to buy shirts online for my daughters for special occasions, now I make them!  I use buy stickers or special labels to keep everything organized, now I make them!
I use to buy lots of different jewelry, now I make my own!  I use to buy signs or decorative wall art, now I find out a way to make my own!  Like I said before, the possibilities are endless!
Now that I have done a Cricut Comparison for you between the two machines I own….which one are you going to go with?!  For a list of all the projects, I've made with either of my Cricuts head on over to my Cricut folder.
I'll see you on Friday with a fresh Tablescape that I have been working on!  Have a great day!
Many outgoing links on Refashionably Late are affiliate links.  I may earn a small commission to fund my Diet Mountain Dew drinking habit if you use these links to make a purchase. You will not be charged extra, and you'll keep me supplied in caffeine. It's a win for everyone, really.  I only link to products I have tried and love! See my full disclosure here.