I've been excited about this project for a while!  We live in a really great neighborhood and all of our neighbors have become our really good friends.  We spend almost every weekend together and have a great time!  I thought to add to our fun I'd make some koozies for all of the ladies on the block.  We are all fans of the alcohol seltzer water drinks.  They are yummy and good for the lady figure!  Ha!  I can never drink them fast enough and they tend to get warm and then I don't like them.  This is where the koozie idea came to life!
I designed a few different templates for koozies on Design Space.  I used images from the image library and typed out each word to match.  You can make your own koozies with the template here.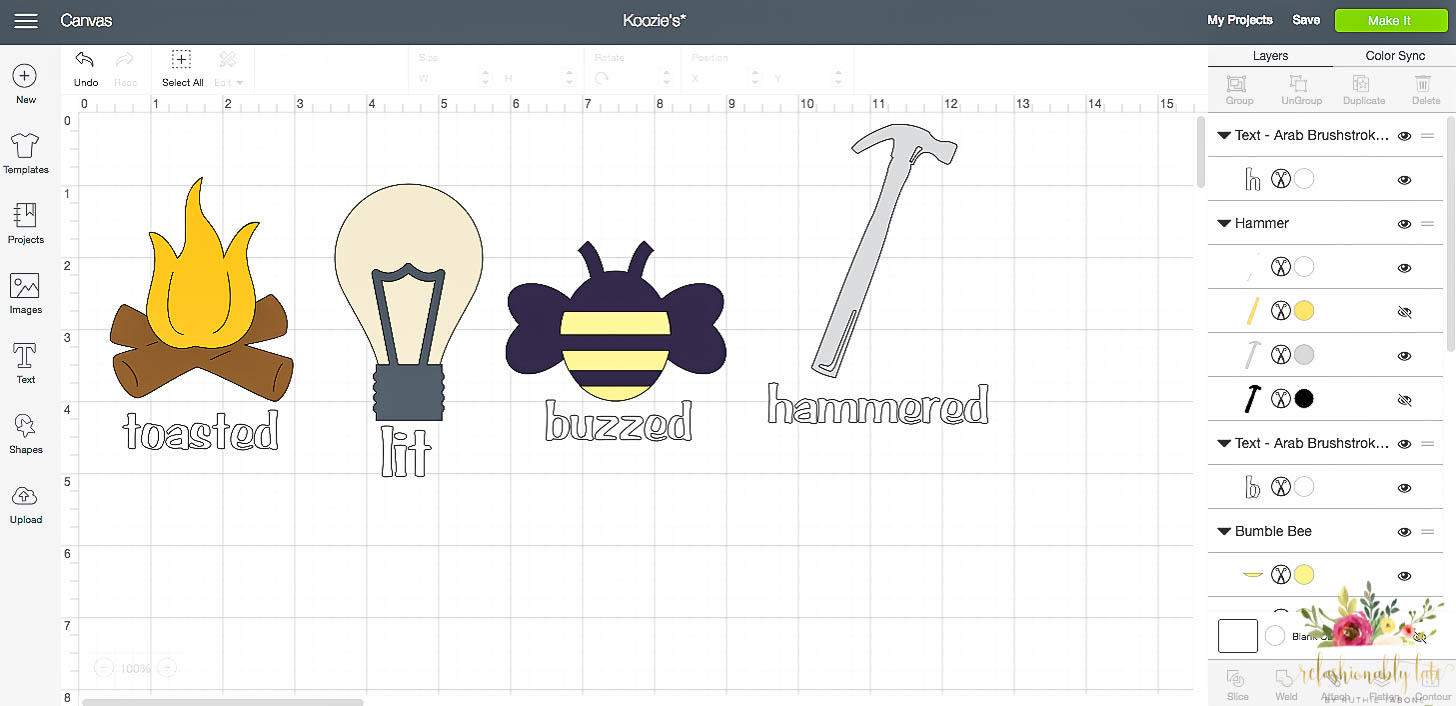 When you are ready to cut the designs you will push the MAKE IT button on the top right of your screen.  Set your material to the type of iron on you will be cutting.  For this project, I used regular Iron-On and Glitter Iron-On.  Glitter Iron-On is one of my favorites to work with!  It adheres to the fabric or whatever material you are ironing onto amazingly.  It also is designed to outlast 50+ wash and dry cycles.  The everyday Iron-On and Sportflex are designed in the same way.  It's part of Cricut's Strongbond Guarantee: if applied correctly they want you to be happy with your results.  If not they will replace it for you!
After you select your material….REMEMBER to put your mat on mirror on.  Otherwise when you go to iron it on it will be backward.  Click the blinking arrow button on your Cricut Maker or other Cricut machines, load the mat and then click the Cricut button!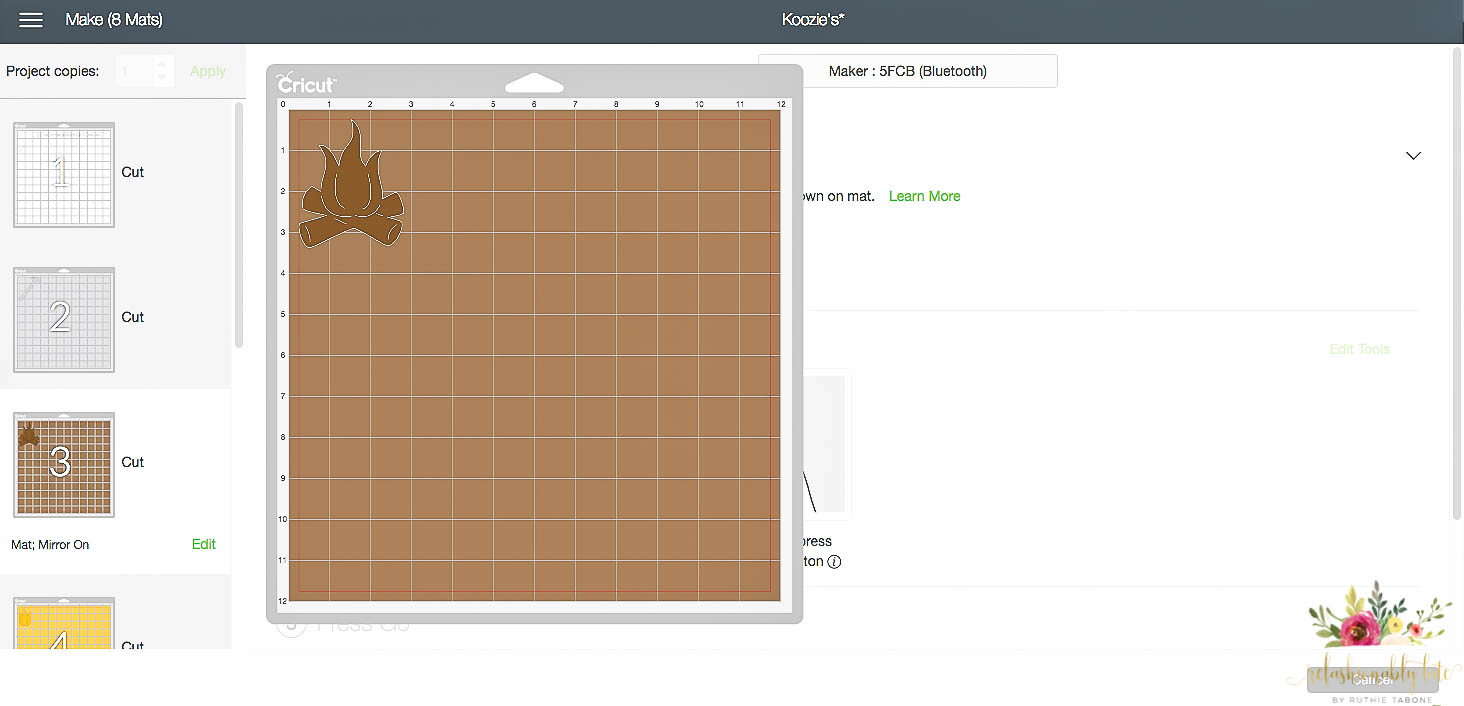 After all the cutting is done you will weed all of the pieces in preparation for assembly.  Now comes for the fun part!!  Put your designs together while using the EasyPress 2!  I love my original Easy Press.  It's been a life saver for all of my iron-on projects.  It would take me so much longer apply the iron-on to something using a regular iron.  Now it gets even better with the EasyPress 2!  It comes in 3 different sizes: 6×7, 9×9, and 12×10.  I decided to use the 6×7 size because the koozies aren't too big.  It's nice to use such a small compact iron for the smaller projects.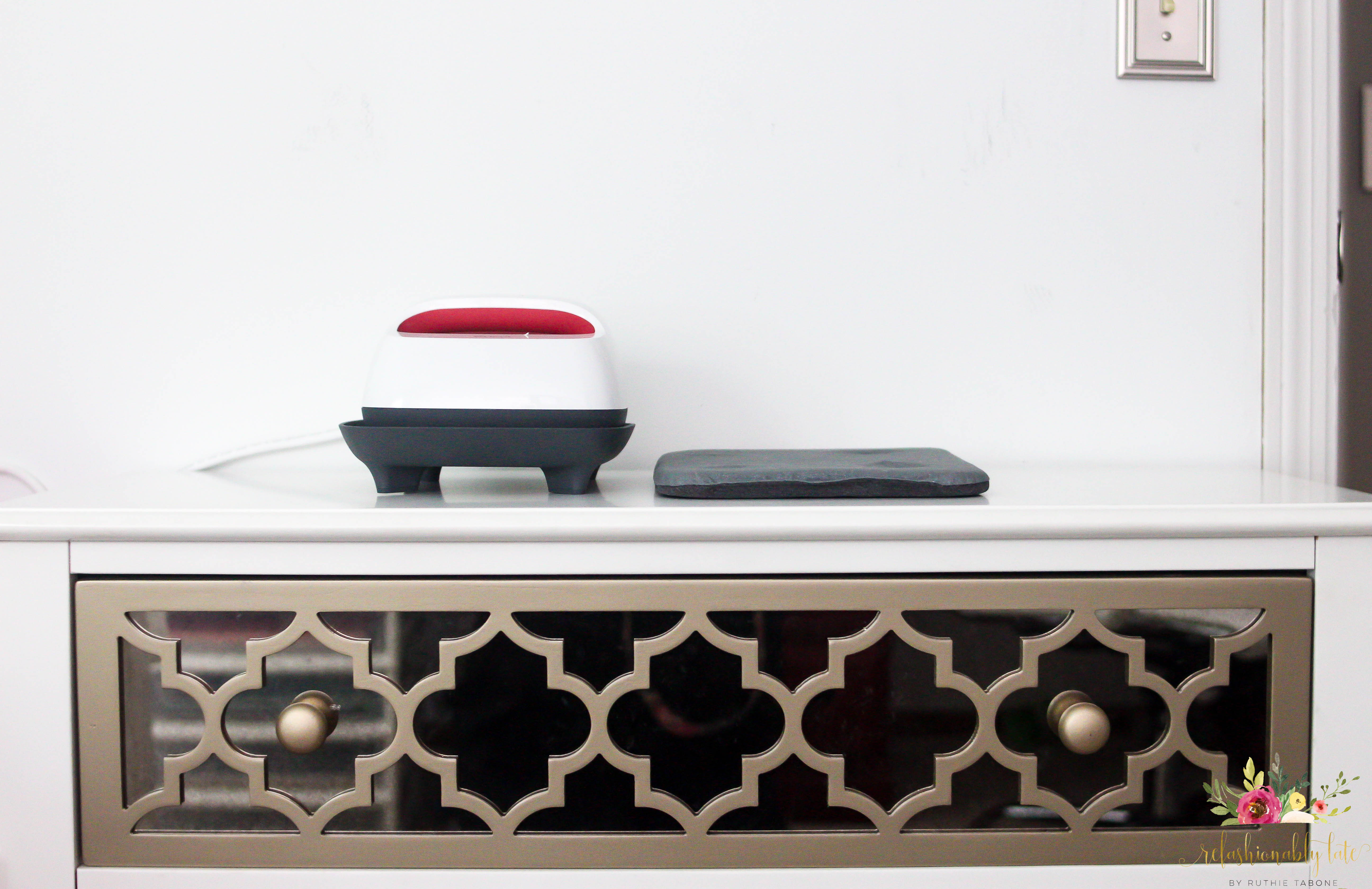 You always want to start with your iron-on first and then layer afterward with glitter iron-on.
A new feature with the EasyPress 2 is that it heats up faster and it remembers what temperature you used the last time.  I loved this because I had to take breaks because my girls decided they needed something!  Ha!  It also has a cute new raspberry color and insulated Safety Base to protect your crafting area!
Now I have two pretty EasyPresses to use in my craft room!  I'm hoping I can eventually get the 12×10 EasyPress 2!  That would be great on larger projects instead of having to do it twice to fit it all!  
Who wants to go out and make koozies for their friends now?!  I can't wait to celebrate with my friends and add a little laughter to the evening with the koozies.  Oh, I almost forgot to share with you a couple koozies I made for my daughter's Unicorn Birthday Party! (Post to come!)
Have a great rest of your week!
Many outgoing links on Refashionably Late are affiliate links.  I may earn a small commission to fund my Diet Mountain Dew drinking habit if you use these links to make a purchase. You will not be charged extra, and you'll keep me supplied in caffeine. It's a win for everyone, really.  I only link to products I have tried and love! See my full disclosure here.