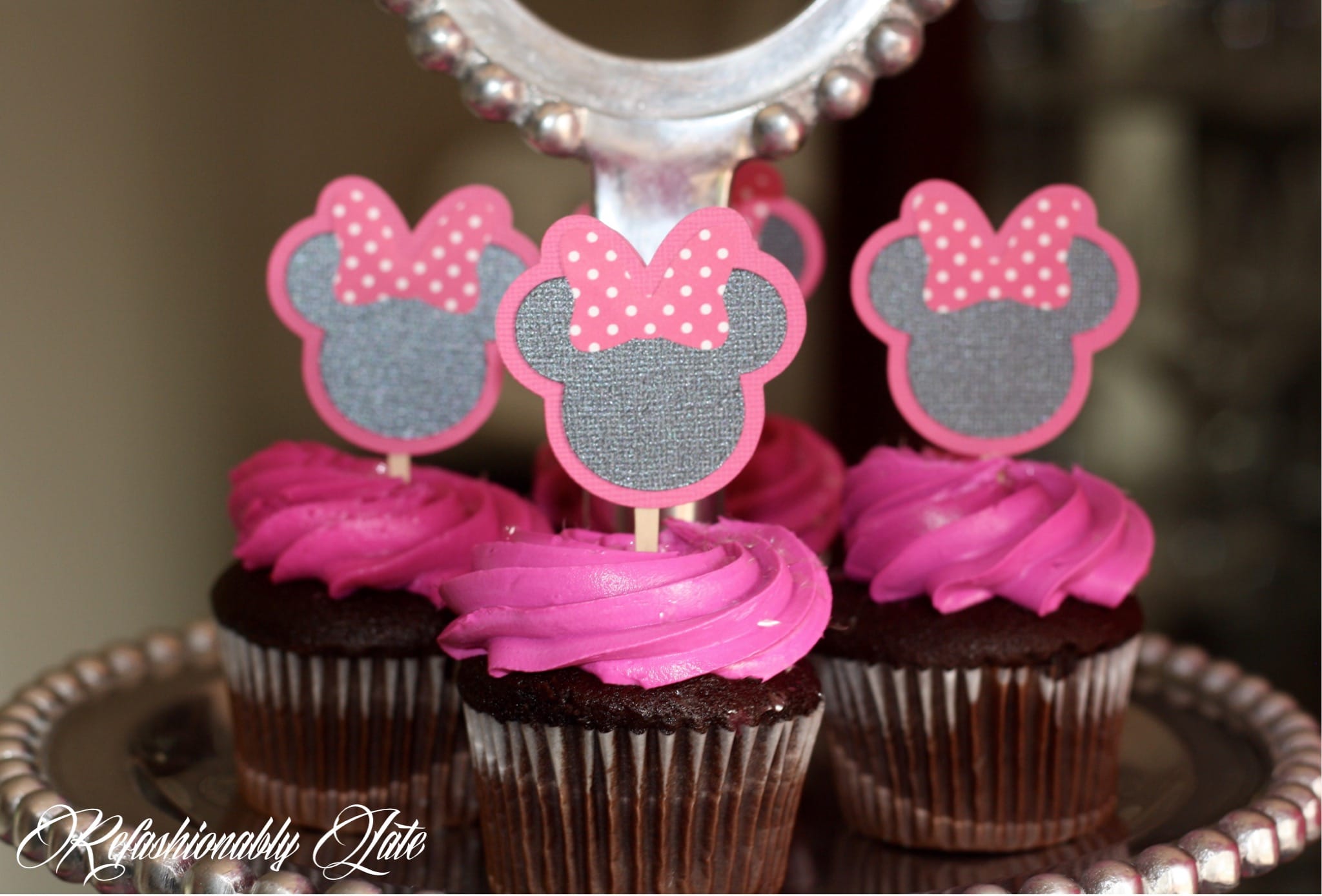 I know this isn't news to anyone but aren't Pinterest and Etsy the most amazing websites ever!? I can't take much credit for Lucy's birthday party – I'm giving all the credit to Pinterest and Etsy!  It was still a lot of work decorating and planning for Lucy's 2nd birthday but with the help of these two websites it sure made my life a little bit easier last weekend.  I was fortunate enough to work with a few different Etsy shops that donated their products for Lucy's birthday.  I love how everything is handmade and how each and every shop has an exquisite attention for detail!  It really made Lucy's birthday a success!
My baby girl, Lucy, turned 2 last week and we threw her a Minnie Mouse birthday party made for a little Disney lover.  Lucy is obsessed with Minnie Mouse and loves all things pertaining to that little female mouse.  I think Minnie Mouse is adorable as well and thought it would be the perfect theme for her 2nd birthday party.
I had two main tables that were decorated with food and dessert.  I'll start with dessert because of course dessert is always best before dinner! 🙂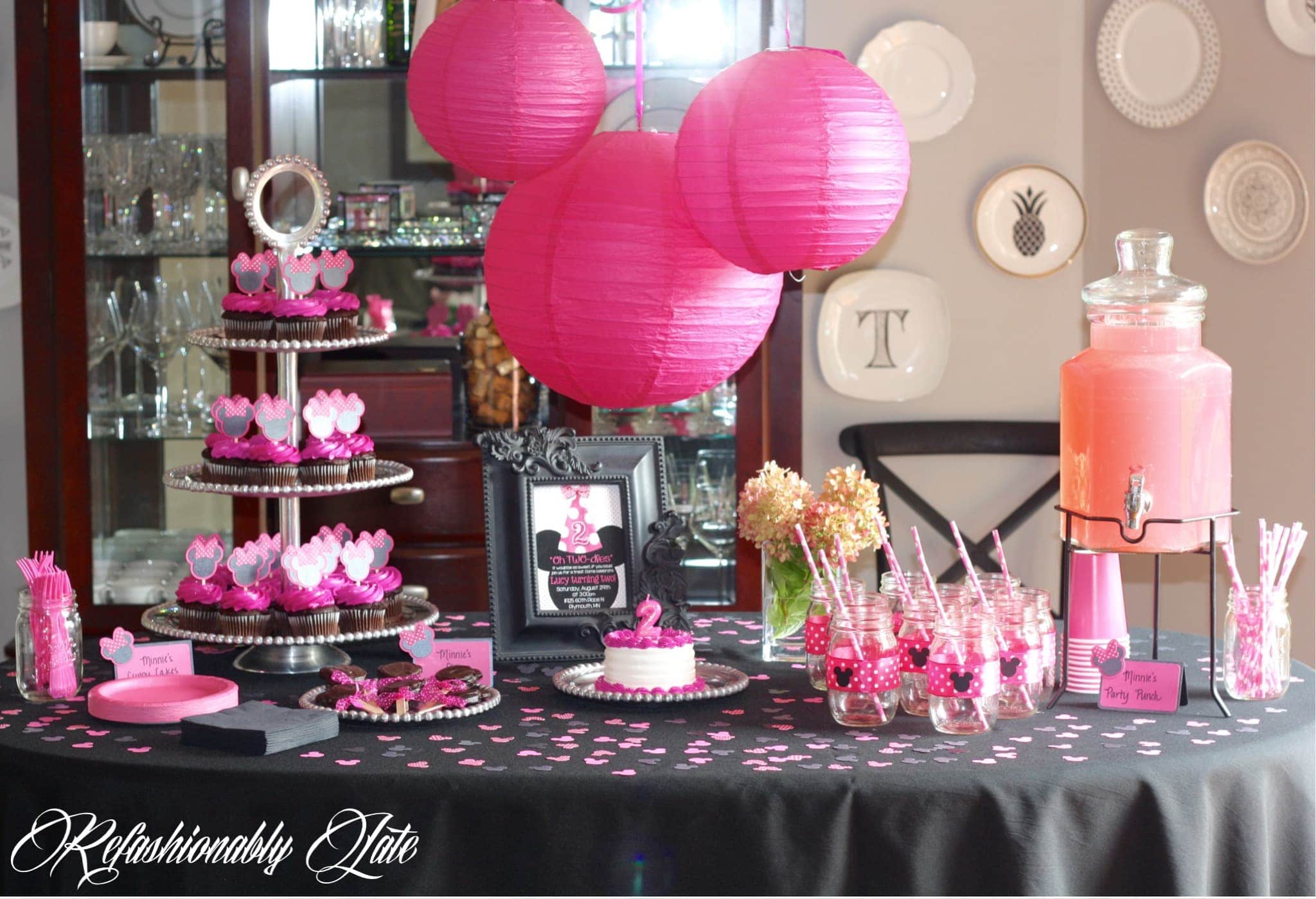 The confetti, cupcake toppers and place cards were compliments of this amazing Esty shopped called JoSeasonsCrafts.  They were absolutely adorable and her shimmery papers and beautiful designs were the perfect addition to Lucy's party.  I can't rave enough about how gorgeous they were in person!
The cupcakes and small birthday cake were from Target.  The small cake is actually a smash cake and it was only $4!  I highly recommend getting it as it's the perfect size for a youngin'!  Just beware it's a large cupcake with mostly frosting! 🙂  Lucy didn't mind though! Ha!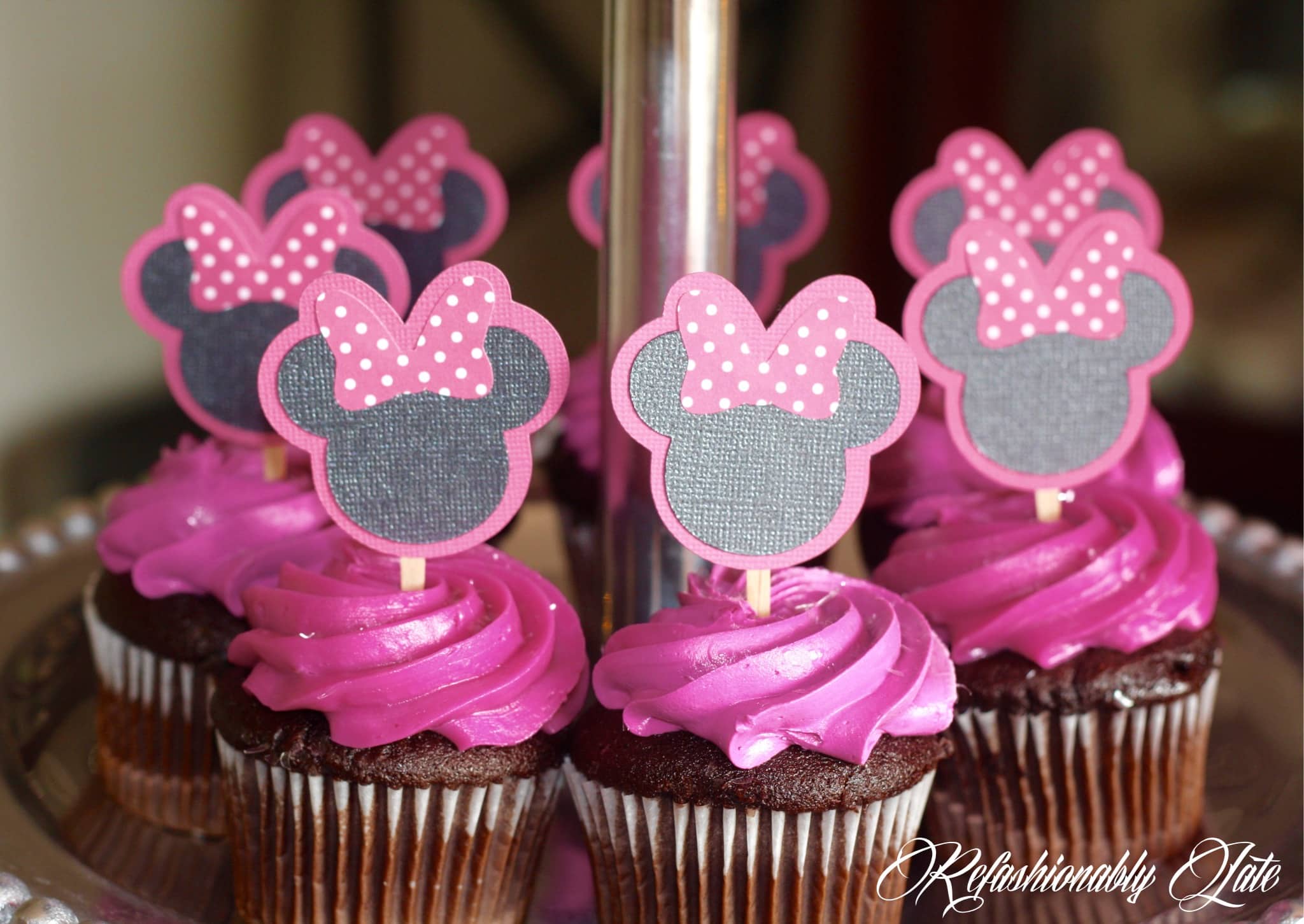 I also made these super yummy Minnie Mouse Oreo Pops.  I got the idea and recipe from Amy, the author of the blog Idea Room.  Head on over to her blog for the delicious recipe!  My advice regarding the recipe is to just use chocolate chips.  Melt the chocolate chips by putting them in a glass bowl on top of boiling water.  It melts easier and makes a better consistency when frosting the oreo. 🙂
I purchased some Mason Jars and ribbon and secured the ribbon onto the jar with a hot glue gun.  It was easily removed afterward which was great so we can reuse the jars.  We then glued a piece of confetti to the front to give it a little bit more style!
I loved the invitation so much and thought it would make a great decoration so I put it inside of a frame for display! It was designed by the creative TamiRayCardsandPrint.  Tami has some really beautiful card designs for all different occasions that are affordable and fun!  She and her family are trying to adopt their 4th child and have a really wonderful story.
Aren't these hydrangeas from my front yard gorg?!

Alright, now that we've indulged in the dessert it's time for the main course! 🙂  On the menu we had:
Hot Diggity Dog Bar
Minnie's Bow-Tie Pasta Salad
Minnie Carrots
Minnie Watermelon
You can make your own Minnie Mouse plates by heading over to The Chickabug Blog and get this adorable template from Heather.  It's free and fun extra touch to your dinnerware!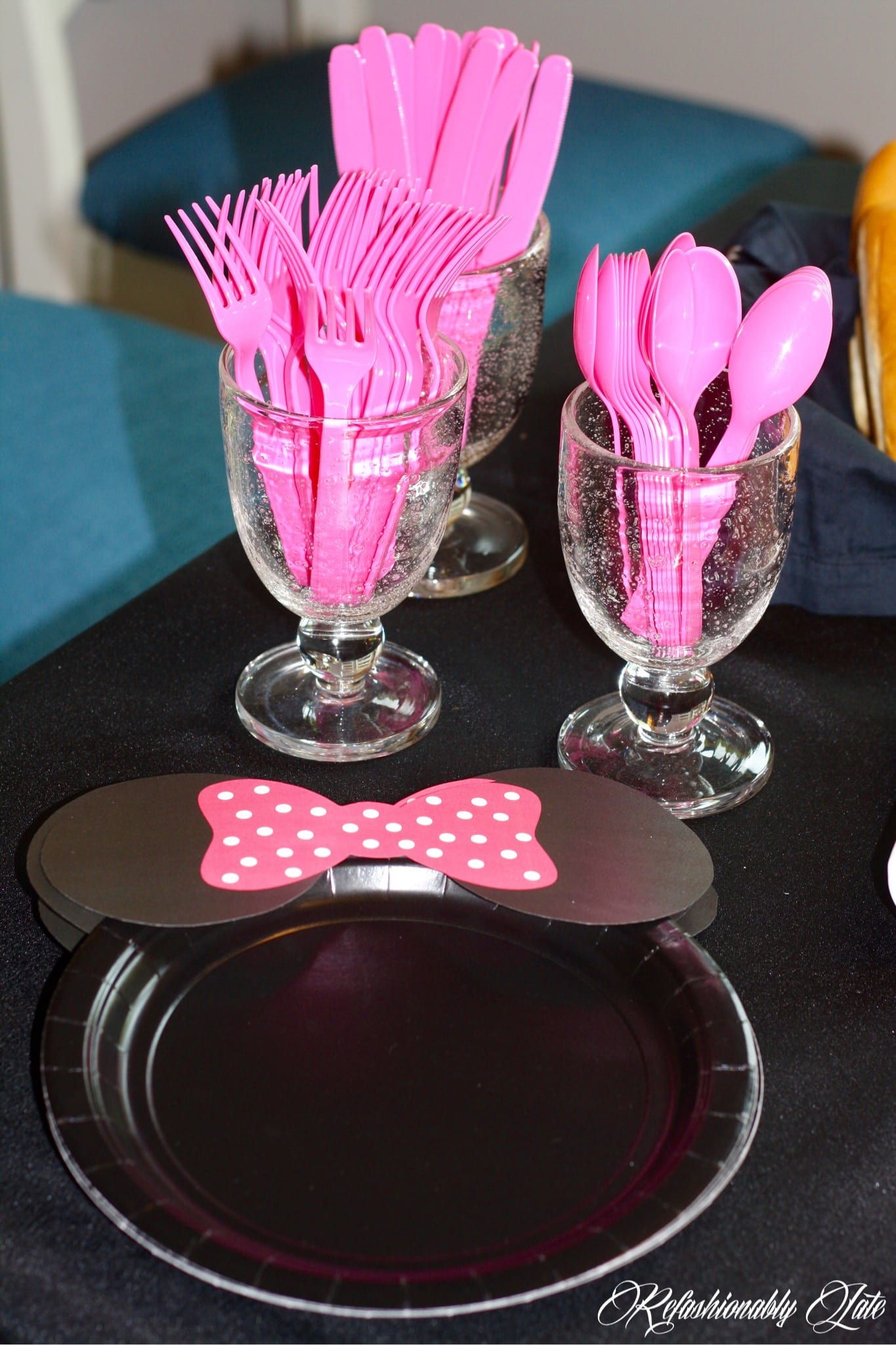 The confetti I used on this table was from sweetheartpartyshop.  The black confetti is what I used on the mason jars and on the front of these adorable cups I got at Hobby Lobby.
I also found the recipe for this Minnie's Bow-Tie Pasta Salad from the yummy blog called Mom's Bistro.  I can't tell you enough how delicious this pasta salad is!  Everyone at the party loved it!
This beautiful Happy Birthday sign was made by the talented Rachael frompartyloversshop.  I mean come on….could this be any cuter?

Last but not least, the icing on the cake….my daughter's outfit!  She wore this adorable headband from PinkPoppiesDesigns and the dress is from GraceMadisonDesigns.  My daughter looked extra beautiful because of these two talented ladies.  Lucy was SOOO excited to wear her special birthday outfit.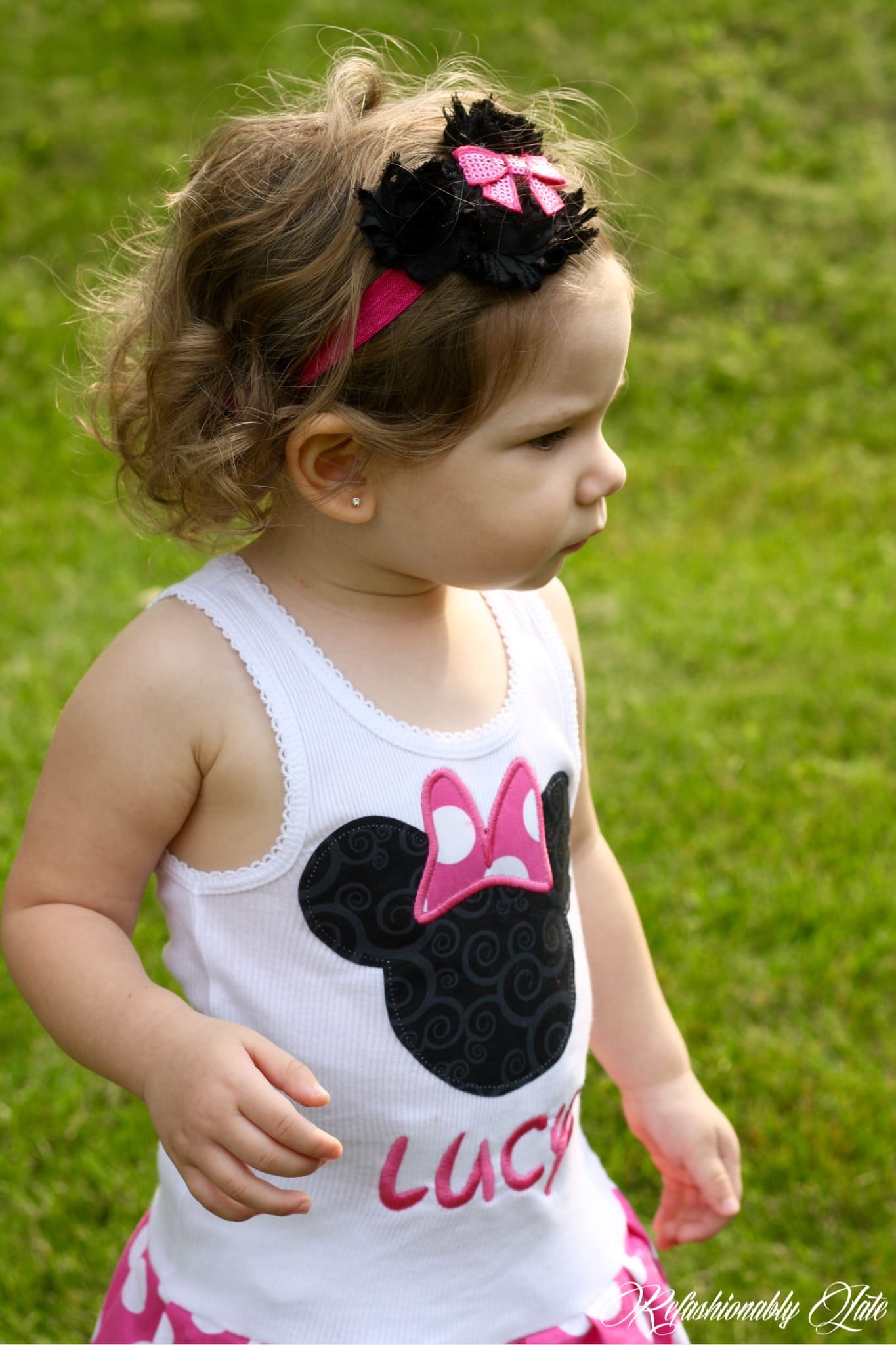 Thank you to all of the Etsy shops that helped make my daughter's 2nd birthday a day to remember!  It was perfect in so many ways and I feel honored to have worked with these wonderful shops.  Please head on over to their shops and give them some love!
It's back to normal life this week while I prepare for my in-laws to arrive.  They will be in town for a week or two and we are looking forward to spending more time with family!  Have a great rest of your week!
Many outgoing links on Refashionably Late are affiliate links.  I may earn a small commission to fund my Diet Mountain Dew drinking habit if you use these links to make a purchase. You will not be charged extra, and you'll keep me supplied in caffeine. It's a win for everyone, really.  I only link to products I have tried and love! See my full disclosure here.