I'm so excited to be joining the $100 Room Challenge hosted by Erin at Lemons, Lavender, and Laundry. I can't believe I haven't participated yet as I know Erin personally. Erin and I connected a few years ago as we were both in a Facebook blogging group together.
We realized we only lived about 20 minutes from each other so we started chatting. Next, we meet up, share blogging secrets (haha not really) and I ended up teaching her daughter piano lessons!
Welcome to Refashionably Late. If you are new here, please join 23,954 subscribers and followers for weekly DIY projects & ideas! I'd love to get to know you and answer any questions you may have. You can also follow along on Pinterest, Instagram, & Facebook.
Erin's brilliant idea for the $100 Room Challenge has blown up and been featured on The Rachael Ray Show and The Jason Show. It's so fun to see someone you know have so much success in our little world of blogging.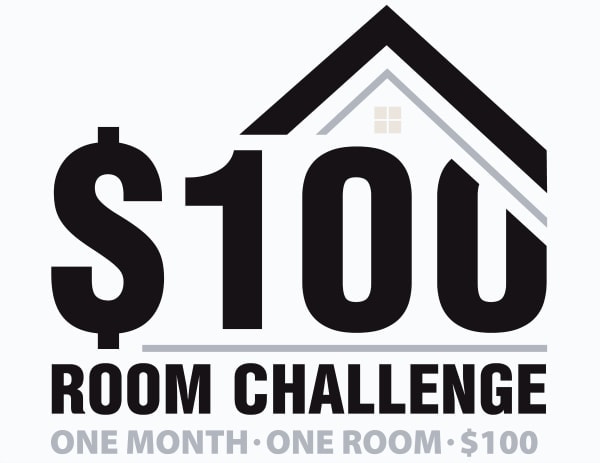 Here is how the $100 Room Challenge works….you pick one room, you have one month, and get $100. That's it. Plain and simple.
I've decided to tackle my hallway. Our hallway has come a long way since we moved in but it still doesn't seem finished to me. We have slowly done some projects during the past 4 years.
Past Projects
Here is a progress shot of how the hallway looked before we laid flooring and just finished the doors.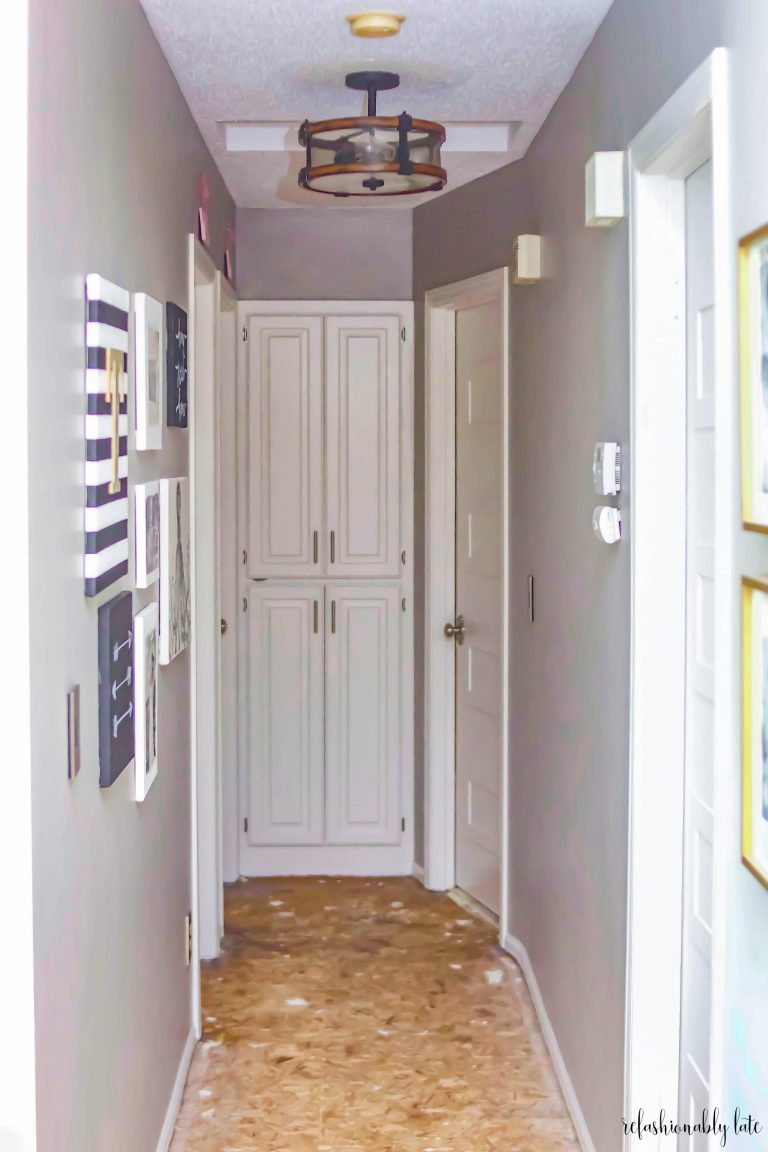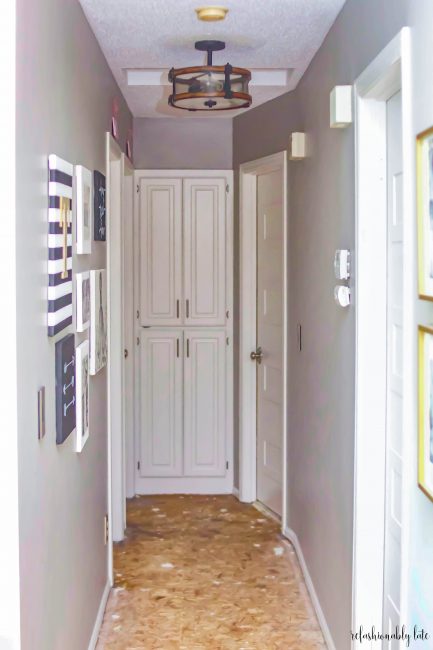 Now I realize I'm not starting with a clean slate but those little projects were spanned between 4 years. I am ready to finish the rest of my visions in 5 short weeks! I get so excited about projects like these, especially when I'm on a set time frame! It helps me stay organized and on task!

Current View of Hallway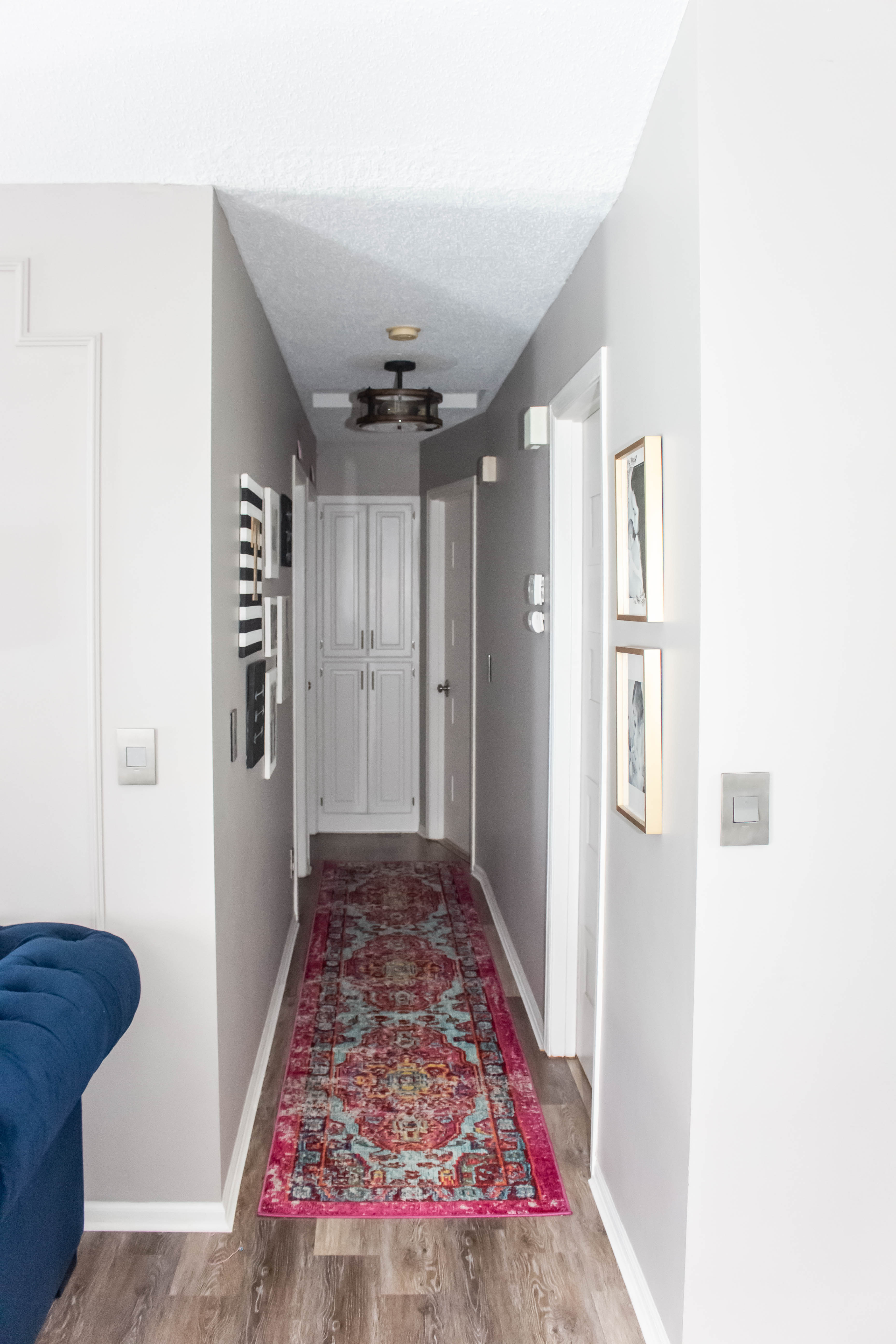 Board & Batten
This will be the biggest project of the whole makeover. It will be the biggest transformation. I've been wanting to add some extra detail to this hallway for quite some time. I thought this would be an easy way to add detail to this small space. Here are a couple of my inspirations.
Update Gallery Wall
I want to replace a few of the other photos from my gallery wall with some new photos. I haven't decided if I want to do all artwork or a mixture of art and family photos. I'm guessing I'll do the later.
Finish Detail Work
I still have a lot of caulking and painting to finish from the previous projects in our hall. I still need to put in a couple door thresholds, caulk the molding from the flooring and touch up paint.
One big project and lots of little ones and I'm looking forward to seeing the end result! Make sure to subscribe to my newsletter so you don't miss any of hallway updates! Until next week!
Many outgoing links on Refashionably Late are affiliate links. I may earn a small commission to fund my Diet Mountain Dew drinking habit if you use these links to make a purchase. You will not be charged extra, and you'll keep me supplied in caffeine. It's a win for everyone, really. I only link to products I have tried and love! See my full disclosure here.