A DIY Cricut Christmas table was on the top of my priority list as Christmas is less than two weeks away! One of my favorite things to do is create my own tablescapes. I love how a beautiful table adds to your Christmas decor.
Welcome to Refashionably Late. If you are new here, please join 23,954 subscribers and followers for weekly DIY projects & ideas! I'd love to get to know you and answer any questions you may have. You can also follow along on Pinterest, Instagram, & Facebook.
One of my other favorite things is my, Cricut Maker. I have had a lot of fun making Christmas presents for my friends and family with it this year. I've made a lot of leather jewelry, flour sack towels and various presents using the Chipboard and Knife Blade. So many great DIY holiday gifts can be made with your Cricut Maker.
Besides cutting Chipboard and leather, it can cut various items like fabric, matboard and balsa wood with effortless precision.
There are 4 tools that are custom to the Cricut Maker. The Rotary Blade (cuts fabric), Knife Blade (cuts through dense materials) and two scoring wheels (makes single and double scored lines).
The Cricut Maker has 10x more power and has a special spot to hold your tablet or phone. You can also charge it while you work!
Not only did I use my Cricut Maker to make a bunch of Christmas presents, but I also set a goal for myself for this Christmas tablescape.  I wanted to make as much of it as I possibly could with my Cricut.  To see everything I've made with my Cricut head on over to my Cricut Project Page.
DIY Chargers
I started by making chargers with Heavy Chipboard, 2mm.  I had made these same chargers last year with glitter cardstock.  They looked great but they did bend as they weren't sturdy enough to hold a plate.
I set my Cricut Maker to cut out the design and because of the intricate design, it took a few hours.  The Knife Blade makes multiple cuts through the design to make it all the way through the Chipboard.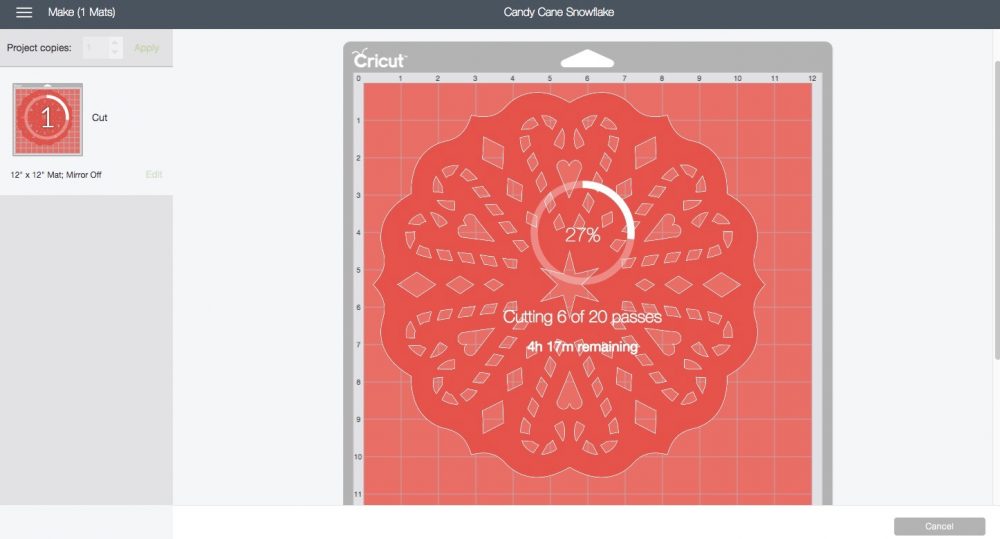 Don't let the hours fool you though.  When cutting Chipboard it always sets to 20 passes.  I find that most things are done around 12-13 passes.  So that sheds quite a bit of time off.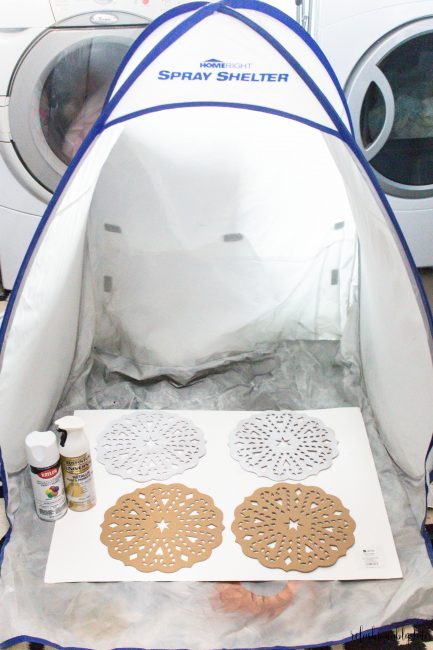 After they were cut I used my HomeRight Small Spray Shelter to spray paint my DIY chargers. It's too cold to paint outside, here in Minnesota, so it's a great alternative to use the shelter and spray paint inside your house.  Notice my washer and dryer in the background! Ha!
They are so much sturdier and don't bend from the weight of the plate!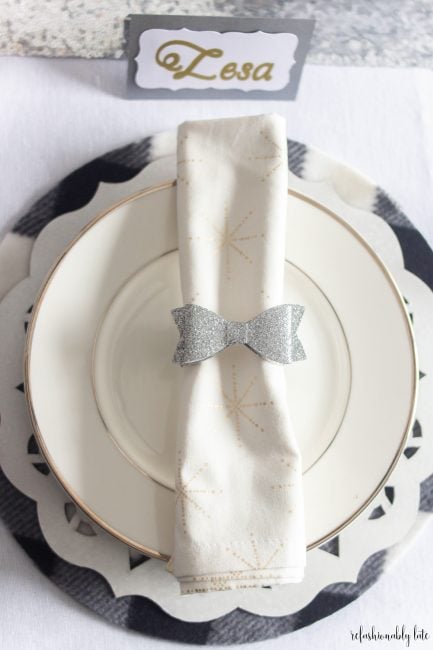 DIY Placemats
DIY Buffalo Plaid chargers were on my shopping list for my Thanksgiving table but I didn't really want to spend too much money.  I decided to make my own placemats using fabric.   JoAnns to the rescue with some black and white Buffalo Plaid 
All I did was add a circle to Design Space and make it big as I could to fit on the 12×12 FabricGrip Mat.  It cut beautifully with the Rotary Blade and they were the perfect addition to my Christmas tablescape.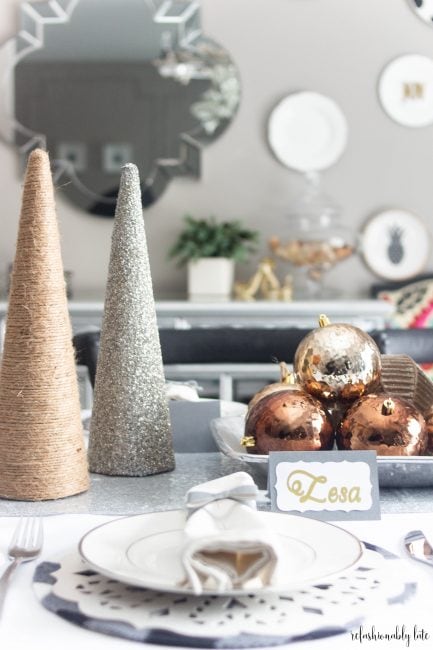 DIY Napkin Rings
I was browsing around Design Space and came across these adorable Metallic Bow Napkin Holders.  I grabbed some silver glitter cardstock from my drawers to make the napkin rings.  They were super simple to make and I love how they look on the table!
DIY Place Cards
To quickly make some place cards I went to my trusty Design Space.  I came across these simple, yet beautiful Hopeless Romantic Rehearsal Name Tags.  I used Pearl Paper in silver and white cardstock and used the 2.5 gold calligraphy pen to write the names.
The table turned out beautifully and it was a quick and easy table to put together and all with the help of my Cricut Maker and HomeRight Spray Shelter!  Even Ellie, our Elf on the Shelf came over to help! 😉
I also made some decor for my wall plates.  I've been doing this for every holiday.  I cut out designs on window cling and put the image on the wall plates.  They are easy to remove and easy to put new ones up for each holiday without having to take the plates down!
I hope everyone has a great week!  Looking forward to the weekend and getting to spend time with friends and family!  

Many outgoing links on Refashionably Late are affiliate links.  I may earn a small commission to fund my Diet Mountain Dew drinking habit if you use these links to make a purchase. You will not be charged extra, and you'll keep me supplied in caffeine. It's a win for everyone, really.  I only link to products I have tried and love! See my full disclosure here.