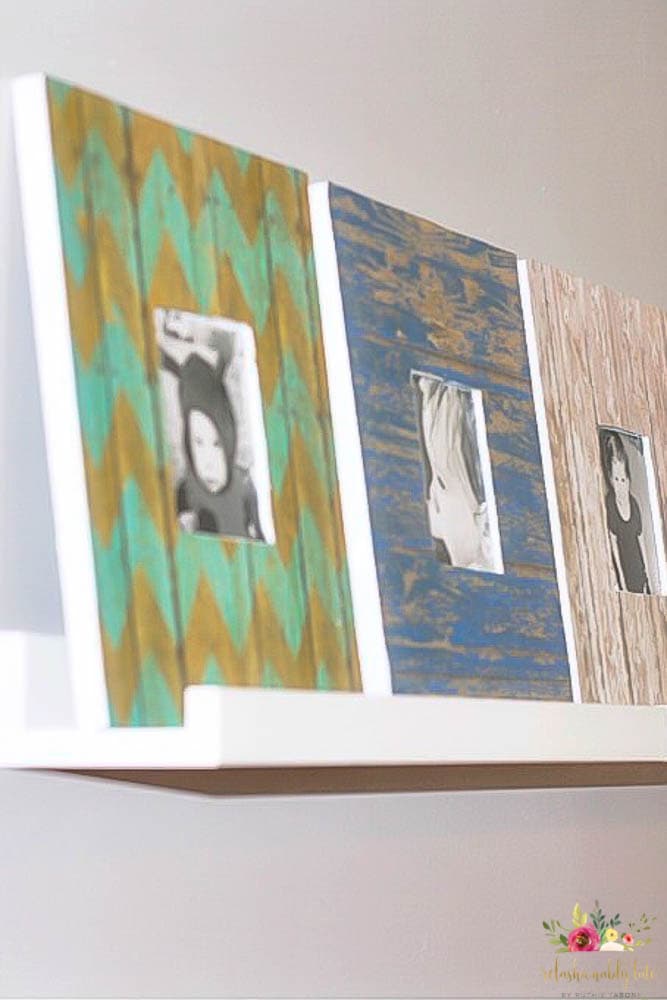 I have a feeling that this is going to be one of many IKEA hacks in my lifetime. I really do love a good IKEA hack! I wanted to put some fun decorative frames in my playroom and I had a million four black Malma IKEA mirrors laying around in my house. Sam from Atkinson Drive had a brilliant idea of making picture frames with the IKEA Malma mirrors. I loved this IKEA mirror makeover idea and I wanted to take it one step further and add some decorative prints to the outside of frames. There are so many great scrap papers out there and I went with these that I got from Hobby Lobby.
I wanted the frames to have a white background so I spray painted the entire frame and mirror with white primer. (You could skip this step if you buy the white frames…all I had were black ones.) A solid coat of spray paint on top isn't necessary since I will be covering it with paper. Make sure the edges have 2 coats of paint as they will be visible.
I traced the mirror onto the scrapbook paper, cut off excess paper, and then I placed the paper on top of the mirror and cut out the center area with a razor blade.
I then put a layer of mod podge onto the top of the frame and placed the paper on top and smoothed out any bumps. After that was complete, I put another mirror on top of it so that it would dry flat without any bubbles. After it was dry I then put a coat of mod podge on the top of the scrapbook paper to give it a glossy look and make sure it was secured to the frame properly.
I printed a few Instagram pics (4×4 in size) on my computer. They almost fit perfectly into the mirrored section of the frame. You may need to trim a the edges so it fits inside the frame.
Once the frame was finished I glued the picture onto the center of the frame. I put a coat of modge podge on top to seal it. Let the frames dry overnight and then they are ready to display! I love the pieces of scrapbook paper I choose as they look like different types of distressed woods. It is a fun little touch to add to the playroom.
I love this idea of creating your own frame exactly how you want it to look. I may have to try out a gallery wall of my own. Last week I did an Ikea dresser hack…do you have a favorite Ikea hack you've done or want to try? (I guess I'm on a little bit of an Ikea hack kick. Haha) Please share!
I hope you all have a great week, pretty busy over here. Next week I leave to go to Arizona to compete with my quartet Delilah. (You can read more about my group here.) Straight from Arizona, I fly to Hawaii to go celebrate my brother and future sister in law! Okay…deep breath…back to packing!