We are halfway through the One Room Challenge! I can't even believe it! Today I'm going to share with you all the items that I have picked out for my living room reveal! I'm obsessed with all of these items and I love how they are coming together to complete this room! If you have missed the two previous weeks catch up below!
I have been obsessed with this rug for quite some time. I love the colors and the traditional design. Wayfair always has really great sales and I was lucky to score this rug for $212!! That's a steal for a large rug! Thankfully they are having another rug sale right now and you can score it at a great price too!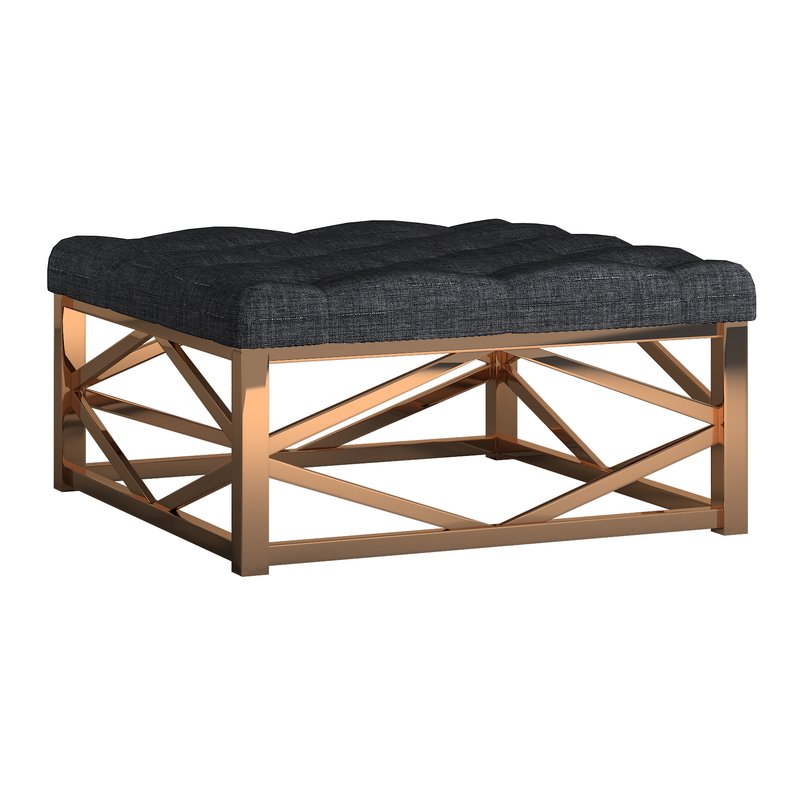 This was the first piece of furniture I purchased for our "new" living room. I wanted a new and beautiful ottoman to spice up the room and this was perfect! I love the metallic finish base with the gray tufted top! It looks stunning in the room as well!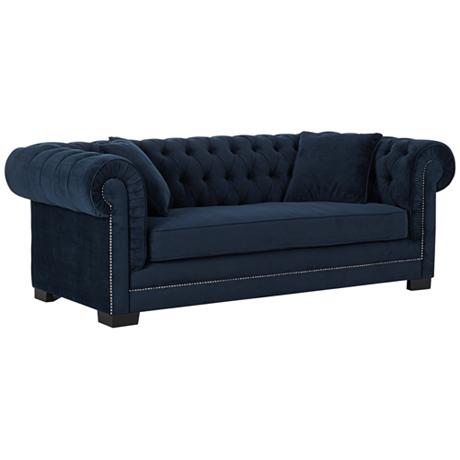 The next major design element to this room was to find a new couch. I have always wanted a Chesterfield sofa but they have always been out of my price range. I am working closely with Lamps Plus right now and fell in love with this Christine Inked Velvet Tufted Sofa! It was bold and I knew it would be perfect with the design I had in mind. My two favorite things when it comes to a couch is tufting and nailhead trim! Plus it's sooooooo soft and comfy!
I have always wanted to have some type of acrylic furniture in my home. I've always loved ghost chairs and I've seen some gorgeous acrylic console tables. I knew I needed to have something acrylic in this room. This room is very traditional but I definitely have pops of modern as well. I fell in love with these nesting tables from Lamps Plus and snatched them up right away!
Now that I got an end table and couch from Lamps Plus…how about I get a lamp too!? I can't express how gorgeous this light is in person. This picture doesn't come close to doing it justice. It's large and beautiful and such a statement piece in my "new" living room.
Now I couldn't find the exact chairs I purchased but this is pretty darn close. I searched high and low online looking for some neutral but beautiful chairs for the living room. I went to Home Goods and a few other stores and just wasn't finding what I wanted for the price I needed. My mom mentioned that I should try Costco. I've never thought of Costco as a place to have hugely desirable furniture. I thought I'd give it a try and I'm so glad I did! I found two chairs that I fell in love with and they were each only $200! Score!
I have used Carousel Designs for many areas of my home! I love the quality of their drapes and their fabric choices are amazing! I'm going to share more about these in a couple weeks but I went with a Shibori fabric and a denim vertical trim. I'm so excited to see how they look in the room!
I have always had a mirror on the main wall in our living room. I love how it reflects the light and also shows my beautiful entryway chandelier. The mirror I had there just didn't go with the style of the new room so I got this beauty for a great price at Lamps Plus.
Last but not least I wanted to replace the lamp on my end table. I absolutely love my lamp as I redid it myself but again just didn't end up working with the new style. I found this Iron Nightlight Table Lamp on clearance on Lamps Plus. I had never seen a lamp like this and thought it was so unique!
Here is where we are at with the checklist!
To Do Checklist:
I'd like to thank our sponsors for this room makeover. Without them this room would not have been possible! I feel so fortunate to work with such amazing companies!
Sherwin-Williams | Metrie | Carousel Designs
HomeRight | RYOBI | Allure | Lamps Plus
Well here's to the end of week 3! Halfway there! Next week I'll be sharing how we are adding panel moulding to our walls!! I'm loving how it's coming along!