Well typically week 6 means reveal week for the One Room Challenge but this round is a little different this year. Unfortunately, there were some weather disasters which have made it hard for some to get their rooms finished within the 6 week time frame. Linda decided to give everyone one more week to tie up loose ends! I'm happy to say I am actually finished with the room and photographed it earlier today. I do want to share one more project with you. If you have missed the previous weeks catch up now:
Week 1 | Week 2 | Week 3 | Week 4 | Week 5
This will be my 5th ORC makeover and I've had so much fun everytime I do it! Check out some of my previous room reveals here:
Gabi's Nursery | Lucy's Big Girl Room | Bathroom | Guest Room
Each and every challenge has had some bigger projects but I will say this room takes the cake! We have installed new flooring, installed panel moulding on the walls, painted all the woodwork and got new furniture! This room looks like a completely new space and I love it! Since there was a lot of things to do I love using items that make the projects go quicker! My favorite, favorite, favorite go to item is my Super Finish Max Extra Sprayer. I loved their previous Finish Max Sprayer but this ones packs an extra punch! I love that you don't have to thin paint! Yet another thing to free up some more time! Since I had to hand paint all of my baseboards I thought painting the cove moulding with my sprayer would be a more efficient use of time.
Now typically people use quarter round when using it to hide the gap between the wall and flooring. While shopping at Home Depot my husband came across cove moulding. It's usually used to hide any unwanted gaps between your ceiling and wall. We decided to give it a try and see how it would look with our baseboards. My husband bought a piece and brought it home and we loved it! I feel it's so unique and makes our plain baseboards more elegant!
I started out by laying out all the cove and splitting it in half. Half of the cove faced one direction while the other half faced the other direction. This was so I could paint all of it easily and not have to reach across all of them to paint the ones on the far side.
We laid the cove out on top of some extra luan we had from our floor installation. I poured some paint into the sprayer and started spraying away! It took me about 10 minutes from start to finish to paint all of the moulding with the Super Finish Max Extra. It would have taken me so much longer to hand paint it all after it was installed.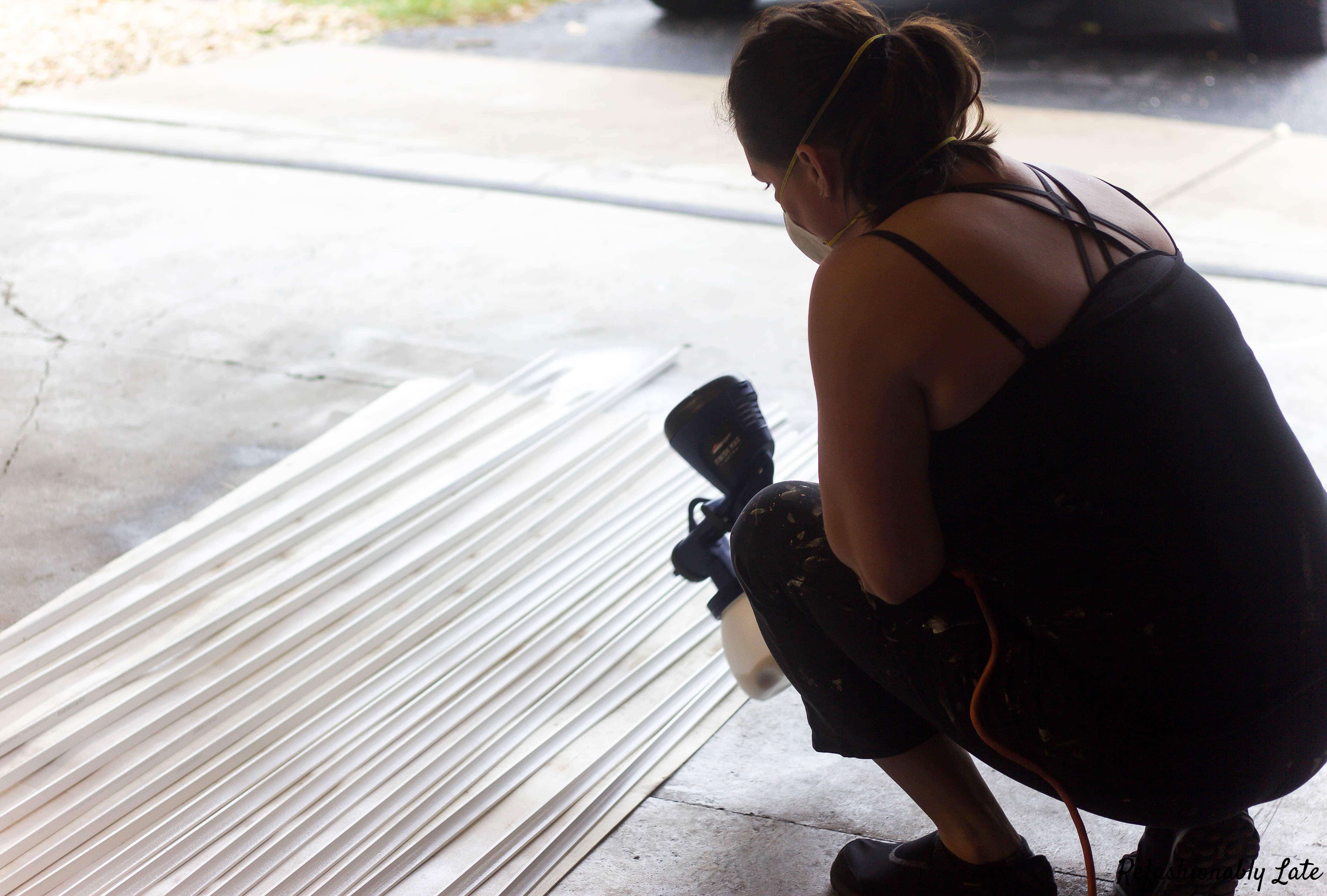 Since I didn't have a large area to cover I didn't put very much paint into the sprayer. After I got it all sprayed I let it dry over night. It's a little chillier here in Minnesota so I wanted to make sure it had plenty of time to dry with the brisker temperatures.
The next day I was ready to make some cuts and install the moulding. I did the panel moulding in our living room before we did this so I became quite the pro at cutting 90 degree angles with my miter saw! Here is a sneak peak of how the panel moulding turned out. I did the same exact process with this as I did the cove. I painted it with my Super Finish Max Extra, made the cuts and then nailed it into the wall.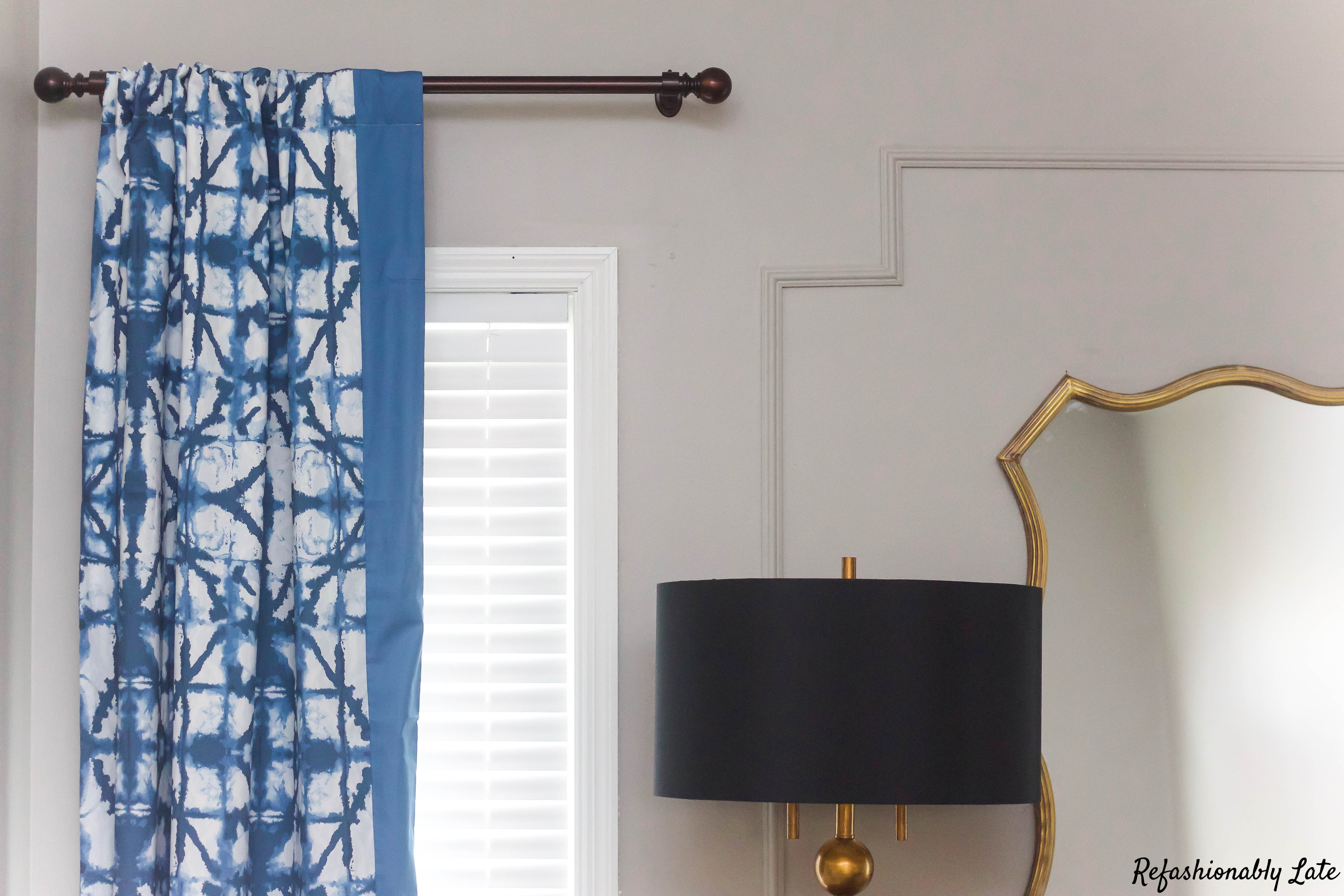 We started with the back wall of our living room and measured from the edge of the wall to the corner of the wall where it juts out. I went outside and made my cut. I knew our moulding wasn't long enough to cover the back wall so I took one of the longer pieces and cut a 45 degree angle on the opposite side of what I did for the previous piece.
This is my first time using power tools and I had SOOO much fun learning all about my new miter saw! I feel so much more accomplished doing all of the cuts myself and not relying on my husband. And you know what?! It's not hard to do!!! I used the 18V ONE+ Miter Saw by RYOBI for the moulding projects.
Once the pieces were cut to the correct lengths then I brought them inside and lined them up. I then used my 18V One+ Angled 15 GA Finish Nailer to nail the cove into the wall. I love that these two RYOBI products are part of the 18V One+ system. That means the battery is interchangeable between all of the tools within that system. Such an effective way help contain the clutter with a ton of different batteries. Plus everything is cordless!
Once the moulding was all nailed in I filled in the holes where the nail was and gave it a little touch up of paint! I was very intimidated by Both the moulding projects at first but once I got the hang of it it is really simple! I feel so much more powerful completing a project with power tools. While I was pregnant my husband helped me with a lot of projects. This time it was all me…start to finish! (And no I'm not pregnant! Haha!)
To Do Checklist:
I'd like to thank our sponsors for this room makeover. Without them this room would not have been possible! I feel so fortunate to work with such amazing companies!
Sherwin-Williams | Metrie | Carousel Designs
HomeRight | RYOBI | Allure | Lamps Plus
Well, next week is the final reveal and I'm happy to say the room is finished! I photographed today for the final reveal and I can't wait to share it all with you! I couldn't be happier with this room makeover! Until next week!
This post contains affiliate links for your convenience. See my full disclosure here.