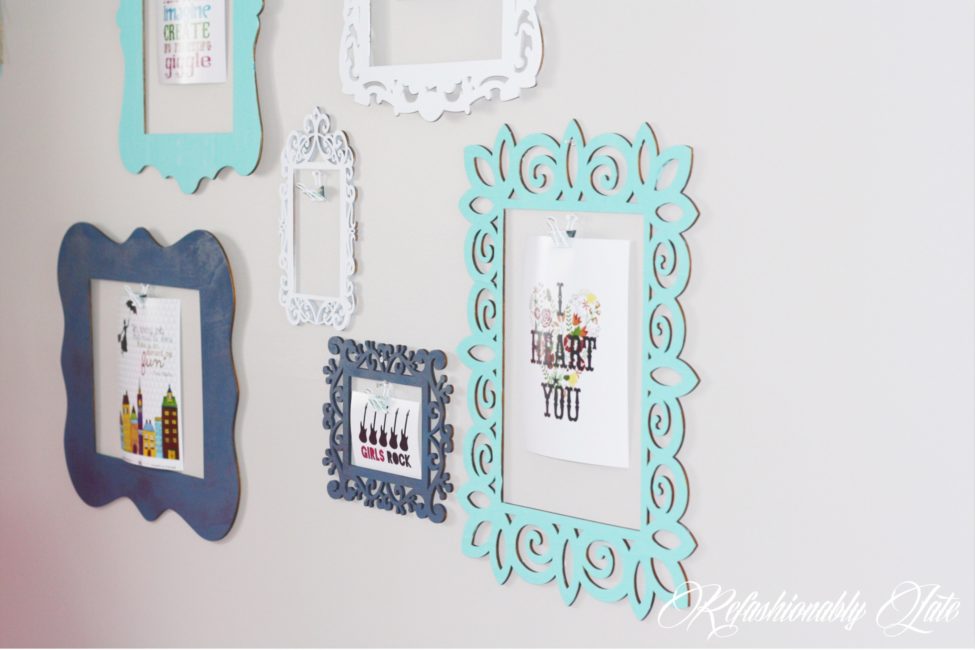 I am obsessed with these Wooden Laser Cut Frames from Michaels. They are so adorable and can be found at a great price! They add so much personality to the space you are decorating.
I designed my daughters room with these in mind and I wanted them to be the focal point of the room. I wanted to make her crib space look elegant but buying actual design frames just weren't in my budget. I found these frames at Michaels and thought they were the perfect alternative! I spray painted the frames light pink, white and hand painted the smaller frames with a sparkly silver craft paint. I used the same colors that I used on my Ikea Spice Rack Book Shelf project in her room. I really wanted these 3 colors to be the focus of her bedroom. I'm hoping to create a post soon and reveal my daughter's room and her decor.
I have seen so many posts online about creative and decorative ways to display your children's artwork. I immediately thought that these frames would be a perfect way to do so! My daughter is only 18 months so she isn't creating much art yet but I still wanted to create an art corner in her playroom. It won't be long before she becomes a little artist!
I've attached the frames to the wall with clear tacks and added paper clips to the frames to clamp onto the artwork. I printed off some fun pictures to put in the frames for now but I can't wait to start adding Lucy's artwork.
I'm working on such a fun art space for Lucy right now and I can't wait to share it with you. My mom gave me my childhood table that was handmade for me. I'm updating it right now to make it brighten up the space and make it more colorful!
Have you ever used these frames somewhere in your home and what did you do with them?