Take an old wooden magazine rack and turn it into stylish book storage for your family room. Have multiple books at arms reach for family story time!
Organization
I have really been on a decluttering and cleaning kick. I know. Everyone is right now. I think I've just finally hit my breaking point.
My house is never clean and there is constantly clutter everywhere! I, and millions of others have been trying to do a little bit of the Kon Mari Method.
Although, I'm not a big fan of the order. I like to go room by room rather than category by category.
Welcome to Refashionably Late. If you are new here, please join 24k+ subscribers and followers for weekly DIY projects & ideas! I'd love to get to know you and answer any questions you may have. You can also follow along on Pinterest, Instagram, & Facebook.
Recently, I was out selling stuff from my decluttering frenzy at a local thrift store. While I was there, I came across this cute old wooden magazine rack.
Magazine Rack to Kids Book Storage
It would be great to have a place to store a few books in our living room. The girls are always bringing them out of their rooms and leaving them in the living room.
This way, they'd have a few books available for them to pick up and read when they aren't in their rooms.
Makeover Preparation
I gave it a good scrub before I painted it. It already had a "rough" surface to it so I didn't bother with doing any sanding.
I used Valspar Spray Paint (Primer & Paint in one) in Indigo Streamer. Might be my favorite blue ever!


I also used it on some of the Art Project Display Frames in the Playroom.
Stenciling
I gave it 2 solid coats of spray paint and after it was dry I began the process of stenciling the word BOOKS onto the front of the book holder.
Unfortunately, I used too large of a foam pouncer and it got outside of the stencil. I touched up the areas with some sample paint I had of the color and it worked great to fix my mistakes.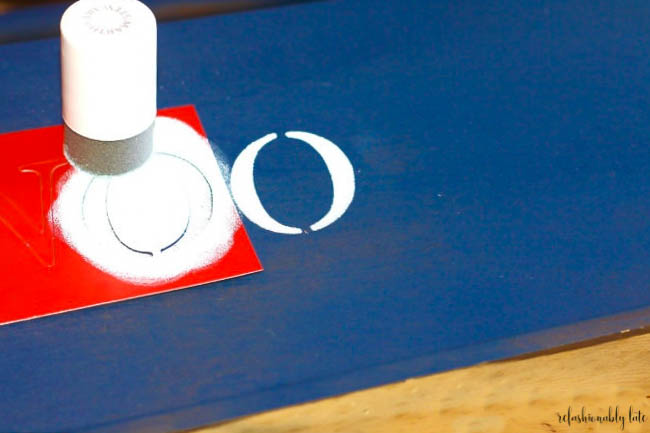 It is very important when stenciling to get most of the paint off of the brush before painting it onto your object because it can leak very easily. It helps to dab it onto a paper towel before applying the paint.
Once it was all dry it was then ready to be filled with some of my girls' favorite books.
This magazine rack turned book storage is a great way to stay organized in our living room. I really like making kid things more beautiful and not so "child" looking. We have to live here too, right!?
What are some ways that you have created storage for books or toys in your home? I can use all the help I can get! The small things I've done so far are really helping me stay sane! Ha!
AT HOME DIY
This post was part of the monthly series At Home DIY. Make sure to see what everyone else made with their thrift store finds!
This link party is powered by Link Party Animal
1905 Farmhouse
,
Abbots at Home
,
By Brittany Goldwyn
,
Creative Ramblings
,
Cribbs Style
,
Delicious & DIY
,
DIY Beautify
,
DIY Danielle
,
Dukes and Duchesses
,
Girl, Just DIY
,
Happily Ever After, Etc
,
Health, Home & Heart
,
House by the Bay Design
,
Just Measuring Up
,
Kenya Rae
,
Little Bits of Home
,
Living Letter Home
,
My Family Thyme
, Pinspired to DIY,
Red Cottage Chronicles
,
Refashionably Late
,
Savvy Apron
,
Shrimp Salad Circus
,
Songbird Blog
,
Southern Revivals
,
T.Moore Home
,
The DIY Dreamer
,
The DIY Village
,
The Frugal Homemaker
,
The Handyman's Daughter
,
Two Feet First
,
Weekend Craft
,
What Meegan Makes
,
Zucchini Sisters
Many outgoing links on Refashionably Late are affiliate links. I may earn a small commission to fund my Diet Mountain Dew drinking habit if you use these links to make a purchase. You will not be charged extra, and you'll keep me supplied in caffeine. It's a win for everyone, really. I only link to products I have tried and love! See my full disclosure here.