Today I wanted to share with you a few projects that I have been working on that involve some of my favorite crafting/DIY items! My absolute favorite crafting tool is my Cricut. I never knew I could love a little machine so much! Something else I have found to be very important with my crafting projects is my Cricut EasyPress. It is so much easier to use than a regular iron! Now when it comes to DIY projects my two favorite items are my HomeRight Super Finish Max Paint Extra Sprayer and Spray Shelter.
Doll Bed
Now that I've shared my favorite DIY and craft items I want to share with you a little bit of what I've been working on the past month or two! Recently my good friend's daughter had a birthday. I really wanted to make her a gift and I came across this adorable and affordable ($15!!!!) doll bed at IKEA. I thought this bed would be perfect for Ellie. It was too plain though and I had to add some color to it and make it look pretty of course! I started by grabbing my HomeRight Small Spray Shelter.
I used a white spray paint/primer to cover the entire bed. The bed really soaked up the paint so I had to do a couple coats. I then used my favorite final coat of spray paint. I'm a big fan of the Metallic Pearl Mist by Rustoleum. I don't recommend using it alone as it doesn't have great coverage but it gives a really beautiful top coat to any project you want to add a little sparkle too!
Once it was all dry I grabbed my Cricut and I cut out Ellie's name onto bright pink vinyl! I stuck it on and it was the perfect birthday gift for a special little girl!
One Room Challenge
I recently participated as a guest participant in the One Room Challenge. This was my 6th room that I have made over for this challenge. I love doing it every time and it's so much fun! This round I made over our home gym/guest room! This may be the proudest I've been with a transformation. We built a murphy bed from scratch and put a lot of hard work into this room. I made a couple of things with my Cricut for the room. I made this motivational quote that I stare at while working out and it really pumps me up!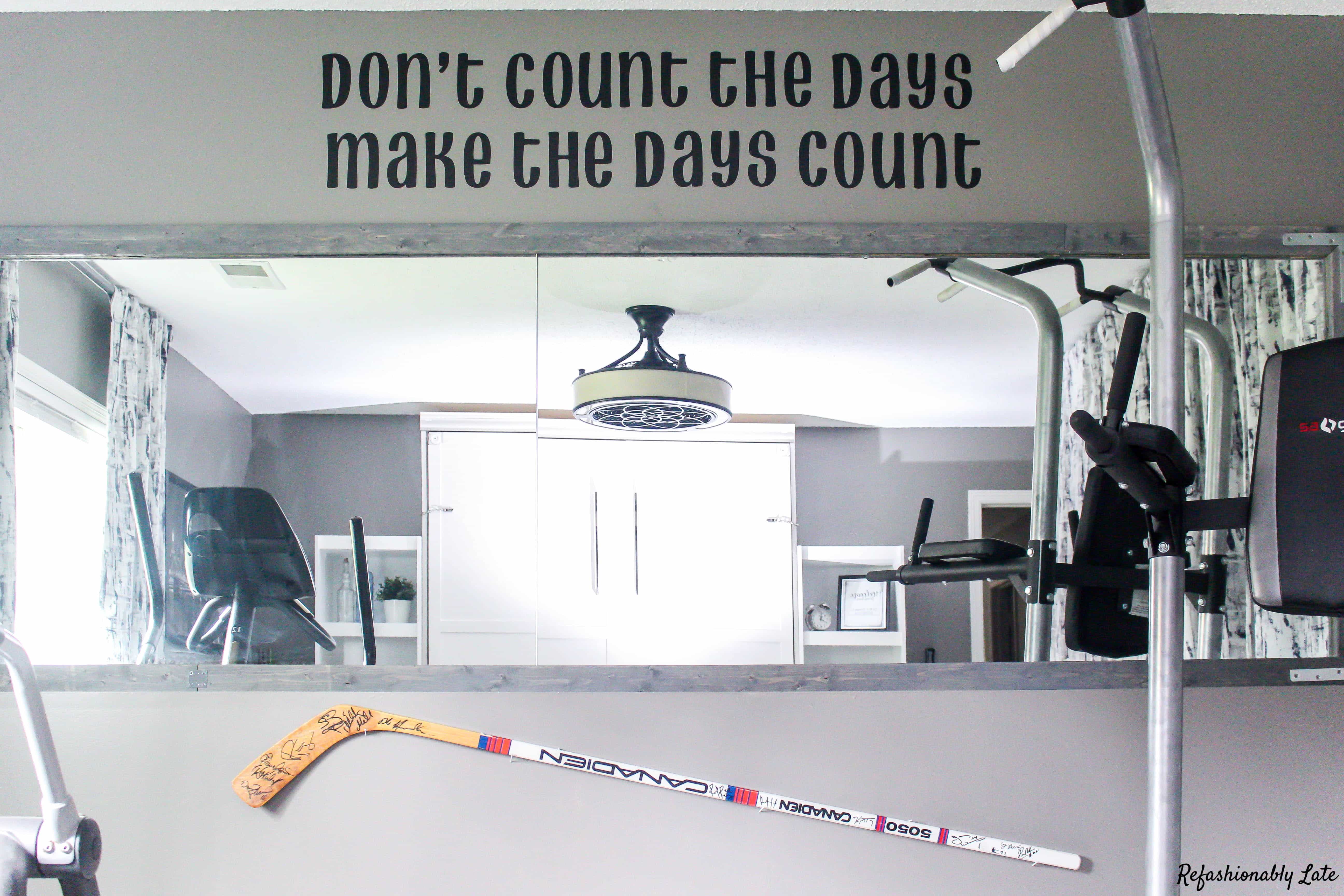 I also made this fun little jar for our guests to grab any toiletries they may have forgotten. 🙂
Cricut EasyPress Mat
My next door neighbor loves to craft and for her birthday her husband wanted to get her a Cricut. Of course, he came to me for some help. I set him up to buy the Cricut Maker Bundle. I wanted to give her a little something as well so I decided to design a tote bag for her with a few extra accessories. I was really excited to do this project because I recently got the Cricut EasyPress™ Mat. I couldn't wait to try it out. I had just been using a piece of wood with an ironing blanket on top of it. The EasyPress Mat fits perfectly to the EasyPress and I don't worry one bit that any heat comes through the mat.
I love when there are accessories for items and everything works perfectly together. It really helps everything to be made efficiently and quick! My friend is loving her new Cricut and her new tools!
Recital Decor
This past Sunday was my music recital for all of my students. One of the parents generously hosted the get-together and each of my kiddos shared what they have been working on with everyone. It is so fun to watch my students grow as musicians. I made each student a little bag that's personalized for them to carry their music books in. They were so excited to have their own bag! I also made an adorable banner for behind the piano as a little bit of musical decor.
Father's Day Shirt (Best Dad Ever)
I have been seeing shirts similar to these floating around online and wanted to make one for my husband. I was able to create this on Design Space and it's free to use for anyone that would like to make one for their husband or father! I'm going to make the shirt today and make one more gift with the girls for him! Pretty funny gift for a musical person!
I hope everyone has a great week! My Mom is in town so we are going to have some fun girl time with my two daughters. We always have a good time when Ama is in town! I'll see you later this week for another project!
This post is sponsored by my friends at HomeRight and contains affiliate links. Thank you for supporting the brands that support Refashionably Late! See my full disclosure here.