Welcome to Refashionably Late. If you are new here, please join 23,954 subscribers and followers for weekly DIY projects & ideas! I'd love to get to know you and answer any questions you may have. You can also follow along on Pinterest, Instagram, & Facebook.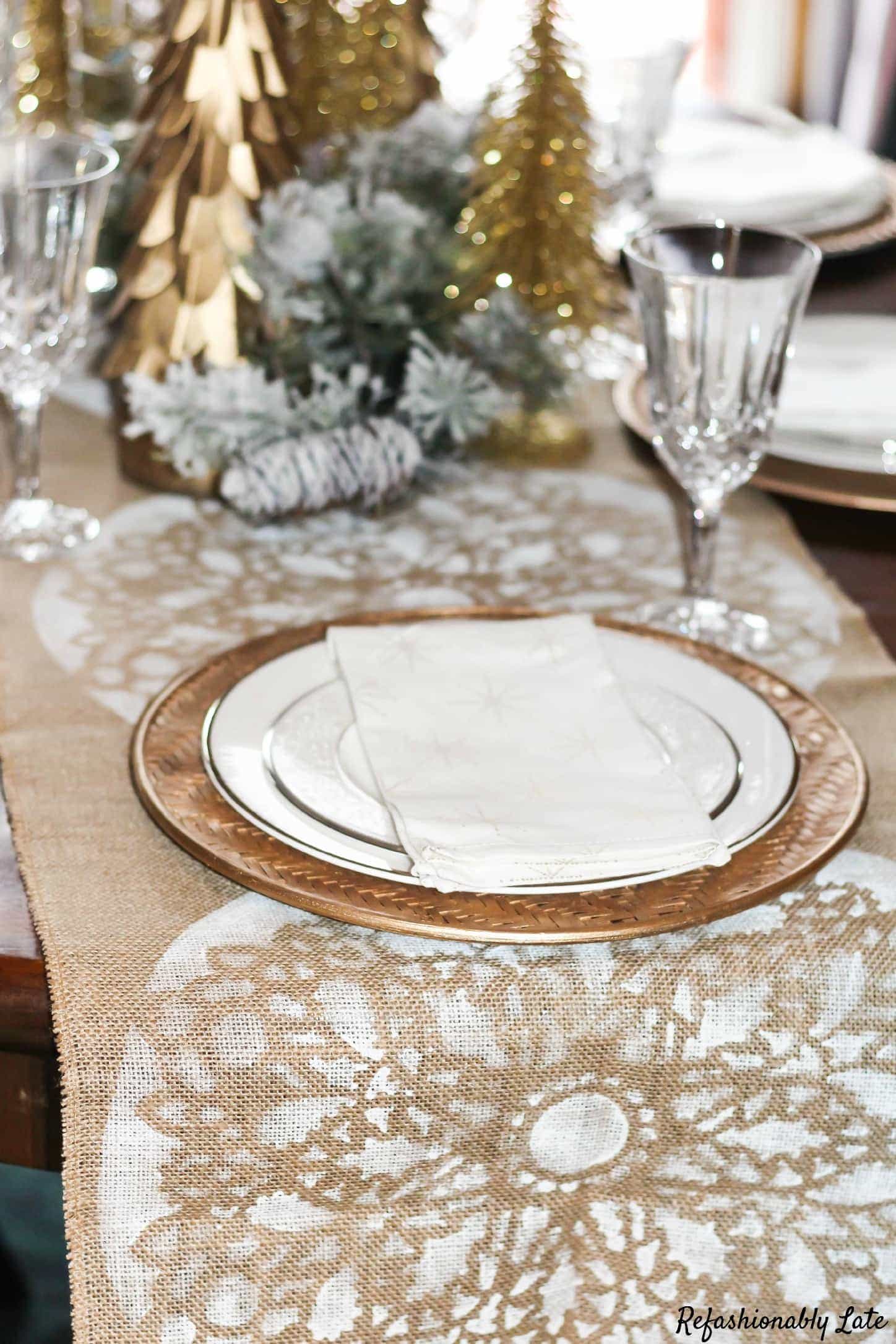 I'm joining up again with a few of my favorite blogger friends today to share with you all a Christmas or Holiday craft involving burlap. Burlap is all the rage and there are so many possibilities with this little piece of "cloth." Today I decided to take a burlap table runner and give it a little spice!
It was a very simple project that I already had all the materials for! Doesn't that make it so much better?! I created a stunning stenciled lace wall in my guest room with a stencil I had received from Cutting Edge Stencils. You can see the stenciled wall here.
I love re-using items and so I thought it would be fun to stencil the beautiful design onto a burlap table runner. I originally planned to use gold spray paint but unfortunately, that didn't really turn out that great.
You couldn't see the gold and, as they mention on their website, it's not best to use spray paint with their stencils. Since it wasn't very visible I was able to just turn the table runner over and start from scratch.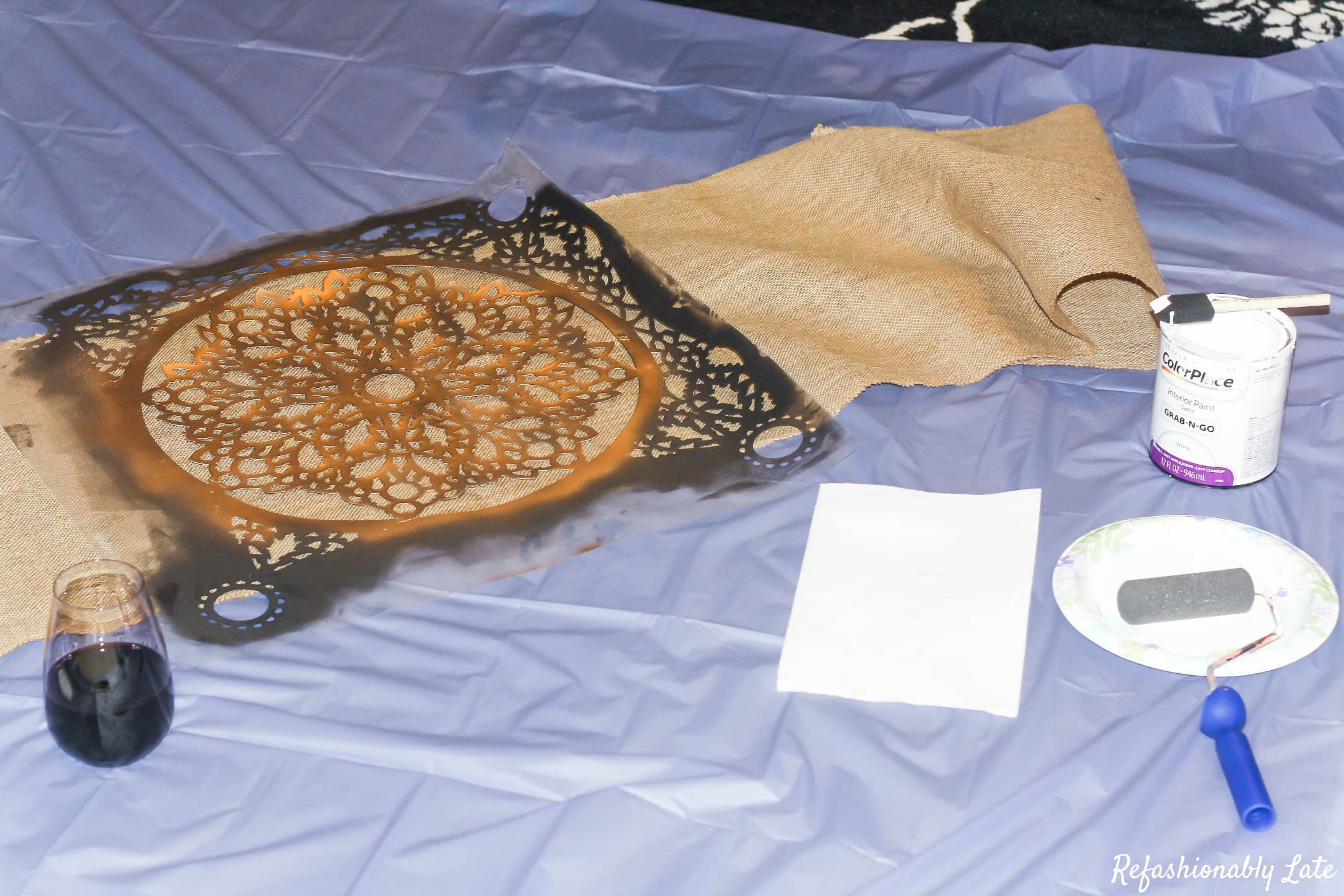 All you need:
Burlap Table Runner
Stencil
Foam Roller
Paper Plate
Paper Towels
Paint
Wine (every project turns out better with wine, right?!)
It's super simple and all you do is fill your roller with paint but then roll off some of the excess paint so it doesn't bleed a ton. I did find out that this process is completely different than stenciling a wall or piece of furniture.
When stenciling a wall or furniture you want to roll off most of the paint onto a paper towel so that it doesn't bleed but with the table runner I didn't wipe much off as the burlap soaked in a bunch of the paint.
You also need to press firmly (which you aren't supposed to do with the wall or furniture) so that it soaked up most of the paint. I also wasn't going for a perfect look like I was with the feature wall in my guest room. I wanted it to look a little "worn."

Once I stenciled on the first circle I kind of eyeballed where I wanted to place the second circle. Note: I did start the stencil in the center of the table runner.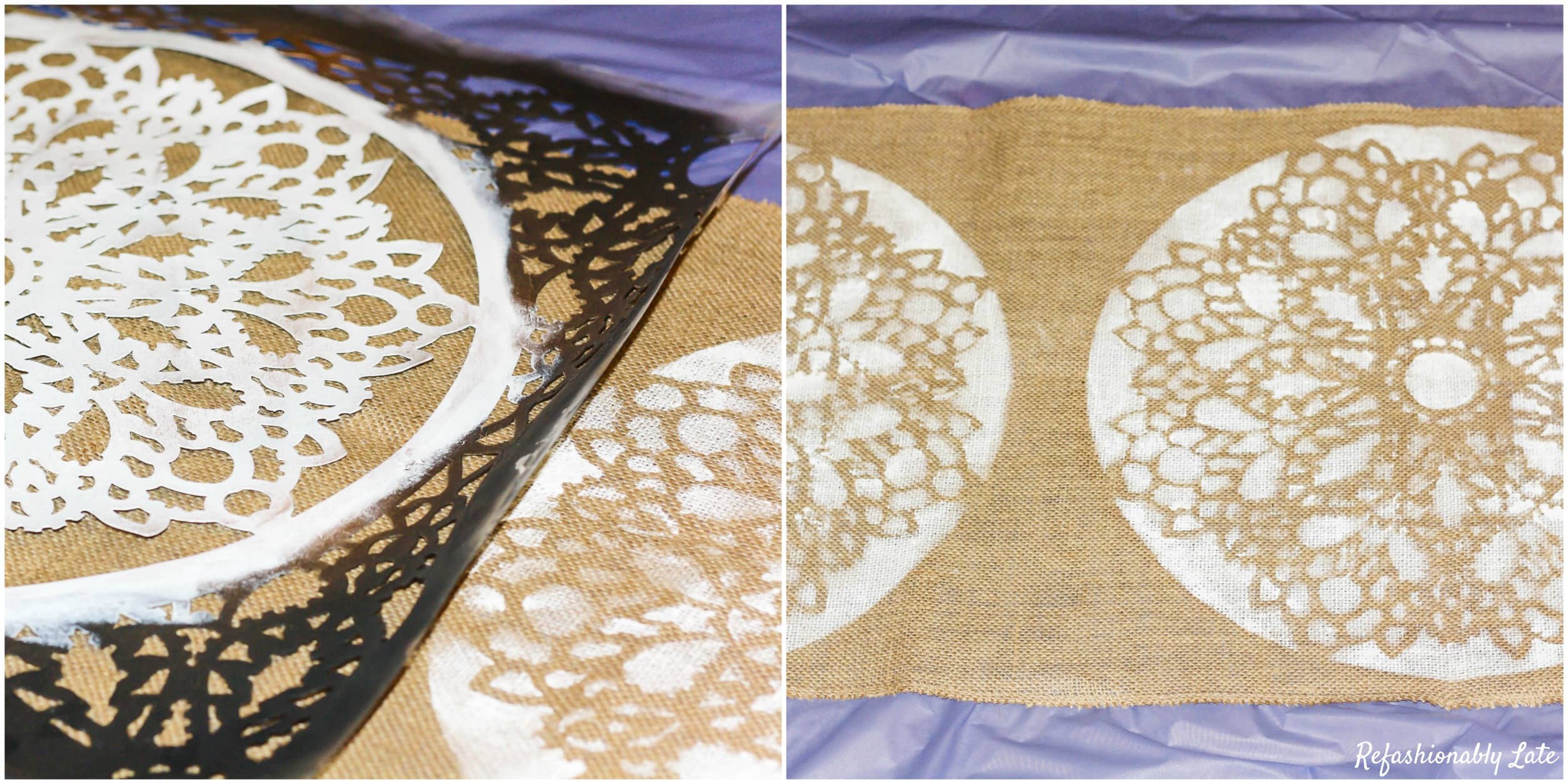 Let it dry and then you are done! Super simple and fairly quick! I love how it has accented the few different tablescapes I've created since making it!
Here is my fall tablescape and if you click to see the entire post I have a delicious recipe for Pecan Pie Spice Cake!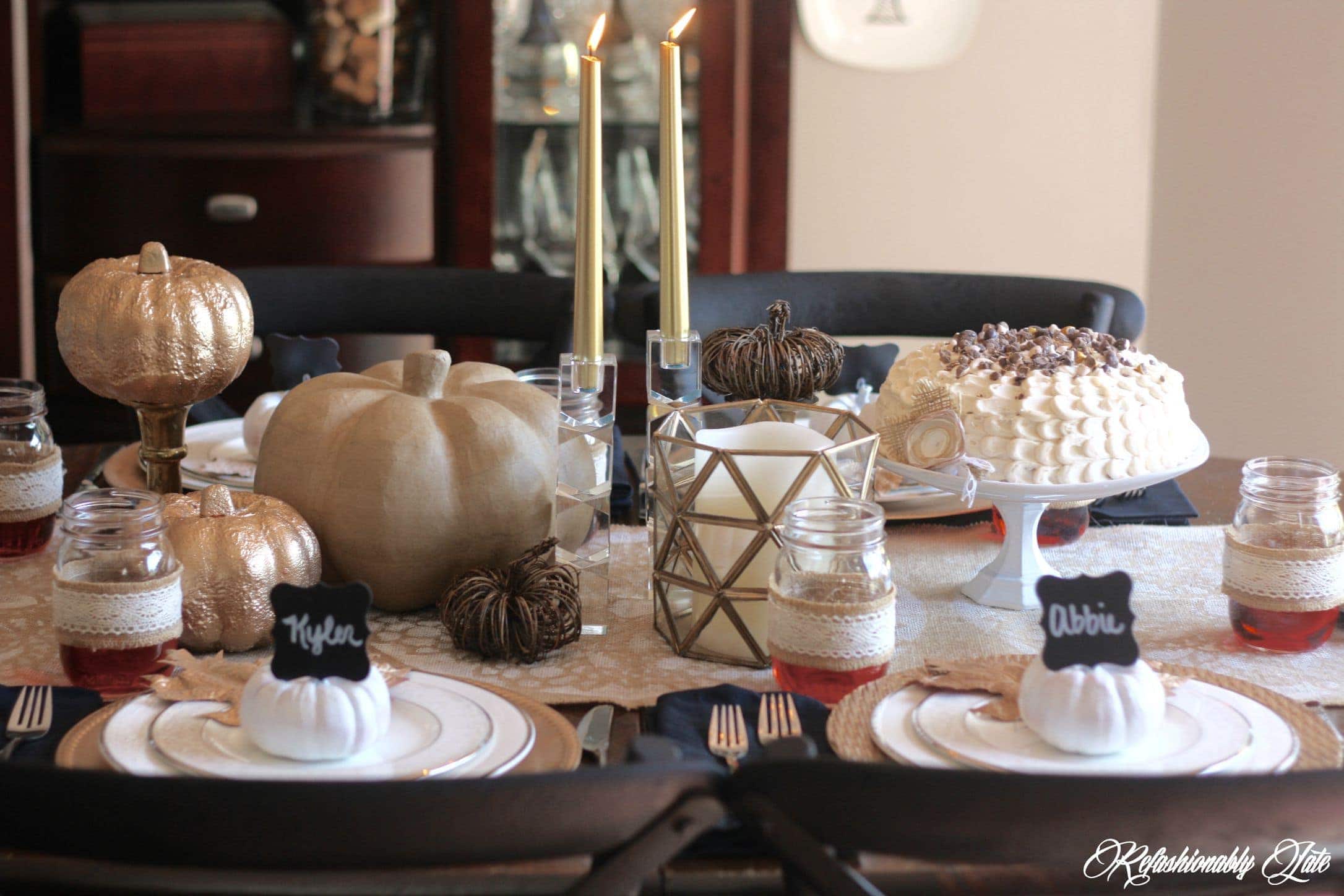 Here is one I recently created with Christmas decor!! I'm so excited that we are almost into the month of December!!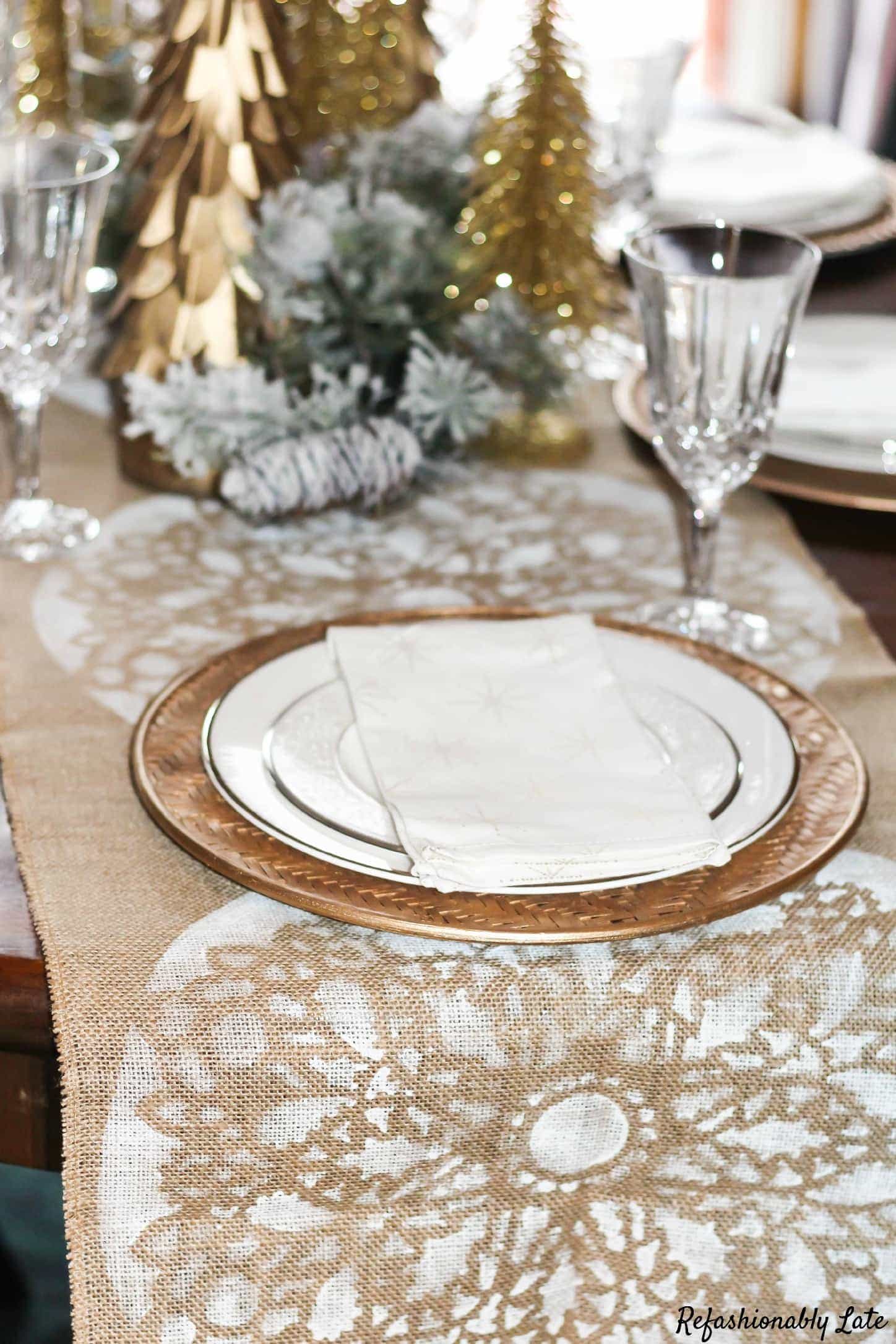 Now head on over to see these other fabulous ladies' creations with burlap! These ladies continue to awe me with their creativity!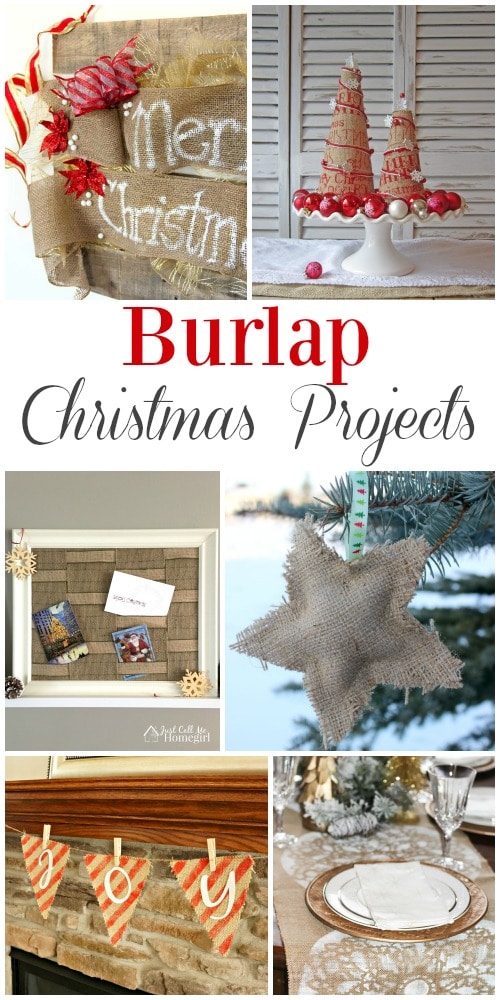 From the top:
Fresh Crush – Pallet & Burlap Sign
The Honeycomb Home – Burlap Christmas Trees
Just Call Me Homegirl – Burlap Card Display
Love Create Celebrate – Burlap Ornaments
Creative Ramblings – Burlap Christmas Banner
Refashionably Late – Burlap Table Runner
I hope everyone had an amazing Thanksgiving/Holiday weekend and now it's okay to be fully committed to Christmas! 🙂

Many outgoing links on Refashionably Late are affiliate links. I may earn a small commission to fund my Diet Mountain Dew drinking habit if you use these links to make a purchase. You will not be charged extra, and you'll keep me supplied in caffeine. It's a win for everyone, really. I only link to products I have tried and love! See my full disclosure here.