Who here is excited that it's officially summer?!  I know I am!  I love summer and all that comes with it!  I love spending time outside with friends and family and boating while enjoying the beautiful weather!  (I'm ironically writing this post while sitting inside with air conditioning while it rains outside!  Ha!)
Summer is my happy place and the days are longer, especially in Minnesota.  It's light out until around 10 pm.  I love the crisp air in the evening and enjoying the outdoors.  In preparation for the longer daylight hours, I wanted to get our deck ready for some entertaining.  Last year we painted our deck and gave it a mini makeover.  Now it's time to get it decorated!  It's my mission this summer!
Summer Solstice was last Wednesday on the 21st of June, the longest day of the year.  I like that day for multiple reasons.
For the obvious of extra sunlight
It's my Dad's birthday!
Sometimes Father's Day even falls on the same day as well!
What better way to celebrate than give our deck an updo?!
I've always been a fan of black and white and thought I'd carry out that theme to our deck.  We painted it a very pretty gray and I love the color combination black, white and gray.  I mean black and white make gray after all! 🙂  I've fallen in love with this Tillis Black/Creme Outdoor Area Rug.
I already own a checkered umbrella and I'd love to add more black and white patterns to compliment each other.  When mixing patterns you want to go with one bold pattern along with other subtle patterns.  You also want to keep them in the same color family.  In my desig,n I am wanting this rug to be the focal point and have all of the other black and white decor to compliment it.
I am also a big fan of black and white stripes…obviously, look at my web design! 😉  I love these pillows and think they would look great with the design I have in mind.  I mean you can't go wrong with black and white stripes, right?!
A couple of weeks ago we were in California and I brought home some succulents from my Father-in-laws garden.  I bought some adorable pots for them to go in and will be adding those to the deck decor.  To top it off add some seating, a table, string lights for evening entertaining, some lanterns for decoration and you have a completed and beautiful deck!  I can't wait to show you what it looks like when it's all finished! Here is overall vision for our deck and I can't wait for it to come alive!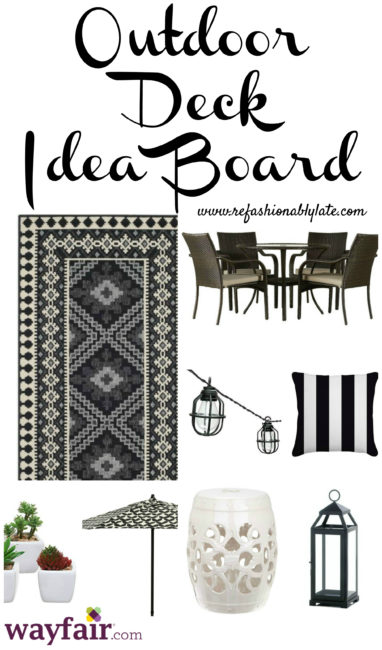 Happy Summer my friends!  I hope you are enjoying the weather as much as I am!  (Minus the rainy days!) Get outside and enjoy Summer with your friends and family!
This post is sponsored by my friends at Wayfair and contains affiliate links. Thank you for supporting the brands that support Refashionably Late!  See my full disclosure here.