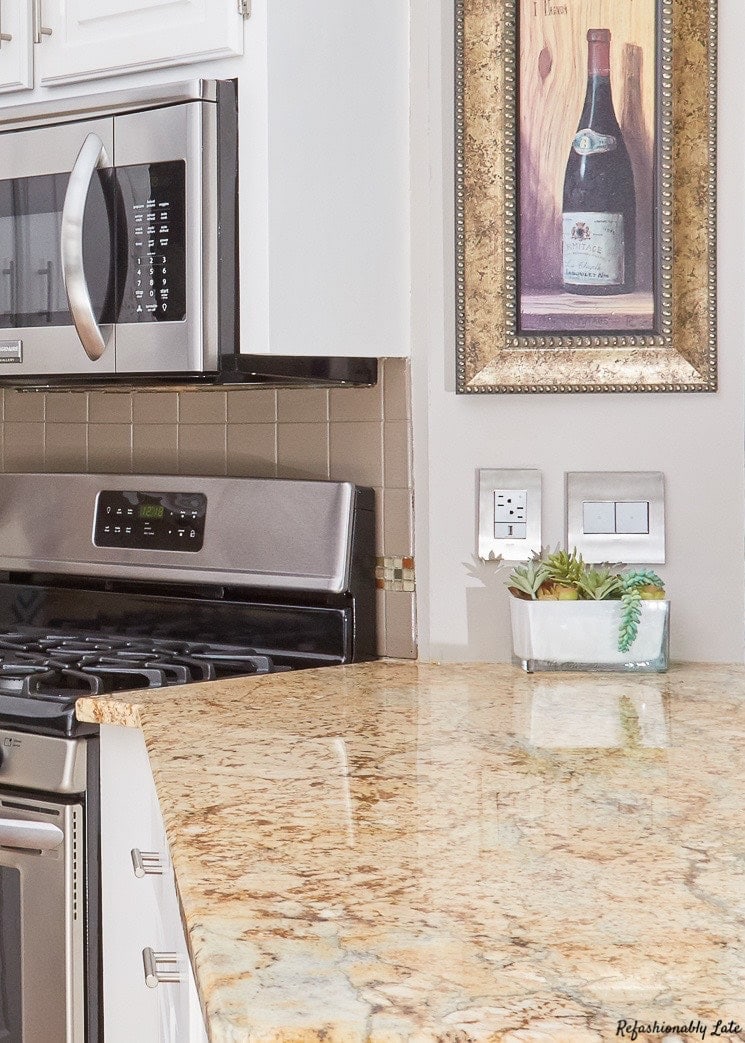 Hey everyone! This post has been a long time coming! When you buy a house you tend to pay more attention to detail. When we moved in all of our light switches and outlets were cream colored and covered in paint. The previous owners of the house didn't always seem to be careful protecting those (and woodwork….) but that's besides the point! 🙂 Like I have said before, our house was in pretty good shape, just needed some updates, and we have done lots of updates! One of my absolute favorite changes is installing the adorne Collection by Legrand. They are the most beautiful light switches I have ever seen and they are even a fun conversation starter.
I want to start by sharing the outlets and switches that we installed in our kitchen. I was so excited to get these installed and add the final touches to our kitchen makeover. I went with the touch switches, pop-out outlets, and usb outlet with the brushed stainless steel wall plate. I love how the touch switches are effortless to use and how quickly I'm able to turn lights on or the garbage disposal when cooking in the kitchen. Something we are also loving in the kitchen is the addition of the usb outlet. We are an iPhone and iPad family and we love the ease of plugging our electronics into the usb outlet and not taking up space for plugged in items. The only downfall is we have a hard time finding the plug in part of our chargers now! 🙂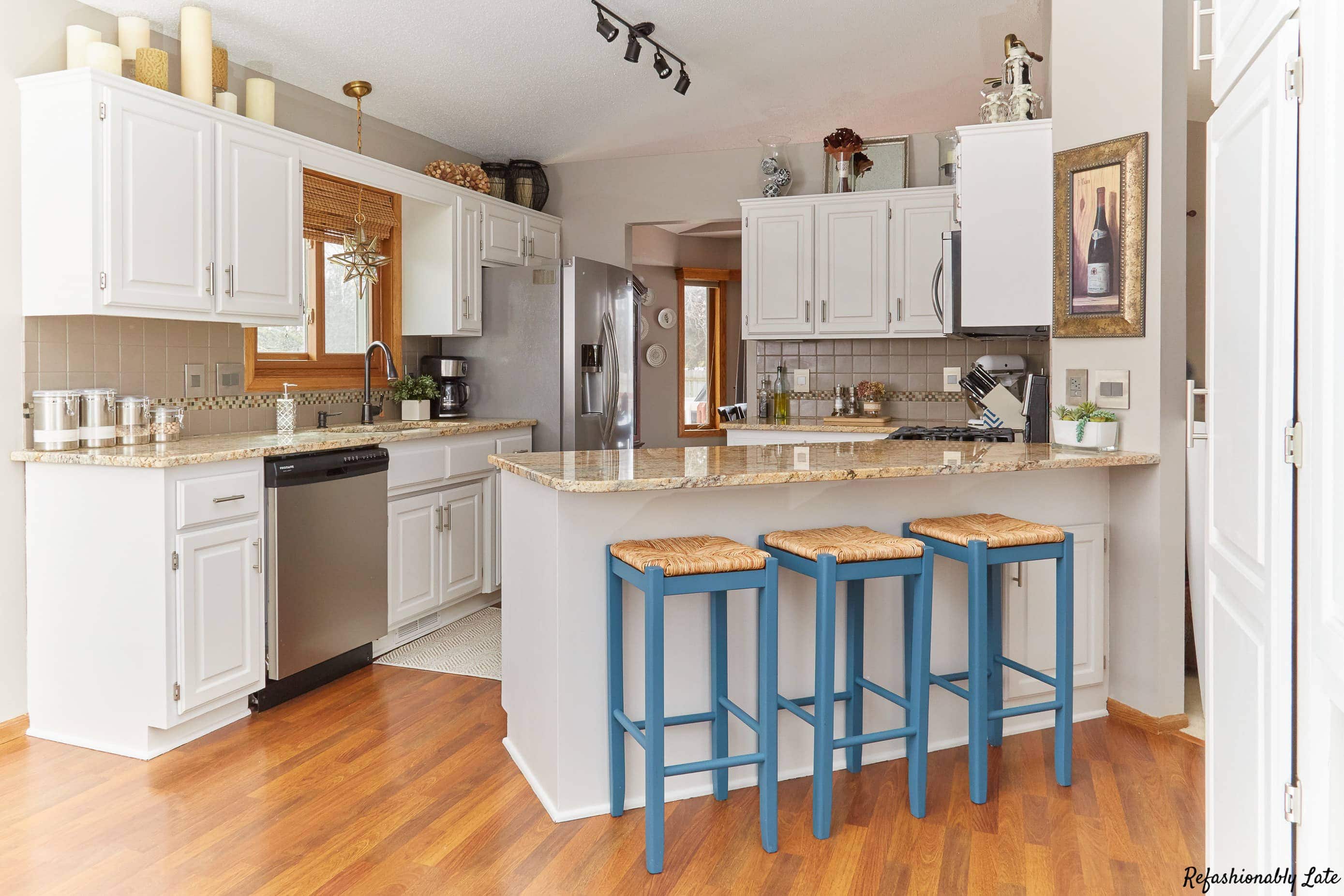 I also love these pop-out outlets. If you look above you wouldn't know that they were outlets. They are like little magic outlets that keep themselves hidden until it's time to use them! I love showing our guests their sneaky little tricks! You also gain 3 plug ins from these outlets rather than the normal two.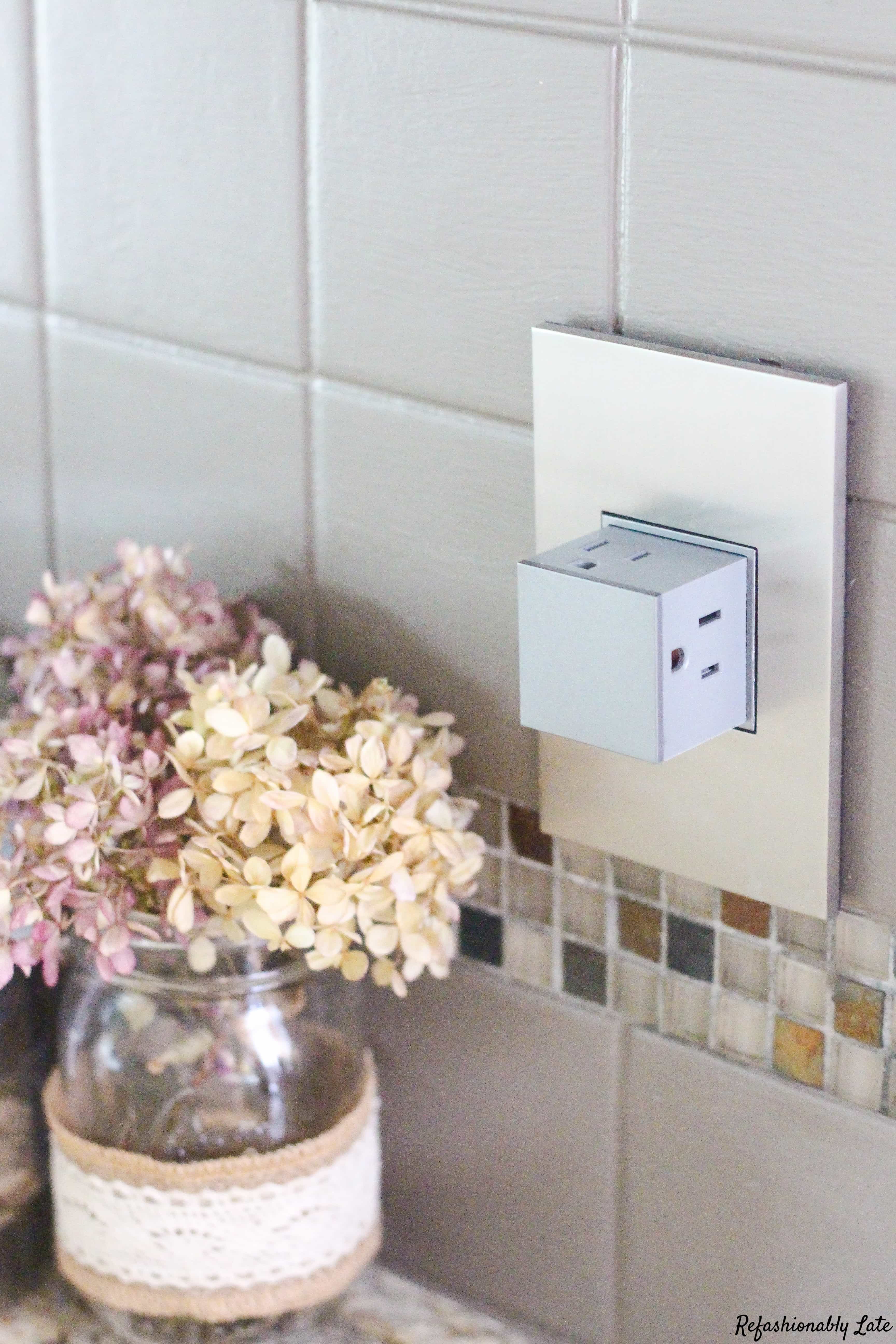 We also replaced all of our floor outlets within our kitchen but decided to go with a more simple wall plate and plug. We used the square white outlet with the gloss white-on-white wall plate. We decided to continue with these outlets and plates on all the floor outlets throughout the rest of the rooms in our upper level.
Moving into the dining room, we used the touch switches along with the touch tru-universal dimmer. I love being able to add some mood light to the room when are entertaining.
We used the touch switches throughout our living room and added usb outlets near the seating areas so that electronics could easily be charged and accessed.
The only thing we had to do a little different was to put a paddle 4-way switch at the top of our stairs in the living room. We originally had planned on putting a touch switch in it's place but the way our house was wired required a switch that could occupy a 4-way connection. Even though it's a different switch it blends in beautifully with the rest of the switches in our home.
I couldn't love these switches and outlets more. They make our life easier and our home prettier! We constantly get comments on these switches and they really make you think about finding the beauty in the small things. Thank you so much to Legrand for providing these switches and outlets for our home. Yet another small detail in which makes our house a home. Our house has come a long way since we bought it just over 2 years ago! I never knew how much I would be obsessed with such a small detail in our home, which creates a large impact in the overall look!
I hope everyone is having a great week and I'll be back Friday to share a few of my daughter's favorite Minnie Mouse items. Her birthday is coming up and she is a Minnie fanatic! Happy Tuesday!