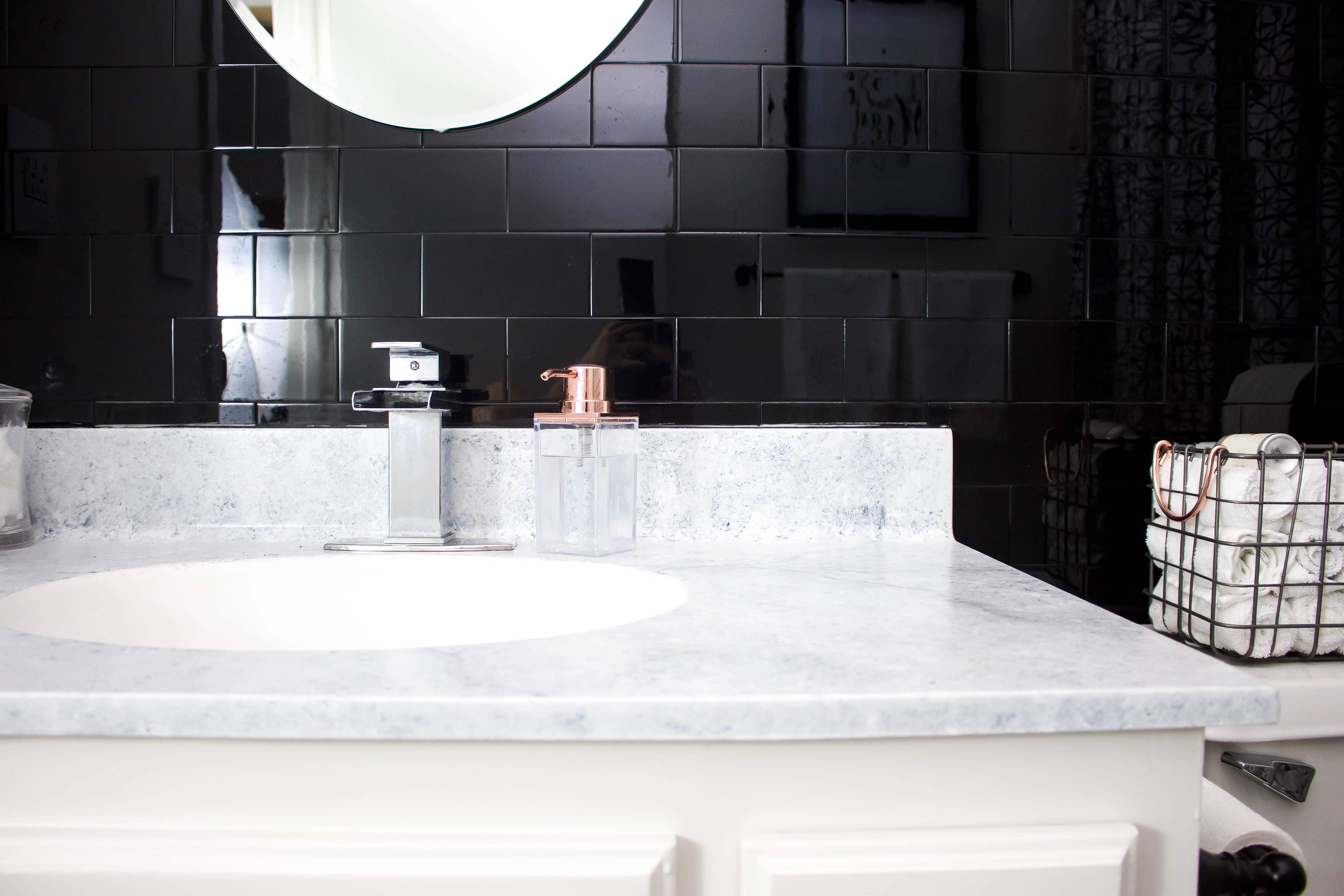 Like I have said before I love nothing more than giving a room a facelift! It's so fun to think up a plan and design and then watch it come to life project by project. Lots of projects went into this small transformation but I had so much fun doing each and every one of them! The first thing we did to this bathroom was remove the cabinet above the toilet. It was nice to have that extra storage but it wasn't necessary and it really made the bathroom seem smaller than it was. My husband removed it over a year ago when I was redoing our upstairs bathroom for one of the One Room Challenges.
I had high hopes that over a year ago I would start working on this bathroom. Well, that year passed but now it's finished! Our bathroom sat with an unpainted section where the cabinet had been for that entire time. I disliked this bathroom so much I tried to not use it! It wasn't awful but I just couldn't do it! I was so ready to get this room finished!
Here is what the bathroom looked like when we moved into the house. The color wasn't awful and it was in decent shape but it needed some TLC and my own style.
Painting the Room
The first project that I tackled in this space was painting the bathroom cabinets, woodwork and door. I always love to do this first because I don't really have to tape anything off. I was going to redo the floors and repaint the walls so no tapping necessary! Win! I painted the woodwork and trim with my go-to color Zurich White by Sherwin-Williams. I then painted the walls. I had to do 2 coats as I went with white. I painted them White Dove from Benjamin Moore. I painted them with my favorite wall painting tool, the PaintStick EZ Twist from HomeRight. It makes painting your walls so much easier and faster than a regular paint roller!
Painting the Countertop & Floors
The next step to redoing the bathroom I painted the top of my counter with Giani Granite in White Diamond. I did this in our last bathroom makeover as well.
Stenciled Wall, Stenciled Kitchen Table, Christmas Pillow, Halloween Pillow, Burlap Table Runner among many other pieces of furniture and decor!) I did have a couple of things happen along the way that I want to share with you but that will be for another time. I want to do an entire post on how I painted my linoleum floors. I used the Patchwork Tile Stencil Pattern from Cutting Edge Stencils. Keep an eye out for that tutorial!
I love how much prettier it makes the room and it's done with paint!! The next project was a labor of love. It wasn't too difficult of a project as I have stenciled a bunch of times! (
Install Peel & Stick Tiles
So I painted the floors, walls, woodwork, counter top and the door. (Isn't paint amazing?!) All that was left to do was to tile the back wall of the bathroom. I was soooooo excited to do this portion of the room makeover. I have never tiled anything before and was nervous to tackle a project like that. I definitely want to do that someday but for now, I decided to use peel and stick tiles! I went with Aspect Peel & Stick Backsplash Tiles. You can get tiles in metal, stone glass and wood! It's truly amazing! I used the 3×6 glass tiles in Ebony. I really wanted the wall to pop and I love subway tiles but I didn't want the basic white subway tile look. I am ecstatic with the final results! I plan to write a full tutorial on the tile installation. There isn't a ton to explain as you peel the back off the tile and stick it on the wall. Of course, there are a few more minor steps but it was really easy!
Beauty is in the Details
After the big projects were done it was time to add the final details. I purchased a basket from Target to hold some wash clothes and toilet paper. I wanted a very minimal look with accessories as the rest of the bathroom is fairly busy. I purchased a bathroom accessory set to add a small splash of color to the room. I then picked out a gorgeous Possini Crystal Strand Bath Light and this Oval Mirror from Lamps Plus. Lamps Plus is my go-to place for all things lighting! They have such a large selection to choose from. I also installed these door knobs from Schlage to my newly painted door. Last but not least, I added the most beautiful light switches possible. I've installed these Legrand adorne Touch Switches and outlets in my entire home and I never knew a light switch could be so beautiful?!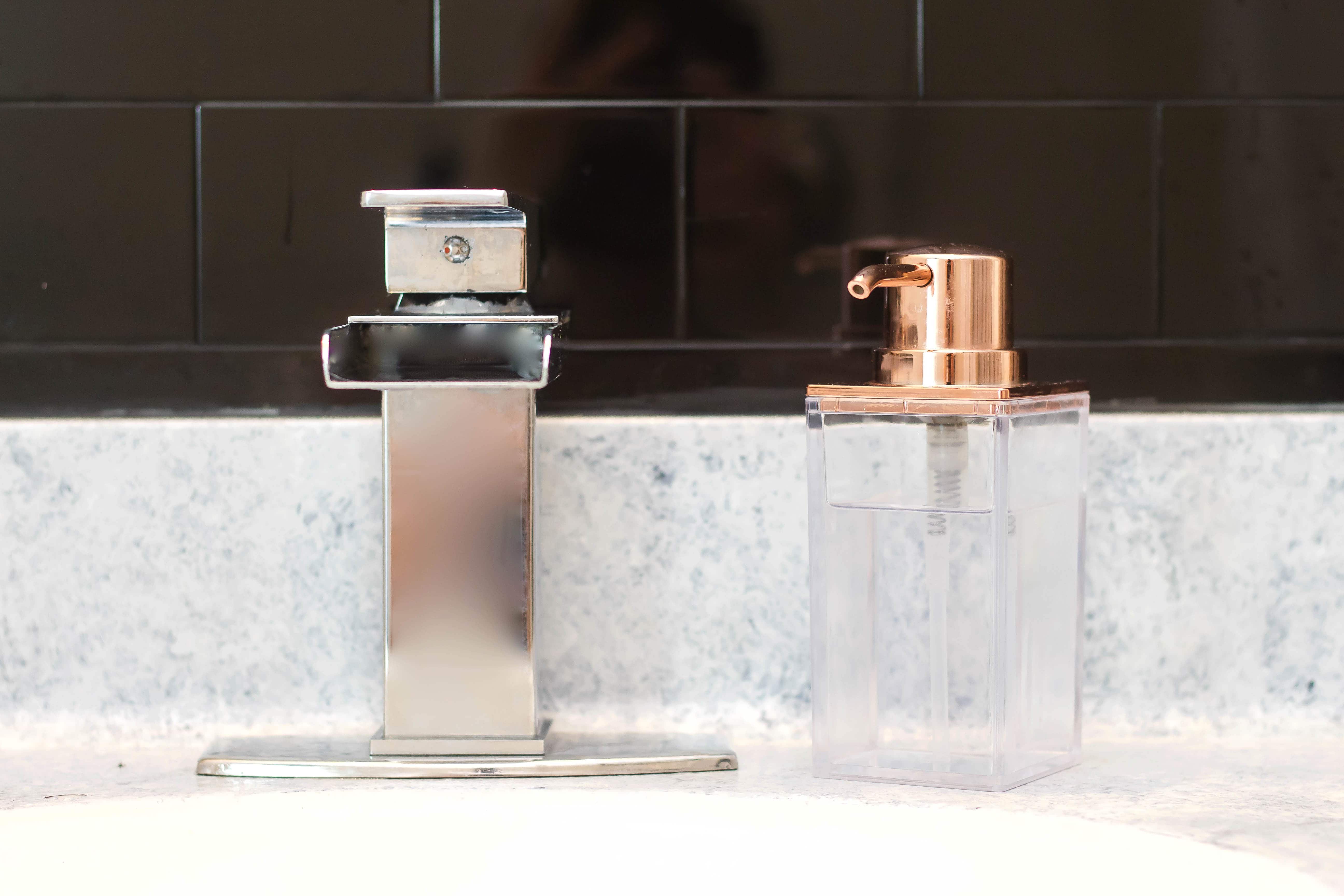 Final Reveal
These tiles are so delicious and shiny so excuse the hidden reflections of myself photographing the room. Are you ready for some photo overload?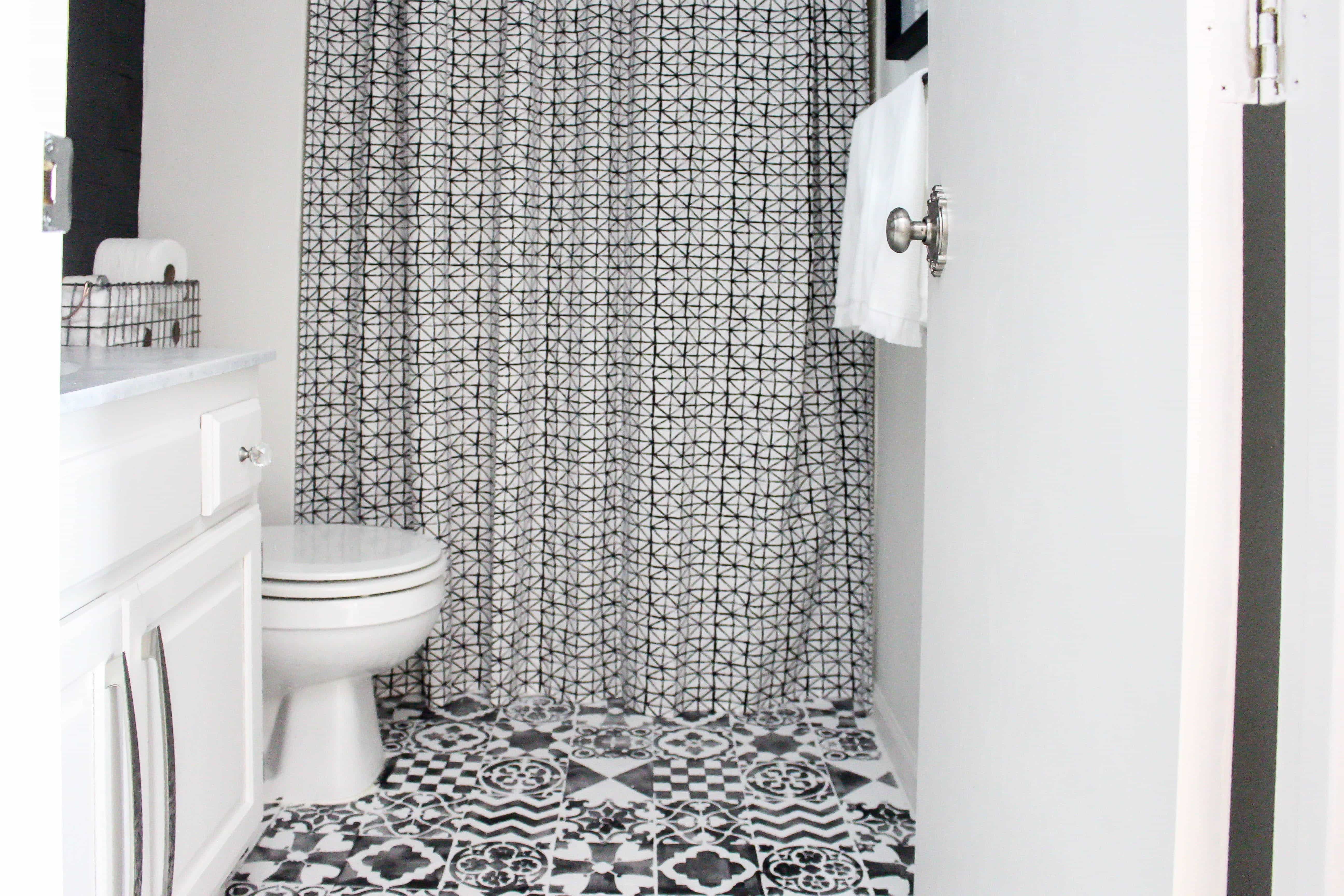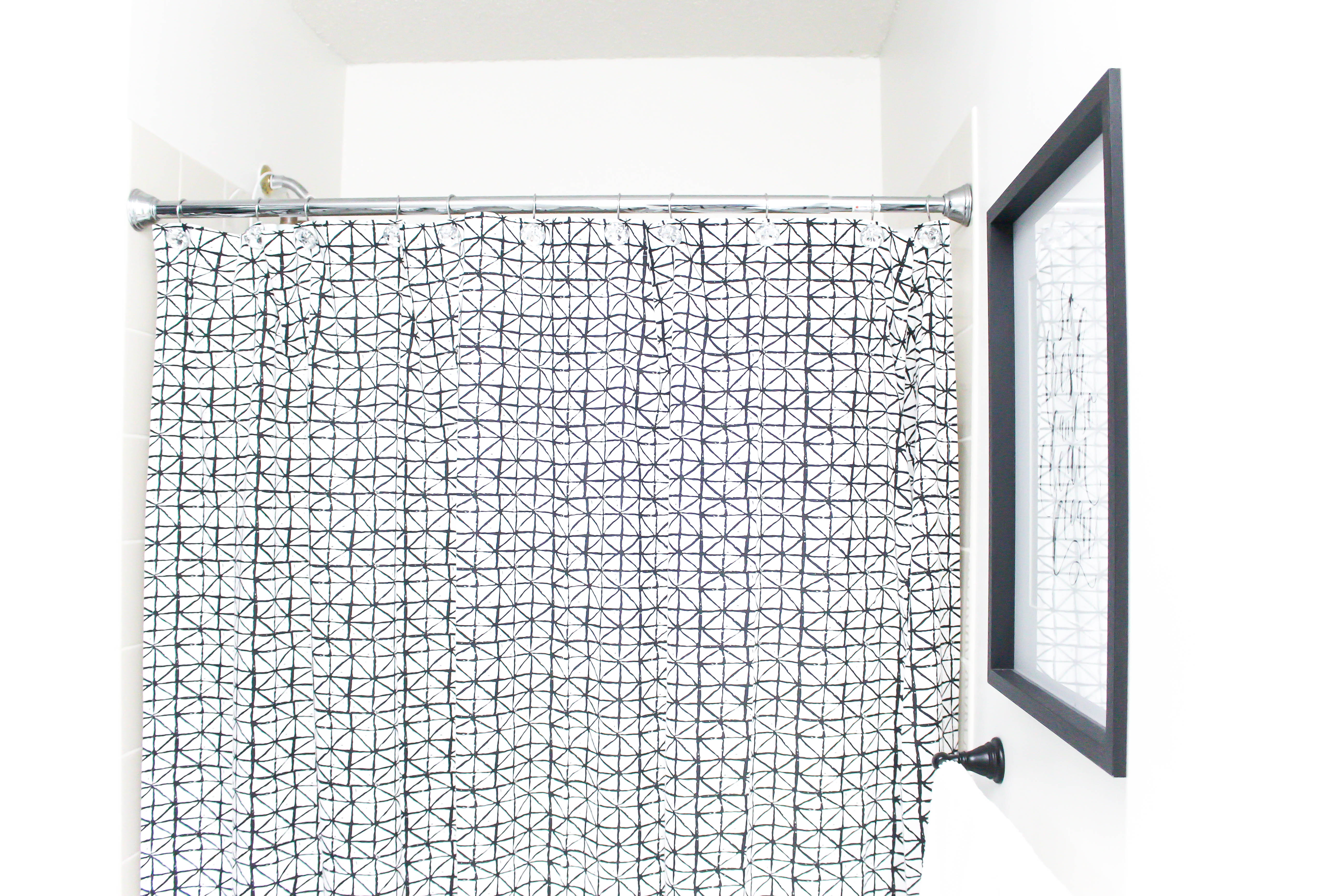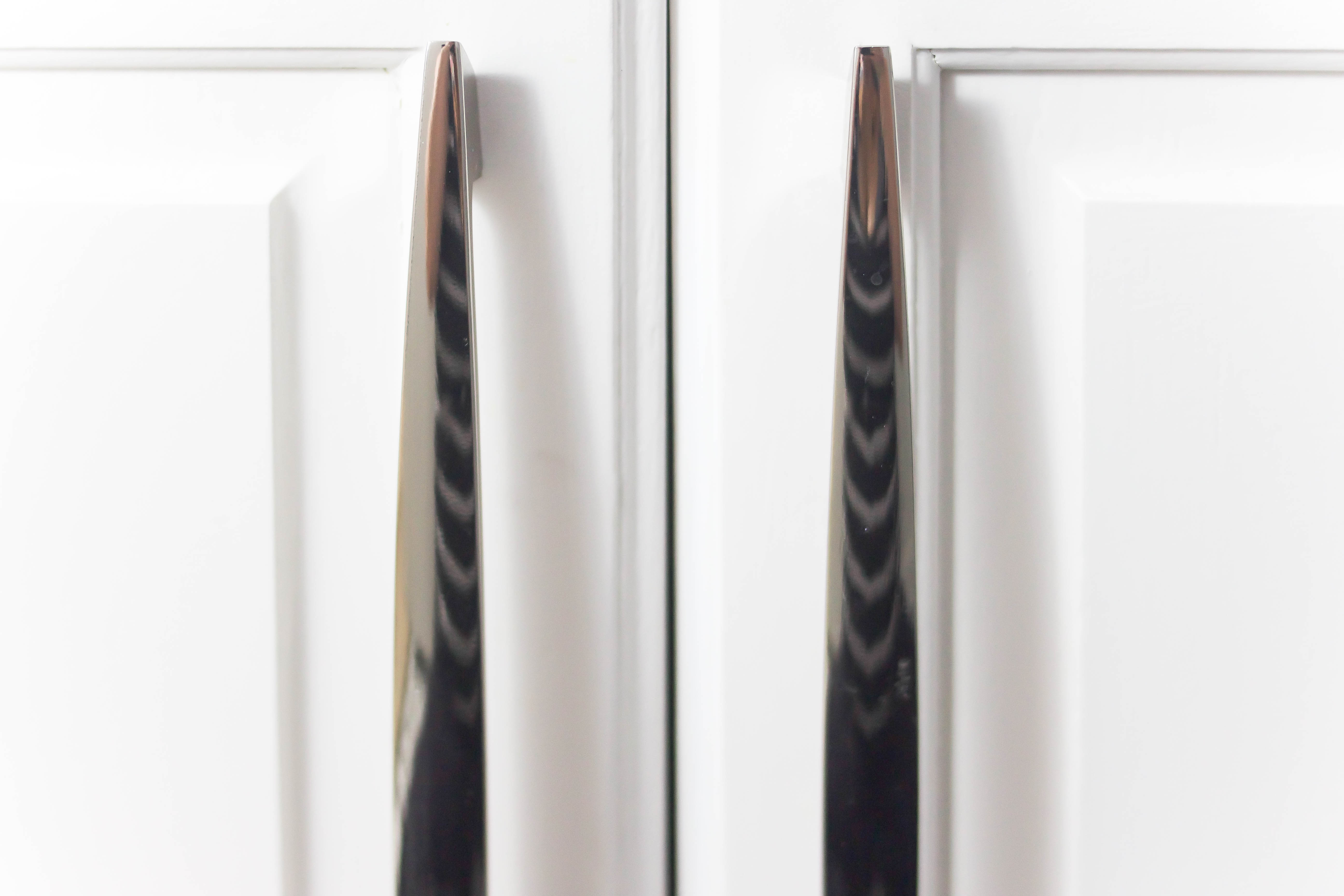 This post contains affiliate links for your convenience. See my full disclosure here.