*This post contains affiliate links but there is no extra cost to you! I just love these items and wanted to share them with my followers!*
I haven't done a roundup in quite some time as I have been super busy with decorating for the holidays, doing group posts with super talented blogging friends and traveling! I thought I'd gather up a few of my favorite things for the Holidays and share with you. A week from today is Christmas but you can still get these amazing items with prime shipping on Amazon. I'm an Amazon addict and I love shopping there for their prices and convenience. (And no…I'm not being paid to say this!)
Here are a few lists of all of my favorite things for all of the people I love! Every single item below I own and love!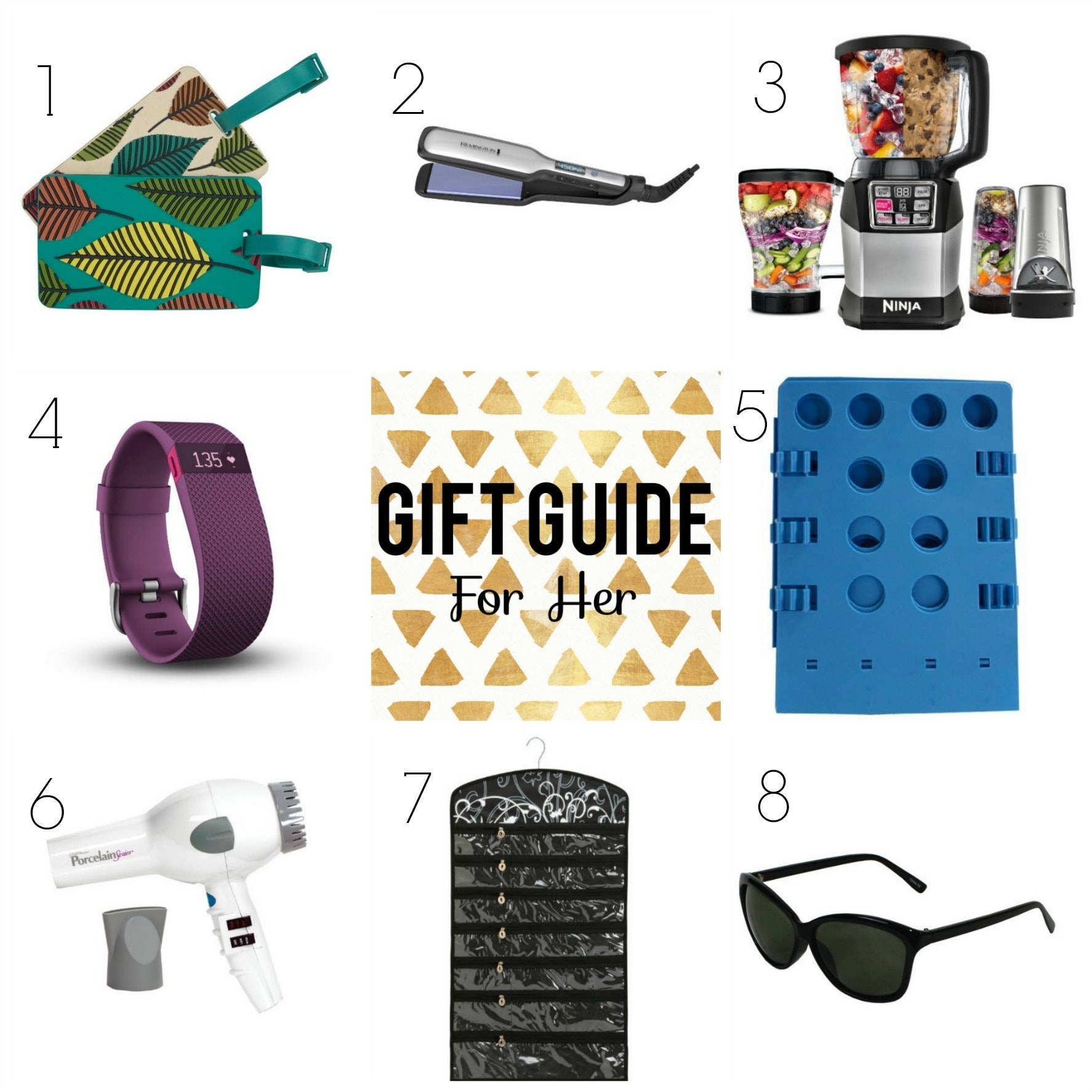 Luggage Tags – These tags are a rubber material which is super durable and they're cute too!
Remington Straightener – This flat iron is discontinued but get it while you can! I've always owned Chi's but decided to go with the cheaper route and I LOVE this straightener!
Nutri Ninja Auto IQ – I've been on a bit of health kick lately and I'm loving having smoothies in the morning! It blends anything and everything into a smooth smoothie!
Fitbit HR – I'm loving my new fitbit and I love that I can check my heart rate all day long and track it while I work out! Plus always trying to make my goal for steps!
Shirt Folder Board – I love this thing so much! You can see a full tutorial on it here.
Jilbere Hair Dryer – My hair dryer died on me one day and I asked my friends for suggestions. I love the power behind this hair dryer and the different heat settings dry my thick hair super quickly!
Hanging Jewelry Organizer – I love to travel with my jewelry all in one place and not have it tangled. This is the perfect addition to my travel as you can separate the jewelry in the tiny zipper pockets.
Polarized Sun Glasses – I love the slight cat eye to these and you can't beat the price!
Electric Wine Bottle Opener – These open bottles of wine so easily and it's always a fun little party trick!
Remote Control Helicopter – My husband loves playing with his helicopter with our vaulted ceilings! Now my daughter always wants to watch it fly too!
Magnetic Car Mount – My husband and I both have these and it's such a quick and easy way to attach your phone to your car. It's also super sturdy!
TV Wall Mount – This mount has been a great affordable TV mount fit for your flat screen TV!
Smart Blu Ray Player – Our TV downstairs isn't "smart" so we decided to buy a blu ray to give our TV the smart capabilities! The refurbished option gives you the option to buy it at a lower price!
Phone Arm Band – My husband loves this for when he goes on bike rides!
Infinity One Speaker – This speaker has great sound and it's so much smaller than a full size stereo!
Wireless Printer – We love having the wireless capabilities in a printer! No cords…no mess!
Water Paint Books – I love that my daughter can sit down and paint and then there is no mess!
Minnie Dress-Up Puzzle – My daughter loves to play with this and mix and match all of Minnie's outfits.
Drum Set – This is a fun way for your toddler to practice their hand-eye coordination, plus it's fun!
Castle Tent – This was the best $25 I've ever spent on my daughter! She loves this thing!
Melissa & Doug Pizza Party – This is an adorable and fun play food for any toddler.
Mickey Christmas Book – My daughter loves reading this all year round but it's especially fun during Christmas!
Potty Chair – We are working on the potty training but I love how this chair also looks nice sitting our your bathroom!
Baby's Binky Box Book – This book single handedly has gotten rid of the binky during the day. We are still working on night time but I thought it was going to be an impossible task. She stopped using her binky during the day after the first time reading this book. It's a great book to read to your child to encourage them to not use their pacifier.
Canon Rebel t5i DSLR – I bought this camera a few months ago and I feel it has changed my photography within my blog. Photography is very important to me and this camera helps a beginner with creating beautiful photos.
Day Designer Planner – I love writing things down and checking them off my to do list. This planner allows me to do that while keeping track of my scheduled posts and projects.
Lighting Kit – I love, love, love this! Sometimes (especially in MN winters) you don't have ideal sunlight for taking photos during the day. It's also great to use at night. I photographed this room at 8pm one evening.
Tripod – This tripod is so sturdy and it allows you to adjust to various heights and even angles.
Flash Speedlite – This handy little light also helps aiding in those days when lighting is terrible. You can adjust how bright or light you want the flash to create.
Camera Bag – I love how compact this bag is but it still holds various lenses and camera materials plus it can be worn similar to a back pack.
Wireless SD Card – This SD is so handy because you can transfer your photos to your computer without a cord!
Macbook Pro – Blogging wouldn't be possible without this beauty of a computer. I love everything about it! Once you go Mac you never go back! 🙂
I hope you enjoyed all of these items because I love them all so much! I wouldn't recommend anything I didn't stand behind 100%! Have a wonderful Christmas and let me know if you have any questions about any of the items above!