How to paint a KitchenAid Mixer?! This has been on my mind for years. Frankly, I was too nervous to do it. I mentioned it to my husband a couple years ago and he said don't do that. It won't look good painted. Ha! However, I have proved him wrong now!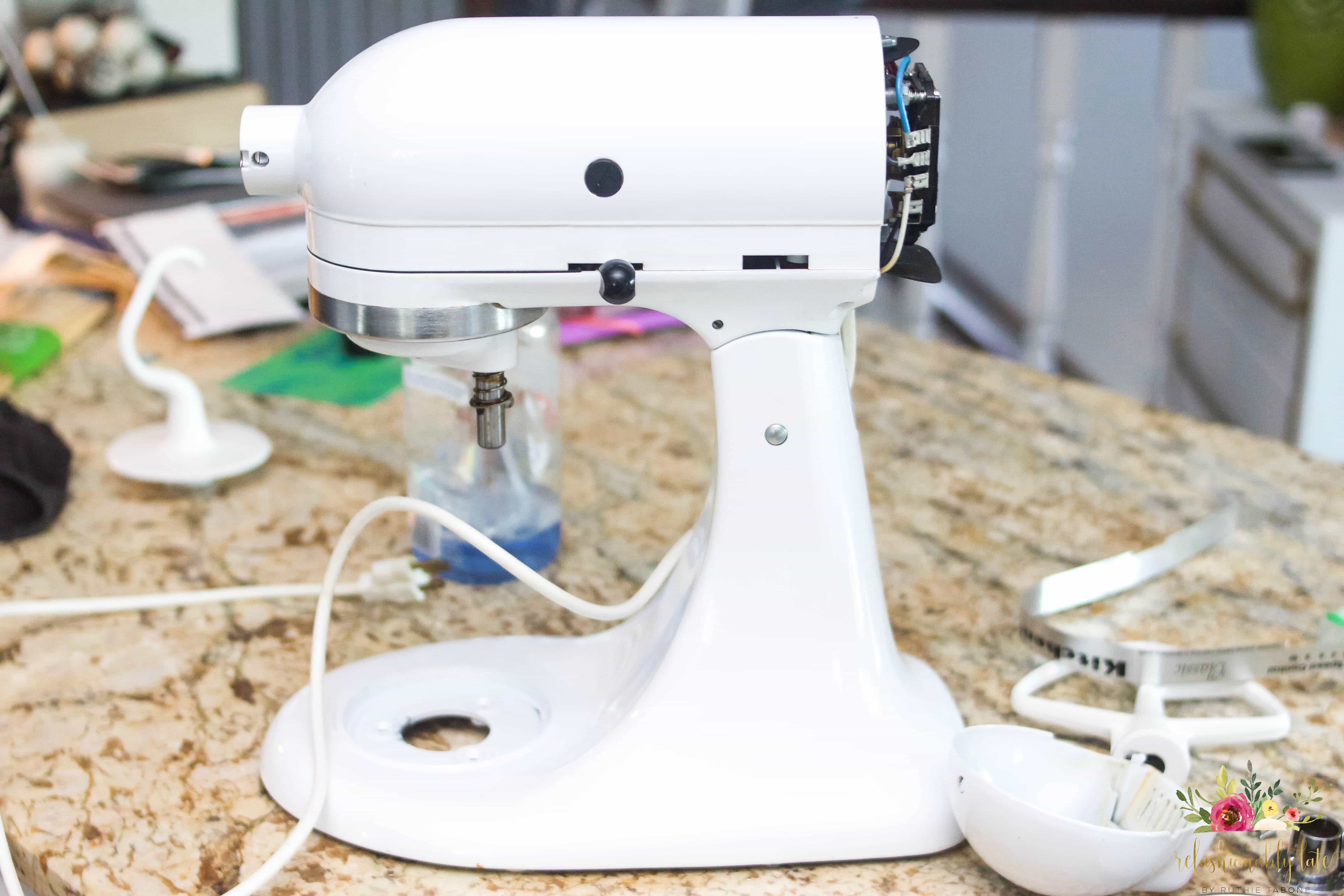 I can't tell you exactly how old this KitchenAid Mixer is but my Dad bought it for my sister around 15 years ago. He purchased it for $50 at a garage sale. I was in college at the time so my Dad gave it to my older sister who had a condo in Chicago.
My sister mentioned how she never used it one time when I was visiting her in Chicago. I would not call myself a chef, however, I love to bake. I told her I'd be happy to take it off her hands.
We packed it up nice and tight and wrapped it in blankets in its box. I checked it at the airport and it made it home safely in one piece! All the way to Colorado. It would later move with me to California and then to Minnesota.
I've lovingly used this KitchenAid Mixer for around 12 years now. It has worked well for me so I didn't see the need to buy a new. Therefore, why not come back to that painting it discussion my husband and I had a few years ago.
Oh, wait, that discussion didn't happen! Ha! I just decided I wanted to do it. First of all, it was mine, to begin with! 🙂
Inspiration
I am loving copper these days. Recently, I purchased these beautiful hammered copper canisters for my kitchen.
I want to add touches of copper to my kitchen. It is a bold metal and as much as I would like to paint my house and everything in it copper, it's probably not a great choice! 🙂 As a result, I'll just stick with some accents.
I fell in love with this beautiful copper KitchenAid mixer from Williams Sonoma. It's so beautiful but the price tag is pretty hefty! When I can't afford something…I make it!
How to Paint a KitchenAid Mixer
The first step of the entire process is to take apart as much of the mixer as you are daring to do. I tried to take off as little as possible. I recommend to also take photos of each piece and where it went.
You don't want to take it apart and then not remember how to put it back together! The parts that can't come off grab some painters tape and cover them up. You can use a box cutter to cut around the circular screws etc.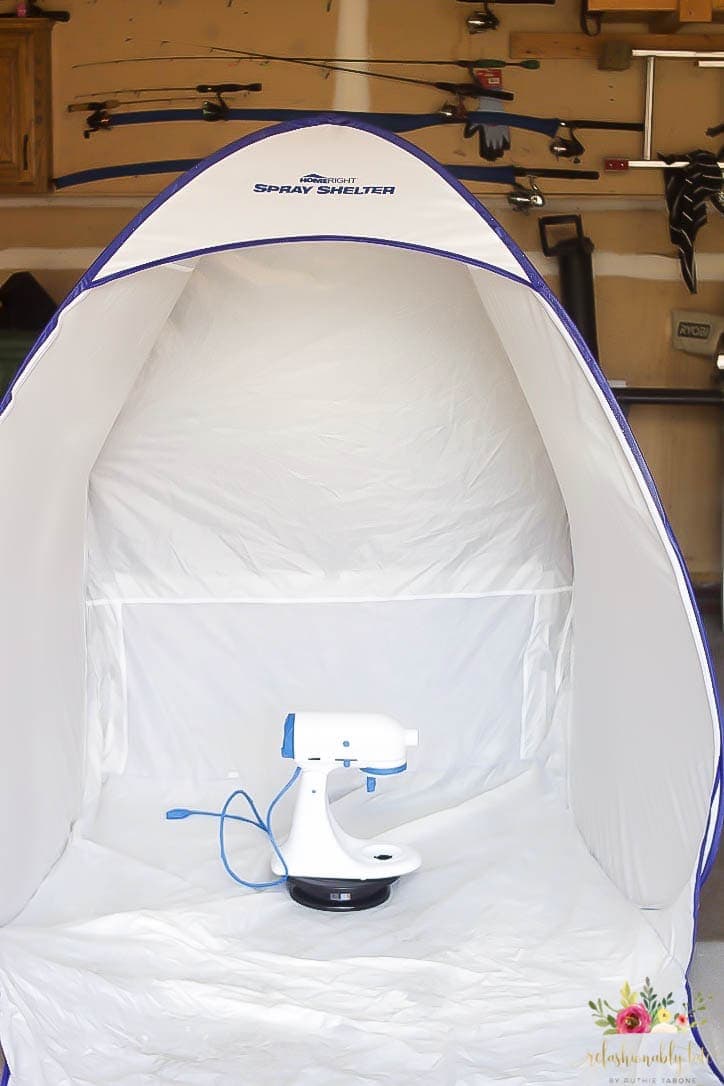 I didn't do any other prep except for giving it a REALLY good cleaning. Remove all dust, food or oil from all areas of the mixer. I set the mixer inside of my Medium Spray Shelter from HomeRight. (The Small Spray Shelter would work as well.)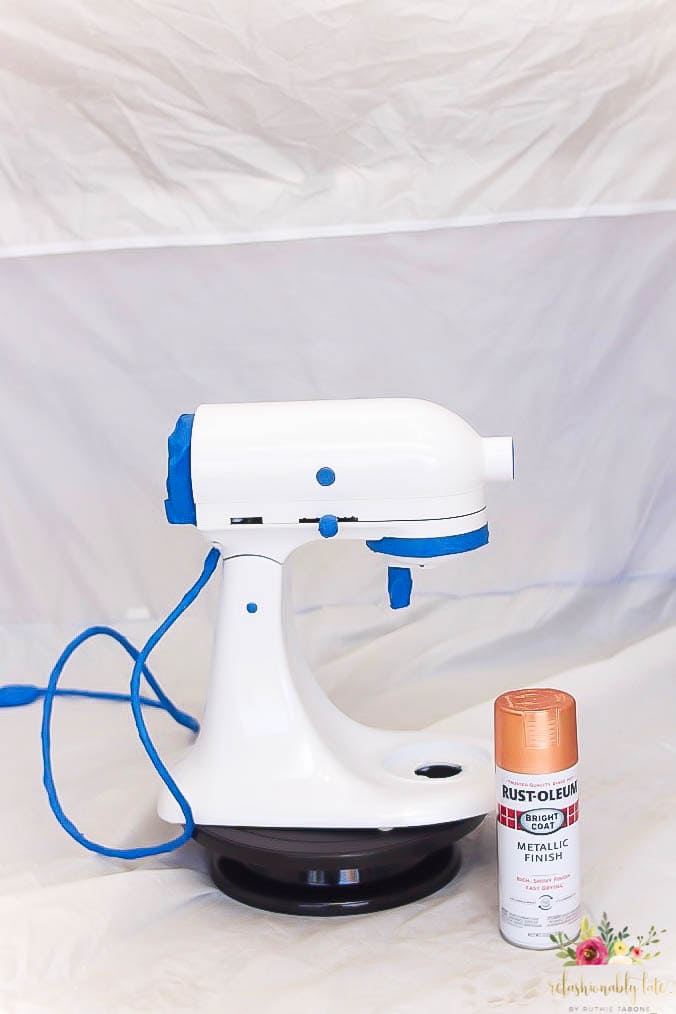 I placed the KitchenAid on top of HomeRight's Turn Table to help evenly distribute the paint. Spray the KitchenAid in short and even strokes. You want to to do the short spurts of spraying to get a nice, smooth finish.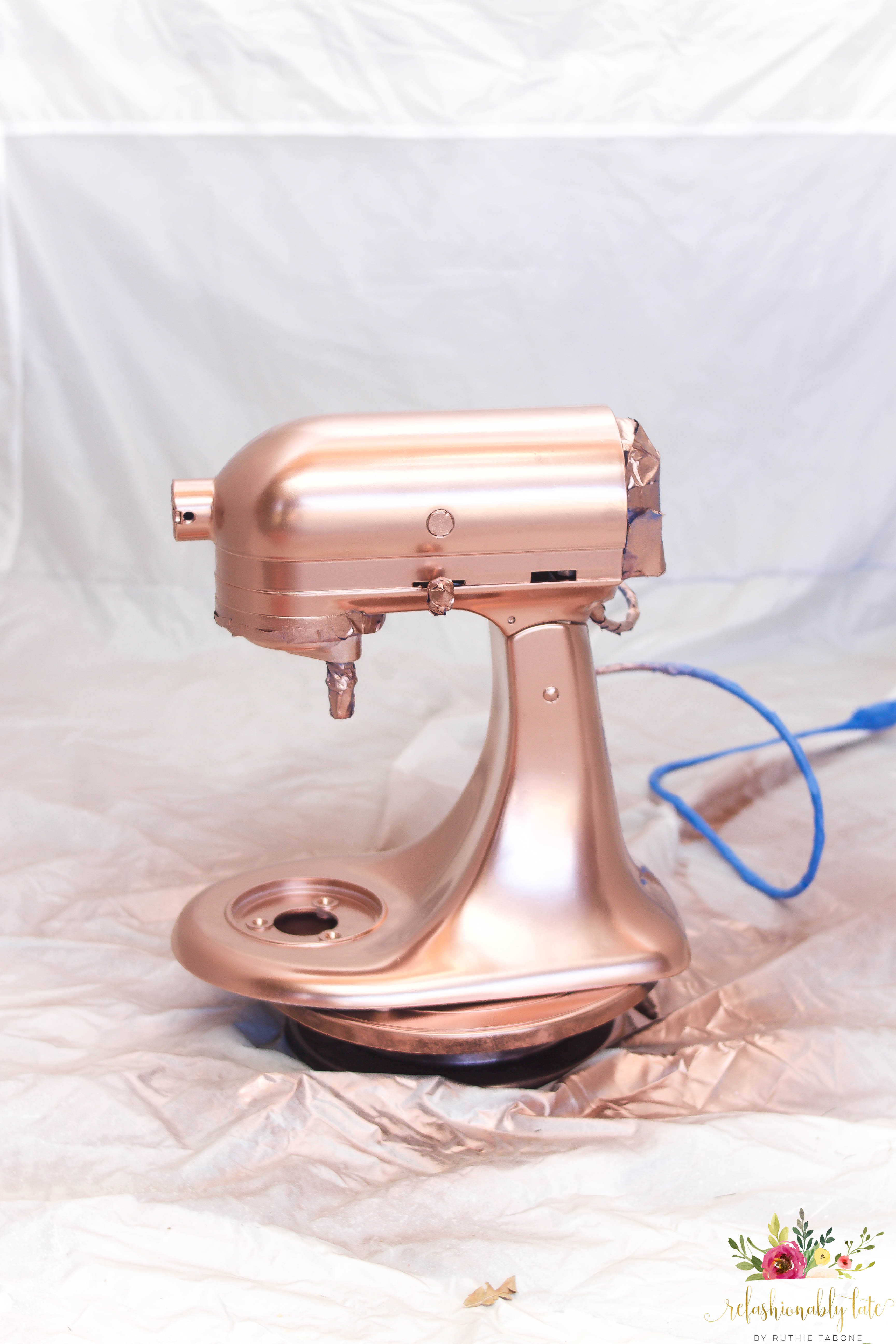 Don't forget to open the mixer up so you can get underneath as well! I let it dry before opening it up. You will want to remove it from the Turn Table before you open it as it will tip over because of the weight distribution.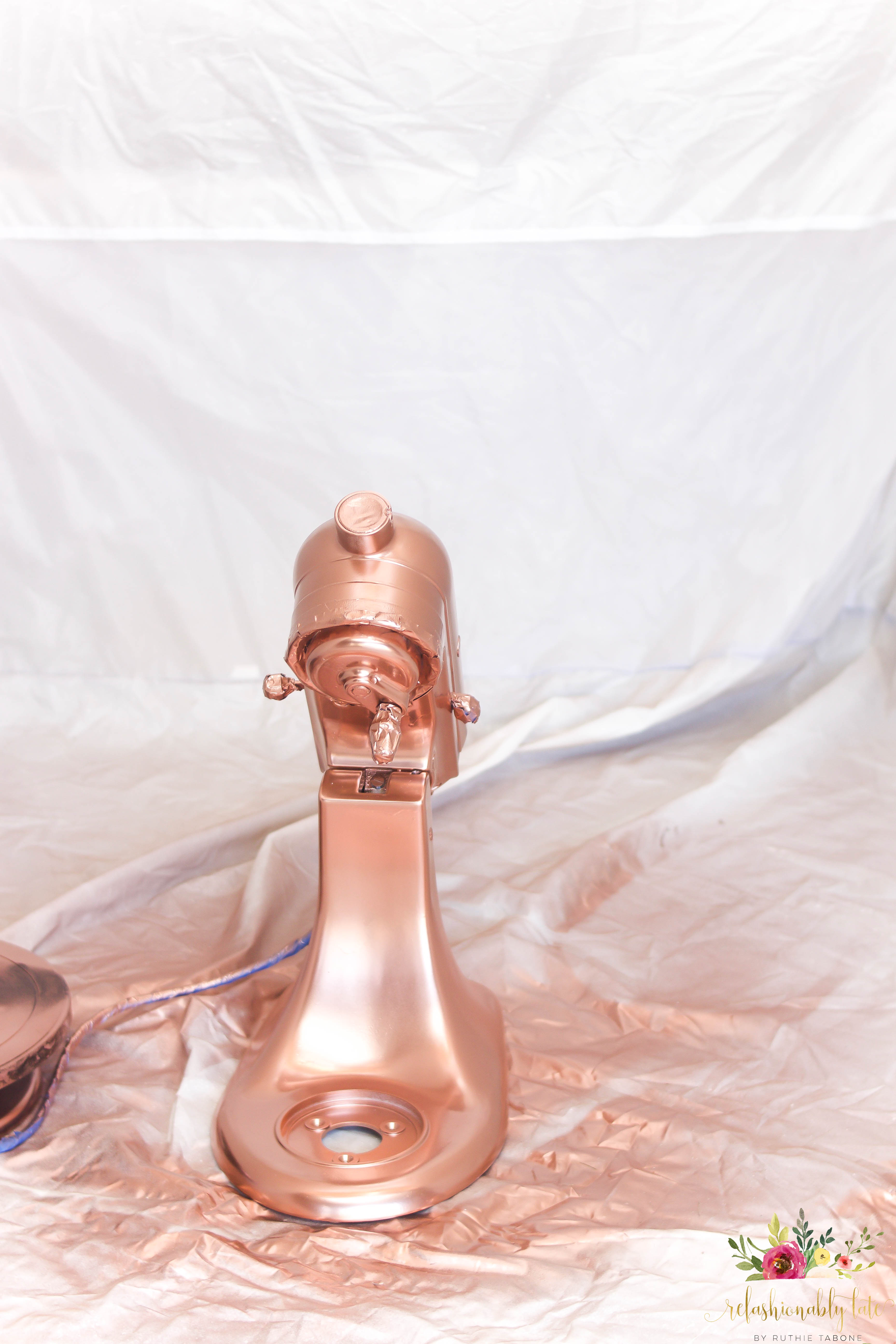 You will want to give the copper a few hours to dry. It may not be a bad idea to even let it dry overnight, but not necessary. Last but not least, you want to give your "new" KitchenAid Mixer a coat of enamel spray paint. Certainly, you don't want to mess up your artistic copper work of art!
It is VERY important to do quick, even sprays with the enamel. I found this to drip easily so you don't want to overcoat it. (If it does drip let it dry and sand that area with a 1000 grit sandpaper, or higher, and then recoat as needed.)
I did a couple of coats of enamel to ensure that my Copper KitchenAid would remain safe from harm's way!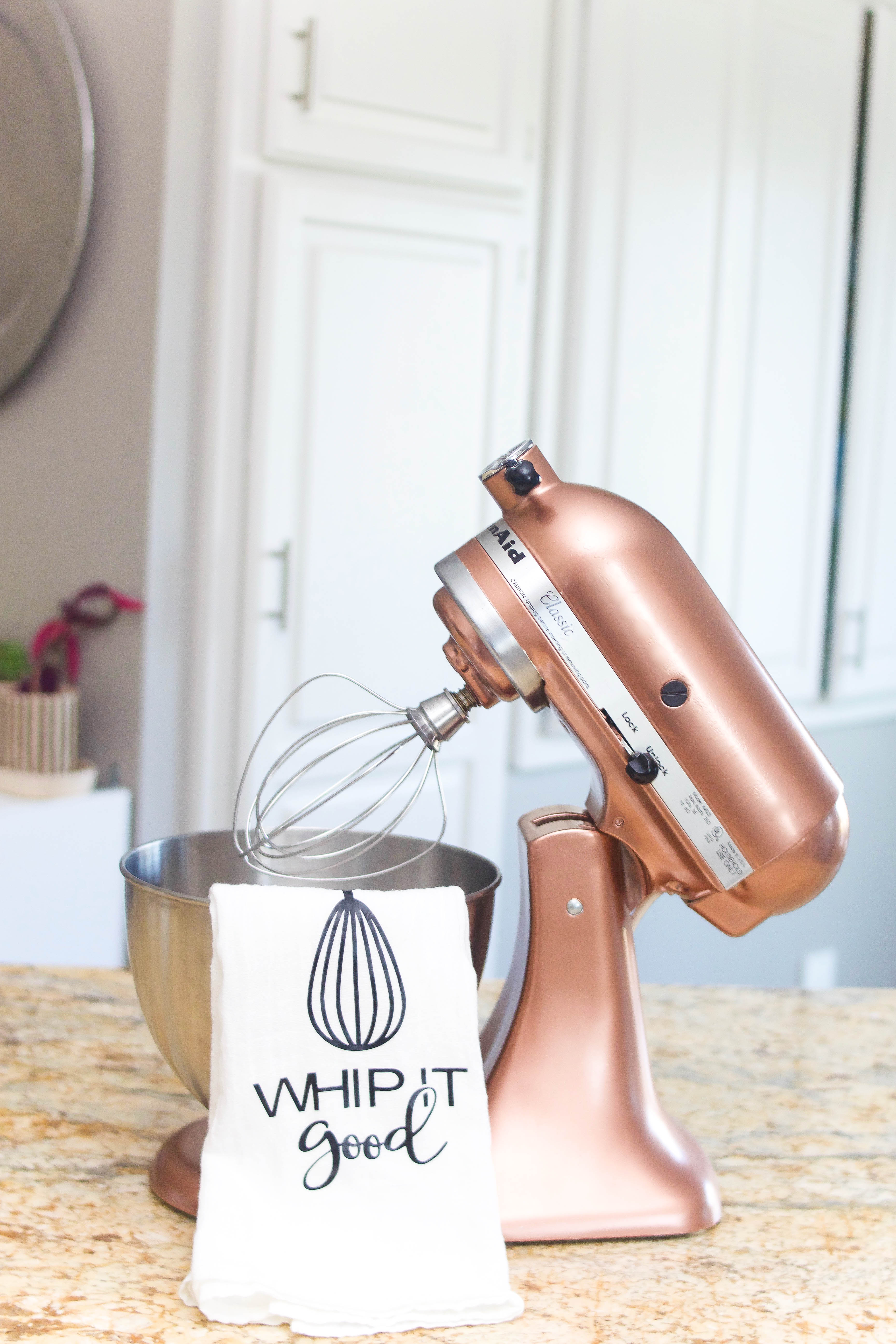 I could not be happier with the end result. You would have no clue that this was painted! Of course, it's not 100% perfect but it's darn near close! Click this link for the Whip It Good Flour Sack Tutorial.
We have definitely done more to our kitchen since I shared in April of 2016. The biggest thing is putting in new floors! I'll get to work on a more recent reveal.
I need to find a couple more small copper accents to add to the rest of the kitchen. Who knew how easy it actually is to learn how to paint a KitchenAid Mixer!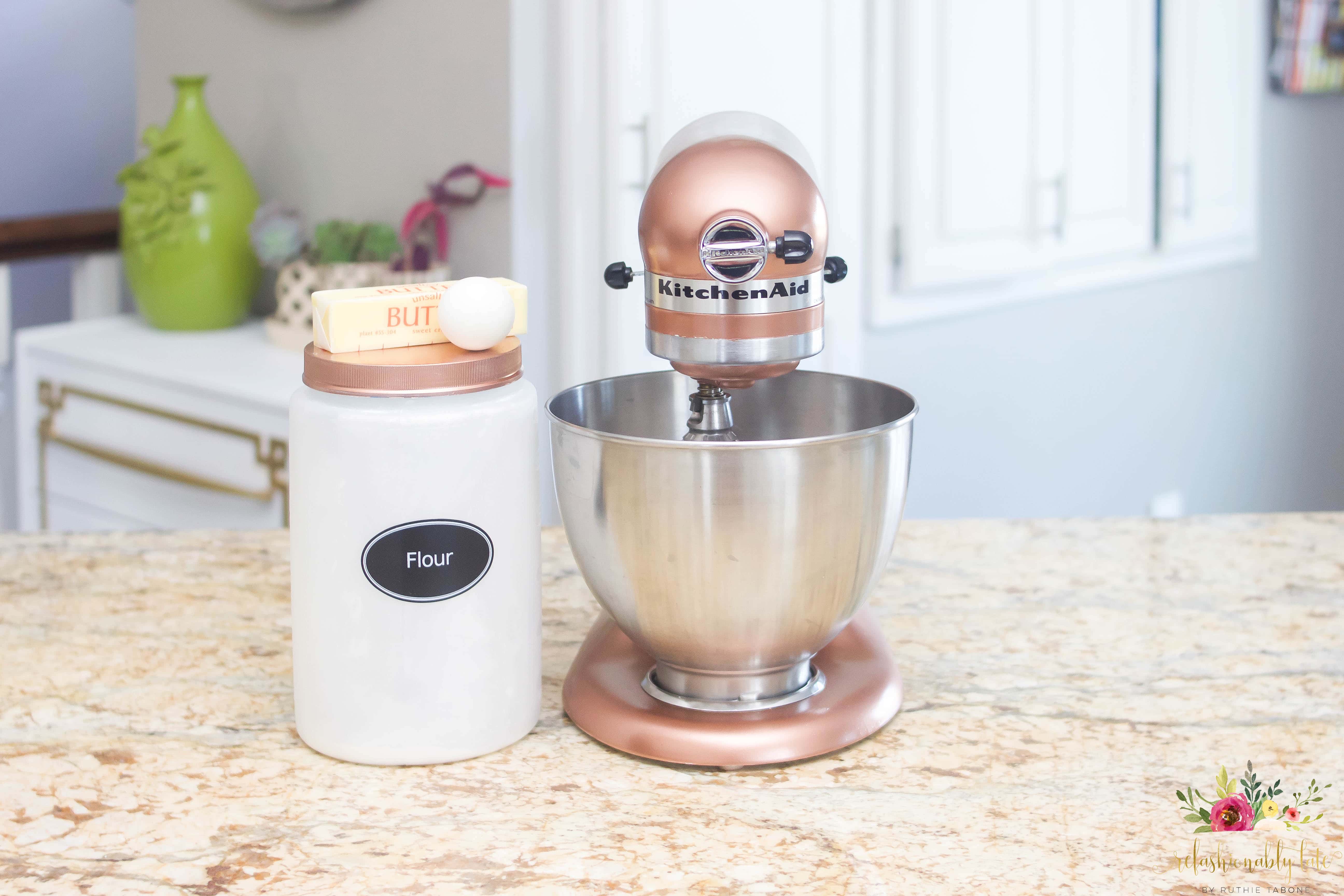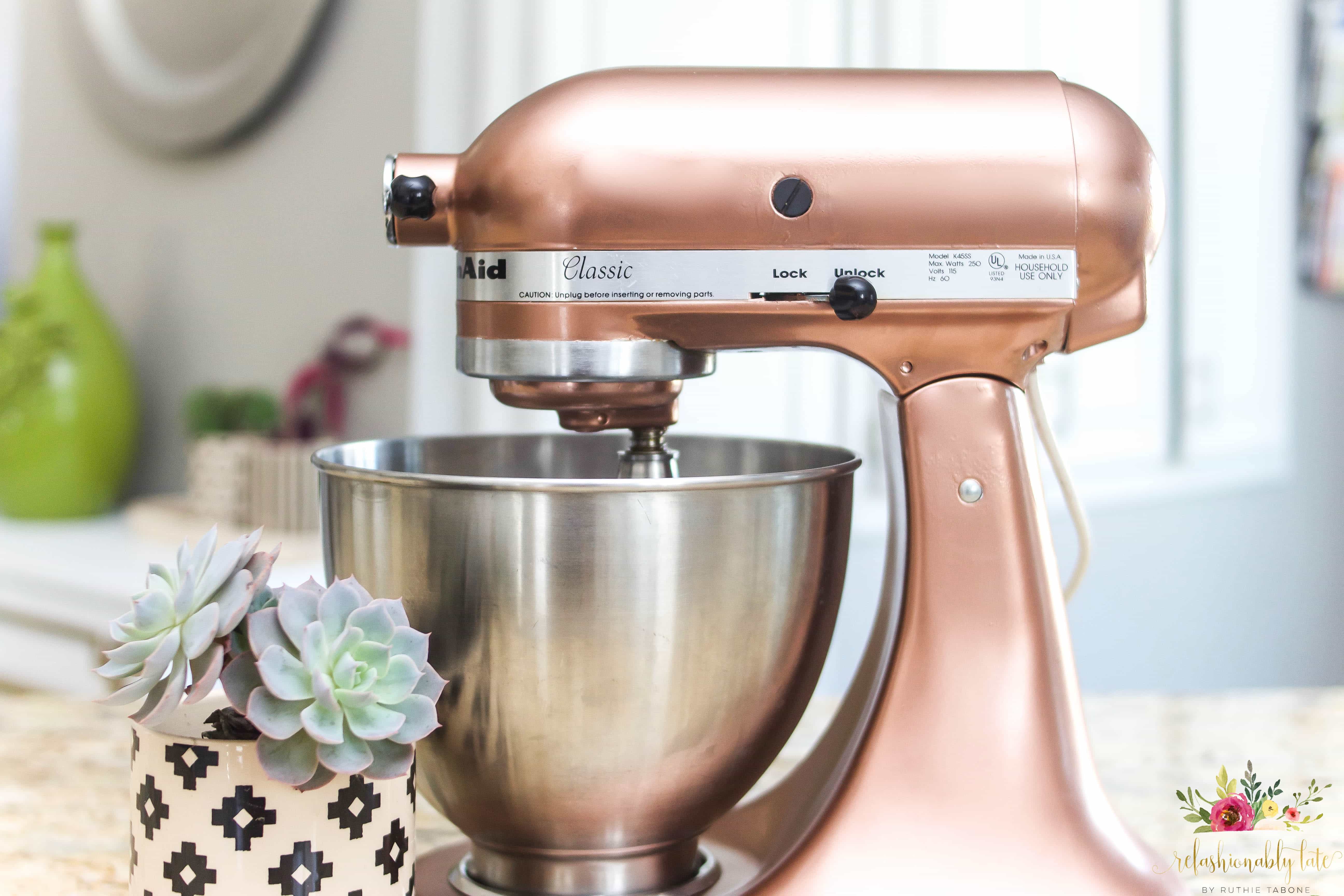 Video Tutorial
I absolutely love using my HomeRight products when doing a DIY project. I don't know how I lived without my spray shelters before they were in my life. They are a necessity when painting, in my opinion!
Thanks for visiting my blog. This post, how to paint a KitchenAid Mixer, was a labor of love and I'm so proud of it. I hope I've helped you strum up the courage to paint your KitchenAid too! You know you want to! 🙂

This post is sponsored by my friends at HomeRight and contains affiliate links. Thank you for supporting the brands that support Refashionably Late! See my full disclosure here.