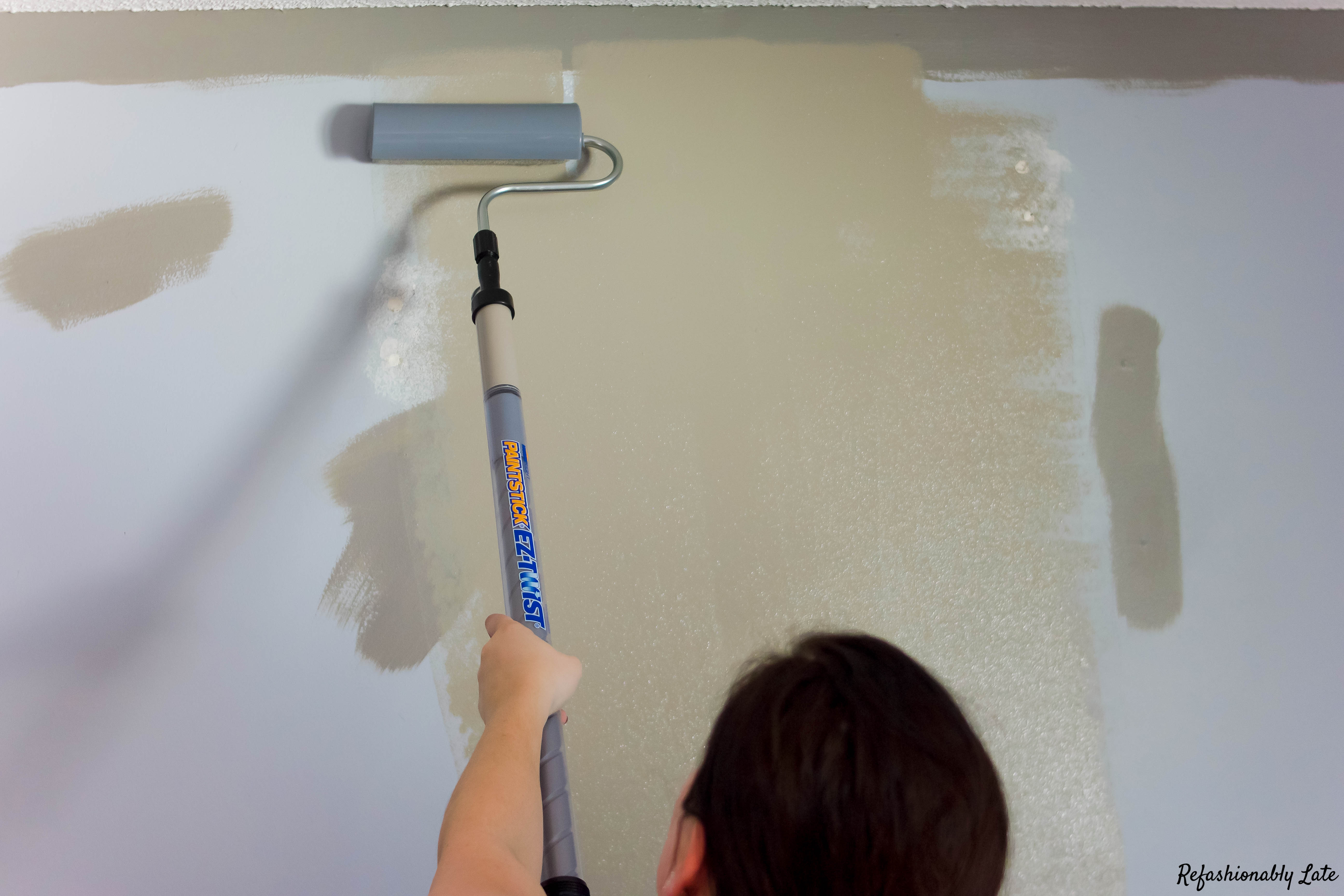 Happy week 2 of the One Room Challenge! This week has been kind of a demo and painting week. I painted the woodwork and trim with Zurich White from Sherwin-Williams. We then painted the ceiling with Eminence High Performance Ceiling Paint by Sherwin-Williams. We kept it the base color of Bright White as that's the color of the ceilings in our other rooms that were previously painted. To top off our painting marathon we painted the walls with Dovetail by Sherwin-Williams. (Can you tell I kind of like Sherwin-Williams paint?) We used the Emerald Interior Acrylic Latex Paint line for our walls. I really loved how well it covered the walls…especially the mix of the terrible blue paint.
If you missed last week follow along below:
My favorite way to paint walls is to use the PaintStick EZ-Twist Paint Roller by HomeRight. I'm going to be honest with you that I'm not a fan of painting walls. I will cut in all day long and paint woodwork before I choose to paint walls. My husband thinks I'm crazy as he hates to do all the cutting in but enjoys the walls. I guess that's why we are a good match! I will say though when my husband isn't around to paint the walls for me I actually enjoy doing it with the PaintStick EZ-Twist! It's so simple and quick and there are no messy roller trays! The paint loads up into the handle of the PaintStick and then you can paint pretty much an entire wall without loading up the PaintStick EZ-Twist again! How cool is that?! For a more detailed tutorial on how to use the PaintStick EZ-Twist head on over to HomeRight's blog.
Once we got all the painting done it was time to get the floors ready for our new vinyl flooring! We started by ripping out the carpet and padding. It was a pretty quick little demo but where it got tricky was getting the tack strip up. There were nails inside of the concrete holding the carpet down so we weren't sure how to get them out. Thankfully for our dear friend Google we figured out how to do it properly with a crowbar!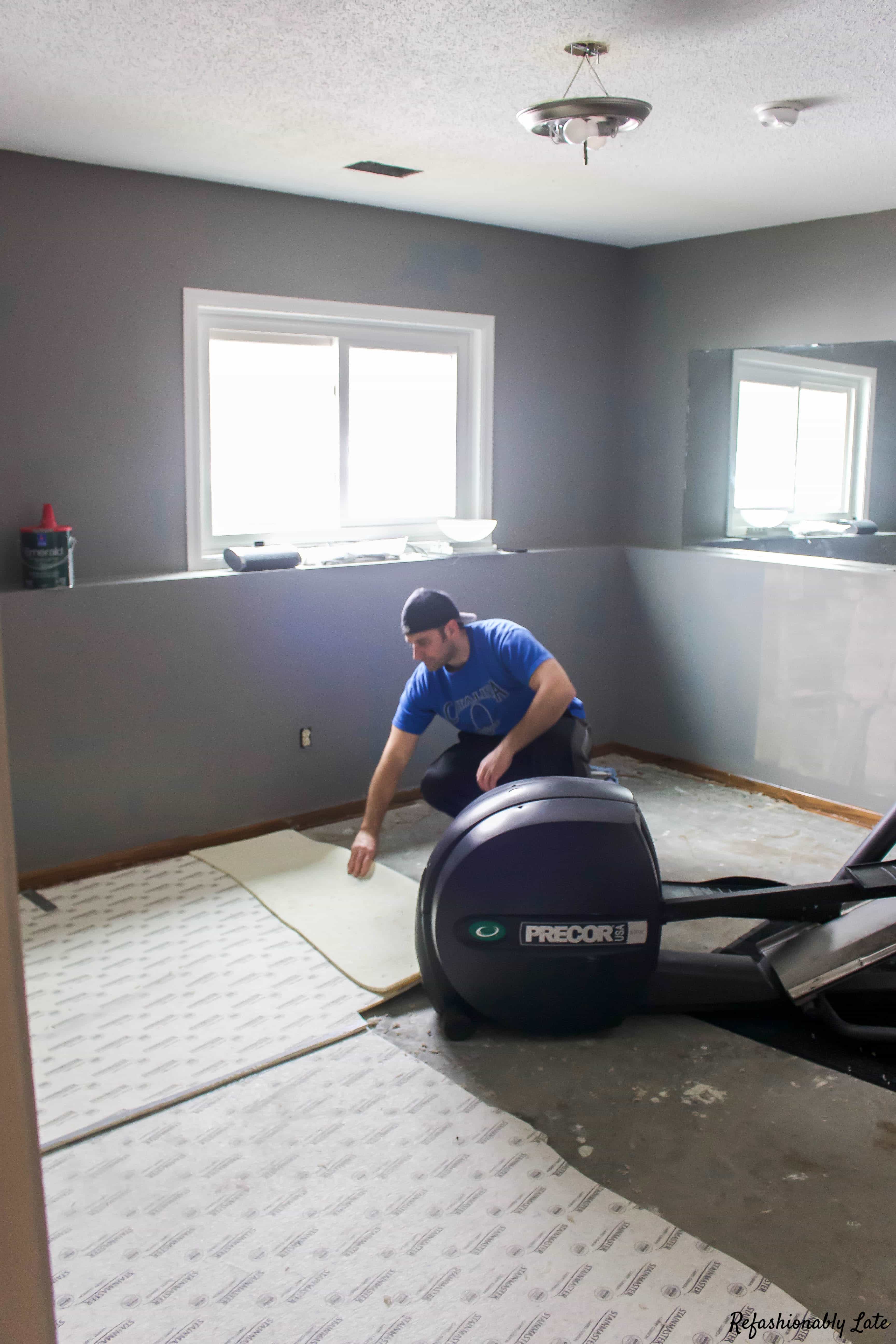 We are currently working on removing the glue from the cement and then give it a good clean. We are installing Allure White Maple Luxury Vinyl Plank Flooring by TrafficMASTER. Since I went with a darker color for the walls I wanted a lighter floor to help brighten up the room. This vinyl flooring is the same installation process as our upstairs living room. It's the Grip Strip system and it's so easy to install! Check out this video of my living room transformation!
I'll leave you with a couple more photos of the rooms current state. I'm so anxious to get the flooring in this week so we can get everything back into the room. After that, it's time to build the Murphy Bed! Wish us luck!
To Do Checklist:
Thank you so much to my sponsors for helping make this transformation possible!
Wayfair | Carousel Designs | Sherwin-Williams | Stile
It's so hard not to post beautiful pictures in these One Room Challenge posts! I hope it leaves you in suspense for the final reveal, right?! Have a great week everyone and I'll see you next week! Stay tuned as I will be doing a Facebook Live while installing the vinyl flooring!
Check out the progress of the other guest participants as well as the featured designers!
This post is sponsored by my friends at HomeRight and contains affiliate links. Thank you for supporting the brands that support Refashionably Late! See my full disclosure here.